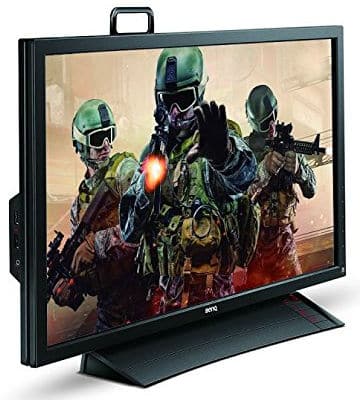 This is a great 144hz monitor for pro gamers. As with all BenQ monitors, the BenQ XL2720Z comes with a lot of cool and relevant gaming features. The S Switch is perceived as one of those brand related features that differentiate BenQ from the competition. The fast change in pre-adjusted gaming preferences saves a lot of time when wanting to play different games without having to manually re-adjust the monitor preferences each time. The lack of sync technologies like Free-Sync or G-Sync, which at the time of the release wasn't as common, is evened out by the motion blur reduction feature that is included. During the testing, the motion blur reduction clearly helps reduce the motion blur to a bare minimum. Bear in mind that the brightness is reduced when the motion blur feature is enabled, but BenQ has equipped the XL2720Z with another feature to balance it out with the Black Equalizer feature – which illuminates the black pixels of the screen so that the brightness reduction becomes a lesser problem during gameplay. The TN panel comes with its typical color display deficiencies when viewed from different angles (but who views their screen from sharp angles anyway?), but other than that the benQ XL2720Z is a perfect choice when playing fps required games where the reaction is a priority. 144 Hz refresh rate combined with the 1ms GTG response time and the 10ms input lag time provides smooth gameplay during the previously described games, and with the Black Equalizer, and motion blur reduction technology the gameplay appears smooth and pleasant. All in all a great choice for the competitive gamer considering all aspects of the screen. Buy it here. 
Overview
Brand and model
BenQ XL2720Z
Size
27″
Response time
1ms
Refresh rate

144hz

Input lag
3.2 ms
Resolution 
Full HD-

1080p

Ideal for

Pro Gamers

Overall rating
8/10
Customer ratings
Check in Amazon
| | |
| --- | --- |
| Pros  | Cons |
| Gaming features perform excellent | Acceptable color display from sharp angles |
| Great ergonomic options- including low blue light | No Adaptive Sync technology |
| Low response time | Blur Reduction feature significantly lowers brightness |
| Low input lag time |  Relatively low resolution for a 27" screen |
| High refresh rate | |
| 3D gaming | |
| Screen size customization | |
 Review of BenQ XL2720Z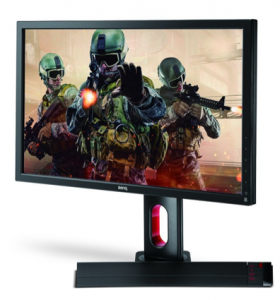 Released in 2013, the BenQ XL2720Z arrived a bit too early for the standardization of sync technologies such as Free-Sync and G-Sync, which mean that it doesn't come with sync technology. To compensate for the irritation of motion blur and screen flickering, Flicker-Free technology and Motion Blur Reduction technology are features designed for improving the gameplay experience despite the lack of sync technology. During testing on Battlefield 3, there was a significant difference when these features were enabled. The motion blur was very hard to detect, and it required to deliberately looking for it during gameplay even during action filled, fast movement scenes. The Black Equalizer and Motion Blur Reduction features work well together as the Motion Blur feature reduces the brightness while the Black Equalizer brightened the darker pixels, evidently balancing the tradeoff out perfectly.
The design of the XL2720Z is the standard BenQ related stand with the amazing options for optimal ergonomic quality. The height can be adjusted 140mm, starting from the bottom of the stand. Swirling of 45 degrees as well as the pivot function that allows for a portrait view and the adjustment of front and back of 15 degrees. 3 USB 2.0 ports are located on the screen where one of them is suggested for the S Switch module. The final finish is the stand on the back of the monitor to hold the headphones that you might have (there is a headphone jack as well. Look on Specs to see the total ports). There are no speakers who suggest that the XL2720Z is designed for PC games since the PC either is played with headphones or have external speakers whereas the consoles do not have external speakers and rely on the speakers of the TV or headphone.
Besides the impressive specs, the BenQ XL2720Z gaming monitor comes with Nvidia's 3D Vision 2 inbuilt which allows for playing games on 3D – assuming you have a 3D supported Nvidia Graphic card. To further enhance the 3D experience, Nvidia's Light Boost technology is pre-installed as well, making it one of the things that should be tried out (since the price obviously is affected by this feature).
The TN panel is known for the tradeoff of fast refresh rates and response times with poor color accuracy and performance. Thus, the verdict of the color performance is relatively good since the colors appear somewhat accurate on the color gamut test (compared to other TN panels reviewed). We were satisfied with the color display and accuracy and color gamut accuracy was on average 72% which is above average for TN panels. Viewing angle problems which are typical for TN panels as well are relatively low, but this issue is not considered a real gamer problem since we assume that most of you view your screen from the center.
As mentioned above, the TN panels are designed for higher refresh rates and response times than other panel types. the XL2720Z performs a rapid 144 Hz refresh rate as well as a record low 1ms GTG pixel response time. Combine it with the 3.2ms input lag time, and you have an excellent foundation for a proper and smooth gameplay during fast reacting high fps required games. The low resolution considering the size (usually, 27" screen comes with a WQHD resolution) match quite well with the intention of the monitor – fast paced, high fps required, fast reacting games. Blue light reduction and anti-glare coating will have you playing these types of games for longer periods of time without any eye irritation, and assume that you have utilized the ergonomic options, you should not feel neck problems either. You can buy this on Amazon.
All specs:  Benq.com
| | |
| --- | --- |
| Refresh Rate | 144 Hz |
| Response Time | 1ms |
| Input Lag Time | 10ms |
| Size | 27" |
| Aspect Ratio | 16:9 |
| Static Contrast Ratio | 1000:1 |
| Dynamic Contrast Ratio | 12,000,000:1 |
| Resolution | 1920 x 1080 (Full HD) |
| Panel Type | TN |
| In-Built Modules | Nvidia's 3D Vision 2 |
| Brightness | 300cd/cm2 |
| Blue Light Reduction | Yes |
| Anti-Glare | Yes |
| Anti-Reflection | No |
| Backlight | LED |
| Speakers | No |
| Color | Matte black |
| Ports | 2x HDMI, 1x DVI-DL, 1x D-Sub, 1x DisplayPort 1.2, 1x VGA, 1x Headphone Jack, 3x 2.0 USB |
| Viewing Angle | 170/160 Degrees |
| Adjustability | 14 height levels 140mm, pivot, swirls right/left at 45 degrees, tilts at 5, 10 or 20 degrees front and back |
| Brand-Specific Features | Sense-Eye 3, AMA, Flicker-Free, Black Equalizer, Blur Reduction, S Switch Arc, Display Mode, Smart Scaling, Auto Game Mode |
| Additional Features | A stands for the headphones on the back of the monitor, Nvidia 3D Light Boost Technology |
Additional info:
What's in the box?
DVI cable
VGA cable
DisplayPort cable
1x USB
1x CD (Guide and drivers)
S Switch
Power Cord
Check our page for budget gaming monitors for average gamers.
Note: The BenQ XL2720Z has been discontinued by the company but will soon be replaced with a new and improved model. Stay tuned!