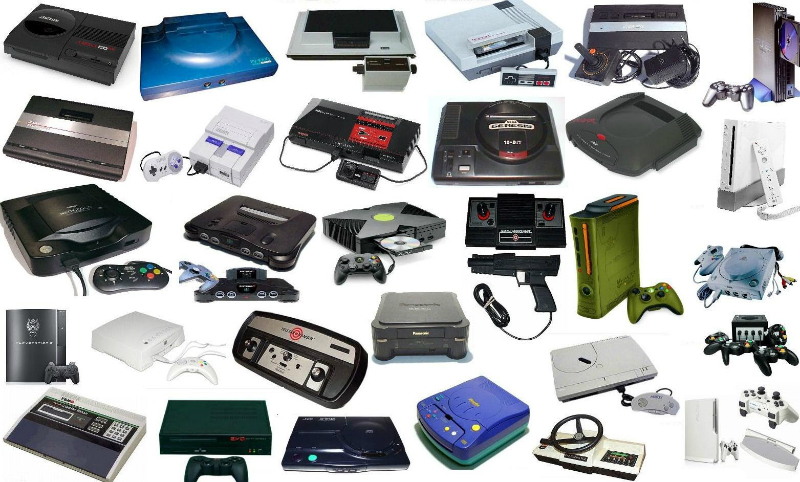 Console gamers usually default to using their TVs when they play their favorite games on their consoles.Although TVs have evolved through the years, hasn't it crossed your mind to use a monitor for console gaming? You might say that monitors are exclusively used for PCs, but that is just not true. In fact, there are great gaming monitors you can use for consoles like the PS4 or even its 4K version, the PS4 Pro.
Monitors are a better choice than LCD TVs because they have a swift response time. Where TVs usually have below 50ms response time, a gaming monitor for console gaming would always have below 20ms. That means that ghosting will be non-existent so you can enjoy the games more than using a regular HD TV. Input lag is also something essential for gamers, and gaming monitors have a lower input lag than regular TVs.Furthermore, gaming monitors have gamer-centric features like multiple input connectors so you can use the monitor not only for console gaming but also for PC as well.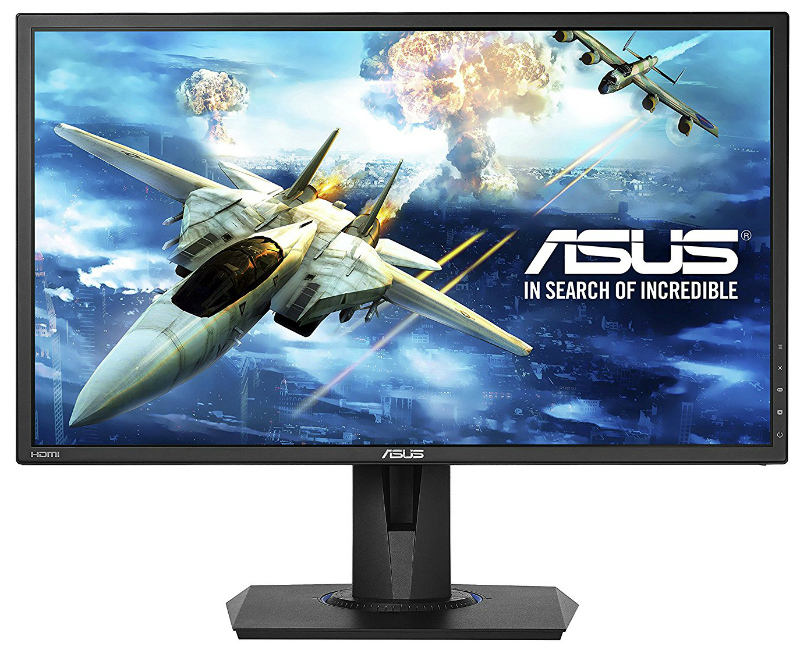 The first on the list is a monitor from a very prominent company, Asus. The Asus VG245H has been hailed as one of the best monitors for console gaming, mainly because of its price and its functionality. The Asus VG245H is a 24-inch TN panel monitor with a native resolution of 1080p and a low latency rating of only 11ms which makes it ideal for fast-paced games like those in the fighting genre. You can also use this product as a gaming monitor for your AMD powered PC since it can go up to 75Hz and is compatible with FreeSync.
The Asus VG245H is excellently built and designed due to its functional stand which articulates in numerous directions. This model is also equipped with essential features such as its HDMI ports for your devices and other gamer-centric add-ons such as Asus GamePlus which lets you select a suitable filter for your game. For less than $200, the Asus VG245H is one of the most practical monitors for PS4 and Xbox One Gaming
---
2: BenQ ZOWIE RL2455 – Best 24 Inch Monitor for Competitive Gaming on PS4 and Xbox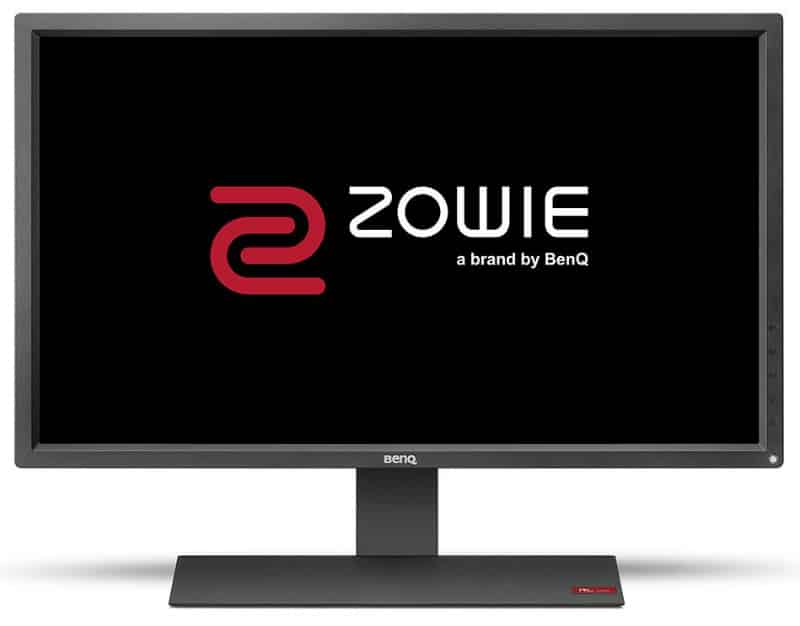 The BenQ ZOWIE RL2455 is another product that a lot of competitive gamers like. It is a 24-inch TN panel display with a 1920 x 1080 resolution, 1ms response time, enabling you to do a lot more without the ghosting. This option also comes equipped with BenQ's Black Equalizer technology which is similar to a dynamic contrast function that improves vision in darker scenes. This feature along with the technical specs make this monitor suitable for competitive titles like shooters or fighting games on the PS4 and Xbox One.
Of course, BenQ is committed to giving competitive gamers a perfect monitor to suit their needs. The monitor is fitted with a unique frame that reduces the reflected light so you won't get distracted when playing in broad daylight. Furthermore, the monitor also comes with a flicker-free panel, and it also has the low-blue light filters that will help care for your eyes.
---
---
3. Acer R240HY – Good IPS Monitor For PS4 and Xbox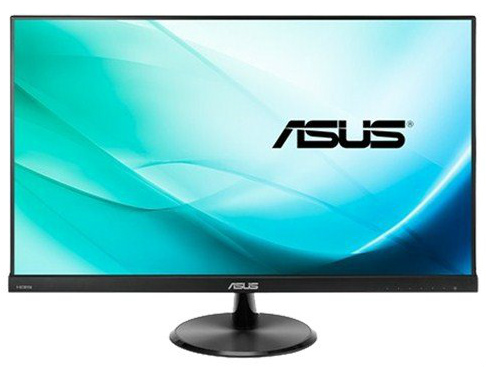 If you want a gaming monitor that has a better color accuracy but also remains fast, the Acer R240HY is an excellent choice. Typically, IPS panel monitors have a very slow response time (about 8-10ms). But, this monitor manages to have a 4ms response time, which is still quite fast and can also be useful for competitive gaming. The input lag, which is something that most competitive console gamers look for, is at a respectable 15ms. This is still quite fast considering that most TVs have more than 20ms input lag. The color performance of the R240HY is much better than any other TN panel gaming monitor I mentioned above. That is thanks to the In-Plane Switching (IPS) panel this monitor uses.
For the inputs, you get a DVI-D, HDMI, and a VGA port which allows users to connect a console and a PC. The product is also beautifully designed despite its budget nature with its bezel-free face and thin dimensional profile. The only limitation on the Acer R240HY is it has a tilt-only stand, but for the price and the benefits of a responsive IPS panel, that would be easy to ignore.
---
4. Samsung U28E590D – 4k console gaming Monitor For PS4 Pro and Xbox One S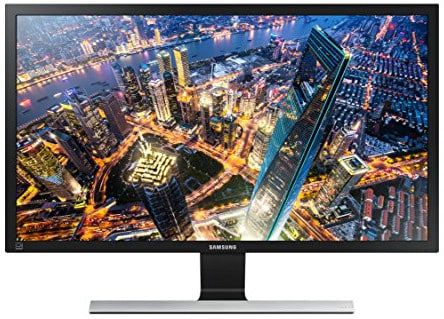 The Samsung U28E590D is an impressive display with a resolution of 3840 x 2160 and a refresh rate of 60Hz. Aside from that, this gaming monitor has a 1ms response time, and it also comes with AMD's FreeSync technology as well, though, the feature can only be used when using a computer with an AMD graphics card. The display is visually stunning thanks to the monitor's 1 billion color support which helps images to pop out, and you will appreciate the games you play even more.
This monitor comes equipped with an HDMI 2.0 port aside from its DisplayPort 1.2 and extra HDMI 1.4 slot. 4K consoles utilize the former, but you can use the other slots for a gaming PC or a media player for a total entertainment package. The Samsung U28E590D is also one of the better-designed monitors out there thanks to its minimalist aesthetics and impressive build quality at a low price.
5. LG 27UD68P – Best 4K Monitor for PS4 Pro, Xbox One S, and Editing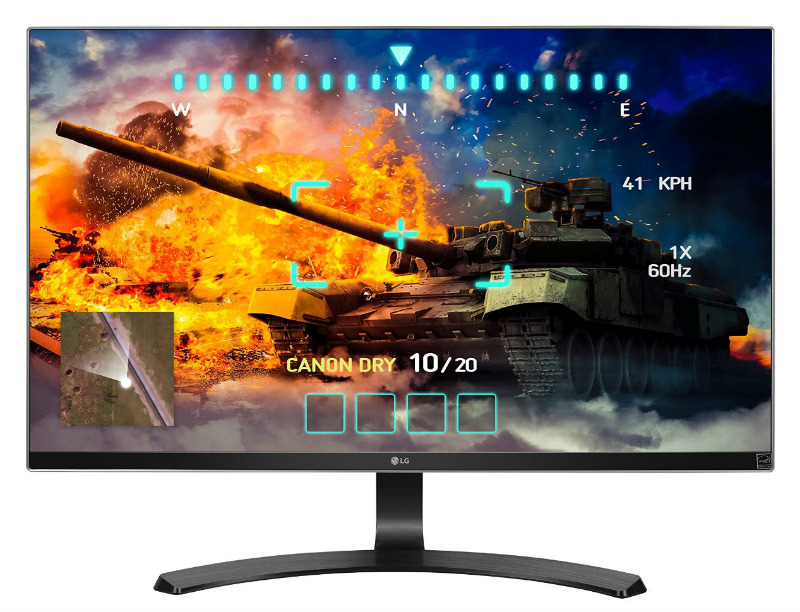 The LG27UD68-P is one of our favorite UHD displays in the market thanks to its brilliant performance in color reproduction and responsiveness. The clarity and vibrancy of the IPS panel will make games on the PS4 pro and Xbox One all the more exciting and enjoyable, plus you can also add in a bit of editing and content creation.
This model looks sexy thanks to its slender profile and bezel-free face, but what counts here is its two HDMI 2.0 ports in addition to some USB 3.0 receptacles and the DisplayPort 1.2. For an extreme setup, the connectivity allows owners to build a radical entertainment setup which can include both the PS4 Pro and Xbox One, plus an HTPC or even a workstation.
6. Asus MG28UQ – Best Monitor for 4K Gaming on PS4 Pro and Xbox One S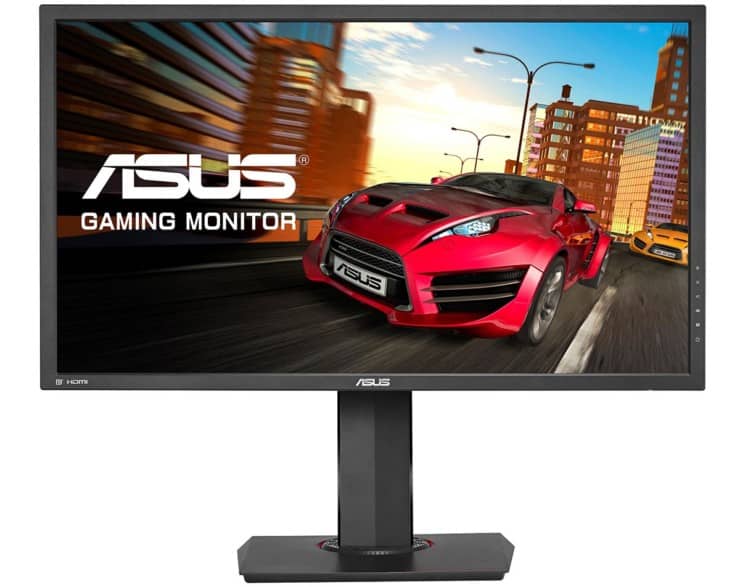 The Asus MG28UQ was built as a gaming monitor for enthusiasts in every way starting with its 4K screen with 1ms response time, and next to non-existent input lag. There are minor sacrifices in vibrancy, but the fast response of the top-notch TN panel makes the trade-off worthwhile for both PC and console gaming. The product comes with FreeSync as well for tear-free gaming on an AMD equipped PC, but what makes the Asus MG28UQ one of the best in this list is its versatility.
Like all Asus monitors, the MG28UQ is well-built with a robust build quality and high-end materials. Aesthetics are disguised as a utilitarian monitor, but the excellent ergonomics, bold accents, and fully-equipped connectivity gives away the distinct quality which makes enthusiasts favor Asus' products over anything else.
7. ViewSonic XG2700-4K – Best 4K Gaming Monitor for PC, PS4 Pro, and Xbox One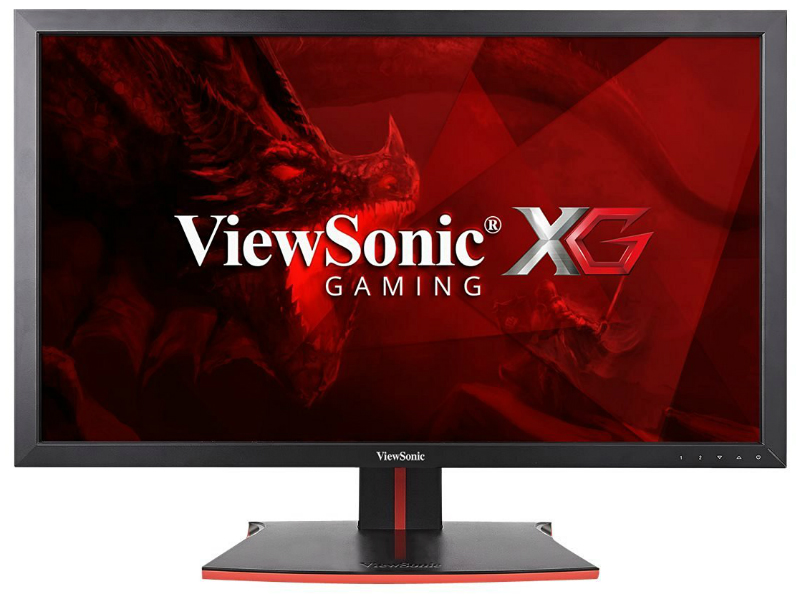 The ViewSonic XG2700-4K is almost identical to the option above in all aspects, but its significant advantages lie in its superior color quality and fantastic responsiveness. The 4K TN screen is responsive and blur-free during our experience with it, plus there were no delays in controls, so gaming is smooth. Its capabilities out of the box are superb as well, requiring minimal effort to maximize output to help the bright and crisp images to pop for a visual fiesta.
ViewSonic monitors are some of the most underrated options in the market, and most don't know how well-built products like the ViewSonic XG2700-4K are. This model comes with a robust and flexible stand plus plentiful options in its I/O panel, enabling gamers to connect a monster PC and multiple entertainment devices such as the PS4 Pro.
8. LG 43UD79-B – Massive Multi-Input Monitor for PC and Console Gaming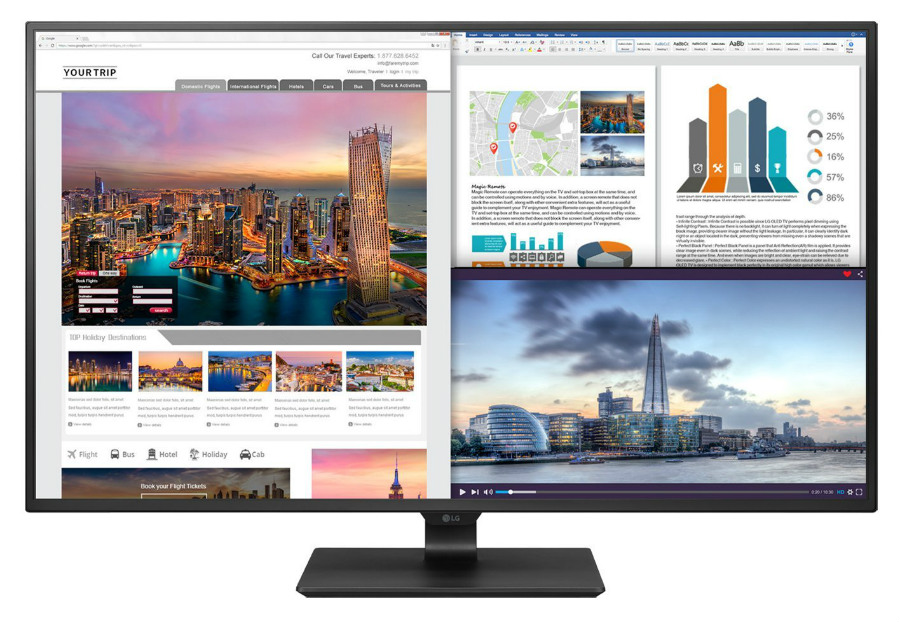 The LG 32UD79-B is intended for mix professional uses, but its functionality and its TV-sized 4K IPS screen makes it an enticing choice for PS4 Pro and Xbox One S gaming. LG's expertise in the IPS arena ensures that users will get the absolute best qualities of vibrancy and clarity which are required for eye-popping gameplay. Users can also split the massive screen into several panels if ever the need to multitask arises or to utilize difference host devices in a work and play scenario.
The size and the form of the LG 43UD79-B are distinctly similar to a medium-sized LED TV, so gamers who are used to the latter will find it easy to adapt. But as an advantage, owners won't need to deal with limited connectivity options since the panel on this device is sufficient to hold a PC, and both the PS4 Pro and Xbox One S plus more at the same time.
9. Dell UP2718Q – HDR Monitor For PS4 Pro and Xbox One S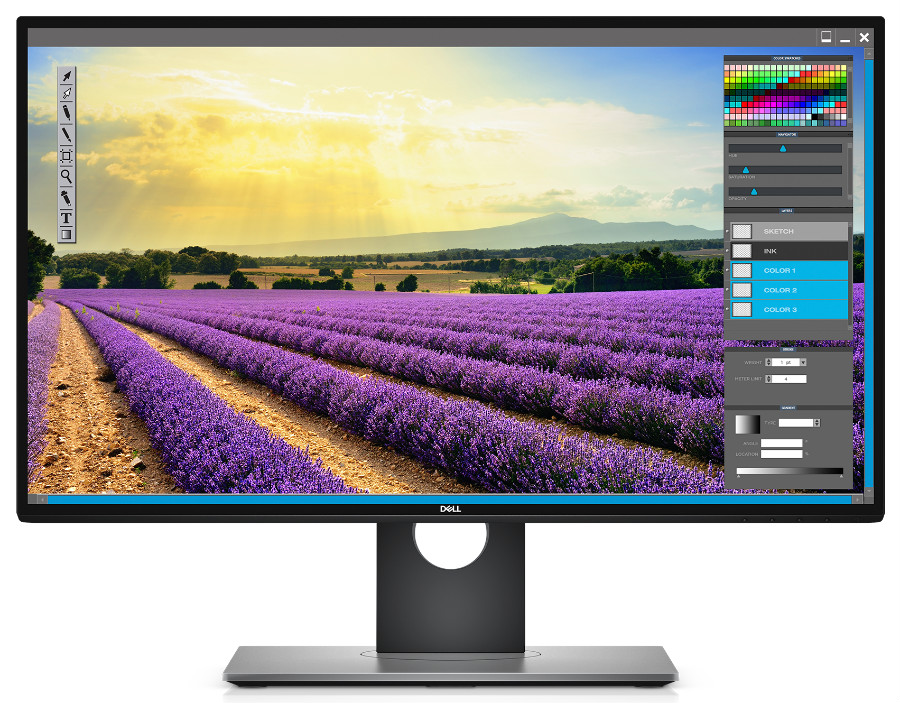 If money isn's an issue and you want to take advantage of 4K visuals with HDR from your PS4 PRo and Xbox One S, the Dell UP2718Q is the ultimate option. This monitor is fully capable of displaying HDR images thanks to its 384-zone FALD backlight which enhances contrast and vibrancy beyond what any ordinary display can do. The 10-bit IPS panel's vibrancy and color accuracy would make all the options here jealous because of its vibrancy and accuracy.
The Dell UP2718Q is primarily aimed at content creators that deal with HDR content, but its sophisticated functionalities makes it compatible with the PS4 Pro and Xbox One S. Gaming and streaming 4K media with HDR will be easy as peas, but you also have a full-fledged professional monitor which enhances your ability to produce fantastic graphics and designs.
---
Thoughts on Monitors as PS4 and Xbox One Displays
Using a large TV for gaming on the PS4 or Xbox One and its variants is visually appealing, but the responsiveness and refinements of a monitor are considered universally as irreplaceable advantages. If you are a fan of multiplayer grudge matches or competitive play, this type of displays will offer a substantially better experience because of lower latency and a more crisp, and tighter image. Having your screen on a desk and sitting on an ergonomic chair also improves focus, so victory in your gaming endeavors are only affected by how good you are at a particular title.
Another advantage you gain in choosing a monitor for your PS4 or Xbox One is savings in both energy cost and space. PC displays typically consume less of these two while providing an undeniable performance gap when compared to LCD or LED TVs. We chose the best-priced products to include as well, although you can expect to pay top dollar for flagship options with features such as HDR, although in this case, you get more than you pay for.