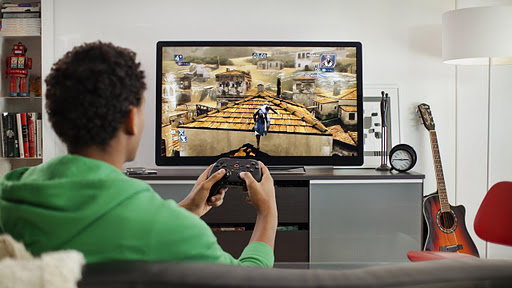 As you may know, the high refresh rate monitors are a trending phenomenon in the gaming monitor industry because of the smoother gaming experience it presents when playing fast-paced action games. For gaming monitors, the higher refresh rates are being introduced as the most important factor for gaming. But does that mean that a TV with an equal refresh rate can replace a gaming monitor? TV's are relatively cheaper, and nowadays you can get big screen 120+ Hz TVs for about 500$, so it's an interesting question considering that the 144hz monitor ASUS ROG Swift PG278Q and the Acer Predator series are about 1000$ with a smaller screen and only a slightly higher refresh rate.  Click here for a list of the best televisions according to Consumer Reports.
For our experiment, the BenQ XL2420G gaming monitor was chosen to compare against the Sony Bravia KDL 50W790B TV. The BenQ is a 144 Hz, 24" Full HD gaming monitor with 1ms response time, 9ms input lag time and has Nvidia's G-Sync module inbuilt, for about 520$. Safe to state that it is quite a gaming monitor. The Sony is a 120 Hz, 50" Full HD TV with 8ms response time and an input lag time of about 22ms which is fast comparing to the TV's in that price range and specs.
The inputs, for real 120 hertz and above you need to use Dual Link DVI or Display Port or HDMI 2.0. HDMI 1.4 and below just can't transmit that amount of data, so you're limited to 60 hertz of actual output from whatever is outputting to the TV. Doesn't matter how fancy your TV is the vast majority of them will only accept a 60-hertz input and then it's doing all kinds of trickery to achieve its 120 hertz, 240 hertz or 480 hertz. Through motion interpolation and backlight strobing and some other ways. So in layman's terms your TV is gonna take a 60 fps input and create the missing frames in order to fill the gaps. So in a 120 hertz TV that means it will take an approximation of two real frames and put in a fake or predictive frame between that. Meaning that the TV can insert anywhere between 1 to 4 fake frames in between your real ones which will sometimes work well especially in the case of predictively moving objects. But in other cases like in gaming where the motions are very unpredictable, these tricks no don't work that well. These features are designed to give the illusion of less motion blur for television content. But in games, it can give you more visual artifacts.
Now with our BenQ gaming monitor that accepts an input anywhere from 60 to 144 Hz with an actual number of frames. So in competitive fast paced games like CS go, that could mean the difference between shooting at a real character model and shooting at an illusion that didn't exist 8 to 16 milliseconds ago. Now, if you have a big screen TV don't feel bad after all there are many things that it can do that a monitor can't. We also used fast paced action games as our benchmark here since that would make more sense when comparing the refresh rate. For slower paced games like Witcher 3 for example, which is more story driven, you will still get an amazing experience possibly even more immersive if you play on a much larger screen like a TV.
So basically, the more story driven games could be enjoyable to play on a big screen TV, while the fast-paced, competitive games should be played on a gaming monitor for maximum gaming experience.  If you're still going to use a TV, check out our 2018 best TVs for gaming here.