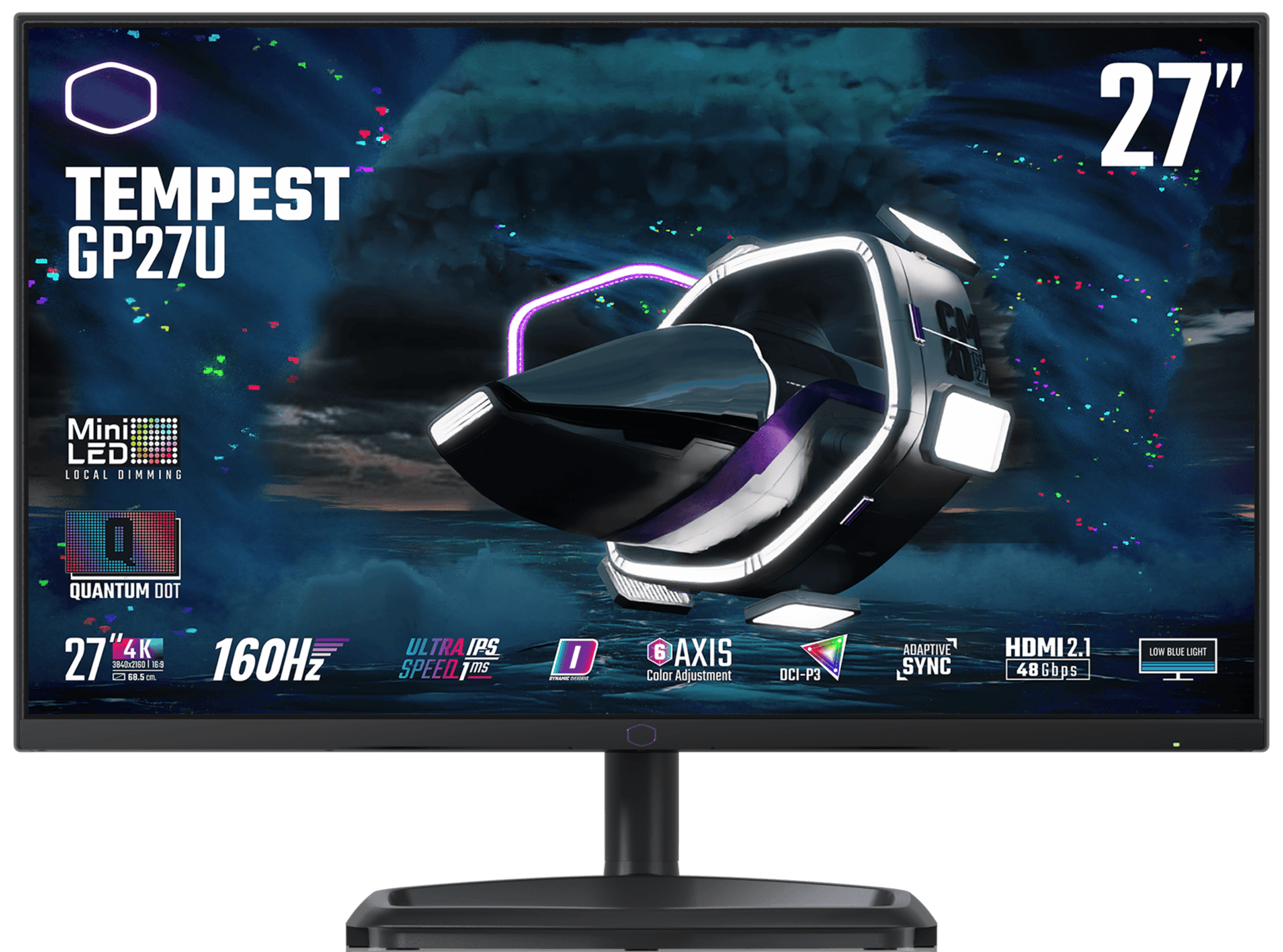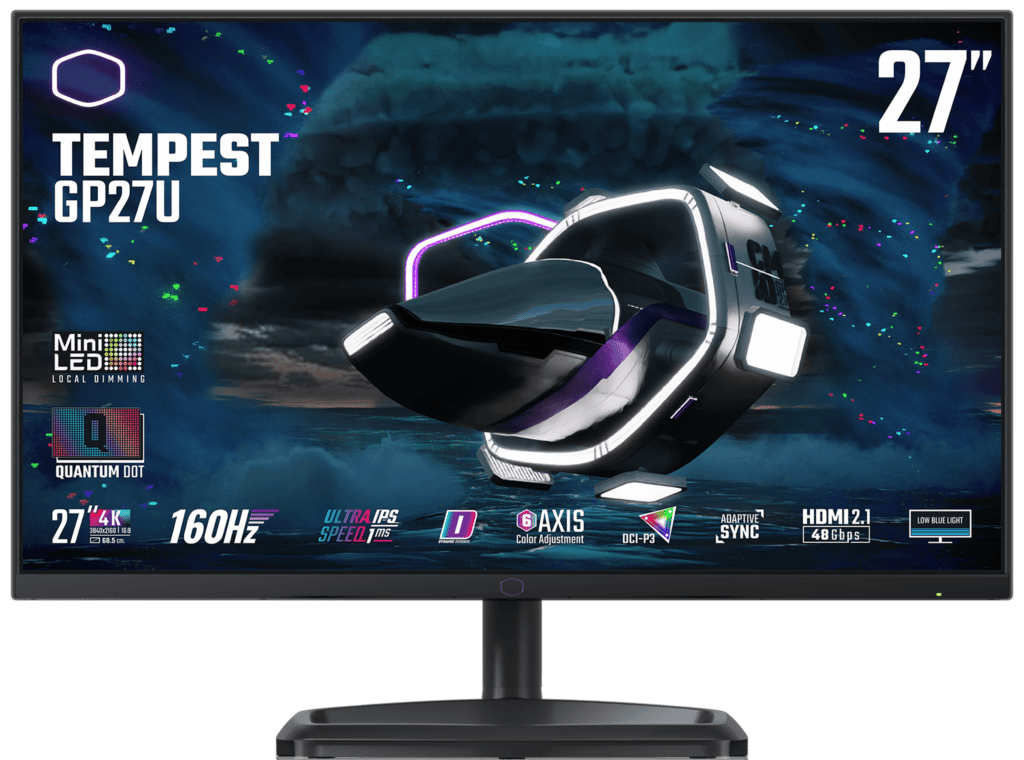 The Cooler Master Tempest GP27U presents excellent value at $800 with its 4K 160Hz screen that's imbued with HDR1000 magic. There aren't a lot of HDR1000 monitors out there with a sub-$1000 introductory price, so this model is extra appealing. Let's take a closer look at the Cooler Master Tempest GP27U to know what kind of penalties it has or if it's a value-oriented winner.

Cooler Master Tempest GP27U Specifications
Screen Size: 27 Inches
Resolution: 3840 x 2160 4K UHD
Aspect Ratio: 16:9
Panel Technology: In-Plane Switching (IPS)
Refresh Rate: 160Hz
Response Time: 1ms
Contrast Ratio: 1000:1
Brightness: 600 cd/m2 (1200 cd/m2 Peak)
Speakers: Yes
Stand: Height – Yes
Stand: Tilt – Yes
Stand: Swivel – Yes
Stand: Pivot – Yes
VESA Compatibility: Yes (100 x 100)
Connectivity DisplayPort 1.4 DSC x 2, HDMI 2.1 x 2, USB-C PD90W x 1, USB 3.0 x 2, 3.5mm Jack x 1
Dimensions (W x H x D): 24.32" x 20.7" x 10.78"

Design and Features
The Cooler Master Tempest GP27U has distinct aesthetic features, but it doesn't look too gaudy compared to the others in the same category. It has a matte black aesthetic which always looks good, but it does have RGB lights at the back. The display has a bezel-free design, but it still has inner borders just like any other modern monitor.
27-inch 4K monitors still sell like hotcakes because they are decently sized and not everyone wants a gigantic display in their faces. This model only needs 2 feet of width, but it does reach over 10 inches in depth when fully assembled. However, the large CM logo-shaped base is hollow in the middle so you can use it as a cradle for smaller peripherals like a stream deck.
Build quality is great since the monitor comes from a brand that is an expert on the subject ever since it started with PC cases. The plastics used are thick and sturdy, and there were no cosmetic defects on any of its parts. The stand included is firm and stable, so the screen won't sag or shake while during intense gaming sessions.
The Cooler Master Tempest GP27U has an OSD joystick at the back for easy access to its OSD. It is near the right-hand side of the screen when you are facing it, so it is easy to reach if you are sitting on your desktop. Other premium models include remotes, but we don't think those are necessary, especially if they will add to the cost of the product.


We're impressed with its connectivity layout since it includes DisplayPort 1.4, two HDMI 2.1 slots, and a 90-watt USB-C port for laptops. You only get two USB 3.0 ports and a 3.5mm jack for peripherals, but that's okay in our books. This aspect allows you to use the monitor for a PC, the latest consoles, and a work laptop like a MacBook Pro so that $800's value is stretched further.
The Cooler Master Tempest GP27U is has speakers, but they are in no way considerable as "gaming-grade. The pair sounds tinny and unusable for its primary purpose, but we're always glad to have more features. The monitor deserves an immersive gaming headset, but its always nice to have a backup for basic purposes.
Display and Performance
The Cooler Master Tempest GP27U boasts a 27-inch IPS panel with a 3840 x 2160 resolution, a 160Hz refresh rate, and a 1ms boosted response time. The backlight has a 600 cd/m2 with a 1200 cd/m2 peak, while the contrast is listed at 1000:1. This model is HDR1000-compatible thanks to its mini-LED backlight with 576 individual local dimming zones.
27-inch 4K monitors are extra sharp due to their tighter pixel density so they are great for imaging and videos. However, some users might need to use scaling for reading and document processing because of that since the sharpness can make text look too small. It is great for gaming, but you will need a powerful system to maximize it.
The Cooler Master Tempest GP27U covers more than 100% of sRGB and 98% of DCI-P3 as advertised. It's very vibrant so it is great for games and movies, but it is not as accurate as its competitors with a deltaE average of 3.21. Gamers won't be bothered by this, and some might even like the extra saturation.
Calibrating it reduced the deltaE average to 1.61 which is better and more balanced for any type of use. However, you need a colorimeter for this kind of improvement, and we don't think it is worth it considering the limited results. We recommend sticking with the default setting for games and switching on the monitor's sRGB mode and turning off its HDR mode if you need it for editing or content creation.
Its mini-LED backlight reached 588 cd/m2 at 100% in SDR, but it peaked at 1401 cd/m2 in HDR mode. Its contrast hovered around 1077:1 in SDR, but the mini-LED backlight expanded it to exponential proportions when HDR is active. The monitor is capable of superb contrasting scenes and its black level is considerably better when the special backlight is active.
Panel uniformity for the test sample was great since there were no massive defects like backlight leaks or massive clouding issues. We did notice a bit of the latter in HDR scenes, but it would take a lot of focus to see them in gaming scenes. Note that this can still vary between every monitor made due to tolerances, so there are units with worse symptoms out there.
The monitor's response times are great compared to the first HDR 1000 gaming monitors in the market. There is barely any sign of steaks or smudging, so it's great for competitive play and titles with fast-moving scenes like DCS. You can use its overdrive to clean up the remnants, but we don't recommend maxing it out since it will induce overshoot.
The Cooler Master Tempest GP27U is compatible with both FreeSync and G-Sync, but you can't use its HDR feature with them activated. This a massive deal-breaker for a 4K HDR gaming monitor, but Cooler Master mentioned that it is working on a firmware solution to address it. Input lag sits at 4ms, but there is also a noticeable drop to 10ms if the mini LED backlight is running.
Thoughts on the Cooler Master Tempest GP27U
The Cooler Master Tempest GP27U is a promising high-refresh 4K HDR monitor thanks to its improved design and positive performance. It's vibrant and capable of great HDR performance thanks to its brilliant mini-LED backlight. We also love its connectivity layout since it can pretty much accommodate any modern device.
However, the Cooler Master Tempest GP27U has a massive deal-breaker since its HDR feature doesn't work when its Adaptive Sync is running. The brand is working on a solution in the form of a firmware update, but it is not a great buy until that becomes available. It's equipped to dominate the market, but we'd wait until its issues get ironed out before buying.
Pros:
Excellent Colors and Contrast
Attractive and Robust Design
Great HDR Performance
Best Price!
Cons:
Adaptive Sync Doesn't Work with HDR
Limited Availability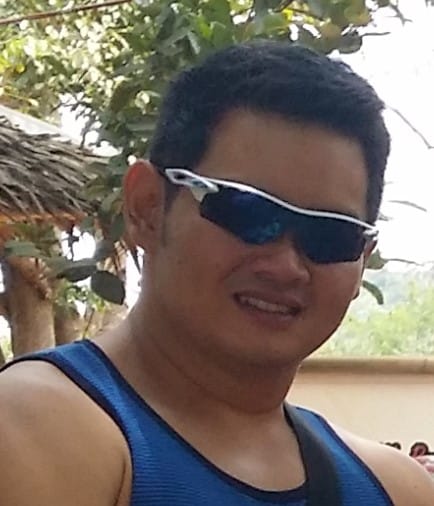 Paolo is a gaming veteran from the golden days of Doom and Warcraft. Since junior high, he has been building gaming systems for family, friends, and colleagues. High-performance monitors are one of his fixations; he believes that every citizen's right to enjoy one. He has gone through several pieces of hardware in pursuit of every bit of performance gain, much to the dismay of his wallet. He has also spent half a decade researching, reviewing, and writing about these products and now has over 1400 articles about the best gaming tech under his belt.