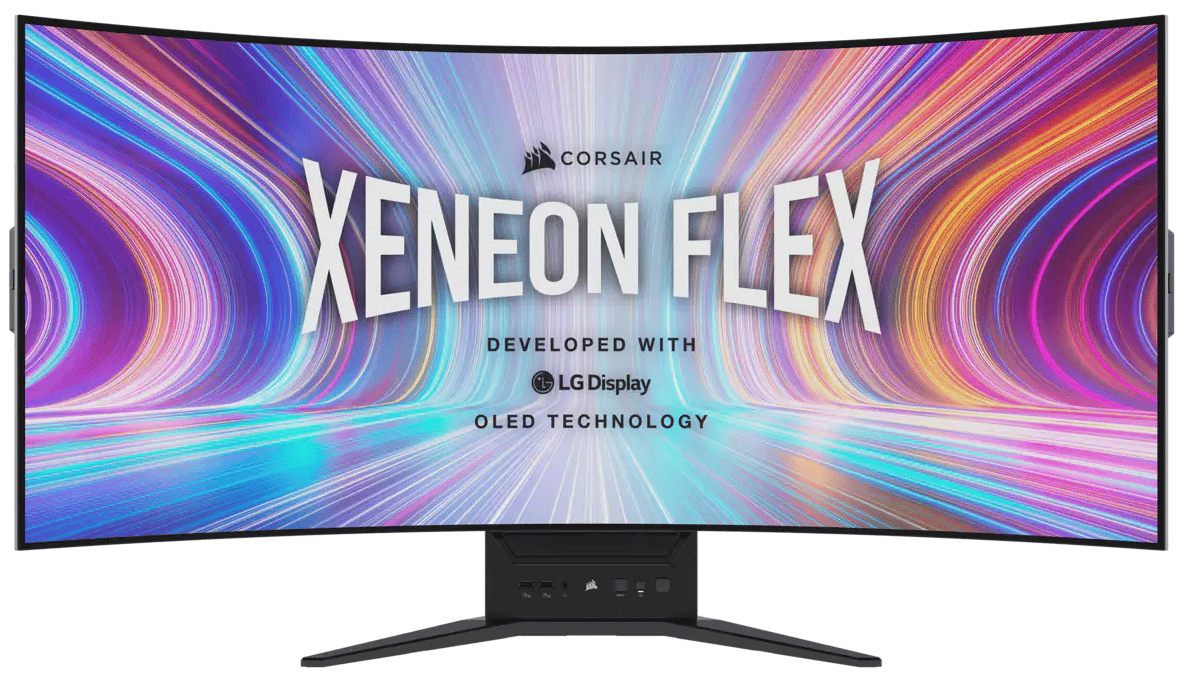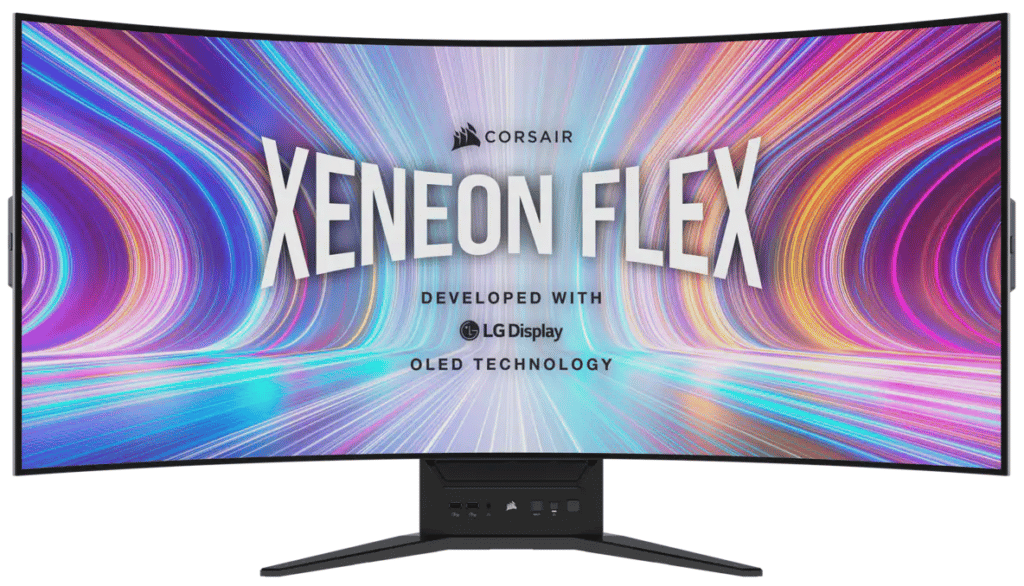 The Corsair Xeneon Flex 45WQHD240 offers specifications that will push the monitor category into the future. The Corsair-LG collaboration carries the fastest 240Hz OLED panel available, plus it's literally flexible. That allows you to adjust the curvature to suit your preferences, but the Corsair Xeneon Flex 45WQHD240 should also offer extreme performance to be worth the investment.

Corsair Xeneon Flex 45WQHD240 Specifications
Screen Size: 45 Inches
Resolution: 3440 x 1440 UWQHD
Aspect Ratio: 21:9
Panel Technology: OLED
Refresh Rate: 138Hz
Response Time: 0.03ms
Contrast Ratio: 135000:1
Brightness: 1000 cd/m2
Built-in Speakers: None
Stand: Height – No
Stand: Tilt – Yes
Stand: Swivel – No
Stand: Pivot– No
VESA Compatibility: None
Connectivity: DisplayPort 1.4 DSC x 1, HDMI 2.1 x 2, USB-C PD90W x 1, USB 3.0 x 4, 3.5mm Jack x 1

Design and Features
The Corsair Xeneon Flex 45WQHD240 isn't anything like you've seen in the modern market because of its unique functionality. The device has a matte black finish, although the rear of the chassis has a semi-gloss black texture. The monitor has a bezel-free design but still has inner borders like any modern display product.
It's a massive device, so you must consider your available disk space before pulling the trigger on this bad boy. It is wide enough to displace desktop speakers and has a gigantic base that may become an issue if you have a shallow surface. The monitor weighs quite a lot, so we recommend asking for help before setting it up.
Its build quality is excellent overall, but some minor details could be improved. The plastics used are thick and sturdy, and there were no cosmetic defects on any of its parts. However, the stand was wobbling, and the handles were a little flimsy for a high-end or flagship gaming monitor.
The Corsair Xeneon Flex 45WQHD240's control layout is slightly different from a typical gaming monitor. You get a power button, an input hotkey, and a five-way D-pad on the front I/O under the screen. It's conveniently located at the front side of the stand's upright, so you can casually lean in and access it.
The stand is a work of art, but what's disappointing about it is its limited tilt adjustments. The design of the panel's mechanism for the flexible panel limits this, so you have to live with it. Corsair said that an ergonomic mount for this model is in the works, but its actual release date is still up in the air. However, the stand for the Corsair Xeneon Flex 45WQHD240  is unique to it, so we know most won't want to let it go.
The upright holds the monitor's I/O layout at its front and back, and we prefer how it is laid out. We can't see how Corsair will design an ergonomic alternative around it, but the only thing that's guaranteed about that future release is that it won't be cheap.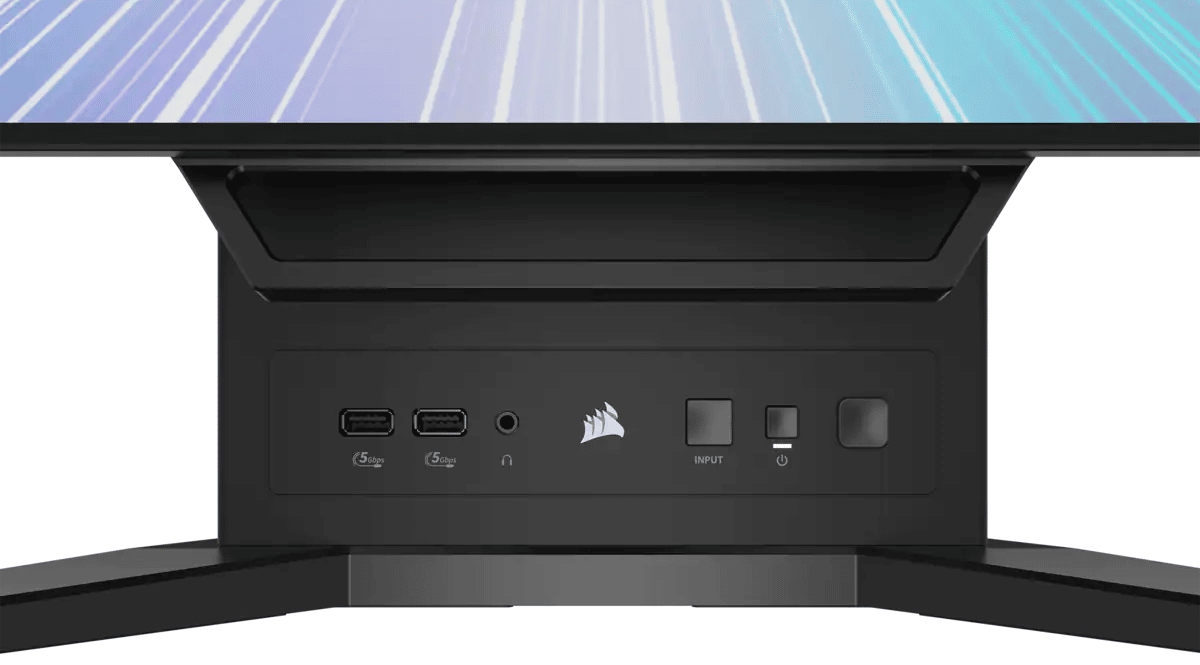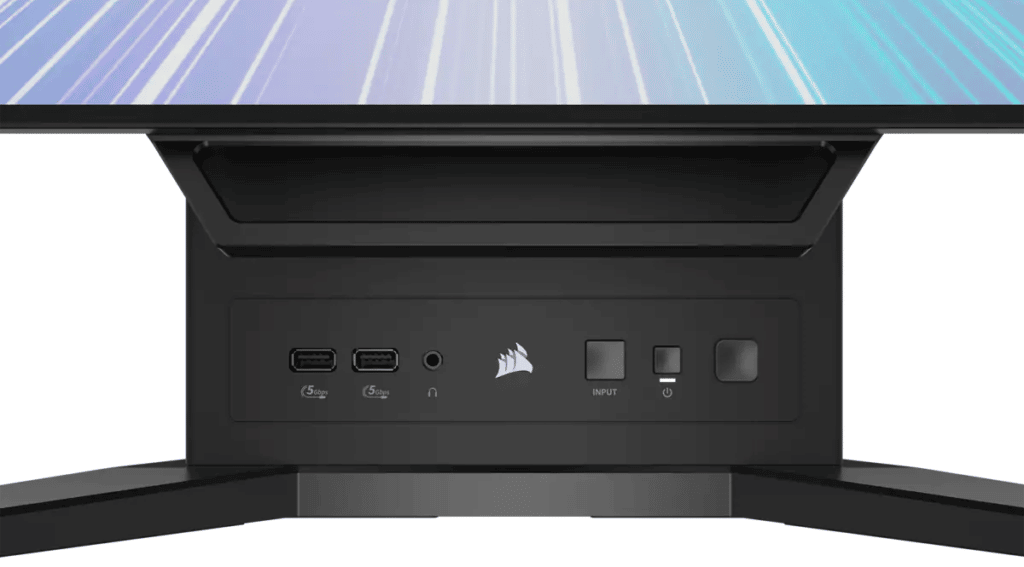 The aforementioned I/O layouts include exciting options for users who want to make the most out of this investment. The panel at the back includes DisplayPort 1.4 and two HDMI 2.1 ports, plus a 90-Watt USB-C slot and two USB 3.2 ports. The front has a 3.5mm jack for headphones, two more USB 3.2 ports, and the monitor's main control layout.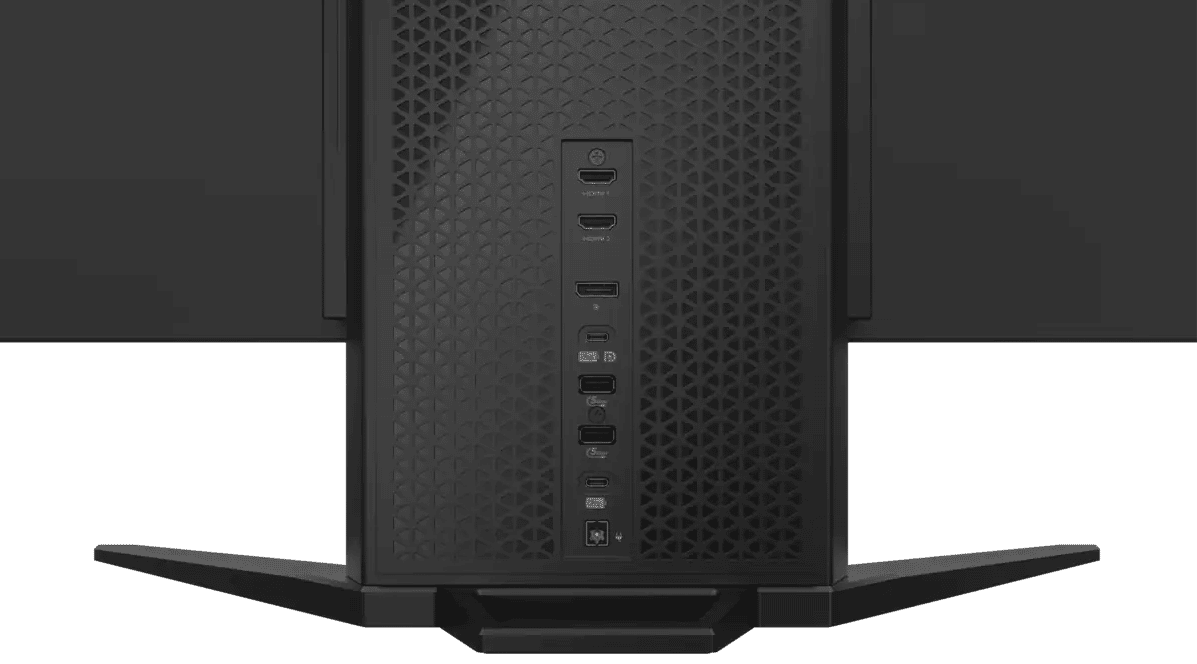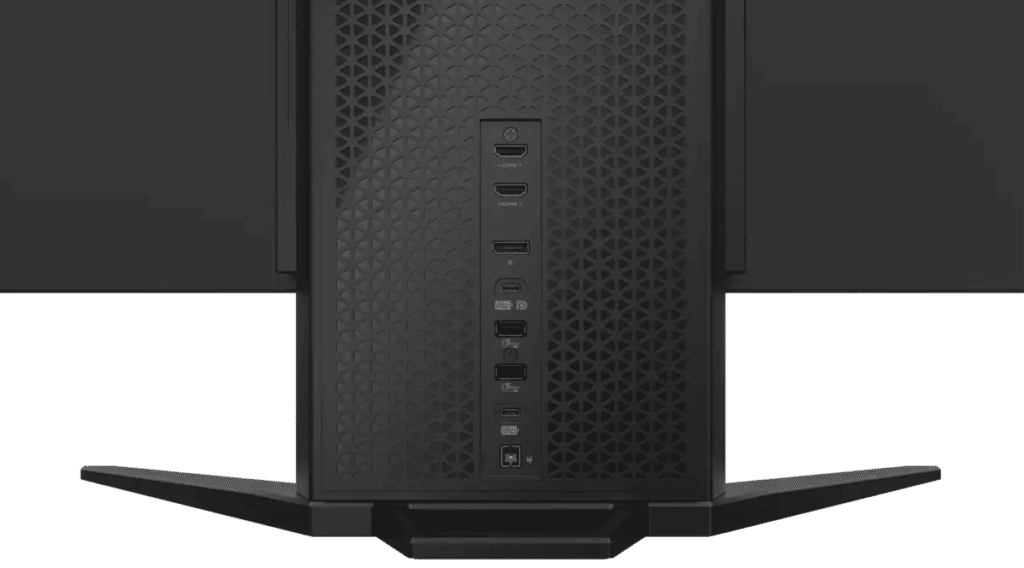 We like that the ports are located on a fixed part of the monitor so the cables won't have to be scrunched up unwantedly. They are also easier to access since you don't have to lean over the massive cabinet. Another design limitation of this monitor's flex mechanism is it leaves no room for speakers on the cabinet. This model's ultimate goal is immersion on demand, and a good set of speakers with a woofer will complement that. However, this is fine since headsets will be better, although we still feel they should be included because of the high price.
Display and Performance
The Corsair Xeneon Flex 45WQHD240 boasts a 35-inch OLED panel with a 3440 x 1440 resolution, a 240Hz refresh rate, and a 0.03ms response time. The panel has a 1000 cd/m2 maximum output while the contrast is listed at 1350000:1. This model doesn't have HDR certification yet since a new category is being created for OLEDs with higher brightness outputs.
This model has a 3440 x 1440 resolution and a 21:9 aspect ratio, so it's a standard screen format despite its peculiar size. It will not be as crisp as a 34-inch variant, but visibility and legibility will be a bit better. You need to sit back further with this monitor, but of course, that's the subjective part, so it is going to be up to you.
The monitor's flexing capabilities can transform it from a flat panel to a curved one with an 800r curvature. It is not as steep as most imagined when this monitor was still a concept, but it's still beneficial due to the large screen size. However, shifting between flat and curved screens can take some getting used to, so we don't imagine many users will frequently shift between the two forms.
The Corsair Xeneon Flex 45WQHD240 covers 100% of the sRGB and 97% of the DCI-P3 gamuts for brilliant colors in games and movies. Corsair did say that the device is pre-calibrated to have a color-accurate score of 2.0 or below. However, the default setup had a higher 2,79 result, but most of it is because of the screen's extra saturation levels.
Calibrating the Corsair Xeneon Flex 45WQHD240 reduced the dE average to a better 1.07 dE average. That makes the monitor usable for editing or content creation, but you will need a colorimeter to get the same level of improvement. We only recommend getting the colorimeter if you do color-critical work, but the default is acceptable for gaming or entertainment.
The Corsair Xeneon Flex 45WQHD240's brightness reached 280 cd/m2 in SDR, but it peaked at 601 cd/m2 when its HDR mode was active. That missed the advertised peak output. However, this is understandable for large OLED panels since they are power-limited. That means the peak brightness tapers off if larger parts of the screen have brighter colors or backgrounds.
Panel uniformity for the Corsair Xeneon Flex 45WQHD240 sample was perfect since there were no light leaks or noticeable variances. We didn't see any clouding or bleeding from the panel, but most of that is because this panel type doesn't have a backlight. However, it is prone to burn-in, which will ruin the panel if you are not careful.
The Corsair Xeneon Flex 45WQHD240's pixel response time is also the best we've seen from gaming OLED displays. The high 240Hz refresh rate eliminates the need for overdrive since the monitor barely shows blurring. This slightly changes if you drop to 144Hz, 120Hz, or 60Hz, but the screen is still quite fast compared to other panel types.
The Corsair Xeneon Flex 45WQHD240 is compatible with FreeSync and G-Sync, so you don't have to worry about tearing and stuttering. Compatibility with both VRR solutions is a must-have now so you don't get stuck with one brand when upgrading time arrives. Input lag sits at 4ms at 240Hz, so there is no need to worry about delays while gaming.
Thoughts on the Corsair Xeneon Flex 45WQHD240
The Corsair Xeneon Flex 45WQHD240 is a fantastic gaming monitor, even if it doesn't have its flexing magic. The OLED panel offers brilliant colors and an infinite contrast ratio, so it is truly the best option if you want proper HDR performance. We love its design despite the limitations, plus that flat-to-curve transformation is nice if you want to diversify your gaming experiences.
However, the Corsair Xeneon Flex 45WQHD240 is quite expensive, and it forgoes basic creature comforts in favor of its central gimmick. The stand could use height adjustment, at least since the monitor stands tall, plus it's an injustice not to include upgraded speakers at this price. But overall, it's a fantastic gaming display for high-end setups and even productivity or business use.
Pros:
Unique Design
Fantastic OLED Panel
True HDR Performance
Fast and Responsive
Cons:
Expensive
Limited to Tilt
No Gaming-Grade Speakers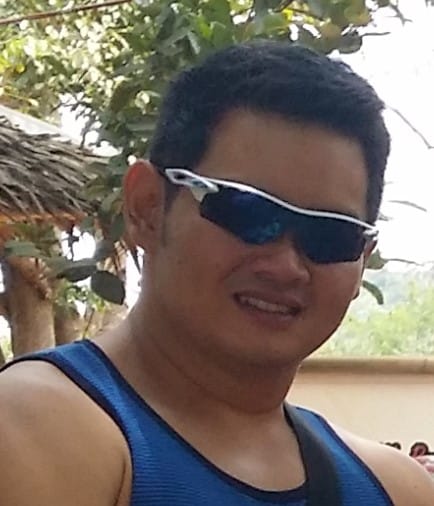 Paolo is a gaming veteran from the golden days of Doom and Warcraft. Since junior high, he has been building gaming systems for family, friends, and colleagues. High-performance monitors are one of his fixations; he believes that every citizen's right to enjoy one. He has gone through several pieces of hardware in pursuit of every bit of performance gain, much to the dismay of his wallet. He has also spent half a decade researching, reviewing, and writing about these products and now has over 1400 articles about the best gaming tech under his belt.