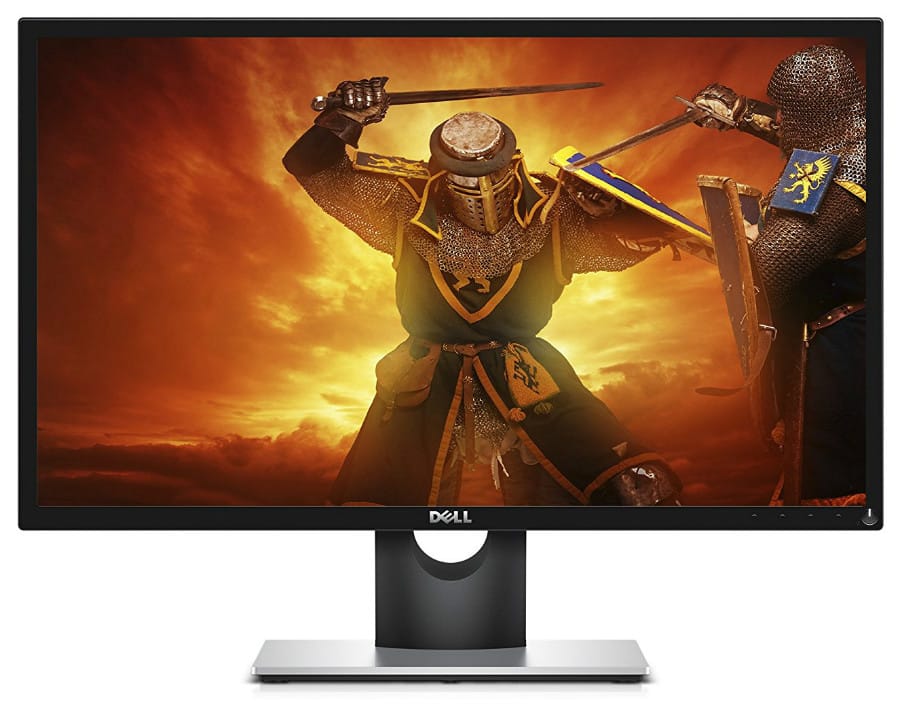 The Dell SE2417HG is a simplified full HD monitor designed to satisfy casual gamers who want decent performance for PC and console gaming. The specs aren't as impressive as what we see on its upmarket cousins, but this model offers solid reliability and a screen that capable enough to offer decent visuals. The Dell SE2417HG is a popular choice for budget gamers everywhere for its easy to own and timeless nature, making it interesting to see how it stacks against the high-end displays.

Dell SE2417HG Specifications
Screen Size: 24 Inches
Resolution: 1920 x 1080p FHD
Aspect Ratio: 16:9
Panel Technology: Twisted Nematic (TN)
Refresh Rate: 60Hz
Response Time: 2ms
Contrast Ratio: 1000:1 (Static)
Brightness: 300 cd/m²
Built-in Speakers: No
Stand: Height – No
Stand: Tilt – Yes
Stand: Swivel – Yes
Stand: Pivot – Yes
VESA Compatibility: Yes 100 x 100
Connectivity: HDMI with HDCP x 1, VGA x 1, Audio Jack
Dimensions with Stand(WxHxD): 21.86" x 12.99" x 2.17"
Weight: 7.5lbs

Design and Features
The Dell SE2417HG, like the rest of the brand's display products, sports the familiar but appreciated black and gray scheme which has become synonymous with reliability. The face includes reasonably thick bezels which reduce the viewable area to only 83% which is still acceptable by today's standards. What we love, however, is the compact physique of the product which enables it to fit on restricted desks or spaces.
The Dell SE2417HG is a budget-oriented monitor which means that it comes with limited functionalities. The build quality feels robust and reliable, but choosing this monitor will leave you with tilt as the only adjustment. The good news is that you can remove the included aluminum riser stand in favor of VESA aftermarket options such as wall mounts or armatures.
The connectivity layout is limited as well, but you do get to use the Dell SE2417HG with up to three host devices. The two HDMI 1.4 slots are useful for adding a PC and an HD gaming console like the PS4 Slim, while the VGA slot is delegated to legacy devices that still use the standard. There are no built-in speakers for essential audio appreciation, but there is a 3.5mm pass-through jack for speakers or headphones.
Display and Performance
The Dell SE2417HG sports a 23.6-inch TN panel with a 1920 x 1080 resolution, 60Hz refresh rate, and 1ms response time. The max brightness is specified at 300cd/m2 while the contrast ratio is listed at 1000:1. These are all typical numbers for budget monitors, but what stands out for this device is it uses a native 8-bit interface to maximize color.
For such a humble product, the Dell SE2417HG has some impressive numbers when it comes to imaging quality. The module is capable of 96% sRGB coverage with a Delta E average of around 1.5 which pushes past competitors with lower scores. Contrast is within acceptable limits at 800:1, offering middling results in presenting blacks and grayscale outputs.
The Dell SE2417HG does exceedingly well for its primary purpose which includes movie watching and casual gaming. The screen has sufficient vibrancy to make games enjoyable, but placing it next to a high-end model or an IPS-equipped variant will immediately show the difference between each one. Gamma stayed near 2.2 at brightness levels below 50%, effectively lessening the washing out that occurs in some images.
What surprised us, however, is that the Dell SE2417HG showed some ghosting and blurring when color transitions are drastic from darker to lighter tones. Most of the time, the imaging defects are unnoticeable, but they become noticeable once in a while. If you are playing slow-paced titles, this shouldn't be an issue, but FPS and racing games might be less satisfying.
The issue above is slightly disappointing since the Dell SE2417HG is marketed as a responsive gaming monitor. By today's standards, TN panels shouldn't be prone to pixel transition issues since a faster response time in this regard is the main selling point.  For necessary use, most would get away with not noticing these tiny but disturbing artifacts, unless you come from more modern and sophisticated models.
On a positive note, the Dell SE2417HG regains ground by posting an input lag time of 4ms which equates to around .00040 seconds of delay. During testing with playing PUBG, the control input to screen transition felt on point and accurate. If the TN module were fast enough in pixel transitions, this product would be highly recommended as an option for those who want budget-friendly displays.
Thoughts on the Dell SE2417HG
The Dell SE2417HG is a promising product when it comes to budget gaming, but its slow pixel transition is its main deal breaker. Most casual gamers wouldn't notice the difference, but having handled new and improved variants revealed the difference. At least, every other important aspect such as latency and color fidelity puts this device as a reasonable secondary or replacement monitor.
You get what you pay for with the Dell SE2417HG and its limitations if your primary purpose is casual gaming in the FPS and racing genres. The monitor feels accurate and spot on, but the ghosting issue could become bothersome at some point. A much better alternative would be the BenQ GL2580H which is a monitor with nearly identical traits but is borderless and much faster in pixel response time.