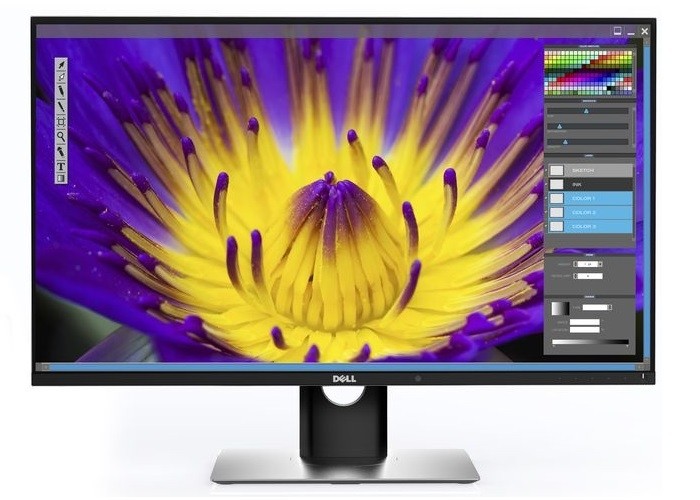 Review of Dell UP3017Q
**UPDATE 2-1-2017.  The Dell UP3017Q has been discontinued by Dell. **
**UPDATE 4-19-2017.  The Dell UP3017Q is once again available for pre-order. Click here for more information.**
It takes a lot of excellent characteristics and capabilities to be considered the crème de la crème in a certain niche. But in this day and age where cutting-edge specs are steadily becoming mainstream, keeping the crown of supremacy becomes almost impossible. With the Dell UP3017Q, Dell provides the demanding and meticulous users with a product that breaks the mold in the monitor market. This product flaunts a 400,000:1 static contrast ratio, a .01ms response time and a near perfect color gamut capability, all of which are made possible with its 30-inch OLED (Organic Light Emitting Diode) panel more commonly found on high-end phones. The UP3017Q's specs steamroll what the competitors are currently offering while further advancing Dell's Ultrasharp portfolio of professional products.
Technical Specifications
– Screen Size: 30 inches
– Resolution: 4k UHD 3840 x 2160
– Aspect Ratio: 16:9
– Panel Technology: Organic Light Emitting Diode (OLED)
Refresh Rate: 120hz (DisplayPort over USB-C via Thunderbolt 3 via USB-C)
– Response Time (Gray to Gray): 0.1 milliseconds
– Contrast Ratio: 400,000:1 (Static)
-VESA Compatibility: Yes (100×100)
Design and features
The Dell UP3017Q carries the distinct looks of the Ultrasharp line. What sets it apart from its more mainstream brethren is that it is extremely slim. The bezel is almost non-existent, thanks to Dell's dual stage design which comprises of a ultra-slim border with a plastic outer shell. The top and side strips are hard to notice on the stunning OLED screen except for the bottom piece which houses the Dell logo and the touch sensitive OSD and power buttons. Since the cabinet is as thin as a blade, the connection ports point downward. This scheme can be a bit tedious to setup but makes it easier to make the cables pass through the hole meant to hold these cords in place for a streamlined and clutter-free desk.
The stand is as typical as those that you can find on the other Ultrasharp monitors. The design is strictly minimalist but functional. The UP3017Q's mechanism can only tilt and swivel, but there is a variant (UP3017QA) that includes a mounting arm for more articulation. Even so, the stand quickly detaches at a push of a button to reveal the VESA holes for more versatile mounting options. The neck also features a large hole for cable management or as a carry handle in case you want to move this beast around.
The UP3017Q has an unusual choice of connection ports to achieve 4k UHD at 120hz. Instead of DisplayPort 1.3+, Dell has opted to go to a USB-C connection for the feature. The USB-C ports also have support for Thunderbolt 3 which can carry both power and display data in a single cable. This feature also enables connections with Apple's latest products. Aside from these, the display will also ship with HDMI 2.0 and DisplayPort 1.2 for 60hz operation.
Display Features and Performance
While there isn't a lot that can be said about the physical features at this time, the key attribute that the UP3017Q has is its OLED (Organic Light Emitting Diode) panel. This model is the first to use this panel technology in Dell's lineup, and aside from the hefty price tag, it sets it further apart from most of the options in the Ultrasharp range. OLED panels are mostly only found on top-end mobile phones. The main reason this tech has not yet reached the monitor mainstream is that it is quite expensive to produce which in turn affects the retail price of products. Even if OLED is considered superior to LCDs,  the panel type also has another downside; they suffer from shorter life cycles and more burn-in. Despite that case, Dell has promised to counter it by adding a pixel shifting algorithm and an image sensor that detects if you are viewing the device or not.
The UP3017Q has capabilities that blow the competition away. Mainly due to its OLED panel, the monitor has a 400,000:1 contrast ratio, that stomps the usual 1000:1 of mainstream monitors. OLEDs do not use backlighting like LCDs and LEDs. The screen will not be vulnerable to backlight bleeding, discoloration, and uneven pictures usually experienced with LCDs and IPS panels. It is because of this revolutionary feature that this sexy piece of the future can project images that have deeper blacks and vibrant and accurate colors. The screen also has a 10-bit color output, meaning it can show 1.07 billion colors. Due to these facts, the display is capable of 100% Adobe RGB gamut and 97.8% DCI-P3 color spaces. Also, 4k UHD at 30 inches will give this product a pixel density of 146PPI producing clarity that stuns the visual sense.
Aside from the color capabilities, the UP3017Q can generate images at a 120hz refresh rate with an astounding 0.1ms response time. That's almost forty times as fast as the quickest gaming monitors available now. As of this time, no product offers these rates at 4k UHD in an OLED panel. While mostly aimed at pleasing professional eyes, the product will not disappoint as a gaming peripheral as well. 120hz is still fantastic for most gaming applications, and the response time will also allow faster color changing reaction and reduce screen tearing to non-existence. You can add this beast to your gaming arsenal for flabbergasting performance and serious bragging rights. Just be sure to have a rig that can provide the juice so you can make full use of the out of this world features.
Conclusion
The Dell UP3017Q is indeed an exciting product. It has been quite some time since it has been announced at CES 2016, and most speculations for its delay are pointing towards a possible redesign of the connection ports to the newer DisplayPort 1.4 standards. There is a minuscule idea of what Dell has up their sleeve with this product's release, but as it is the specs on paper are titillating. The hair-raising quickness of the monitor coupled with its dead-on color reproduction capabilities and the excellent contrast of the OLED panel will recast the current monitor standards available to discerning professionals and hardcore gamers.
Aside from the limited downsides of the OLED technology in this product, the biggest drawback to the UP3017Q is its price tag; a whopping $4999 at release. We cannot deny that this product is a luxury item for most applications but having a piece of tomorrow always comes with a massive price tag. OLEDs are still too expensive to produce and vulnerable to short life expectancy that is why we can mostly find the type in small sizes in mobile phones and tablets. The panel type, its benefits and the performance on paper mainly determine the price tag, but the question lies in the justification of spending so much on a display product. For some meticulous professionals or die-hard gamers, for those who must have the absolute best, then the $4999 Dell UP3017Q is a must buy.