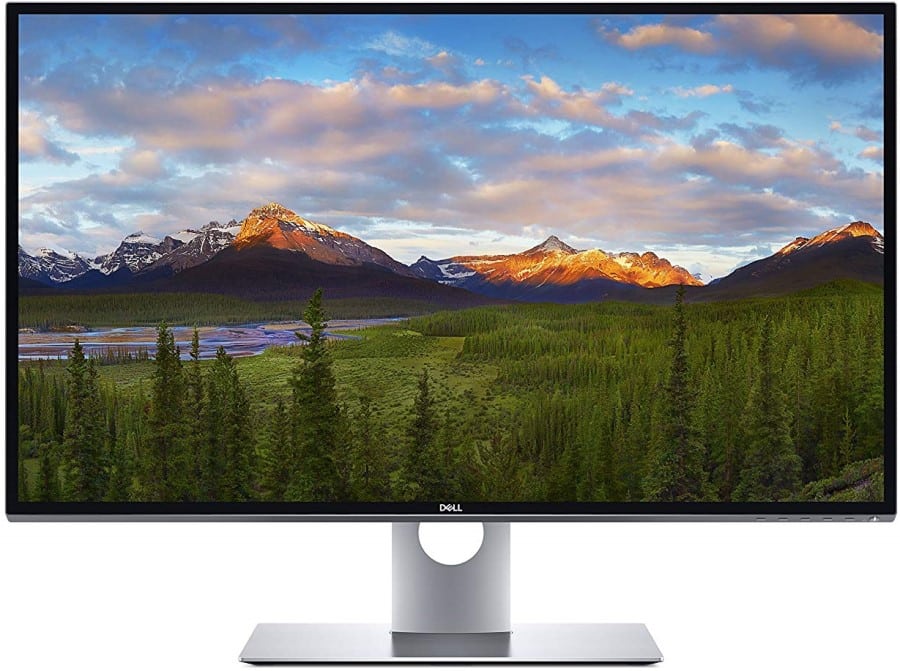 The Dell UP3218K is an exquisite piece of tech for meticulous users who want a cutting-edge 8K screen with fantastic color fidelity. This model's 275 PPI pixel density offers incredible detail and clarity which designers will love, but gamers will dread. The Dell UP3218K is more than just a high-end prosumer monitor since it gives us a peek of the future, so let's check out what this monster can do.

Dell UP3218K Specifications
Screen Size: 32 Inches
Resolution: 7680 x 4320 8K
Aspect Ratio: 16:9
Panel Technology: In-Plane Switching (IPS)
Refresh Rate: 60Hz
Response Time: 6ms
Contrast Ratio: 1300:1 (Static)
Brightness: 400 cd/m²
Stand: Height – Yes
Stand: Tilt – Yes (-5°/+21°)
Stand: Swivel – Yes
Stand: Pivot – Yes
VESA Compatibility: Yes
Connectivity: DisplayPort 1.4 x 2, USB 3.0 x 4, 3.5mm Audio Jacks
Dimensions (WxHxD): 28.4″ x 24.3″ x 8.5"

Design and Features
You'll know instantly that the Dell UP3218K is a cut above the rest of its ilk with just one look, but it doesn't shed the brand's signature aesthetic treatment. The black and powder coated silver combo works well to provide a hint of class and minimalism to the high-end device. The screen's infinity-edge design makes it look even more impressive, but you can still see thin panel borders when the monitor is in use.
One thing we noticed with the Dell UP3218K is it is slightly heavier than some of the 32-inch monitors we've tested due to the metals used instead of plastic. The cabinet looks like a blade compared to other variants, making it perfect for flush mounting. You also wouldn't have any trouble fitting this model on a desk since it only eats up about eight and a half inches of depth, plus the position of the upright should enable you to push it closer to a wall.
Build quality is fantastic for the Dell UP3218K thanks to the brand's excellent material selection and engineering. The seams fit perfectly and there are no mechanical or physical imperfections on the device which would otherwise make its price tag seem a bit silly.
One thing we dislike on the Dell UP3218K is its use of OSD buttons which we think is archaic at this point. Normally, you'd get at least a joystick or a remote with high-end models as part of the premium package, but Dell skipped that out. Don't get us wrong, the buttons are crisp and responsive, but they are just troublesome to use for a monitor that will see constant tweaking and calibration.
The Dell UP3218Kcomes with a flexible stand to help users get a comfortable view of the massive screen. You can tilt, swivel, pivot, and adjust the height of the display to suit your needs or setup orientation. The device is VESA compatible so you can use articulate armatures for a multi-monitor setup, although we'd like to remind you that this beast requires a lot of attention from your PC, making dual-head next to impossible.

The Dell UP3218K's connectivity panel includes dual Displayport 1.2 slots for video inputs and five USB 3.0 slots for accessories. There are no HDMI slots or other video inputs since they won't be able to run this monitor with the current standards. This layout is limiting, but its a necessity for 8K if you consider today's display standards.
Take note that you need to connect the two DP 1.4 slots to a video source to run the monitor in 8K at 60Hz. But contrary to popular belief, the Dell UP3218K will still run at 8K if you only use one of the video inputs. However, the monitor will be limited to 30Hz which shouldn't be an issue for design, but it can get irritating if the display appears slow when you move your cursor or adjust one of the many windows you can fit into the screen.
Display and Performance
The Dell UP3218K boasts a 32-inch IPS panel with a 7680 x 4320 8K resolution, 60Hz refresh rate, and 6ms minimum response time. The backlight is limited to 400 cd/m2 so there is no HDR compatibility here, but the contrast ratio is extended to 1300:1 like what the LG Nano IPS panels offer. This model isn't a gaming display, but lets not deny that we are all looking forward to the day when our favorite hobby reaches this visual milestone.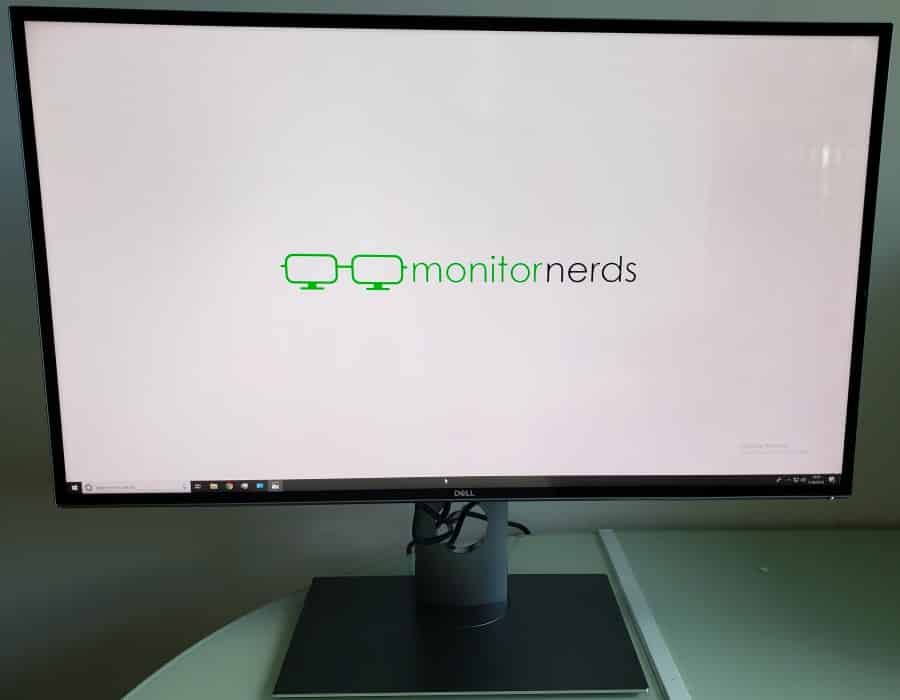 The Dell UP3218K's out of this world 275 PPI is difficult to describe in words alone since it is a massive upgrade for all of us. The screen looks super crisp and detailed, especially if you view it from a distance of around three feet. It's a sight for sore eyes, but one thing that many of us will struggle with is the scaling issues of this resolution which makes icons and text too small.
8K isn't natively supported by many programs and applications, and you need at least Windows 10 to enjoy it. You will also need top-end cards that have DP 1.4 slots and DSC or Display Stream Compression technology to run this monitor, like the EVGA RTX 2080 Ti Black Edition we reviewed earlier.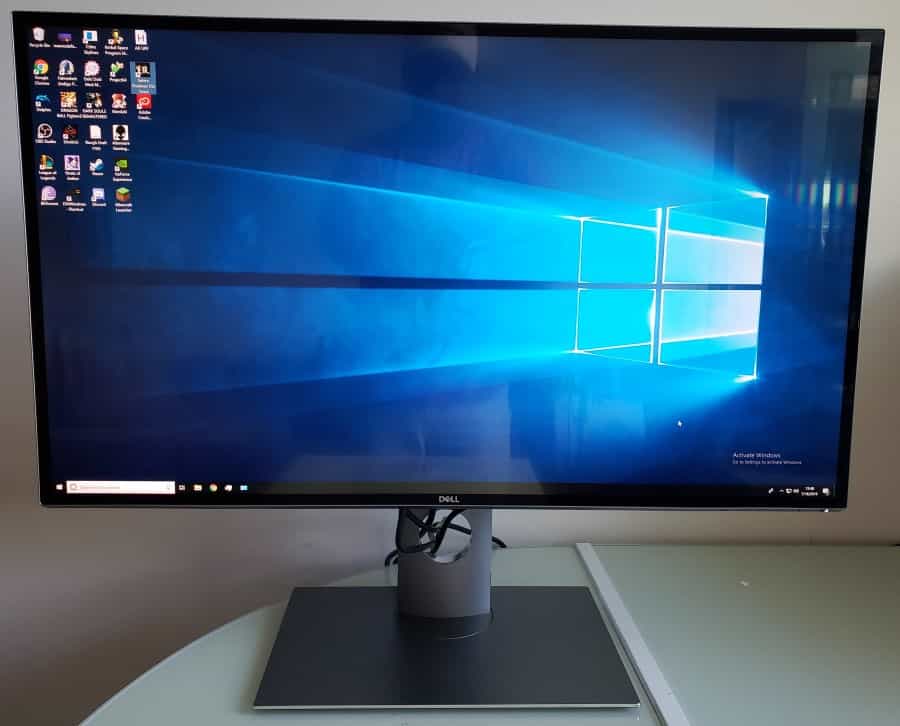 The Dell UP3218K is also using a glossy coating instead of the matte AG layers they use on most of their monitors. What's great about this is it helps colors to pop even more, but a small light source will bounce off it and produce unwanted glare. We recommend using this device in a dim environment since even a small lamp from a distance will create an uncomfortable effect on the glass-like panel.
The Dell UP3218K provides impressive color quality right out of the box which makes it fantastic for photo and video editing. The IPS panel is capable of producing 100% of both the sRGB and Adobe RGB gamuts, with a DE average of more or less 1.7 for both. You can still push this further with a capable colorimeter, but we're glad that it isn't necessary to improve accuracy especially since the device is very expensive.
The backlight on the Dell UP3218K is only able to reach 300 cd/m2, contrary to the manufacturer's claims. However, that's not a bigger issue than the screen's contrast ratio which topped out at 800:1, compared to the 1300:1 spec. This limitation had an effect on the screen's black luminance, making it look grayish when displaying blacks.
Gamma was also affected since it dropped to 2.10 which is slightly off, but it shouldn't affect regular use. There is no gamma presets with the OSD, so at this point, you might want to rely on a colorimeter to correct this characteristic according to your needs.
It's also worth noting that the Dell UP3218K uses an edge-lit LED design, but this feature doesn't have local dimming features. Panel uniformity is fantastic for both brightness and color, but it could appear that the screen has minimal light leaks. However, we did not notice any discolorations or dimmer sectors on the screen, indicating that Dell took extra care in quality control for this device.
We also noticed that the Dell UP3218K runs extra hot during our testing, especially if you watch videos or attempt to run a game off it. It doesn't get blazingly hot, but it runs extra warm which is worrying considering this model doesn't have a cooling fan like some of the 4K 144Hz HDR monitors we've seen. We haven't heard of feedback from users that the device fizzled out on them, but it would be wise to place this monitor in an airconditioned or well-ventilated room for safety purposes.
Responsiveness isn't a key feature of the Dell UP3218K, but we think it's impressive that the product can handle it quite well. The device doesn't blur considerably, and there is little to no pixel persistence seen during our test. The bigger issue here is the limitations you will run into when you fire up a game.
8K requires massive amounts of GPU power to run, so we wouldn't recommend this monitor for that kind of use even if you have dual 2080 Tis in NVLink. We tried running Fortnite with our EVGA RTX 2080 Ti Black Edition, but we only got a dismal 15 FPS average which rendered the low-spec game unplayable. Tweaktown benchmarked two RTX 2080 Tis for several games, but FPS averages only hovered around the 40s  or 50s with regular dips to the 20s and 30s in some scenes.
The Dell UP3218K doesn't support FreeSync or G-Sync since this model was not intended for gaming purposes. But what impressed us is the input lag of the monitor, which clocked in at only 16ms which is lower than the predecessor, the Dell UP2715K 5K monitor.
Thoughts on the Dell UP3218K
The Dell UP3218K is an impressive piece of kit, but it isn't without imperfections in some characteristics that matter. However, the bedazzling capabilities of 8K coupled with a color-accurate and vibrant screen somehow outweighs these issues. Designers will love the screen and its glossy treatment, along with the built-in compatibility for calibration which will bring out every ounce of potential this product can offer.
The biggest downside of the Dell UP3218K is the total cost you need to spend to be able to utilize it. 8K 60Hz will require dual DP 1.4 connections and DSC technology, which only comes with top-end cards and workstation SKUs which are exponentially expensive. The images on this monitor are eye-popping and luxururious.  It's like taking a quantum leap into the future, and once you see it, you'll never want to go back.
About the Author: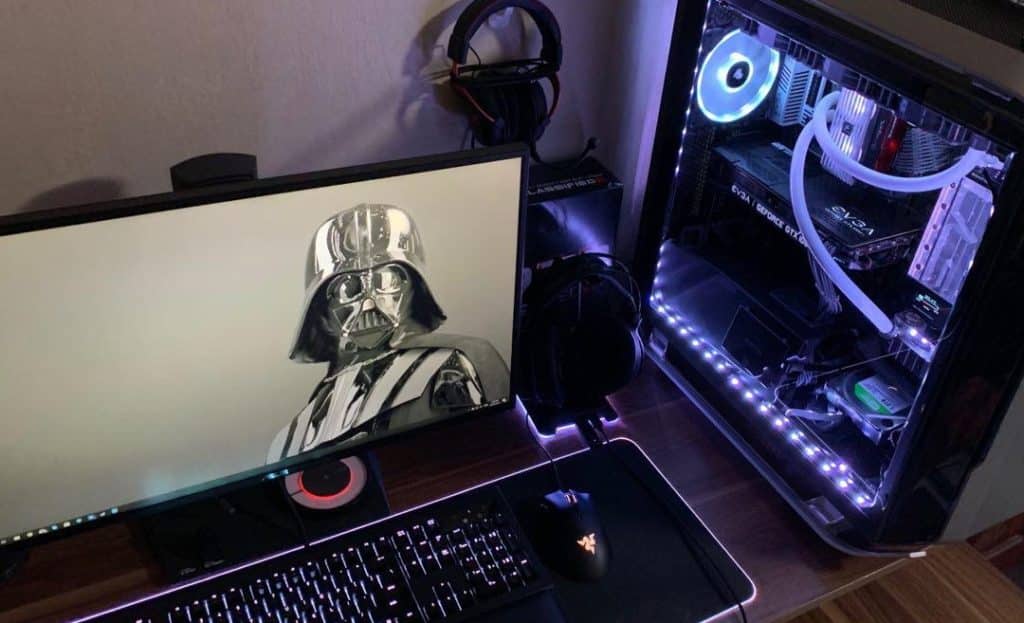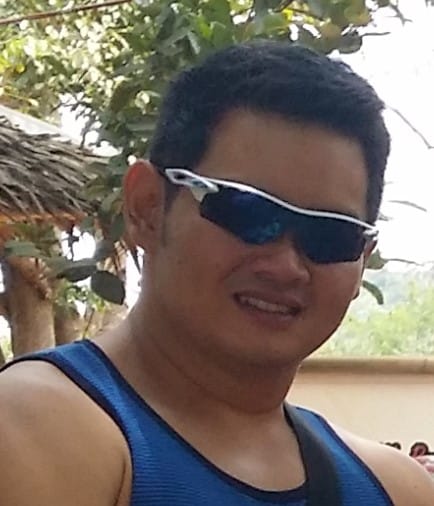 Paolo is a gaming veteran since the golden days of Doom and Warcraft and has been building gaming systems for family, friends, and colleagues since his junior high years. High-performance monitors are one of his fixations and he believes that it's every citizen's right to enjoy one. He has gone through several pieces of hardware in pursuit of every bit of performance gain, much to the dismay of his wallet. He now works with Monitornerds to scrutinize the latest gear to create reviews which accentuate the seldom explained aspects of a PC monitor.