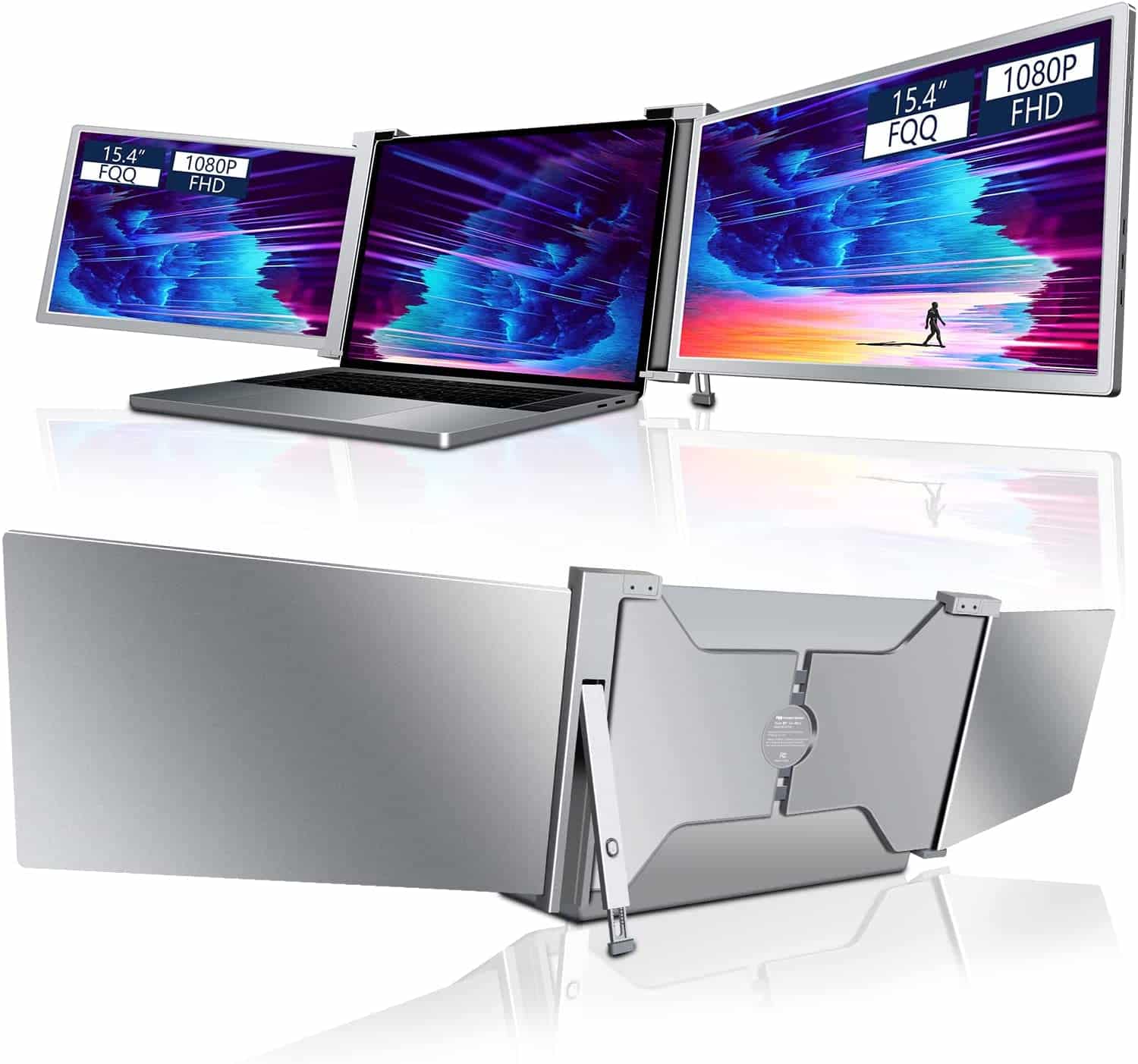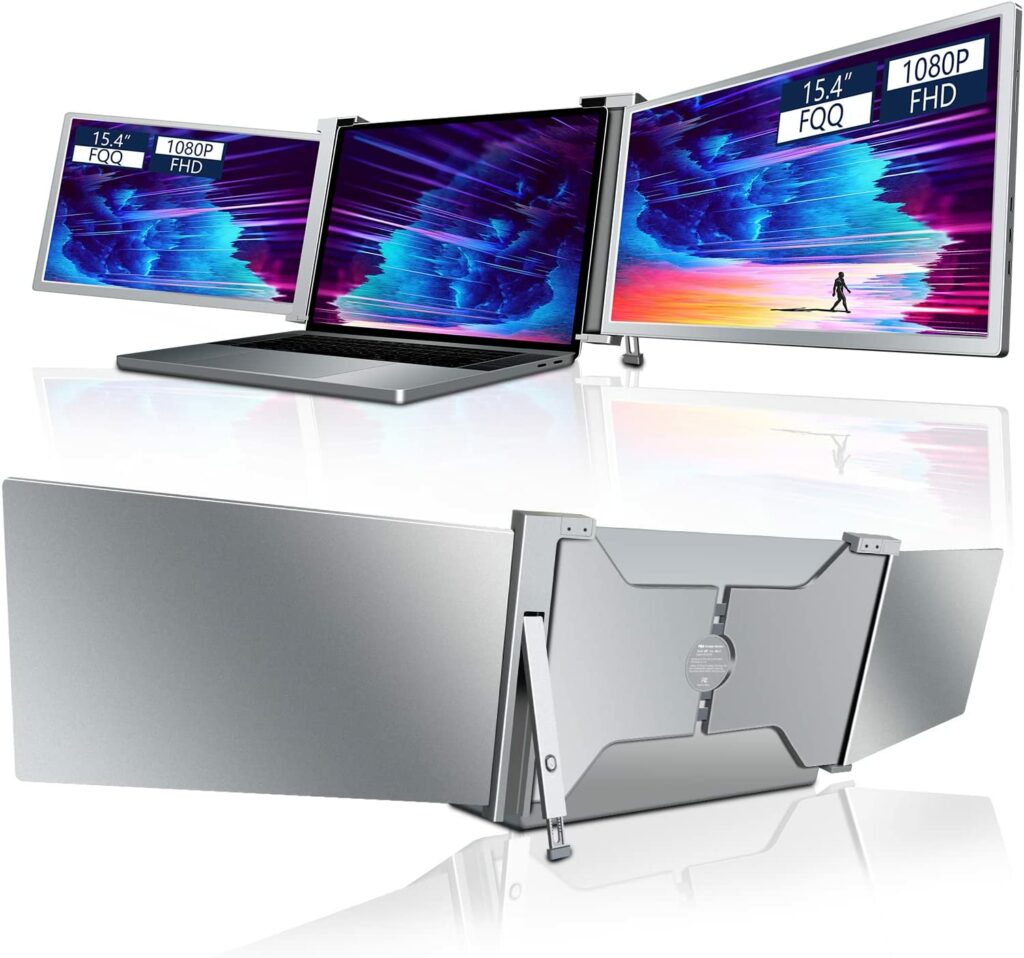 The FQQ S20 offers expansion on the go for your laptops to increase productivity with as little impact as possible. It's designed to clamp onto your device's display to expand it as if it's a multi-screen workstation instead of a usual laptop. The FQQ S20 is quite pricey if you consider getting two separate portables, but let's check it out to see if it is worth the investment.
FQQ S20 Specifications
Screen Size: 15.4 Inches (Each Display)
Resolution:1920 x 1080 FHD
Aspect Ratio: 16:9
Panel Technology: In-Plane Switching (IPS)
Refresh Rate: 60Hz
Contrast Ratio: 1000:1
Brightness: 300 cd/m²
Built-in Speakers: None
Stand: Height – No
Stand: Tilt – Yes (Using Laptop Screen)
Stand: Swivel – Yes
Stand: Pivot – No
VESA Compatibility: No
Connectivity: USB-C x 2, Mini HDMI x 1 (Each Display)
Dimensions With Stand (WxHxD): 18.2″ x 11.8″ x 4.7″

Design and Features
The FQQ S20 is a unique product with a clean aesthetic and a great fit and finish. We received the matte gray or gunmetal option, but you can also get it in black for a slightly higher price. The displays are not bezel-free, but they are manageably thin so they won't be distracting.
The device's size is just about the same as a laptop that it's compatible with, so it shouldn't be too much to handle. It's more than twice as heavy as a regular portable monitor, but that's obvious since it has two screens and a large mounting bracket. It might not fit with your laptop in a slim carrying case, but FQQ includes a nice plush carrying sleeve that can protect it adequately.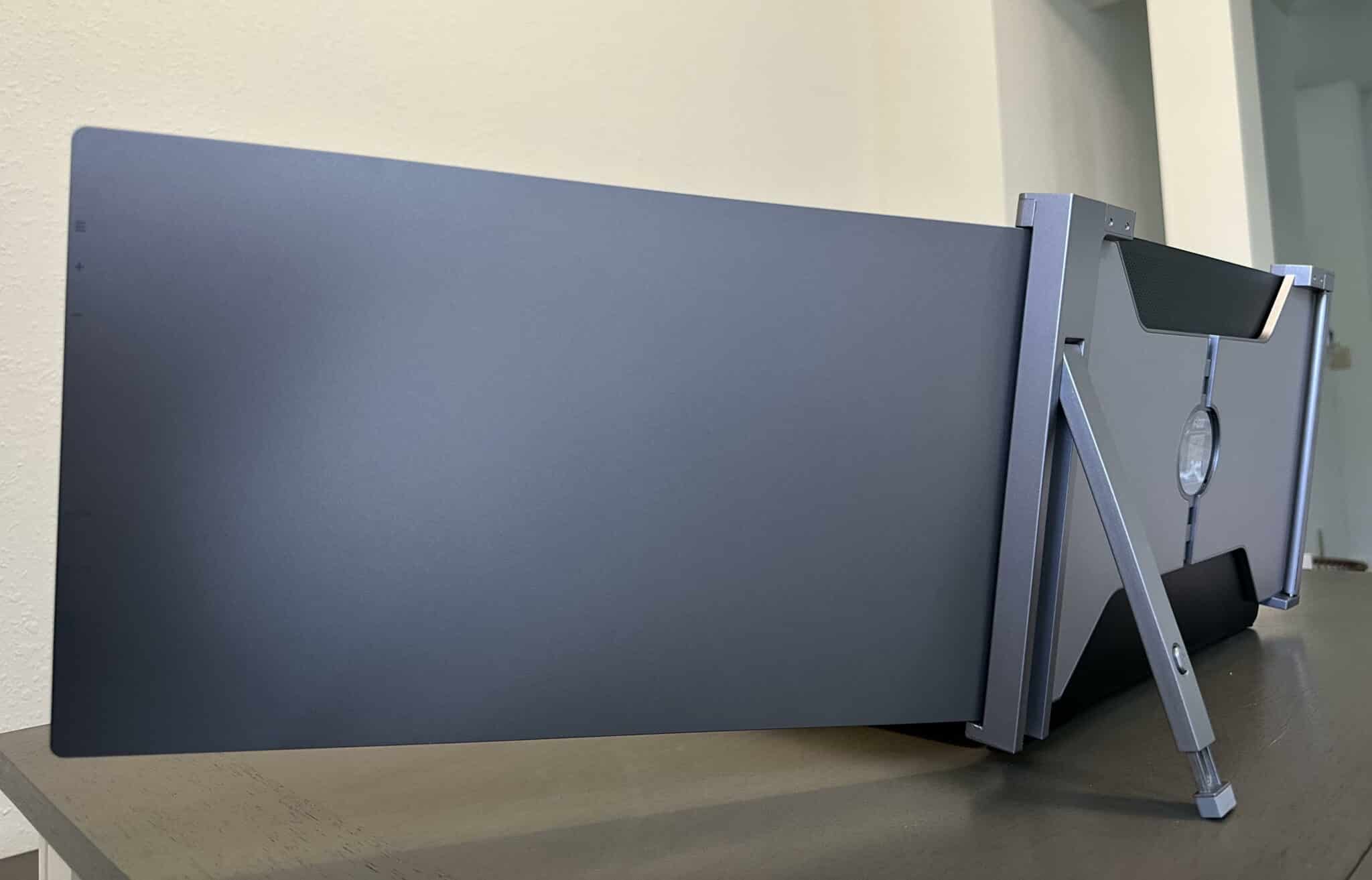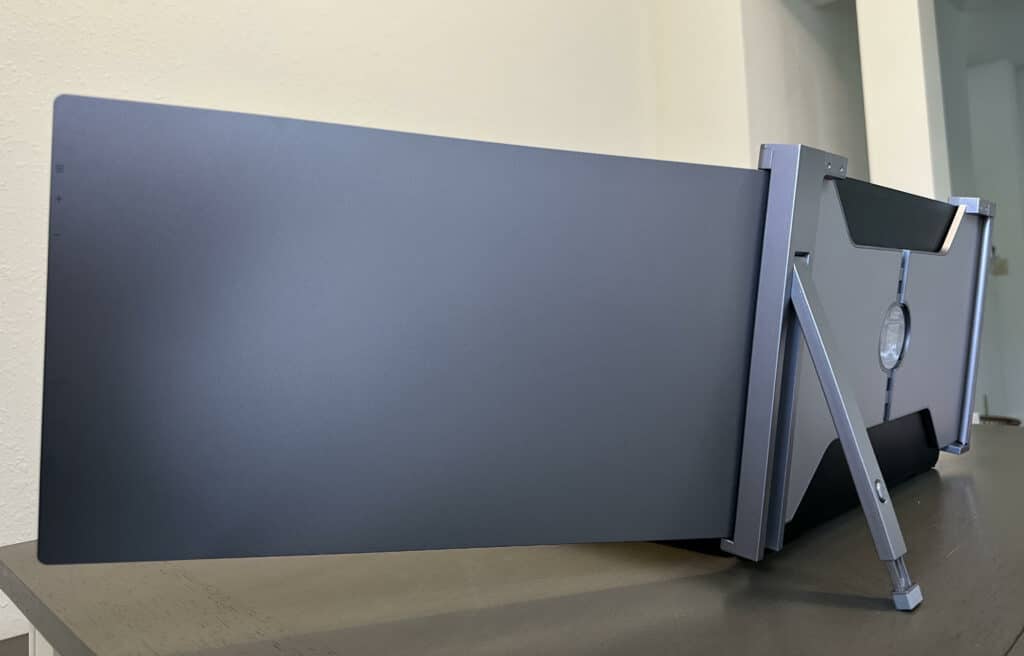 It's made mostly of plastic, but the S20 is durable enough not to break when reasonable force or motion is applied. The plastics are sufficiently thick to prevent flex or cracking, but added care is necessary if the bracket is extended since its connecting arms are thin. It's also nicely packaged in its "gift box," and it already includes two screen protectors, so you don't have to find compatible options or spend more money.
The FQQ S20's main feature, aside from its dual side screen design, is its attachment mechanism to your laptop. It has a sliding frame that lets you stretch it over your laptop's top panel and clamp onto it when it's compressed. It's a smart way to attach such an imposing device without damaging your screen or its bezels.
The downside is that it can sometimes come loose if you move the screens too much. It also weighs a lot for a portable, so it can tilt your top panel unwantedly if it's not set up properly. It does have a telescopic kickstand, but it only works if the laptop's screen is slightly tilted back.
There's also the size requirement for this model which mentions that it will not correctly clamp onto a top panel if the laptop is below 15.6 inches or over 17.3 inches. That rules out a lot of popular options like the 14-inch MacBook Pro. However, FQQ makes smaller models to accommodate the more portable options, so it's no biggie.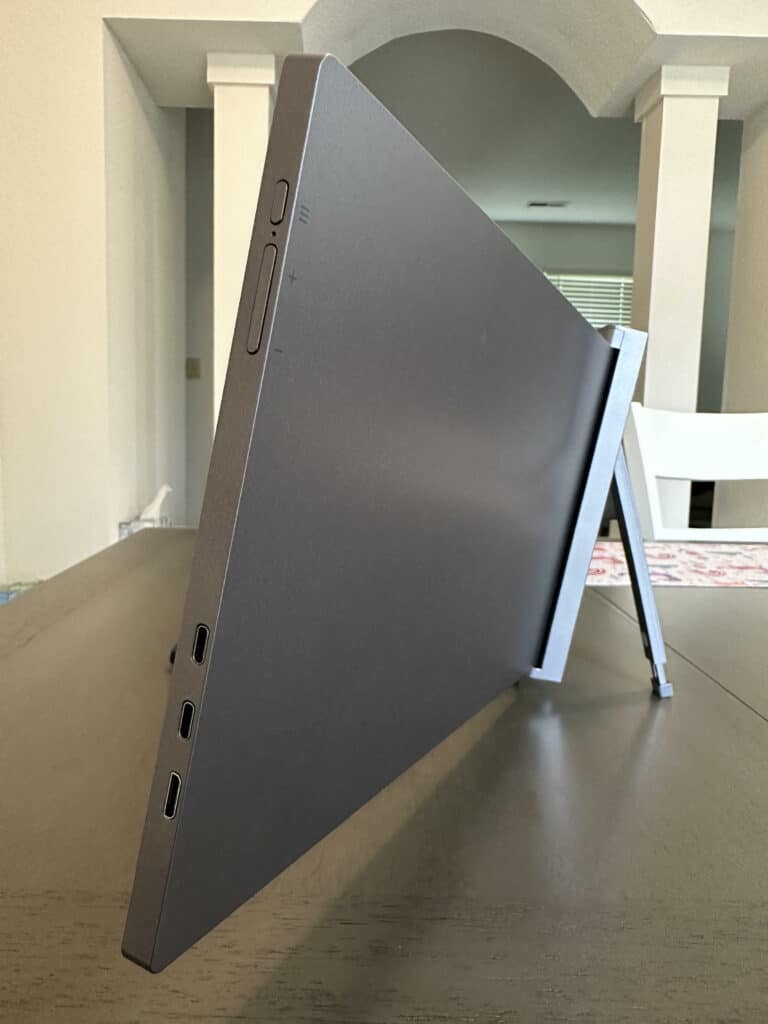 We like the FQQ S20's OSD since it includes more options that will allow you to calibrate it manually. The up and down buttons on the side of each panel adjust the screen's brightness if you press them directly, so you need to use the dedicated OSD button first to get to the menus. The keys are located at the sides, so you can individually access them and control the panels to suit your needs.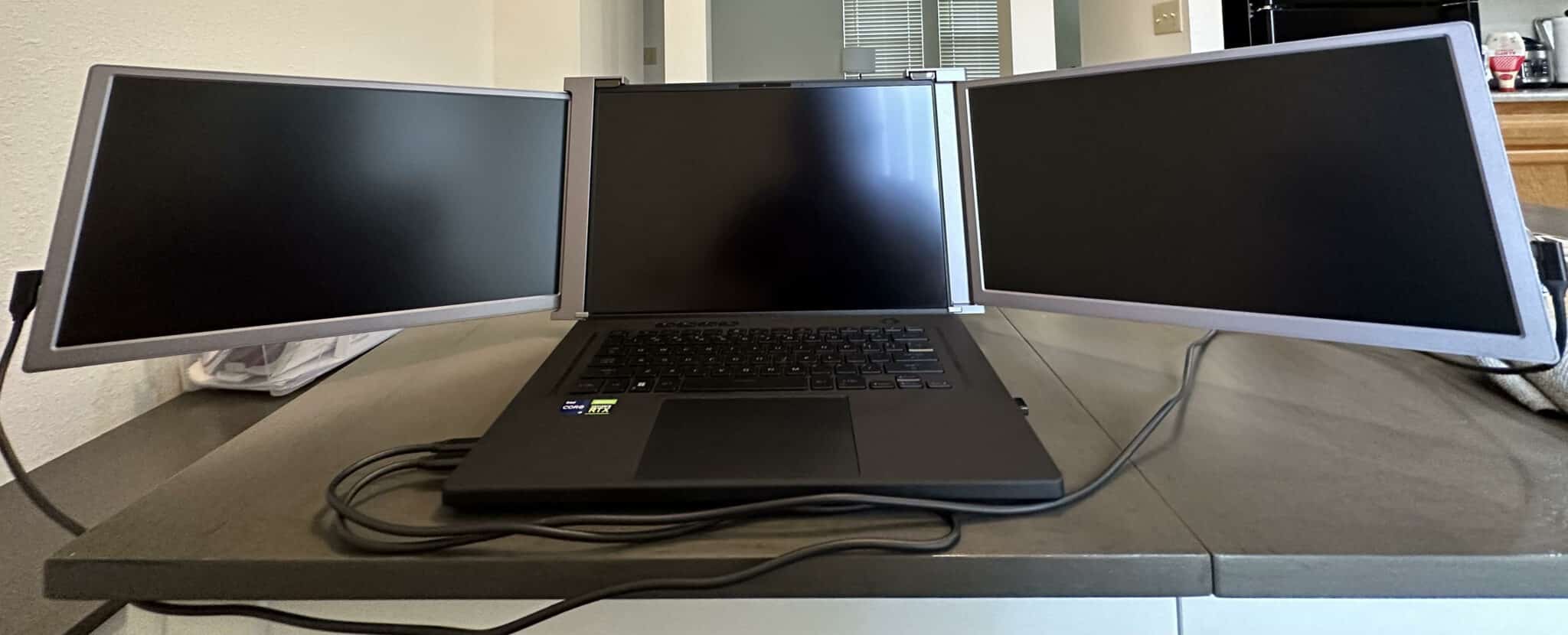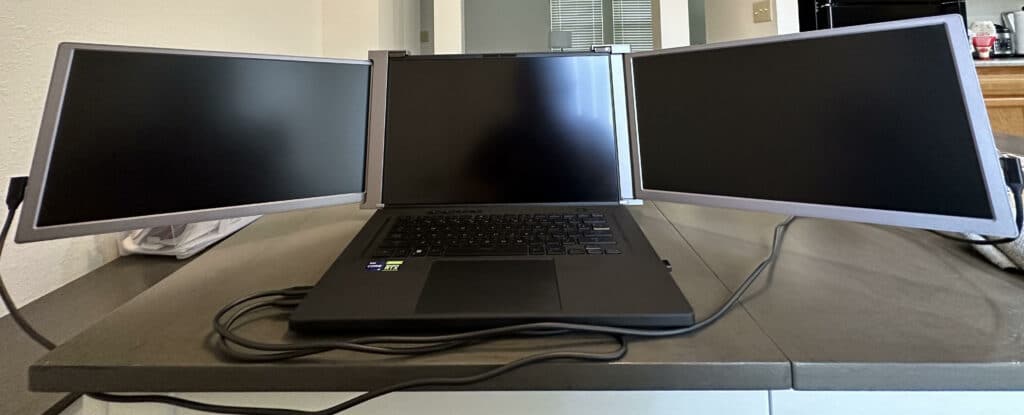 Its connectivity is also quite simple, provided you have a laptop with two USB-C slots. Each one has to offer more than 10 watts of power to negate the necessity of using the included wall adapter and USB-A to USB-C cables. You can use its mini HDMI to HDMI cable if you don't have USB-C, but you will also need to use the wall adapter or connect to a USB-A port with enough juice to power each display.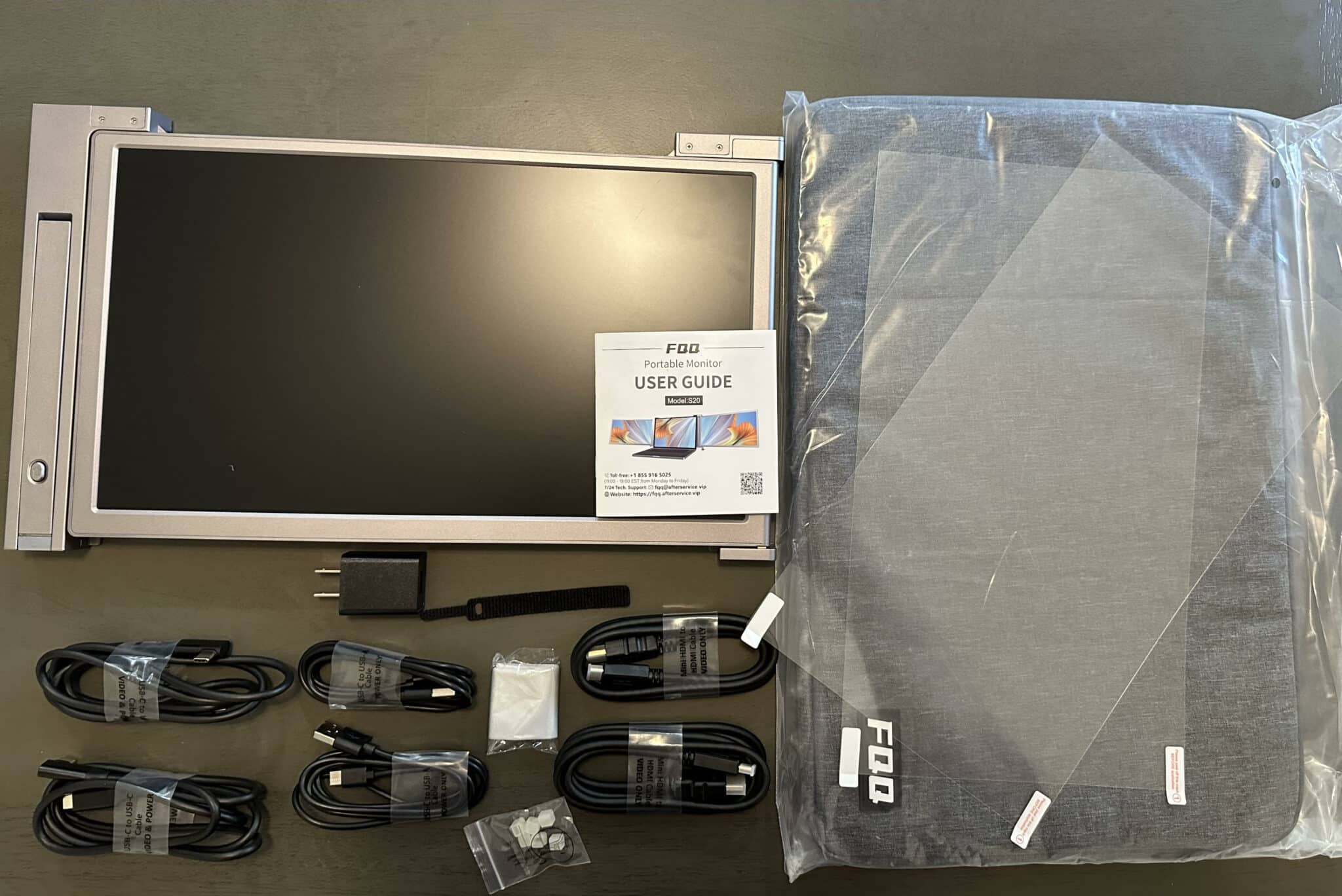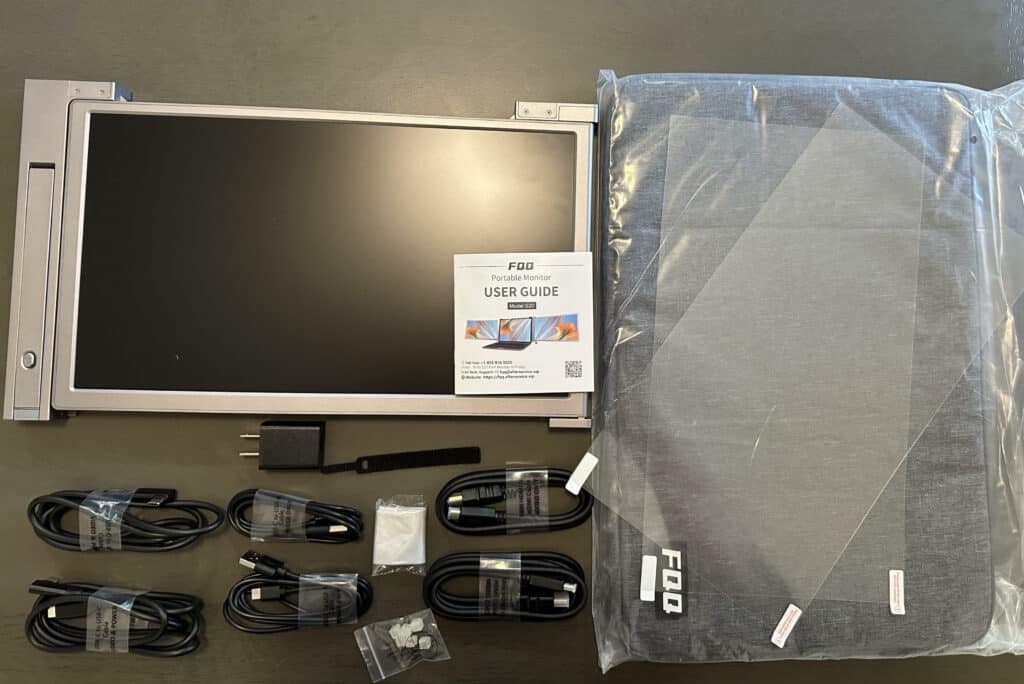 However, the downside with all this is the mess the cables will make on your table. You still get two loose cables even if you power the two monitors with USB-C cables, not to mention that you have to plug your laptop in if you plan to use the setup for extended periods. FQQ could have located the I/O under the displays near the hinges instead of the extreme far sides of the panels so they could be neatly tucked out of the way.
Display and Performance
The FQQ S20 sports two 15.4-inch IPS panels with 1920 x 1080 resolutions and 60Hz refresh rates. Their backlights have 300 cd/m2 maximum outputs, but the contrast isn't listed on the specs list on their website. The company says that this model is HDR compatible, but it's not equipped to put that out for us to enjoy properly.
1920 x 1080 still looks great on laptop screens since the pixel densities are usually tighter on them. A lot of laptop models still have 1080p panels, including the premium ones, so that you can match them without issue. However, using the S20 with a QHD or 4K laptop can initially feel strange, but their general value of adding more room for productivity remains.
We want to take note of FQQ's many reminders of the monitor's USB-C functionality. They did mention that the USB slot for each device needs to have 10 watts of power, but they did not state that it has to be a USB-C slot with DP Alt Mode. You can use the HDMI plus USB power combo if you don't have USB-C, although the USB-A port must have enough juice if you want to avoid the wall socket.
Our laptop has two USB-C slots, but only one has DP Alt Mode. The panel connected to the latter fired up instantly, but the second one was blank at first. We thought it was because the second USB-C slot did not have power, but simply pulling and plugging it back in worked. Note that this happened when we plugged everything in before turning on the laptop.
There's also the issue where the FQQ S20 is incompatible with M1 and M2 MacBooks. This is strange because a large chunk of its intended users have the popular computer, and most of them have Apple's proprietary chips by now. We think that it's a technical limitation of the chips instead of FQQ's part, but there should be a fix soon.
Windows laptop users need not worry, especially those with dedicated GPUs. Windows 11 showed that the first S20 panel was connected to the GPU, while the second one was connected to the discrete graphics on the Intel chip.
The FQQ S20's right panel covered 94% of the sRGB gamut and 81% of DCI-P3, while the left screen had 93% and 81% for sRGB and DCI-P3. Their default accuracies were excellent since each had 1.49 (right) and 1.40 (Left) dE averages. Most users won't feel the need to calibrate them, although they will look warmer next to gaming laptop displays.
Calibrating each with the Spyder5 Elite gave us improved dE average scores of 0.96 for the right screen and 0.69 for the left panel. Only a few portable monitors can compete with these scores, making the S20's price a bit more reasonable. Note that results will always vary with every different panel, as shown in the results for the two in this sample.
The two panels reached 251 and 243 cd/m2 at 100% brightness, missing the manufacturer's 300 cd/m2 mark. It's fine in most cases, especially when you are indoors, but using it outside like on alfresco café spots will be quite different. The panel's contrast reached 990:1 for the left and 1020:1 for the right, so they are comparable in this regard.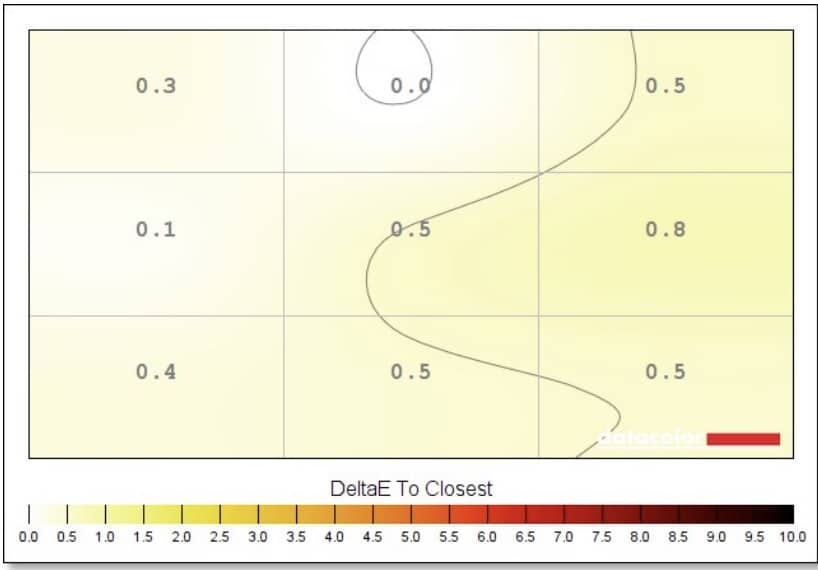 Panel uniformity for the test sample wasn't perfect since there were some backlight leaks on the edges of the screen. You can notice them if you look closely, but the screen's color uniformity wasn't adversely affected. Note that this can vary with every unit made, so getting a device with better or worse performance is possible.
The FQQ S20 doesn't have a strong pixel response time, but it is decent for basic purposes like videos or casual gaming. Blurring appears in fast-paced scenes, but that's normal for a 60Hz portable monitor. It doesn't have an effective overdrive solution for it, but that's understandable since it wasn't intended as its primary use case.
It's also not compatible with Adaptive Sync, but that's also acceptable since only a few exceptions, like the Asus XG17AHP, have it. You won't need FreeSync or G-Sync with it anyway since we imagine most would rather game on the laptop's screen directly. We couldn't measure input lag, but there is a slight delay if you move objects from the laptop's screen to the two panel's display space.
Thoughts on the FQQ S20
The FQQ is an impressive product worthy of your consideration and hard-earned money. Its IPS panels have excellent imaging qualities, which exceed some of the results we gathered from other options. It's designed to transform your mobile computer into a powerhouse productivity workstation anywhere and on demand.
However, there is some room for improvement, such as better grip and stability from its mounting mechanism and the cable placement for neatness. It also serves a niche of professionals who are willing to deal with the bulk and slightly complex setup. But all in all, it's an excellent buy unless you have an M1 or M2 chip-equipped Apple computer.
Pros:
Excellent Design and Functionality
Flexible Connectivity Options
Superb Image Quality (Default and Calibrated)
Great for Multitasking and Mixed Use
Cons:
Expensive
Mounting and Kickstand Not 100% Secure
Messy and Complex Cables
Doesn't Work with Mac M1 and M2 PCs, Surface Series, and Chromebooks
About the Author: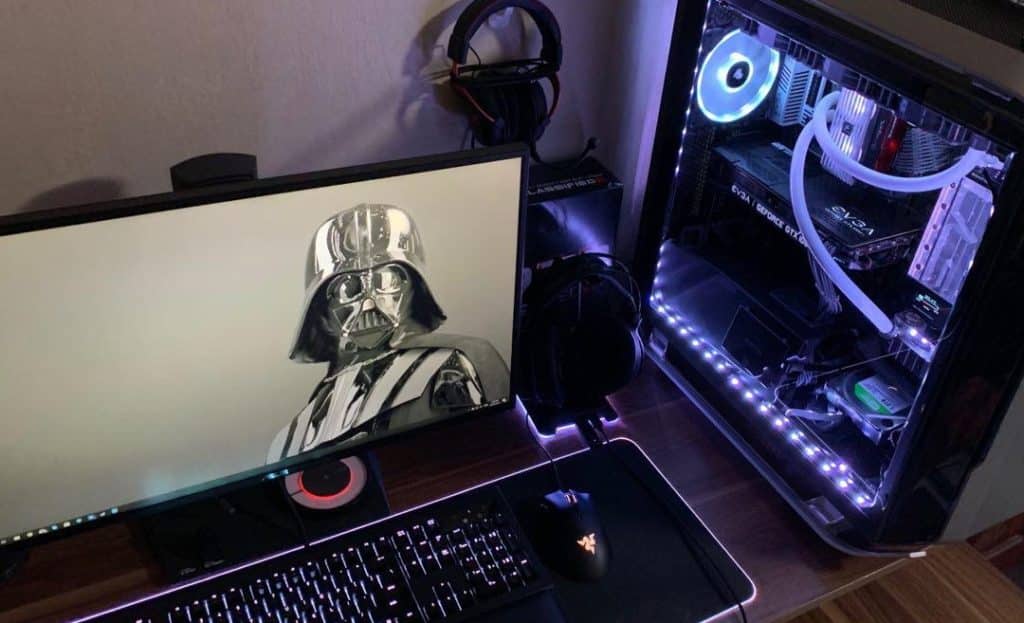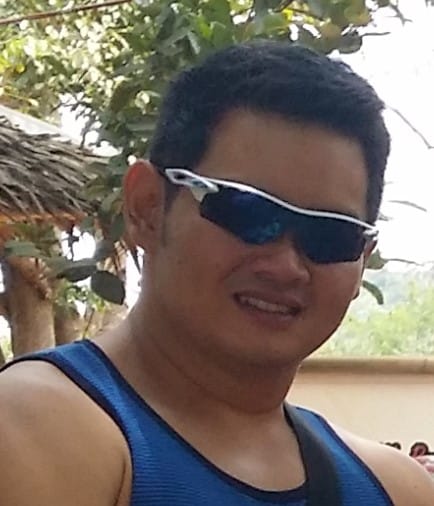 Paolo has been a gaming veteran since the golden days of Doom and Warcraft and has been building gaming systems for family, friends, and colleagues since junior high. High-performance monitors are one of his fixations; he believes that every citizen's right to enjoy one. He has gone through several pieces of hardware in pursuit of every bit of performance gain, much to the dismay of his wallet. He now works with Monitornerds to scrutinize the latest gear to create reviews that accentuate the seldom explained aspects of a PC monitor.