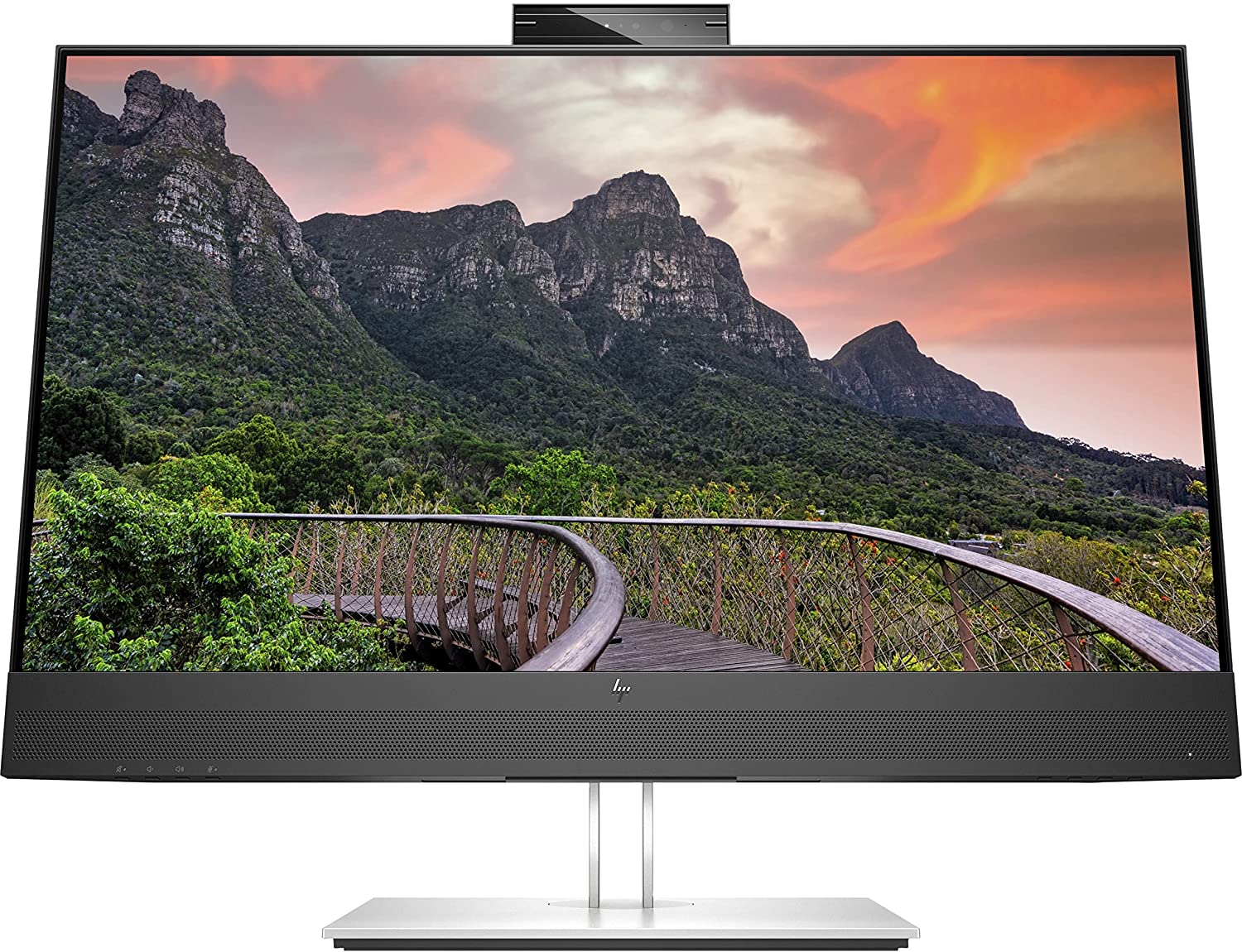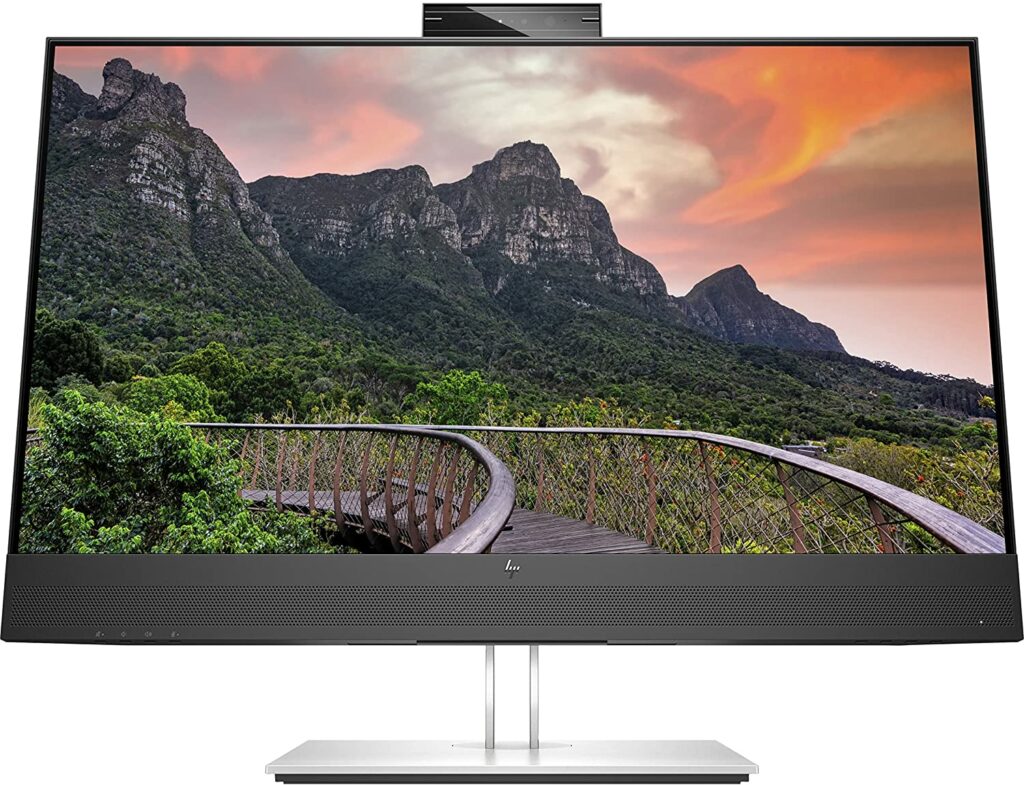 The HP E27m G4 is a premium business monitor that's designed for the current trend of work-from-home setups. It belongs to a new category called conferencing monitors and it has a USB-C hub so modern laptops can dock seamlessly for your convenience. However, the HP E27m G4 is quite expensive, so it deserves a deeper look to know if it is worth the money.

HP E27m G4 Specifications
Screen Size: 27 Inches
Resolution: 2560 x 1440 QHD
Aspect Ratio: 16:9
Panel Technology: In-Plane Switching (IPS)
Refresh Rate: 60Hz
Response Time: 5ms (Fast)
Contrast Ratio: 1000:1 (Static)
Brightness: 300 cd/m²
Speakers: Yes (2 x 5 Watts)
Stand: Height – Yes
Stand: Tilt – Yes
Stand: Swivel – Yes
Stand: Pivot – Yes
VESA Compatibility: Yes 100 x 100
Connectivity: DisplayPort 1.2 x 1, DP 1.2 Out x 1, HDMI 1.4 x 1, USB-C 3.1 (PD65W) x 1, USB 3.1 x 4, RJ45 x 1, 3.5mm Jack x 1
Dimensions with Stand (WxHxD): 24.13" x 21.69" x 8.50"
Weight 18.78 lbs

Design and Features
The HP E27m G4 looks like most high-end business displays with its sleek aesthetics and minimalist appeal. The monitor has a matte black chassis that's matched with a silver stand which makes it more attractive than the plethora of black monitors in the business category. The display is bezel-free, but its top and sides still have inner borders which are quite thin and almost unnoticeable.
It is not an oversized desktop display, but you still have to consider that it's bigger than most office monitors. It needs 8.5 inches of depth so it should fit nicely into cubicles, but it's a little wide at a little over two feet. It's also quite heavy for an office display, but that weight is mostly because of the metallic stand and the strong chassis.
Its build quality feels like nothing was spared during the manufacturing process like many premium models out there. The plastics are thick and reinforced so they won't give way under modest amounts of force. The included stand is stable and firm so the screen won't shake or sag while you are furiously typing away.
What we don't like about the HP E27m G4 is it has too many buttons for its OSD and some of its crucial features. However, we like that the buttons for the microphone, speaker, and volume are separated and labeled from the ones meant for the OSD. We still think that a joystick would be better for the latter, but at least you don't have to go through a mess of submenus just to raise the speaker's volume.
The stand included with the package offers tilt, swivel, pivot, and height adjustments for your convenience. It's easy to get a comfortable view and it is great that it can keep the screen upright all the time. You can use VESA mounts, but they are only necessary if space is limited or if you have multiple screens for multitasking.


One of the HP E27m G4's highlights is its connectivity layout which includes a 65-Watt USB-C slot for docking your laptop. It also has DisplayPort inputs and outputs for daisy-chaining, a standard HDMI 1.4 port, RJ45 LAN port, and four USB 3.1 slots for peripherals and speedy transfers. That's all you will need for a workstation display, but the USB-C slot is a big plus for those who work with modern laptops like the MacBook Pro.
It also has a pop-up camera with a 5-megapixel sensor and two echo-canceling microphones so you don't have to wire one in. 5MP isn't great by today's standards, but it is considerably better than what you would find on most high-end laptops. The microphones also transmit clear vocals, provided that you work in a quiet area.
It also has a pair of 5-watt speakers for clearer and louder sound which lets you understand the conversations from remote conferences. They definitely are better than most built-ins since they have more power, and they are usable for basic entertainment purposes. Headphones will work better, but it is always nice to deal with fewer wires and dongles from time to time.
Display and Performance
The HP E27m G4 sports a 27-inch IPS panel with a 2560 x 1440 resolution, a 60Hz refresh rate, and a 5ms response time. The backlight has a 300 cd/m2 maximum while its contrast ratio is listed at 1000:1 like most IPS monitors. This model was designed for productivity and business use so it doesn't have features like HDR which are usually found on entertainment or gaming variants.
27-inch 1440p monitors are perfect for productivity even if they aren't as sharp or expansive as a 4K variant. Its pixel density is the main reason for that since it's balanced between the extra sharpness over 1080p without sacrificing legibility.  You get a noticeable upgrade with space as well, so it will be easier to run multiple tasks without straining your eyes.
The HP E27m G4 renders 99% sRGB and around 80% DCI-P3 so it's reasonably vibrant for daily use in a professional setting. Its default accuracy is great since the deltaE average is only at 1.87, so most users won't have to be calibrated. It looks balanced and correctly saturated, so most users will be happy with it after a few minor tweaks like getting a comfortable brightness level.
Calibrating it reduced the deltaE average to an impressive 1.03 which makes it suitable for editing and content creation. However, you are going to need a colorimeter to achieve this kind of improvement, and those aren't cheap. We can only recommend going through with it if you already have the gadget or are into color-critical work, but otherwise, it is not practical.
The HP E27m G4's backlight only managed to reach 264 cd/m2 at 100% brightness which falls short of the specified limit. Its contrast ratio reached 1066:1 at 60% brightness, so it's still unable to produce deep blacks like other models with special backlights. It is not the brightest monitor out there, but it still can be used in a reasonably lit environment.
Panel uniformity for the HP E27m G4 sample had some minor backlight leaks at the bottom edge of the screen. These showed up as clouding in dark scenes, but they aren't as noticeable in full color and white backgrounds. Note that this can vary between every monitor made due to tolerances, so there are better specimens out there.
The HP E27m G4 isn't the most responsive monitor out there even when compared to other 60Hz options. It shows some blurring in fast and contrasting transitions, but those are only common with fast-paced games like shooters. However, it is still usable for casual games, so it's still a pretty good choice if you only play single-player titles.
The HP E27m G4 isn't compatible with FreeSync, so naturally, G-Sync is also out of the question. That's fine since this is not a gaming model, plus 1440p at 60Hz should be doable for most modern systems. Input lag sits at 9ms, so there are no perceivable delays while gaming or using the monitor as intended.
Thoughts on the HP E27m G4
The HP E27m G4 is a great choice for busybodies who want a capable business display at home for their remote setups. It has a great IPS panel with accurate colors and it has all the right features to save you the trouble of adding peripherals like microphones to your setup. A clutter-free desk is a must-have to maximize productivity, and the monitor helps with that since it has all the right features.
However, the HP E27m G4 is quite expensive for a 60Hz 1440p monitor even if it's packed with the necessary accessories. There are some ways where you can spend less if you buy a budget monitor and entry-level webcams and headsets. However, the experience won't be as seamless and pleasing compared to getting a premium product like this, so it's going to be worth it for the right customer.
Pros:
Great Default and Calibrated Performance
Attractive Minimalist Design
Docking with USB-C
Webcam and Mics Work Great
Cons:
Expensive
Too Many Buttons
USB-C Limited to 65 Watts
About the Author: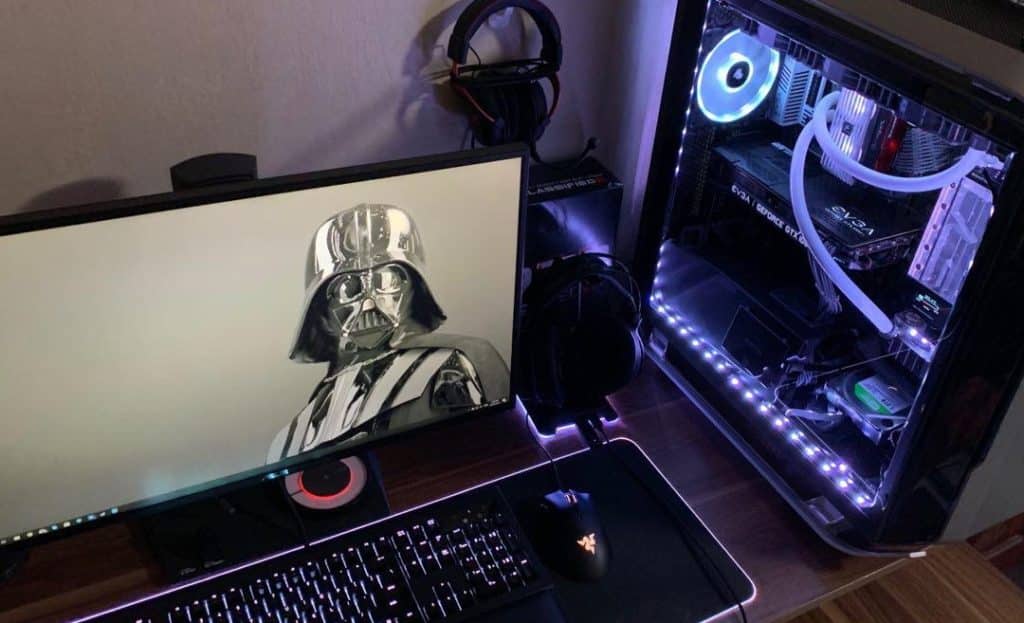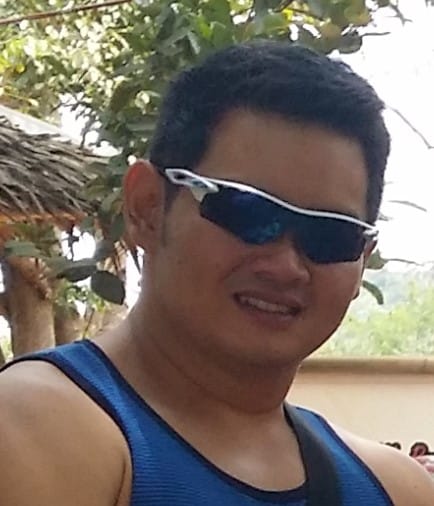 Paolo is a gaming veteran since the golden days of Doom and Warcraft and has been building gaming systems for family, friends, and colleagues since junior high. High-performance monitors are one of his fixations and he believes that it's every citizen's right to enjoy one. He has gone through several pieces of hardware in pursuit of every bit of performance gain, much to the dismay of his wallet. He now works with Monitornerds to scrutinize the latest gear to create reviews that accentuate the seldom explained aspects of a PC monitor.