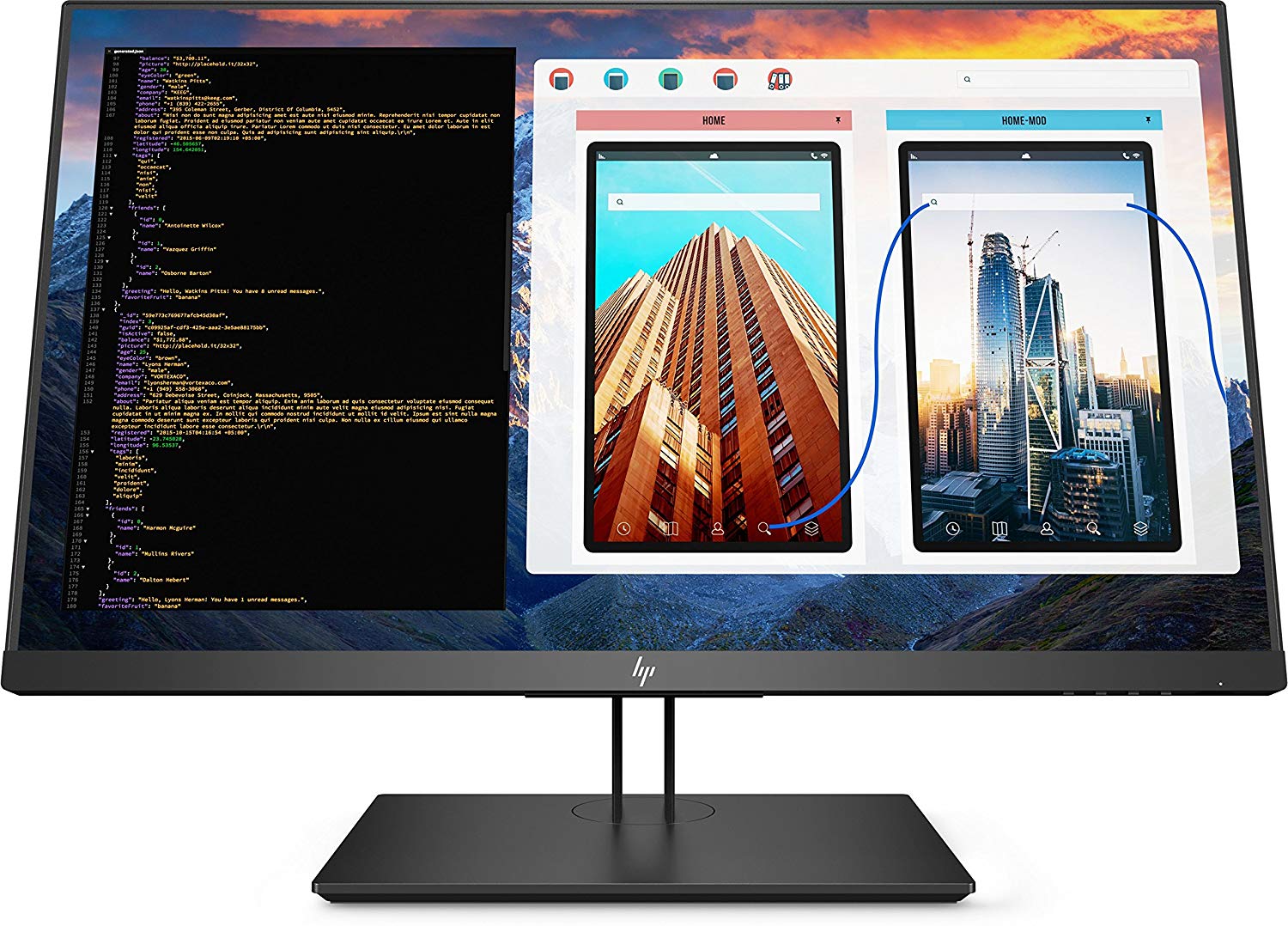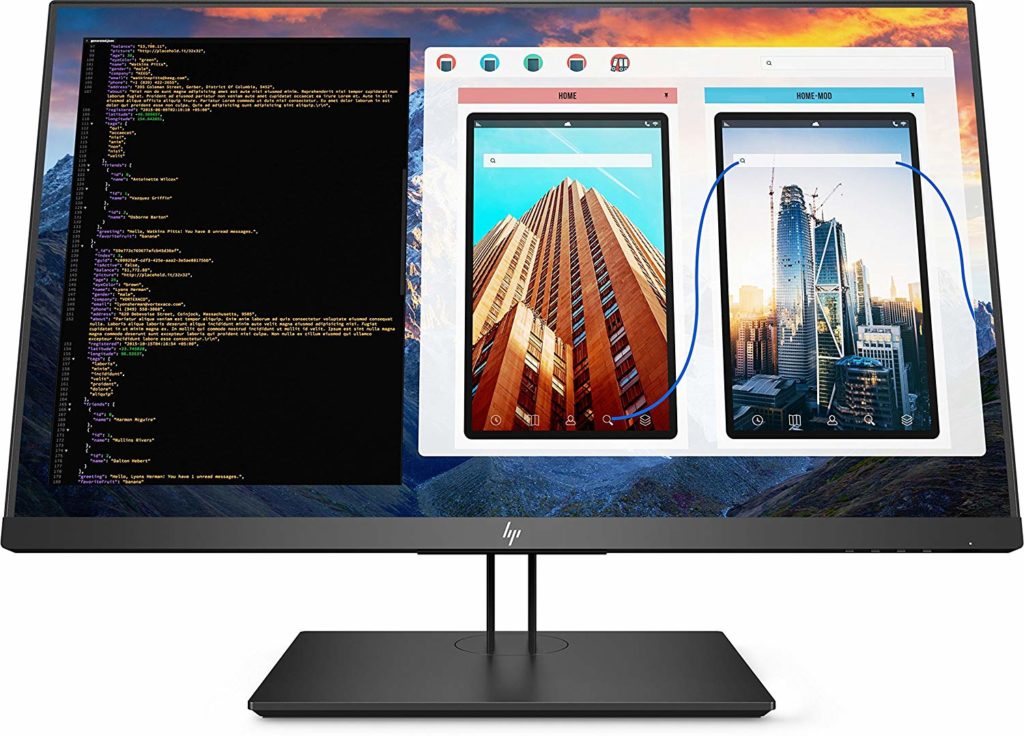 Pros:
Attractive, Minimalist Design
Excellent Connectivity
USB-C
Great Default Image Quality
Great Build Quality
Cons:
No FreeSync
Slow Pixel Response Time
Heavy
The HP Z27 is an attractive, 4K IPS monitor that won't disappoint whether if it's used in a home or enterprise setting where great quality is appreciated. The product was designed to match the top-end HP desktops and laptops, but it's also a suitable display for other premium devices such as MacBook Pros. The HP Z27 slots into a category dominated by LG products such as the 27UK850, so let's check and see how it compares.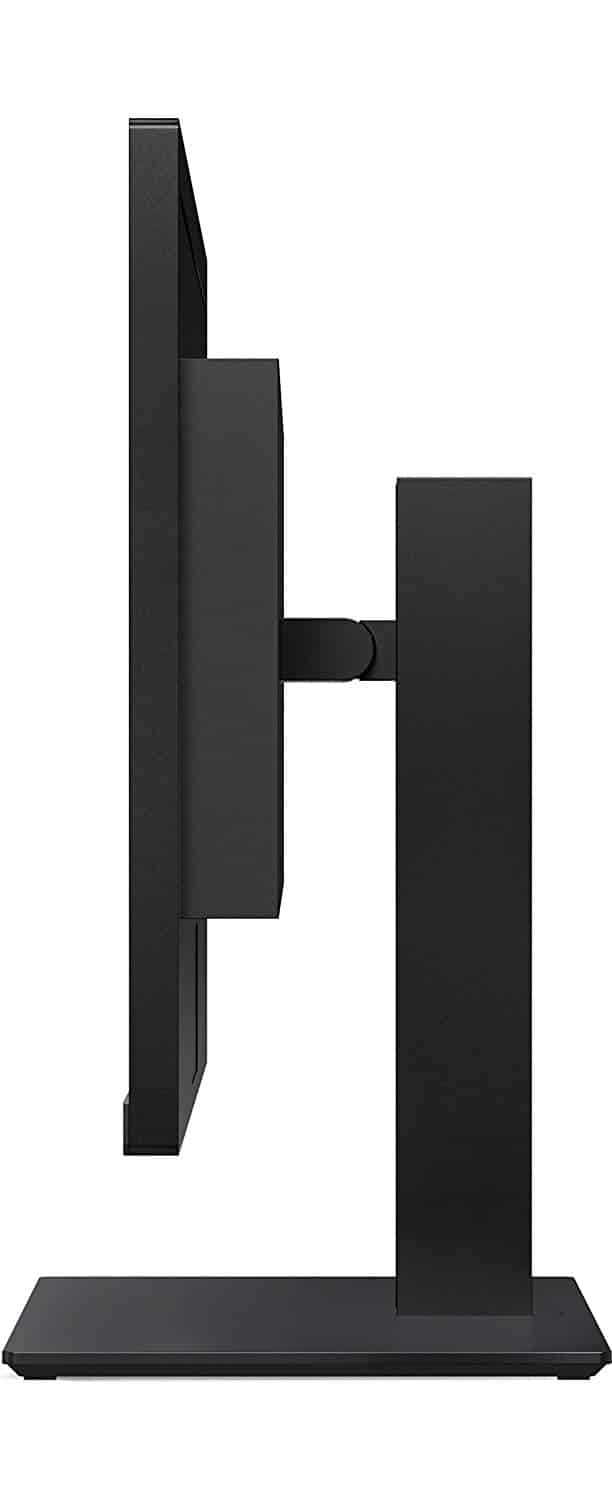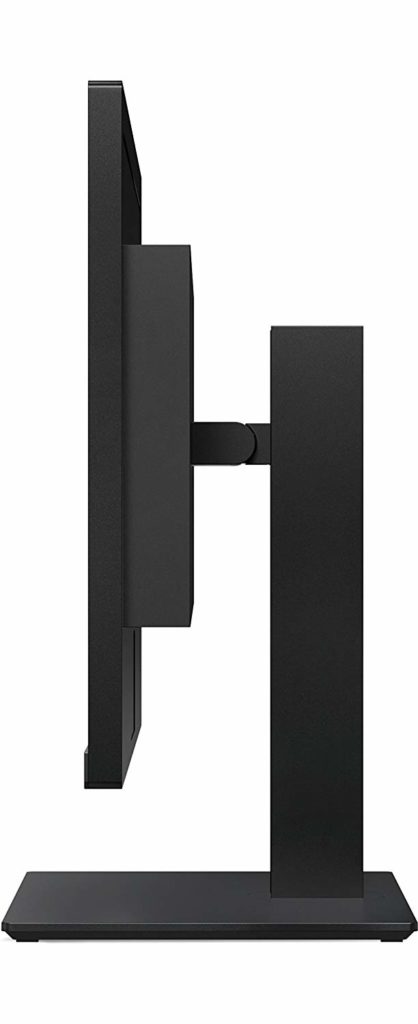 HP Z27 Specifications
Screen Size: 27Inches
Resolution: 3840 x 2160 4K UHD
Aspect Ratio: 16:9
Panel Technology: In-Plane Switching (IPS)
Refresh Rate: 60Hz
Response Time: 8ms
Contrast Ratio: 1300:1 (Static)
Brightness: 350 cd/m²
Stand: Height – Yes
Stand: Tilt – Yes
Stand: Swivel – Yes
Stand: Pivot – Yes
VESA Compatibility: Yes
Connectivity: DisplayPort 1.2 x 1, HDMI 2.0 x 1, USB-C x 2, , USB 3.0 x 3, 3.5mm Jack
Dimensions with Stand(WxHxD): 24.18" x 24.18" x 9.05″
Weight: 20.68lbs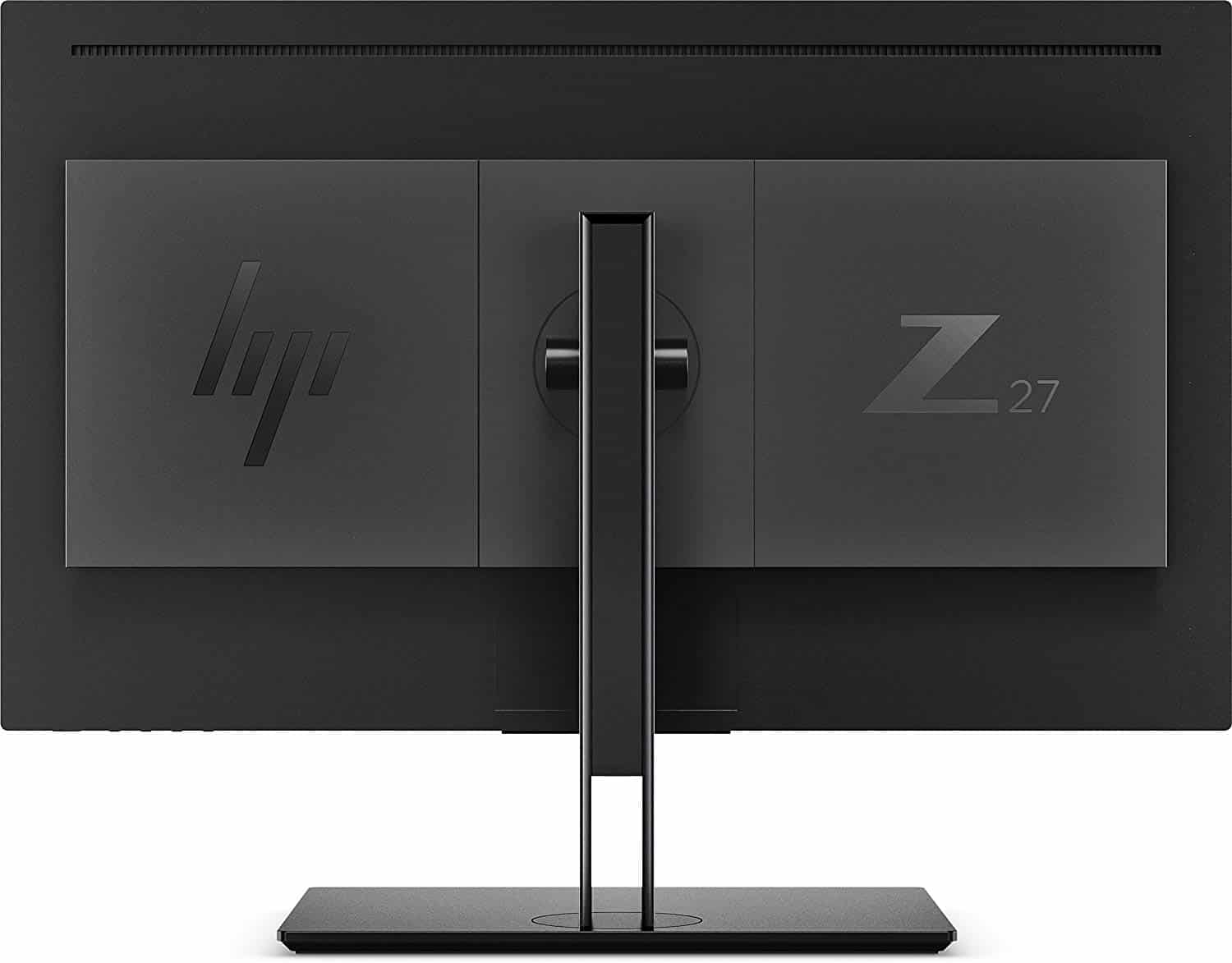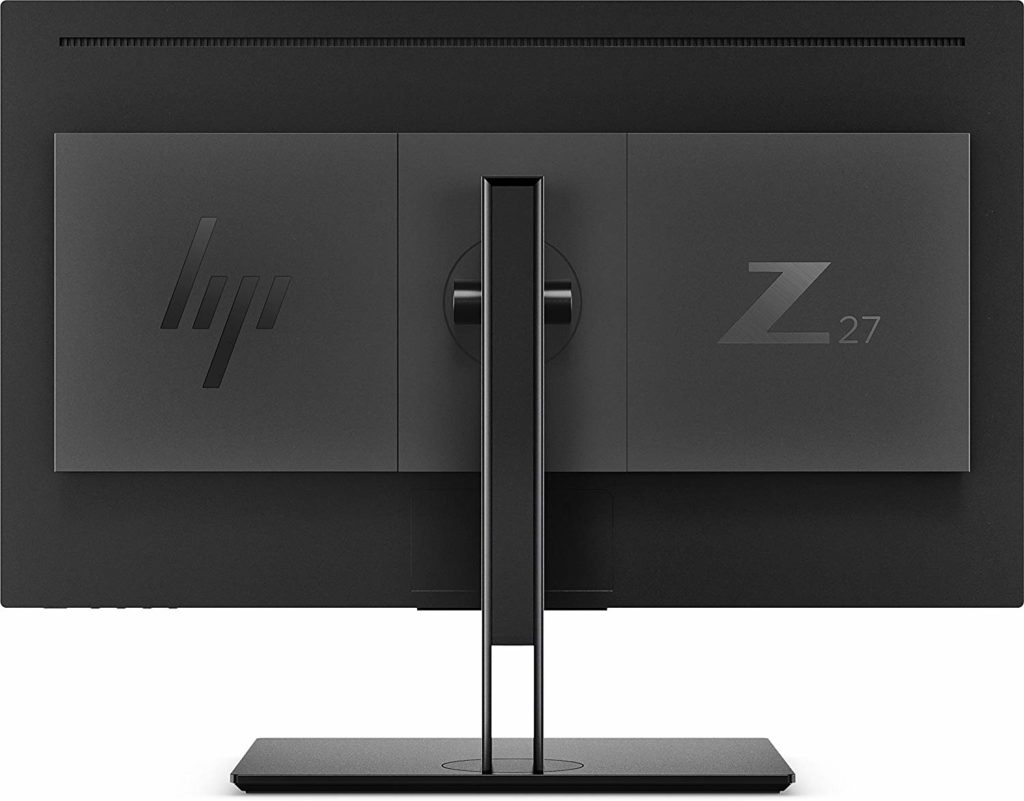 Design and Features
The HP Z27 looks sleek and attractive thanks to its minimalist design that's laced with metal parts for that premium feel. The monitor's matte black look is common in the monitor market, but the angles and form of the device give it a luxurious flair. The display is also bezel-free on three sides, letting users maximize most of the viewable area without any distractions.
The aesthetic aspect of the HP Z27 makes it ideal for multi-monitor setups which aren't entirely impossible for its audience. The bezels are thin enough to almost disappear between each display so you don't have to be annoyed by bars that split your work or view space. Ultrawide monitors are of course, better in this regard, but there is no model available yet that can match the pixel count of two Z27s side by side.
Build quality for the HP Z27 is excellent thanks to the brand's generous use of metal parts on the chassis. The plastics used do not feel brittle and there is no flexing, so users won't worry about physical damage at all. The device stands firmly once fully assembled, so owners won't necessarily need to replace the mount right away.
You can opt for VESA mounts with 100 x 100 bolt patterns for the HP Z27, but we don't think it's necessary unless you plan on using two or more. The default mechanism offers tilt, swivel, pivot, and height adjustments, so virtually any regular viewing angle is doable. The design of the stand also completes the minimalist look, so removing it would essentially lessen the appeal of the product.
Connectivity is also expertly executed on the HP Z27 since it includes everything you need plus more. The standard layout includes a port each for DisplayPort 1.2, Mini DP 1.2, and HDMI 2.0 for video inputs, and a total of three USB 3.0 ports for peripherals. But what makes this model special is its two USB-C connectors which offer DP Alt Mode and 65 Watts of charging power for USB-C laptops like the MacBook Pro.
This capability essentially enables the HP Z27 to act as a dock for USB-C laptops since it can receive video signals, transfer data, and charge it at the same time. Its also worth noting that one USB-C slot and a USB 3.0 receptacle are located on the side, so you can easily reach and connect your devices.
The HP Z27 doesn't have built-in speakers even if there is a 3.5mm jack on the connectivity layout. Built-ins are rarely missed anyway, but monitors for productivity should always have them for playing background music or even notifications.
Display and Performance
The HP Z27 sports a 27-inch IPS panel with a 3840 x 2160 resolution, 60Hz refresh rate, and an 8 ms response time. The backlight is rated at 350 cd/m2, while contrast is listed at a typical ratio of 1300:1. These specifications aren't meant for gaming, but you'd know that the product focuses on image quality more than anything else.
The 4K resolution of the HP Z27 looks extra crisp and sharp for games, movies, and photos due to the tight pixel density. However, its inverse effect is it can sometimes reduce the size of small objects like text, leading the user to rely on scaling. 4K is better suited for 32-inch models, but we know a lot of users will appreciate the sharpness of this monitor.
The HP Z27 posts excellent color quality, starting with its 99% coverage of sRGB and around 77% of the Adobe RGB color space. This gamut performance isn't sufficient for high-level editing, but most who work on media for online use will not miss a lot. Color accuracy by default sits at DE 1.4 while the color temperature is very close to the 6500K point, so calibration isn't immediately necessary.
The HP Z27's Gamma was also perfectly tracking the 2.2 curve, so images look well-lit and balanced for both well-lit and dim scenes. The contrast reached as much as 1100:1 at moderate backlight levels, but the screen can still look grayish when viewing dark scenes and images with the lights off. The backlight's maximum output is honestly too bright for regular use anyway, so setting it to around 40% is a much better choice.
Panel uniformity for the HP Z27 is decent since there were no considerable leaks on the panel's edges. However, some minor clouding becomes visible when viewing an all-black image which reduces the contrast in the spots, but its not as visible when viewing full-color images. This aspect may change between unit to unit due to manufacturing tolerances for IPS panels.
The HP Z27 doesn't have a fast pixel response time, so some fast-paced games and motion transitions will produce blurs. Casual games and movies won't show noticeable issues, but anything that involves agile panning of the screen will reveal ghosting and noticeable trails. There were also times where the display seemed a bit sluggish when games like Modern Warfare are played on the device.
The HP Z27 doesn't support FreeSync, so you can't rely on VRR for buttery-smooth and tear-free gaming. You are going to need a very potent GPU to keep frames stable at a regular pace, but even then, some of the aforementioned flaws can still appear. Input lag is close to 10ms, so there are no delays between your inputs and the screen itself.
Thoughts on the HP Z27
The HP Z27 is a fantastic 4K IPS monitor for home and office use where USB-C devices like the MacBook Pro are now very popular. The connectivity on this model gives you a lot of options, so you can use it as an all-in-one display for multiple host devices. The image quality by default doesn't disappoint, but photo and video editors might want to use a colorimeter to squeeze out a more accurate profile.
The HP Z27 is decently priced with an ultra-modern look, but it does have a few limitations which were only prominent on older models. The lack of FreeSync from HP's products can some times break the deal since gaming performance adds a lot of value to a mixed-use variant. We can recommend the HP Z27 if you want a high-quality display for basic editing and typical computer uses such as browsing or document processing.
About the Author: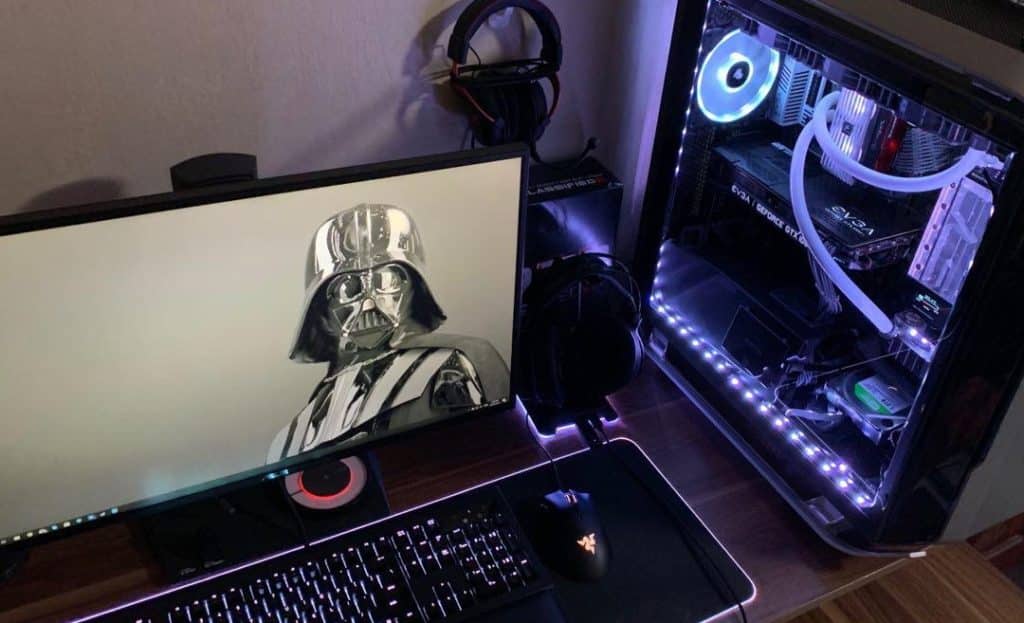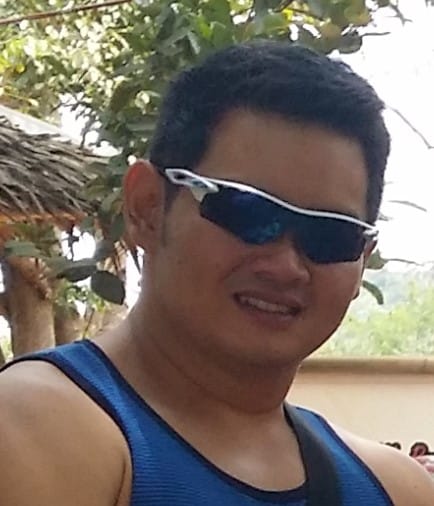 Paolo is a gaming veteran since the golden days of Doom and Warcraft and has been building gaming systems for family, friends, and colleagues since his junior high years. High-performance monitors are one of his fixations and he believes that it's every citizen's right to enjoy one. He has gone through several pieces of hardware in pursuit of every bit of performance gain, much to the dismay of his wallet. He now works with Monitornerds to scrutinize the latest gear to create reviews that accentuate the seldom explained aspects of a PC monitor.