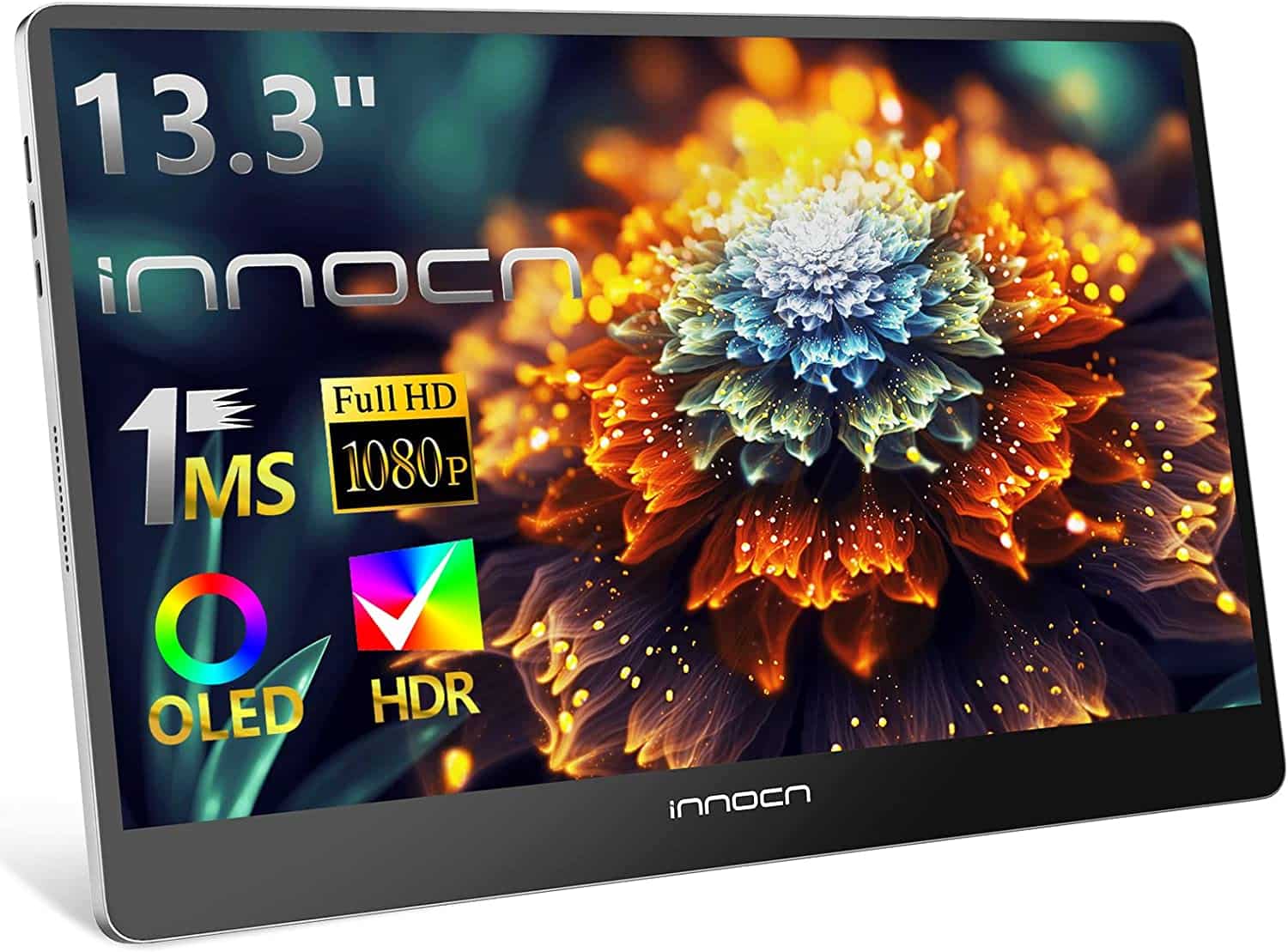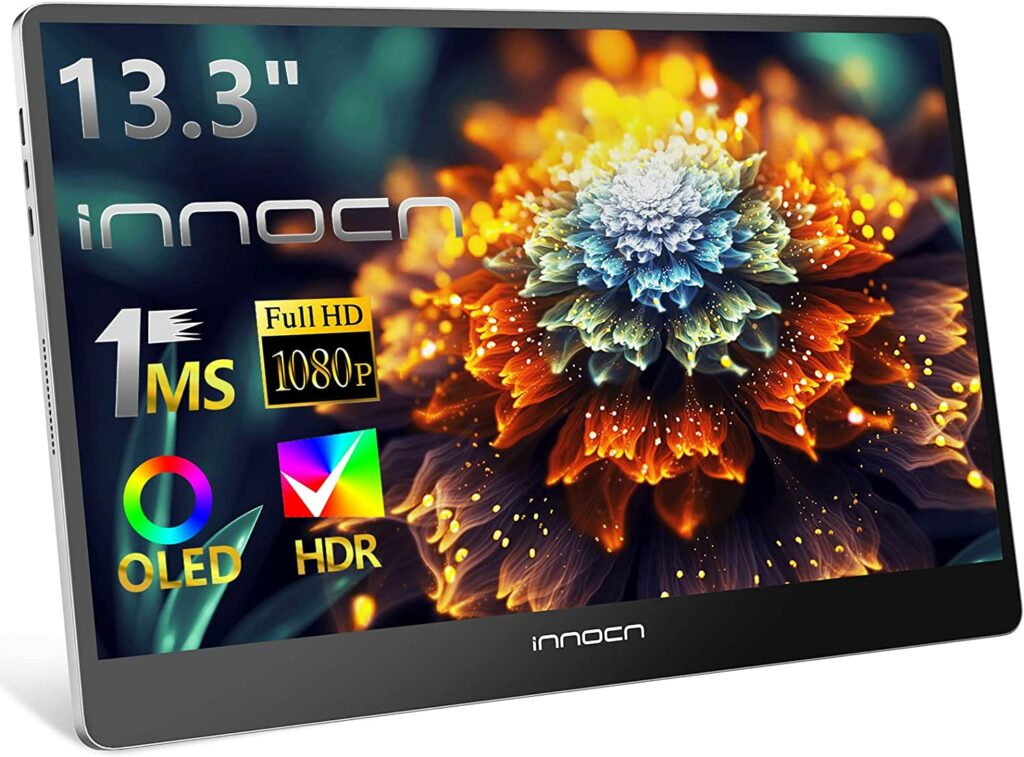 The INNOCN 13A1F is a surprisingly affordable portable monitor with a crisp, eye-popping OLED panel. Its main advantage is its deeper color and contrast, so most IPS portables, including the premium ones, will not compare. Let's check if its low price carries penalties which would make it a deal breaker or otherwise.
INNOCN 13A1F Specifications
Screen Size: 13 Inches
Resolution:1920 x 1080 FHD
Aspect Ratio: 16:9
Panel Technology: In-Plane Switching (IPS)
Refresh Rate: 60Hz
Response Time: 1ms
Contrast Ratio: 100000:1
Brightness: 400 cd/m²
Built-in Speakers: Yes
Stand: Height – No
Stand: Tilt – Yes
Stand: Swivel – No
Stand: Pivot – No
VESA Compatibility: No
Connectivity: USB-C x 2, Mini-HDMI x 1
Weight: 1.30 lbs

Design and Features
The INNOCN 13A1F looks like an Apple product at a glance with its thin frame and flat, metallic edges that look similar to the iPhone's. It has a gunmetal shell which makes it look more expensive than it actually is. The monitor has inner borders all around, but the bottom strip is visibly thicker than the other sides.
What makes this option attractive is its size which dwarfs in comparison to most portables on the market. That's a good thing because the keyword here is portable, so these products should slip into most bags unnoticed. It only weighs 1.30 pounds, so it will not make your laptop bag much more harder to carry around.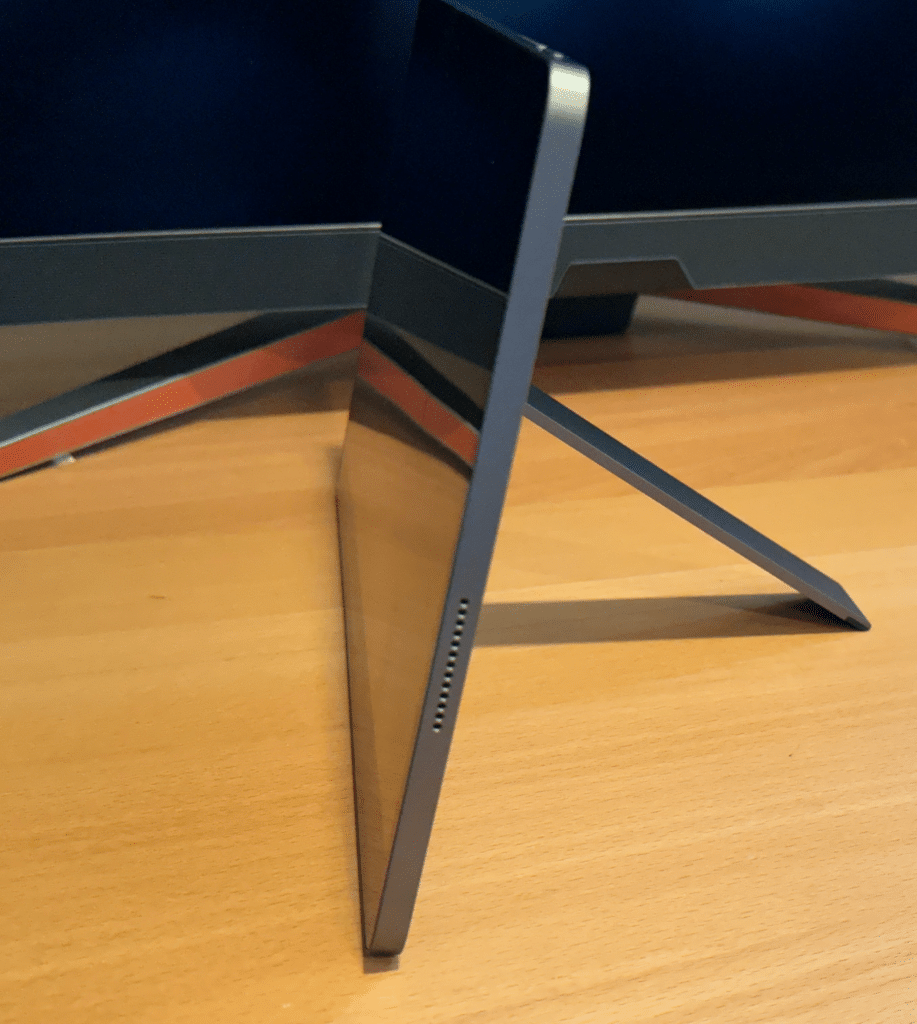 It feels fragile because its lightweight, but it doesn't seem like a budget monitor since it's built quite well. The panels are sturdy enough against moderate force to prevent it from bending, and there were no cosmetic defects like sharp edges. The magnetic stand is fantastic since it sticks quite well to the chassis without the flimsiness of flip covers.
The INNOCN 13A1F uses basic buttons for its OSD, but that's forgivable since that's easier to use if you hold the display. Some models have a scroll wheel instead, but it can be tedious to use if you have big or sweaty fingers. What would be great for a monitor like this is an implementation that uses software or an app which will let you control its settings directly from your laptop's OS.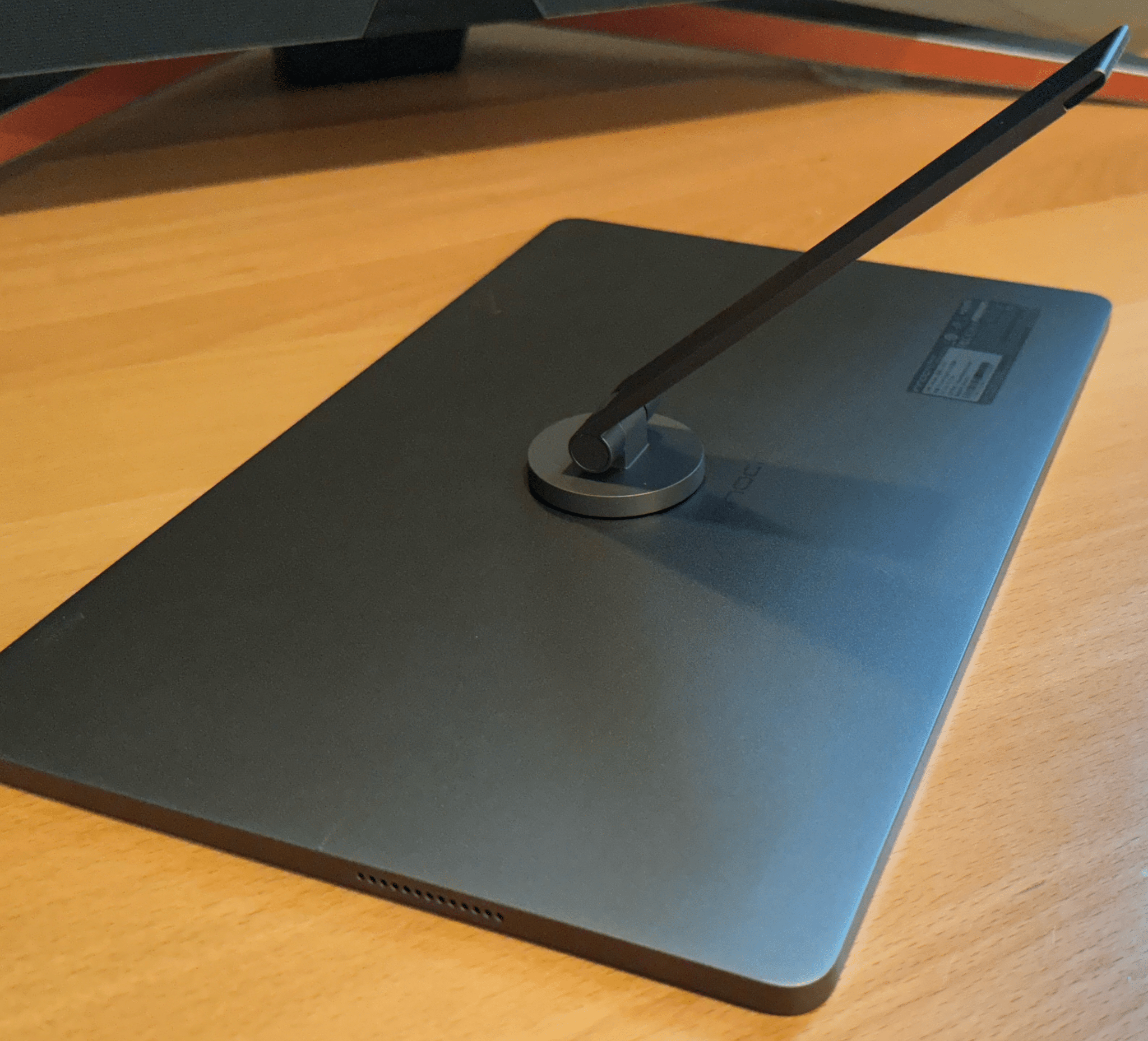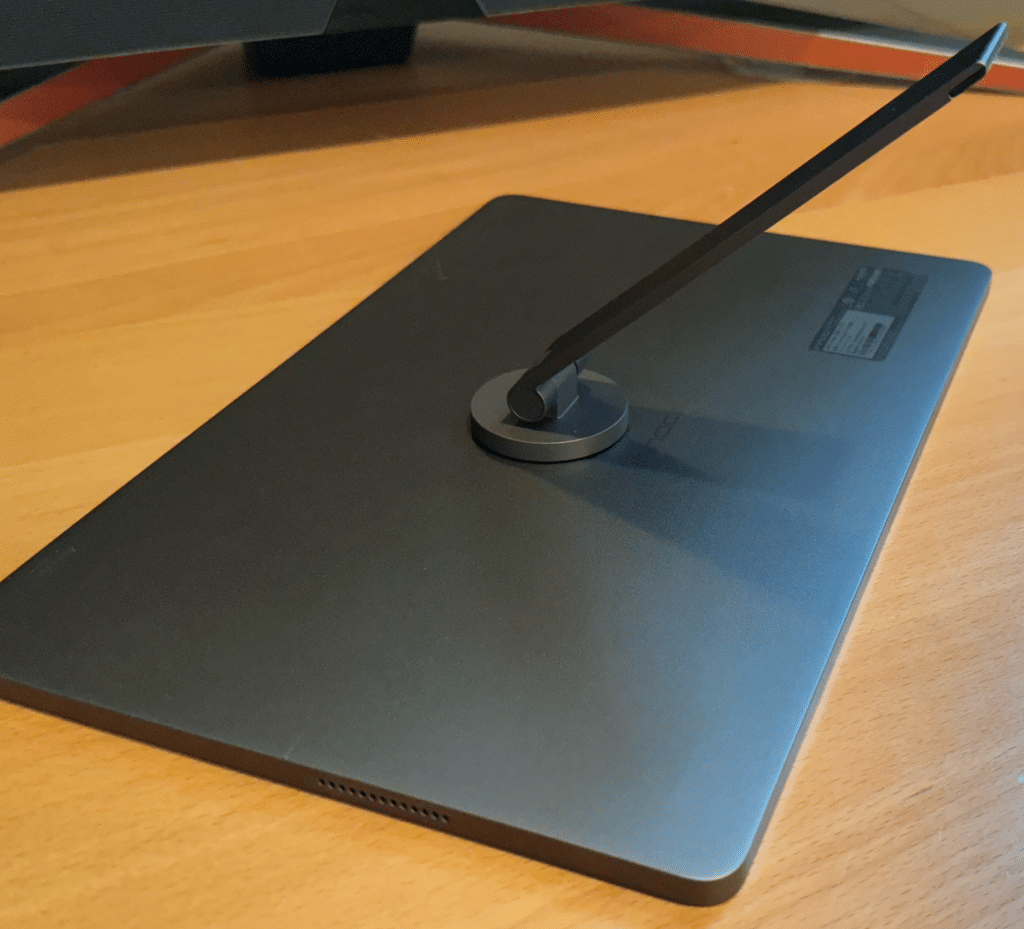 The stand for this monitor is magnetic so that it won't dislodge with an accidental nudge or a gust of wind. It's a kickstand, so you only get tilting adjustments. That's fine for most users, but we'd like to have a more adjustable alternative in the future. You can get a non-VESA mount for it, but those aren't commonly made for small screens like this.
The INNOCN 13A1F  has two USB-C slots and an HDMI port so it can be used with most devices, including gaming consoles. However, the test unit somehow needed two USB-C slots to be connected for it to work. The HDMI slot has no issues, but you will need to keep the monitor plugged into a power source to use it.
You also get a pair of built-in speakers with the product, but they sound tinny and incapable of gaming-grade audio. However, its nice to have them if you want to use the 13A1F for gaming while traveling. But for use with laptops, then the clear choice should be your computer's built-ins which are surely more powerful.
Display and Performance
The INNOCN 13A1F sports a 13.3-inch OLED panel with a 1920 x 1080 resolution, a 60Hz refresh rate, and a 1ms response time. Its brightness is rated at 400 cd/m2, while the contrast is listed at 100000:1 for better black depth. The brand mentioned that this model is HDR-compatible but only available via the HDMI slot.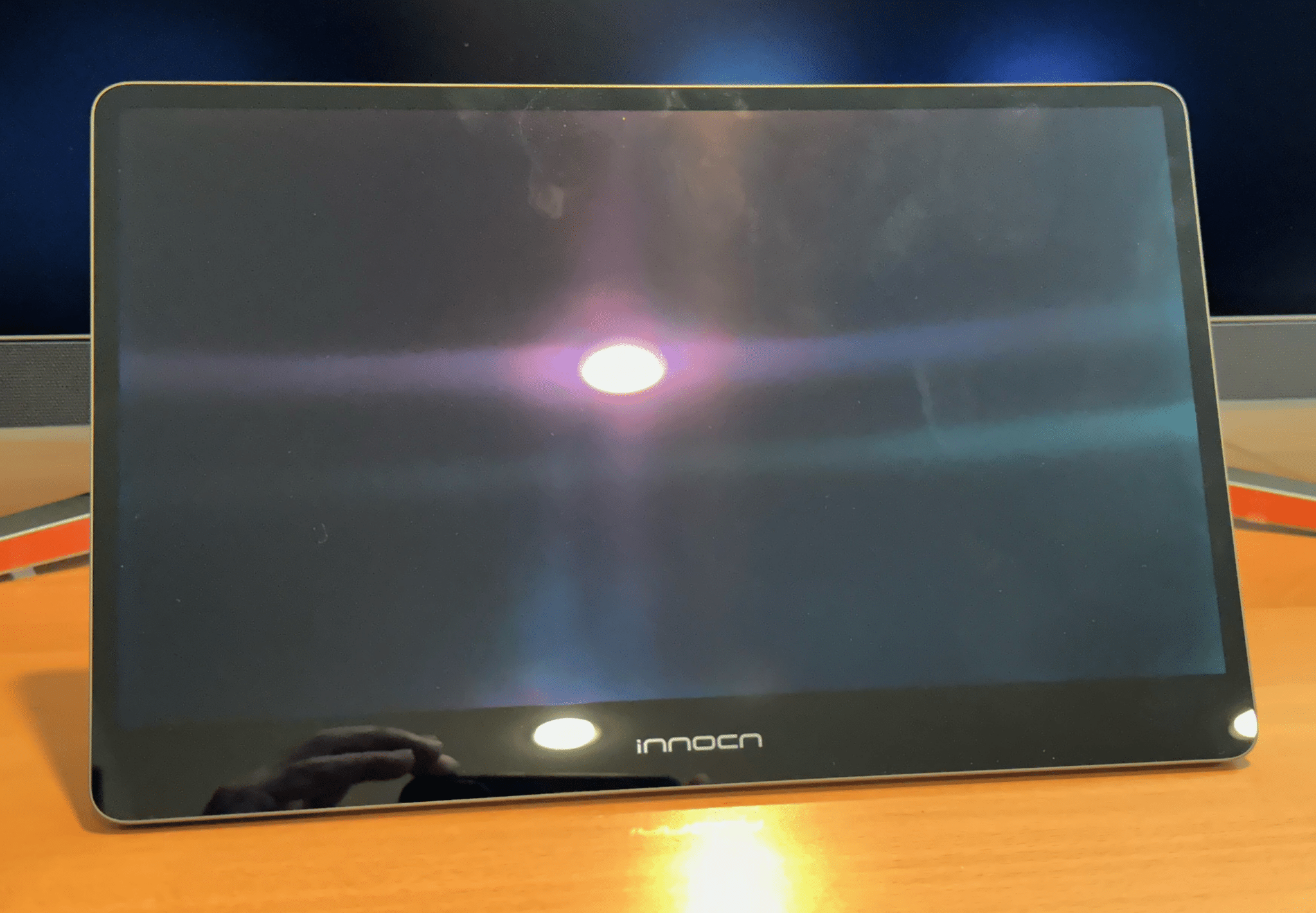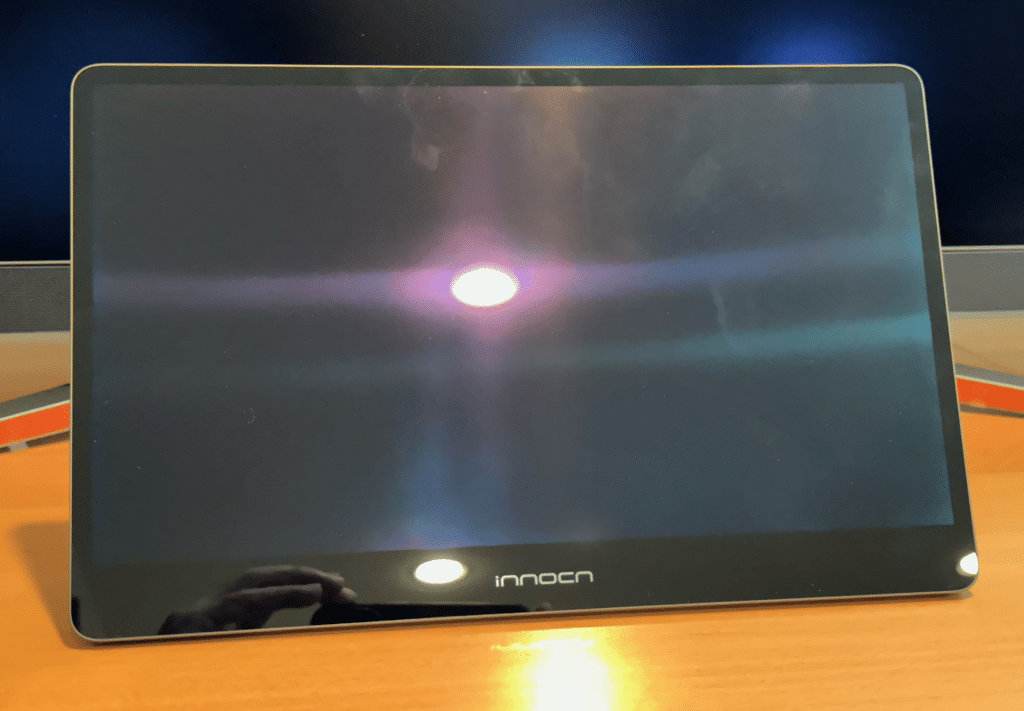 1080p looks great at this size, so you don't have to worry about not getting a higher resolution. Letters and numbers look crisp and legible, while images and graphics look detailed and clear. It's great for all-around use, although it might be too small for some to use as a primary display.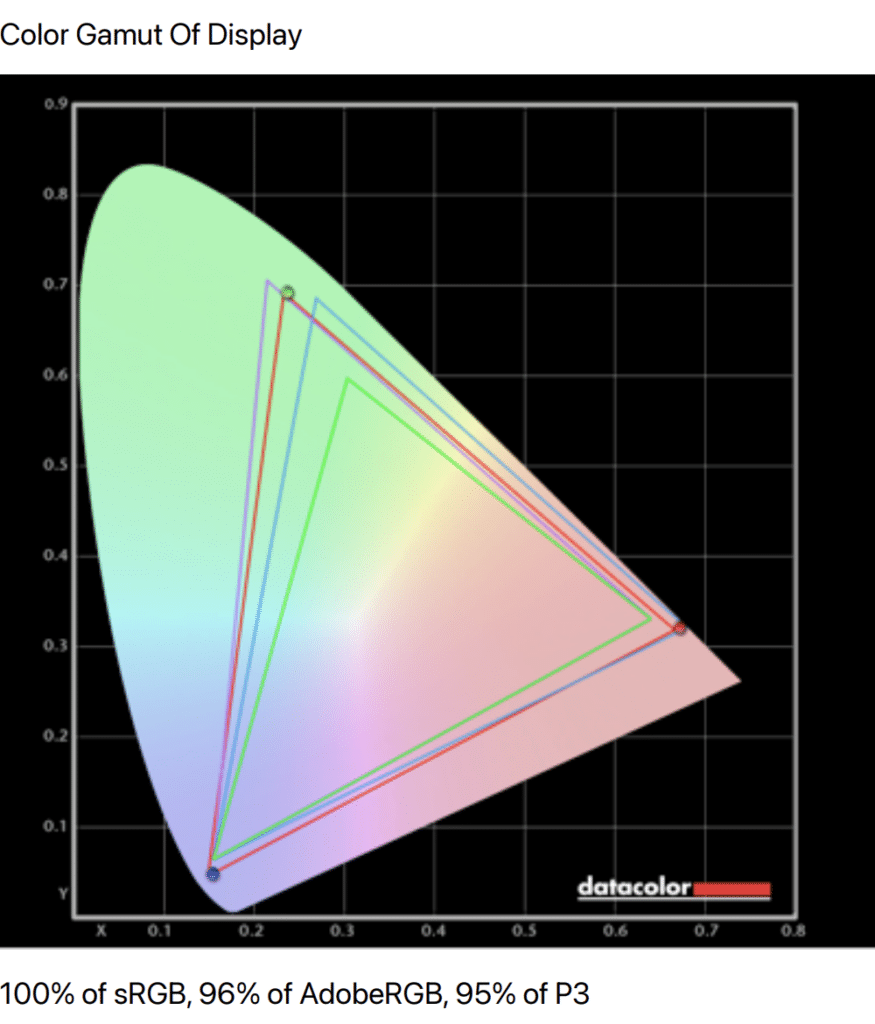 The INNOCN 13A1F covered an impressive 100% sRGB, 96% Adobe RGB, and 95% of DCI-P3. Its default accuracy had a high deltaE average of 3.05, so it's not the best for editing work. However, that's common with wide gamut displays, so this is a sign that it is still within reasonable limits.
It doesn't have a backlight unit like other panel types, but OLEDs are known to be dimmer than the others. This model's brightness was measured at 171.8 cd/m2, but we know that the Spyder Elite was underreporting it, so the actual could be around 230 cd/m2-ish. What's most impressive was its contrast ratio which peaked at 171530:1 at 100% brightness.
The monitor is capable of excellent dark scenes and appreciable HDR performance because of that. However, some black crush can happen if you turn the brightness up, so we only recommend doing that if you use the display in a well-lit area. It's also almost unusable when hit with direct sunlight, so make sure to find a well-shaded spot.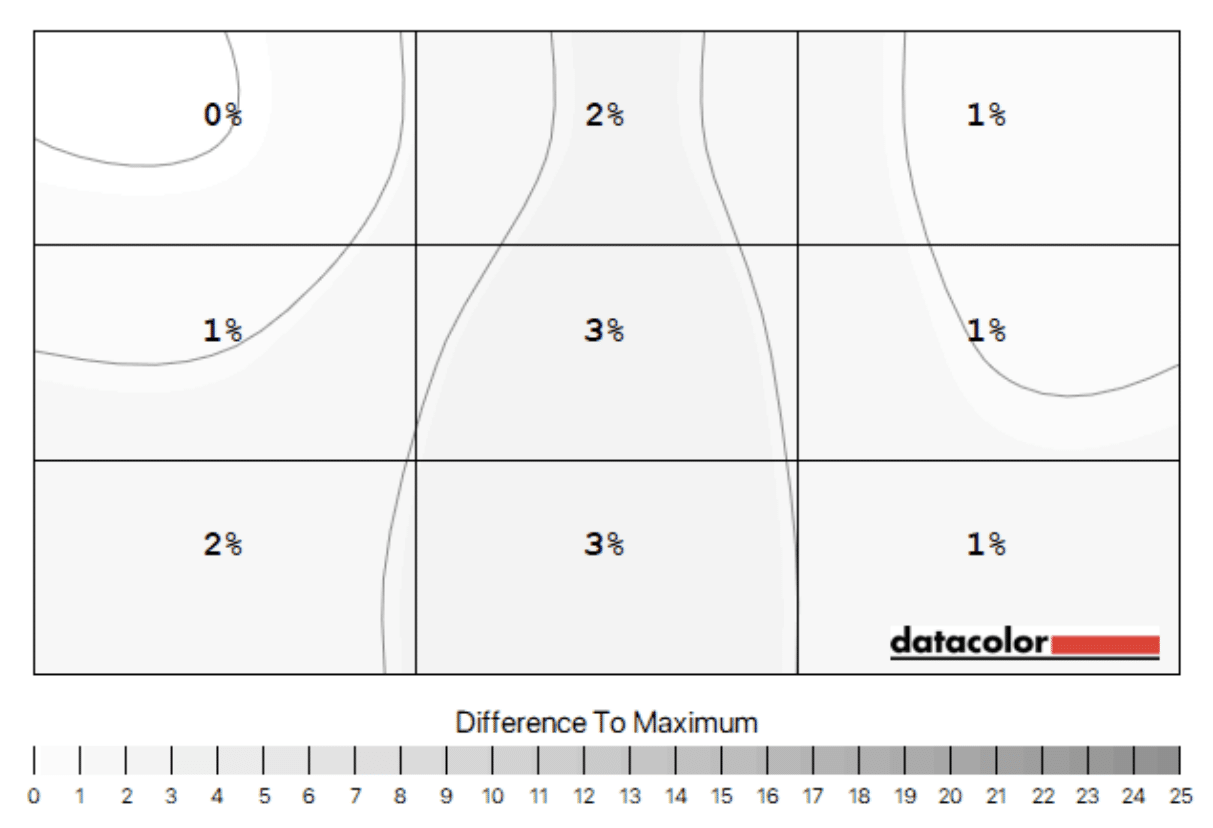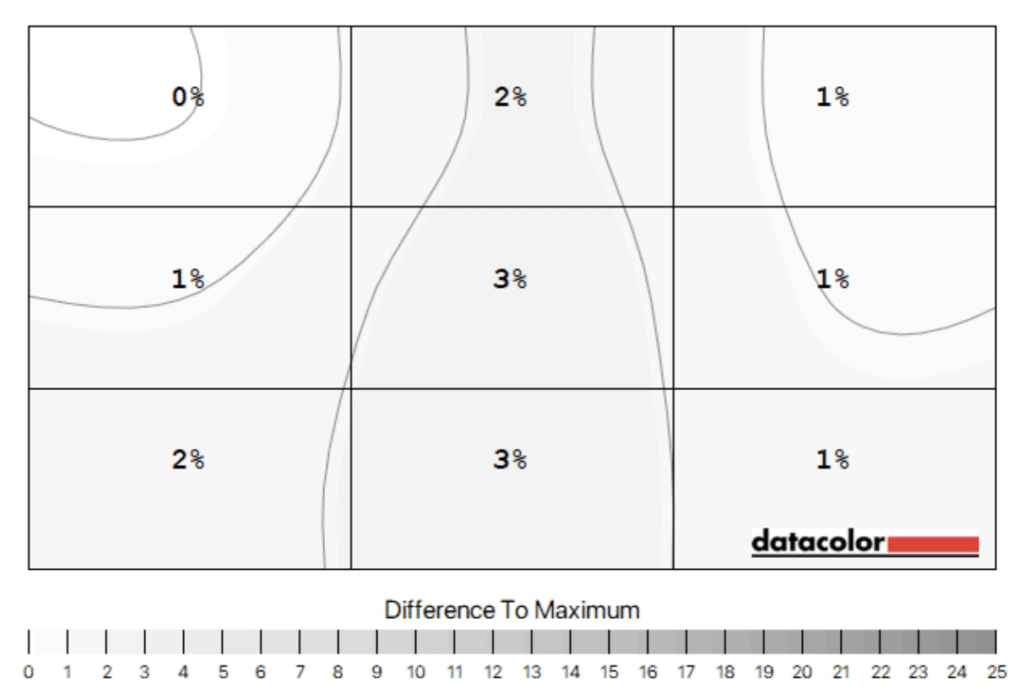 Panel uniformity for the test sample was excellent since there were no perceivable variances from edge to edge. The colorimeter only saw a 3% difference at maximum, so it won't be visible 99% of the time. This can change due to tolerances, so it's possible to get a unit with some issues.
Thanks to its superb OLED panel, the INNOCN 13A1F barely shows any blurring. OLEDs have near instantaneous pixel response times, so they don't blur or show persistence like IPS and VA monitors. However, this model is limited to 60Hz, so it won't be as smooth as a 144Hz alternative for fast-paced gaming.
The INNOCN 13A1F also lacks FreeSync and G-Sync, but that's understandable since it's a portable monitor. It doesn't take a lot to run 1080p at 60Hz anyway, so you should be okay with it if you use this monitor for games. We couldn't measure input lag, but it feels comparable to monitors that are in the 10ms to 20ms range.
Thoughts on the INNOCN 13A1F
The INNOCN 13A1F is a fantastic choice if you need a portable monitor with eye-popping color and contrast. Established premium options like the Lenovo M14 can't match it in that aspect, although they are more accurate out of the box. The monitor is built well for a budget model, so it doesn't feel cheap or plasticky.
Our only complaint with the INNOCN 13A1F is its requirement for two USB-C ports to be connected. We're not sure if that's an isolated issue, but it's awkward to use it like that since the premise of USB-C monitors is single-cable operation. Based on its performance alone, it is still a great buy, especially at its price point.
Pros:
Attractive Design
Fantastic Color Coverage
Deep Contrast
Thin and Light
Affordable
Cons:
Dual USB-C Needed for Operation
Limited Brightness
About the Author: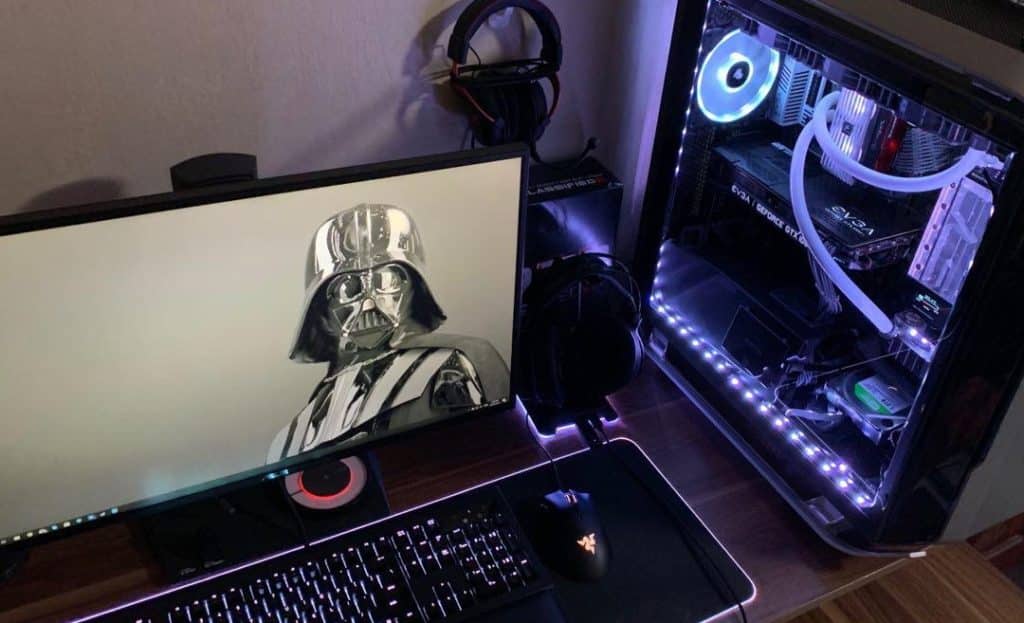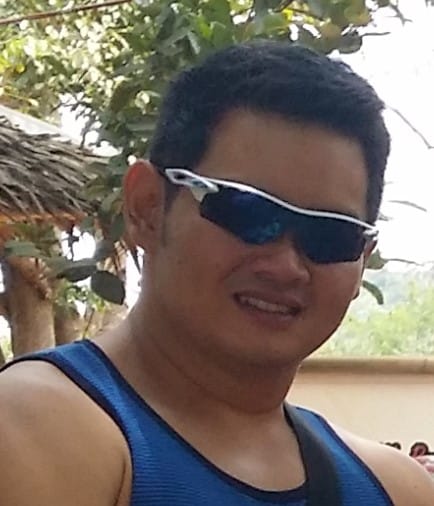 Paolo has been a gaming veteran since the golden days of Doom and Warcraft and has been building gaming systems for family, friends, and colleagues since junior high. High-performance monitors are one of his fixations; he believes that every citizen's right to enjoy one. He has gone through several pieces of hardware in pursuit of every bit of performance gain, much to the dismay of his wallet. He now works with Monitornerds to scrutinize the latest gear to create reviews that accentuate the seldom explained aspects of a PC monitor.