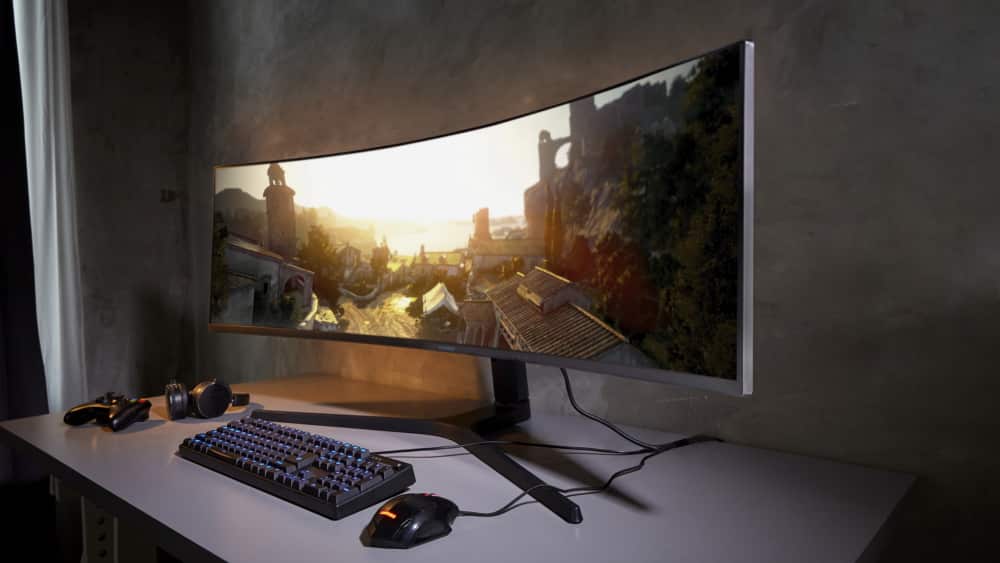 The latest Samsung Monitors were recently announced by the Korean tech giant ahead of CES 2019 to promote their cutting-edge features. The brand specifies that their latest display products are focusing on incredible versatility and innovation. This set of products will cater to gamers, professionals, and those with an eye for something unique and ultra-modern.
Samsung's Executive Vice President Seog-gi Kim mentioned that the trio is an introduction to the company's grand scheme for 2019. The firm's goal is to provide the consumers with more choices that are beautiful, hardworking, and inspiring, fitting the needs of different individuals.
Samsung CRG9 5K Super Ultrawide Gaming Monitor with HDR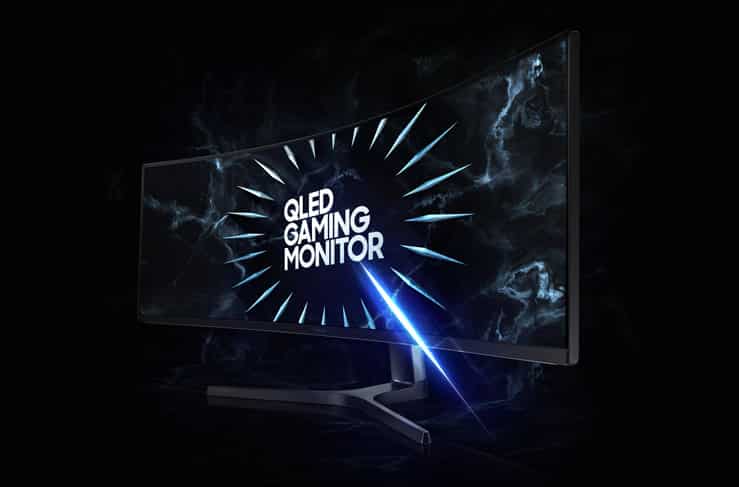 The Samsung CRG9 offers a 5120 x 1440 dual QHD screen and is the first to offer gaming-grade specifications with it. We've seen 32:9 aspect ratio display like the Dell U4919DW or the LG 49WL95, but they are targeted for the multitasking professionals who want a substantially wider workspace. This latest addition to the Samsung monitors 2019 line up creates its own niche due to the massive resolution that refreshes at 120Hz.
The screen is comparable to two 27-inch 1440p monitors side by side which will create a massive window into the gaming world or lots of maneuvering space for your workflow. Although keep in mind that you will need more than one top-end GPU like the RTX 2080 Ti or the VEGA 64 to power this super ultrawide gaming monitor smoothly.
Yes, you read that correctly! The Samsung CRG9 offers a substantially higher 5120 x 1440 resolution than its predecessor and boosts it up to a 120Hz refresh rate. The VA panel from the brand itself carries typical specs such as a 4ms response time and a 3000:1 contrast ratio. This specific module is was scheduled for manufacturing since November 2018, so we might see a release date for Q1 or Q2 2019 in the following days.
The Samsung CRG9 promises superior gaming experiences not only through its screen specs but its HDR10 compatibility. There is no measure of a full array unit (FALD), but the brand has announced a 1000cd/m2 peak brightness for the product. The SVA panel is also treated with the brand's ground-breaking Quantum Dot technology for comprehensive gamut coverage with superb fidelity.
We've seen this combination producing more than 90% of the DCI-P3 color space which is required for HDR performance. The earlier HDR releases such as the C32HG70 provided reasonable advantages in its image quality, but we're expecting more from this very sophisticated gaming model.
The Samsung CRG9 utilizes the same design and aesthetic as its predecessors, starting with the sleek chassis with the signature matte gray finish. The display is almost bezel-free, but initial images suggest that there will still be dual stage panel borders. Samsung says that they reduced the footprint of the height adjustable and tiltable stand so more desk sizes can accommodate the device.
Connectivity details are still limited save for a mention of dual DisplayPort 1.4 slots and a single HDMI connector. The DisplayPorts are intended for screen split modes which are essential tools to have in a monitor like this model. The usual USB 3.0 receptacles and audio jacks will still be present, but we are looking forward to seeing USB-C on this new device.
Samsung UR59C – 32-Inch Curved 4K Monitor for Design and Content Creation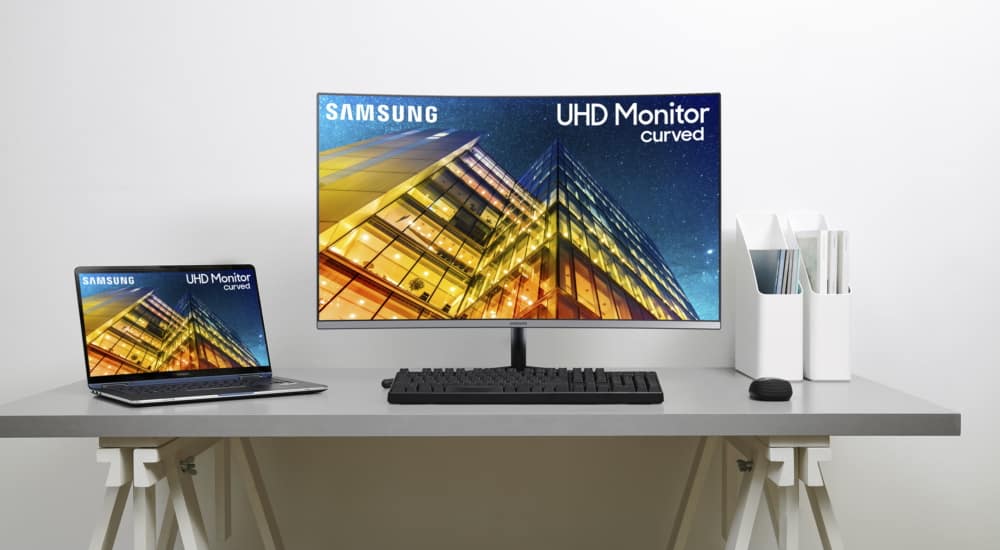 The Samsung UR59C is a versatile, 32-inch 4K UHD monitor that is engineered for designers and editors who want a high-performance display with stunning image quality. This model is a unique offering in its segment due to its 1500R curvature compared to most which come in flat screen variants. We're a bit skeptical as to how it feels in editing and design, but we're certain it will be great for immersive gaming or media consumption.
This model also uses a new VA panel made by the brand itself that comes with specifications such as a 3840 x 2160 native resolution and a 2500:1 contrast ratio. The press release showed limited information regarding the monitor's capabilities, but there is a hint that the panel will support 10-bit color reproduction.
What stands out on the Samsung UR59C is its renewed, super slim design which creates a chassis that is only 6.7mm deep. The rear part of the body has a fabric-textured surface as a unique aesthetic touch. The panel is also bezel-free, apart from the bottom strip which has a Dark Blue Gray signature color that matches the rest of the device.
The Samsung UR59C is supported by a sleek yet durable V-Slim metal stand that comes with a two-prong base. Samsung mentioned that this new treatment isn't meant solely for looks since the desktop footprint is reduced for neatness as well.
Samsung Space Monitor – MInimalist Professional Monitor with Profound Flexibility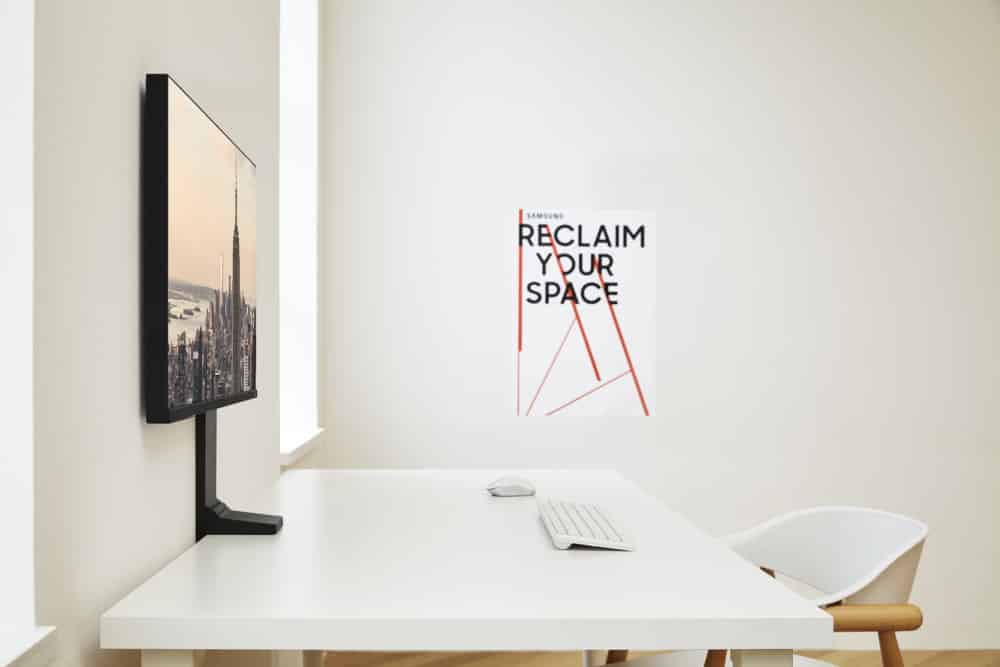 The Samsung Space Monitor is a concept product that's designed to allow users to focus on the beautiful screen rather than what's around it. This model redesigns our perception of modern PC monitors by creating a space-saving solution via its fully-integrated arm that clamps to a desk. This treatment frees up your desk space considerably without the need for an aftermarket mount or complex setups.
The stand for the Samsung Space monitor is difficult to describe due to its unique design. The upright is thin enough to disappear into the display's slim bezel while allowing users to conveniently tilt or extend the device from its upright position. The tilt and extension range is more comprehensive than what other products offer, allowing the user to bring the display all the way down to the table surface without the need to separate the chassis from the mechanism.
Samsung advertises that this characteristic offers the most comfortable viewing experience which we know many professionals will love to have. The stand and its arm integrate the power and HDMI cords through its body so users won't have to deal with troublesome cable management.
The Samsung Space Monitor will be offered in a 27-inch QHD variant along with a larger, 32-inch SKU that has a 4K UHD resolution. Specifications and features are still unknown at this point, so we have to wait until the firm reveals the display at CES 2019 this month.
Editor's Note: Samsung will fully reveal the CRG9, UUR59C, and the Space Monitor at booth #15006 during CES 2019 at the Las Vegas Convention Center from January 8 to 11, 2019. You can also visit this link to take a peek at these three marvels of display innovation along with the other tech goodies Samsung has to offer.