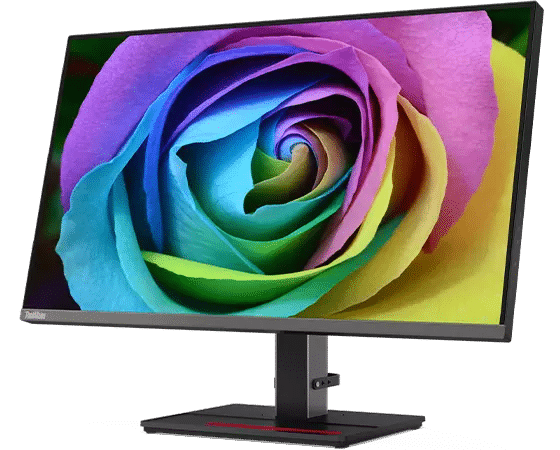 The Lenovo ThinkVision Creator Extreme is a premium 4K IPS monitor with a mini LED backlight for superb contrast and HDR performance. It's not cheap, but it's priced lower than the Asus PA32UCX which is one of its few competitors. The Lenovo ThinkVision Creator Extreme looks promising for art enthusiasts and professionals, but let's check first if its imaging performance can justify its existence and price tag.

Lenovo ThinkVision Creator Extreme Specifications
Screen Size: 27 Inches
Resolution:3840 x 2160 UHD
Aspect Ratio: 16:9
Panel Technology: In-Plane Switching (IPS)
Refresh Rate: 60Hz
Response Time:6ms
Contrast Ratio: 1100:1
Brightness: 620 cd/m2 (1200 cd/m2 Peak)
Built-in Speakers: Yes (2 x 5 Watts)
Stand: Height – Yes
Stand: Tilt – Yes
Stand: Swivel – Yes
Stand: Pivot– Yes
VESA Compatibility: Yes (200 x 200)
Connectivity: DisplayPort 1.4 x 1, DP 1.4 Out x 1, HDMI 2.0 x 3, USB-C Gen 2 PD100W x 1, USB-C x 1,USB 3.2 x 4, 3.5mm Jack x 1
Dimensions With Stand (WxHxD): 24.14″ x23.38″ x 9.22″
Weight: 23.81 lbs

Design and Features
The Lenovo ThinkVision Creator Extreme employs a modern and minimalist aesthetic that would fit anywhere, including high-end studios. The monitor has a matte black chassis with red accents in discrete spots. The display is bezel-free on three sides for that clean look that makes the screen seem like it's bigger when viewed in person.
The Lenovo ThinkVision Creator Extreme's dimensions are comparable to most products out there. However, what stands out is the cabinet's width which is considerably slimmer than other monitors with mini LED backlights. It is quite heavy at almost 24 pounds, so extra care wouldn't hurt when setting it up or moving it around.
Its build quality is quite excellent and befitting of a monitor at a very high price range. The plastics it uses feel thick and sturdy, and the stand has enough heft to keep the heavy chassis stable and upright. The adjustment mechanism is smooth yet firm, so the monitor won't sag on you while the monitor is in use.
One downside we immediately noticed on the Lenovo ThinkVision Creator Extreme is it has buttons for the OSD instead of a joystick. Navigation is a bit easier with its layout, but joysticks will still be quicker and more tactile. It's a minor characteristic versus the specialized screen, but functionalities like this are important for many users.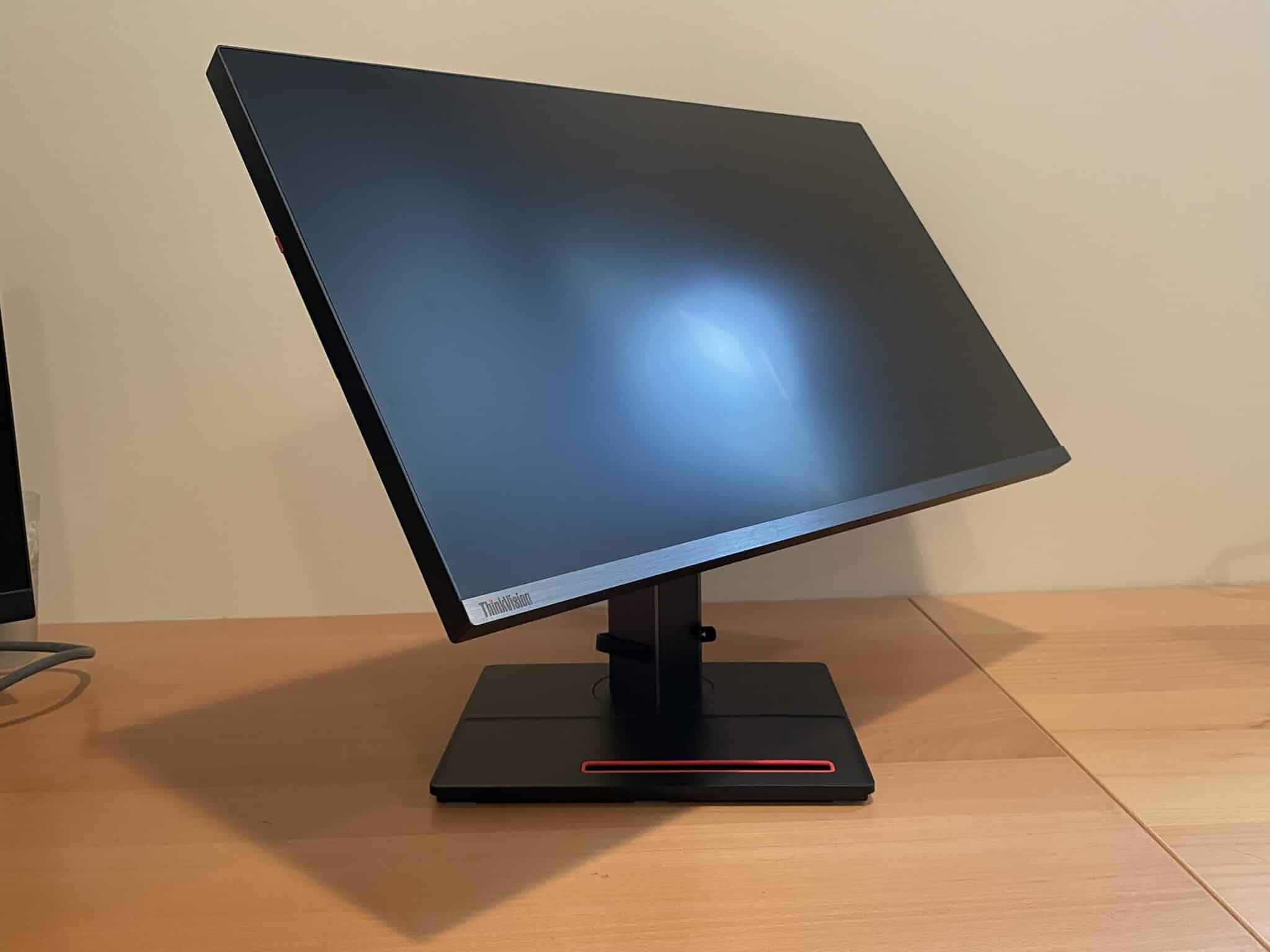 The stand included with the Lenovo ThinkVision Creator Extreme has a fully adjustable stand for your convenience. You can tilt, swivel, pivot, and adjust the height of the display so it is easy to get a comfortable view. The well-built part has a square and flat base with a slit accented with red for your phones.

Another outstanding feature of the Lenovo ThinkVision Creator Extreme is its connectivity layout which makes it very flexible. You get DisplayPort 1.4 with a DP Out slot for daisy-chaining, three HDMI 2.0 slots, and a USB-C port with DP Alt Mode and up to 100 watts of power. You will also find four USB 3.2 slots in total, but the upstream port needs to be connected for them to work.
However, the monitor doesn't have speakers so its only audio solution is its 3.5mm jack for headphones. That's fine in most cases since users usually prefer headsets or desktop speakers which will almost always sound better. However, it's inexcusable to exclude something basic like this at this price range where the monitor must have it all.
Display and Performance
The Lenovo ThinkVision Creator Extreme sports a 27-inch IPS panel with a 3840 x 2160 resolution, a 60Hz refresh rate, and a 6ms response time. The mini LED backlight has a 620 cd/m2 brightness and a 1200 cd/m2 peak, while the contrast ratio is listed at 1100:1. This model has a 1152-zone backlight with 10368 LEDs and it is HDR1000-certified for impressive imaging performance in any scenario.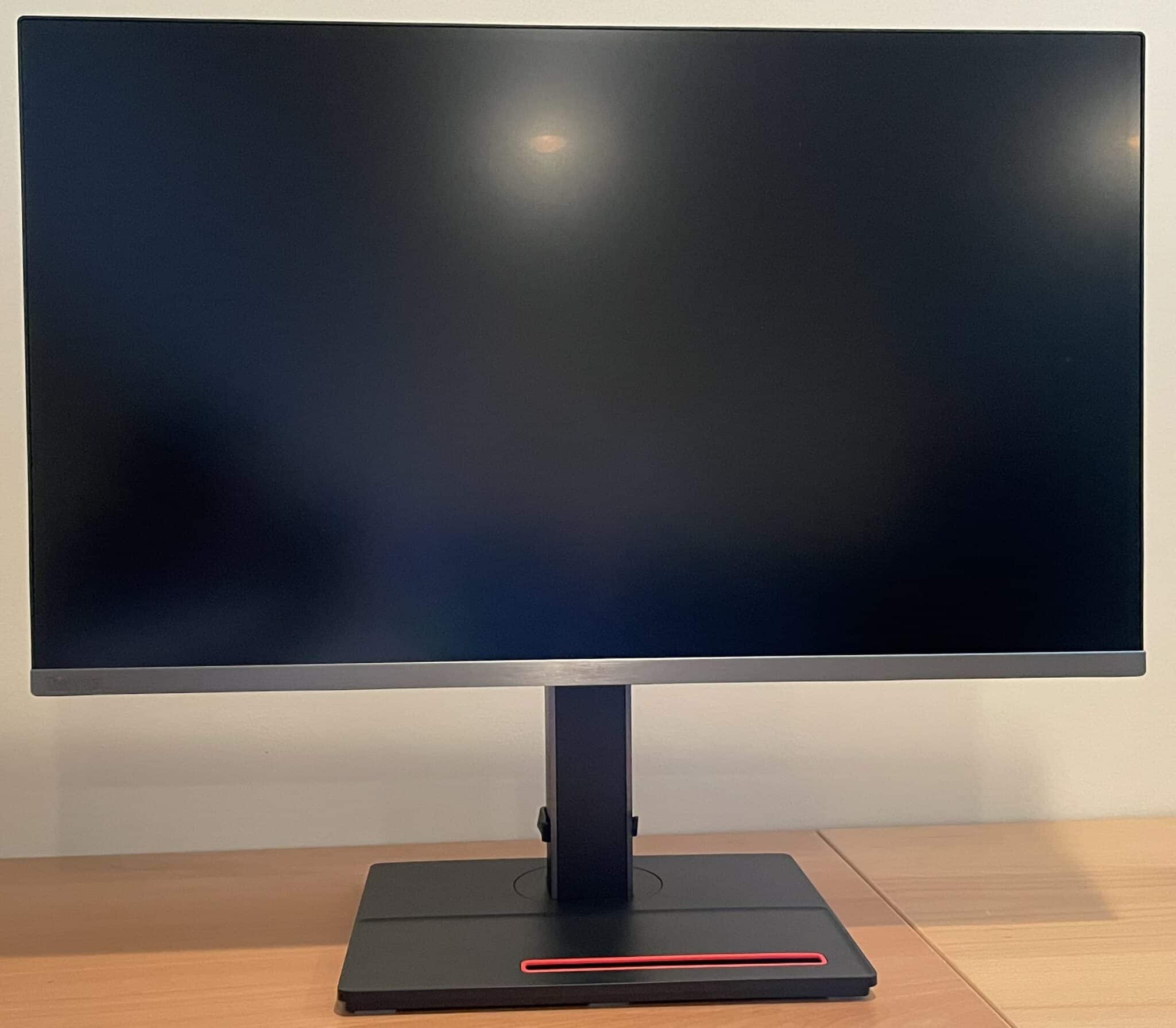 27-inch 4K screens are extra sharp, so they are great for professional applications, movies, and games. However, some have complained that it is quite difficult to read walls of text since the letters appear smaller and sharper. It's not a problem for most, but those who struggle in this regard can use scaling as necessary, although it doesn't always work.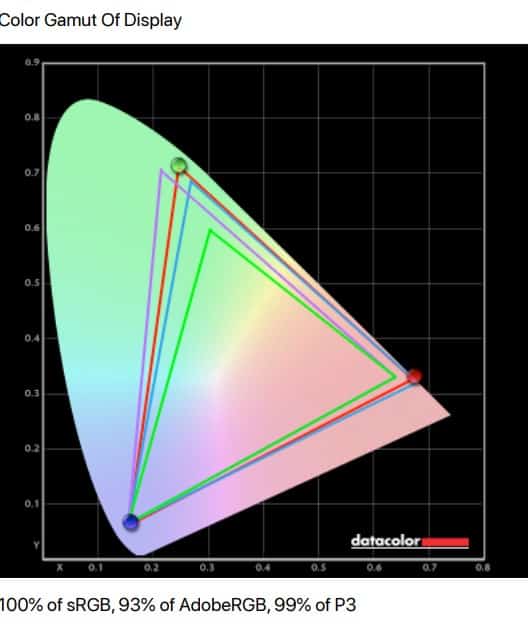 The Lenovo ThinkVision Creator Extreme renders more than 100% sRGB, 99% DCI-P3, and 93% of Adobe RGB. The DeltaE average of 1.84 isn't the best we've seen, but it is reasonably good and way below the threshold of accuracy. That's impressive from a monitor for a multitude of purposes, especially those that are packaged as professional solutions.
Calibrating the Lenovo ThinkVision Creator Extreme reduced its deltaE average to 0.66 which is even better for color-critical work. Most users will be happy with the default setup, but prosumers will want it to go through a colorimeter. However, those don't aren't practical if you aren't into editing since the screen already looks great by default.
The mini LED backlight reached 609 cd/m2 in SDR with a peak brightness of 1295 cd/m2 when HDR is active. Its contrast ratio is limited to 1235:1, but it expands exponentially when the Mini LEDs get to work. It's comparable to the Asus models in this regard, and most would be hard-pressed to notice a difference unless they have the monitors side by side for comparison.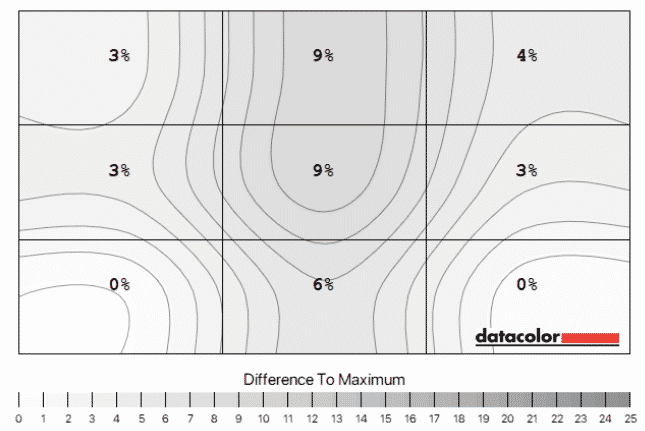 Its panel uniformity is great as well since the deviances do not breach the threshold limit of what's normal for most monitors. It looks evenly lit and there are no quadrants on the screen with considerable contrast losses
Responsiveness is one of the Lenovo ThinkVision Creator Extreme's weaknesses since it isn't particularly fast in the pixel response time department. The screen is prone to blurring in fast-paced scenes, so it's not ideal as a dedicated gaming display. It can hold its own in casual titles, but enthusiasts will notice the difference.
The Lenovo ThinkVision Creator Extreme isn't compatible with FreeSync, so G-Sync compatibility is also out of the question. That's understandable since this is a prosumer model, but it's a waste not to consider the gaming market. Input lag is high at 20ms, but again, that's acceptable due to the monitor's intended purpose.
Thoughts on the Lenovo ThinkVision Creator Extreme
The Lenovo ThinkVision Creator Extreme is an excellent monitor thanks to its impressive specifications which you won't easily find on other products. The mini LED-backlit IPS panel is capable of excellent colors, accuracy, and contrast which makes it one of the top picks for HDR performance. Its also designed to be attractive and sensible at the same time.
However, there are deal-breakers with the Lenovo ThinkVision Creator Extreme, starting its very high price point. It is great at its main purpose which is image quality, but it's not the best option for other purposes such as gaming. It's a superb and advanced monitor, but it's strictly for meticulous professionals who are into color-critical work.
Pros:
Great Gamut Coverage and Accuracy
Attractive and Functional Design
Brilliant HDR Performance
100-Watt USB-C
Plenty of Connectivity Features
Cons:
High Price
High Input Lag and Slower Response Time
Limited Availability
About the Author: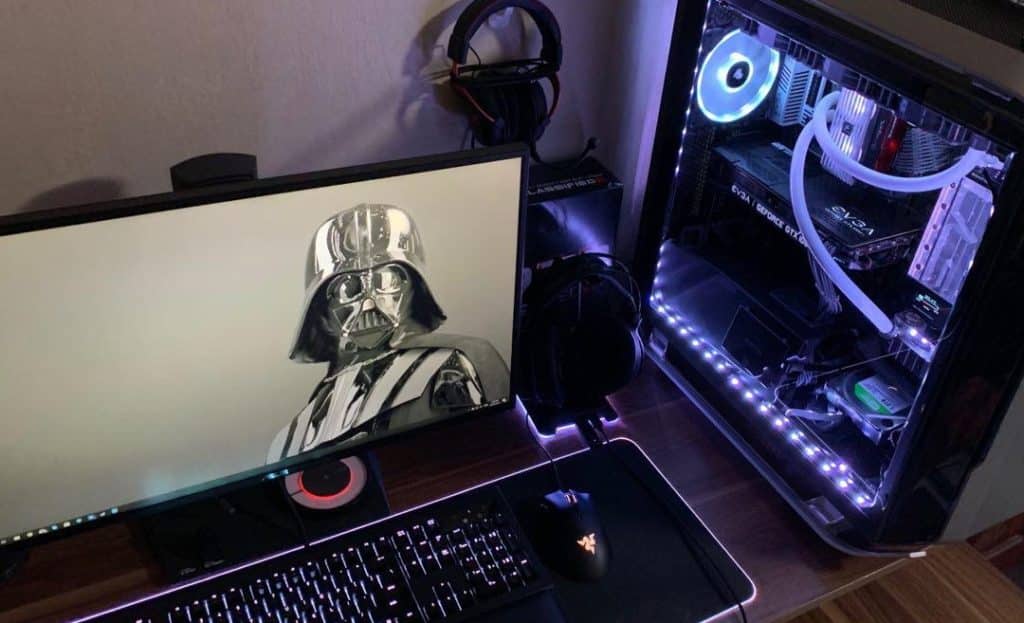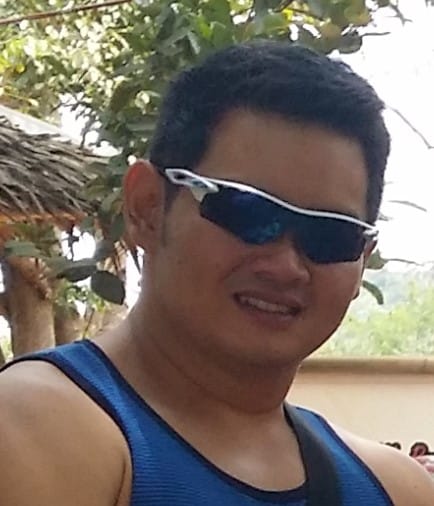 Paolo is a gaming veteran since the golden days of Doom and Warcraft and has been building gaming systems for family, friends, and colleagues since junior high. High-performance monitors are one of his fixations and he believes that it's every citizen's right to enjoy one. He has gone through several pieces of hardware in pursuit of every bit of performance gain, much to the dismay of his wallet. He now works with Monitornerds to scrutinize the latest gear to create reviews that accentuate the seldom explained aspects of a PC monitor.