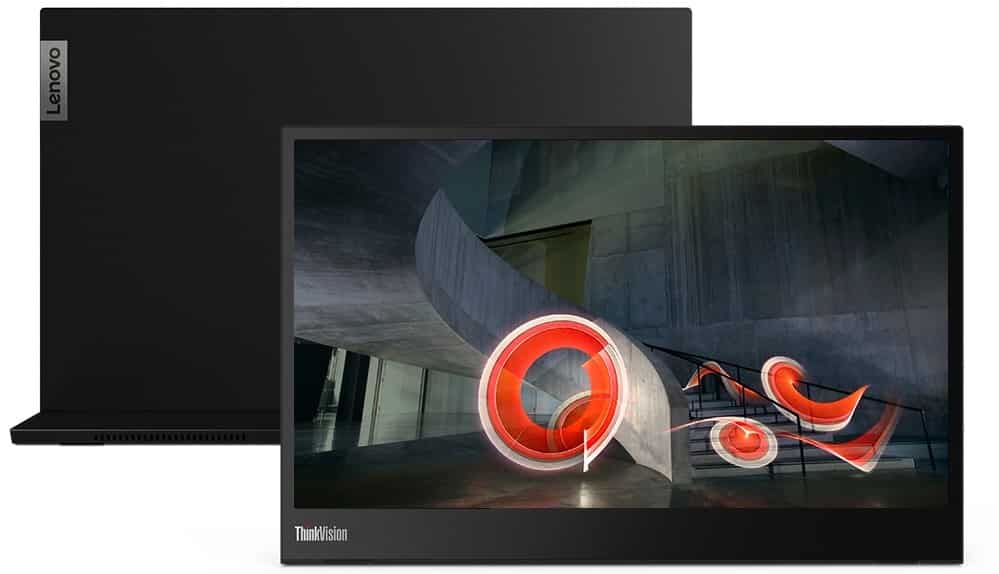 The Lenovo ThinkVision M14t builds on the success of the original M14 by adding 10-point touch and a stylus to the vibrant IPS screen. It's quite expensive, but the M14 has a more reliable design and a reputation as the best when it comes to image quality in the portable monitor market. The Lenovo ThinkVision M14t is asking twice the money compared to its predecessor, so let's check out if it is worth the upgrade.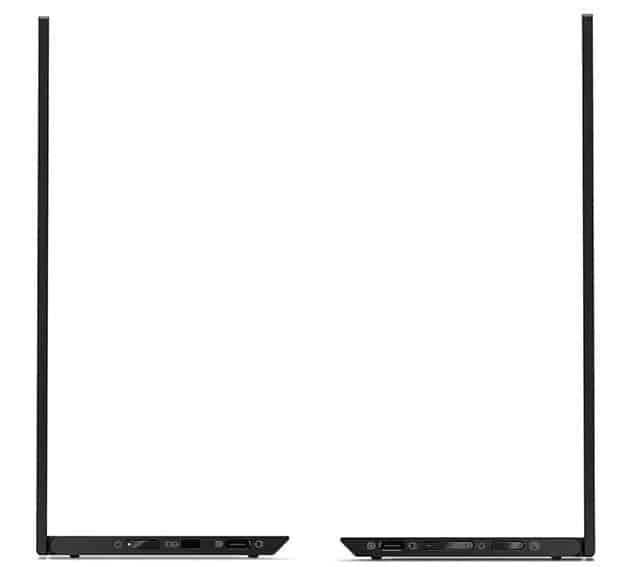 Lenovo ThinkVision M14t Specifications
Screen Size: 14 Inches
Resolution:1920 x 1080 FHD
Aspect Ratio: 16:9
Panel Technology: In-Plane Switching (IPS)
Refresh Rate: 60Hz
Response Time: 6ms
Contrast Ratio: 700:1
Brightness: 300 cd/m²
Built-in Speakers: No
Stand: Height – Yes
Stand: Tilt – Yes
Stand: Swivel – No
Stand: Pivot– No
VESA Compatibility: No
Connectivity: USB-C 3.2 x 2
Dimensions With Stand(WxHxD):14.8″ x 10.5″ x 2.7″
Weight: 1.5 lbs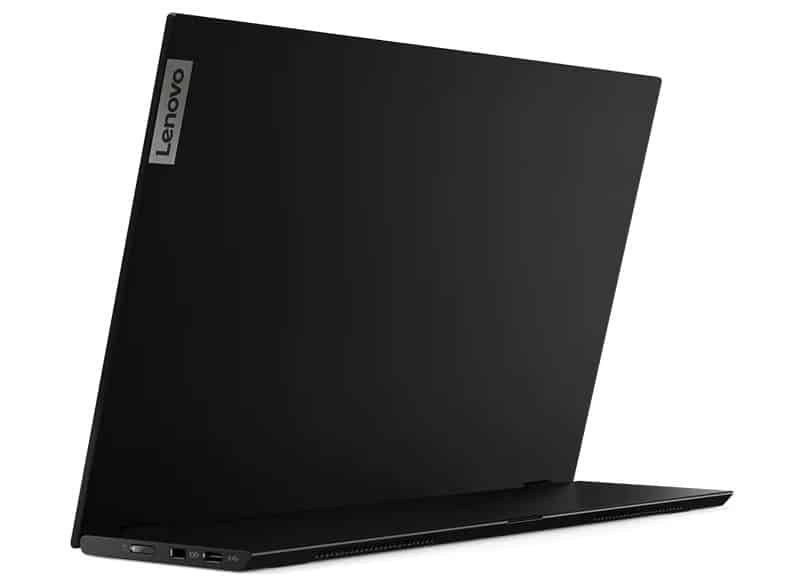 Design and Features
The Lenovo ThinkVision M14t follows its predecessor's design which, in our opinion, is better than most of its competitors. The sleek matte black chassis is virtually scratch-proof, although you might want to take extra care of the glossy screen coating. The display is pleasantly bezel-free on three sides, but you will still see minimal panel borders when it's in use.

One of the disadvantages of the Lenovo ThinkVision M14t is it's a bit thicker than similar options, but its plastic chassis helps keep its weight down. It is still very portable as well since it's not that much thicker than a regular-sized notebook. Most users will be able to slide this into their laptop cases or bags, so bringing it along shouldn't be too difficult.
Build quality is great for the Lenovo ThinkVision M14t even if its mostly made out of plastic, unlike its metal-clad competitors. However, the plastic panels are thick enough and sturdy to resist unwanted flex or even cracking in some instances. The hinges also feel smooth, but you should take care not to overextend them since they can snap or loosen up after some time.
One advantage of the Lenovo ThinkVision M14t is it has a built-in kickstand that props the monitor up in both portrait and landscape mode. this part also has the monitor's connectivity ports, so it's easy to direct cables the way you want to. it also adds bulk to the product, but it's a good and reliable way to keep it upright compared to the flimsy covers used by other brands.
You will also find OSD buttons on the Lenovo ThinkVision M14t which we think is another downer at this price range. Brands like Asus use joysticks across their range, so they are easier to manipulate their settings. It might not be a big deal, but you might find it difficult to adjust something as simple as the backlight which is necessary if you are working outdoors.
The Lenovo ThinkVision M14t doesn't have a lot of ports since it is limited to two USB-C 3.2 ports on its I/O. However, this implementation is great and limiting at the same time since you can connect a USB-C laptop without worrying about another power brick. But the downside is that the monitor will not work with older laptop models plus you need a GPU with VirtualLink connectivity to use this with a desktop.
The Lenovo ThinkVision M14t doesn't have speakers or a 3.5mm jack for headsets, although we think it's forgivable. You are better off connecting your cans directly to the laptop or using their built-ins which will most probably sound exponentially better. The chassis on this model is very thin, so they won't be able to accommodate drivers or tweeters with a decent amount of power.
Display and Performance
The Lenovo ThinkVision M14t sports a 14-inch touch-sensitive IPS pane with a 1920 x 1080 resolution, 60Hz refresh rate, and a 6ms minimum response time. The backlight is rated to go up to 300 cd/m2, while the contrast ratio is limited to 700:1 like most portable IPS monitors. It doesn't have special features like wide gamut coverage or HDR since it puts emphasis on productivity more than anything else.
The Lenovo ThinkVision M14t's screen looks comparable to most laptops and notebooks, so its pixel density won't be an issue for its target market. The screen looks crisper than a regular desktop monitor, but the 1080p resolution will not squeeze small objects into becoming microscopic. It is nice on the eyes, but you are still confined to the 1080p format when it comes to virtual space.
The touch sensitivity on the Lenovo ThinkVision M14t supports 10-point finger and up to 4096 levels of pressure for its stylus. The screen is quite responsive and accurate when using either so it feels nice to use when jotting down notes or sketching. We prefer the stylus, but be mindful of it since it is easy to lose.
Color quality is slightly better on the Lenovo ThinkVision M14t since it managed up to 105% sRGB and around 75% coverage for Adobe RGB. Default accuracy is also better since with a deltaE average of 2.3 which is great for typical uses. Calibration isn't quite possible, so the only thing you can do is tweak a few settings such as the brightness to get your preferred setting.
The Lenovo ThinkVision M14t also doesn't get as bright as it claims since it is limited to 257 cd/m2 at 100% brightness. That's fine for most uses, but a bit more can help fight glare when it's used under natural light. The contrast ratio tops out at 753:1 at 80% brightness, but that's expected for a mobile monitor.
Another weakness of the Lenovo ThinkVision M14t is its limited motion handling which results in blurs and smudges in fast-paced and contrasting scenes. You'll notice some persistence if you focus on the monitor in most games, so it isn't advisable. But then again, this is forgivable since the monitor is designed as a secondary for productivity and it doesn't have a connector for mobile gaming platforms like the Switch.
Finally, the Lenovo ThinkVision M14t doesn't have FreeSync and G-Sync compatibility due to its design limitations. We don't imagine anyone gaming on this screen anyway, so Adaptive Sync isn't necessary at all. We couldn't measure its input lag, but it feels close or comparable to most 10ms office monitors we've checked out.
Thoughts on the Lenovo ThinkVision M14t
The Lenovo ThinkVision M14t is a fantastic option if you want the most vibrant portable monitor to go with your USB-C laptop. The product and its predecessor are unmatched when it comes to gamut coverage, so alternatives will look washed out when placed next to it. Its also the best-designed in our opinion since you don't have to deal with flimsy flip covers to make it upright.
The only considerable downside of the Lenovo ThinkVision M14t is its very expensive price tag which only adds touch capabilities. The M14 is still a better buy if you don't need the latter, so this model will only cater to a smaller audience.
Pros:
Best Gamut Coverage for Portable Monitors
USB-C Connectivity with DP Alt Mode
Good Color Accuracy by Default
Solid Build Quality and Easy to Use Design
doesn't Need Flimsy Covers as Stand
Responsive Touch and Stylus Functionality
Cons:
Expensive
Limited Contrast
Mediocre Motion Handling
Requires USB-C Connectivity to Function
About the Author: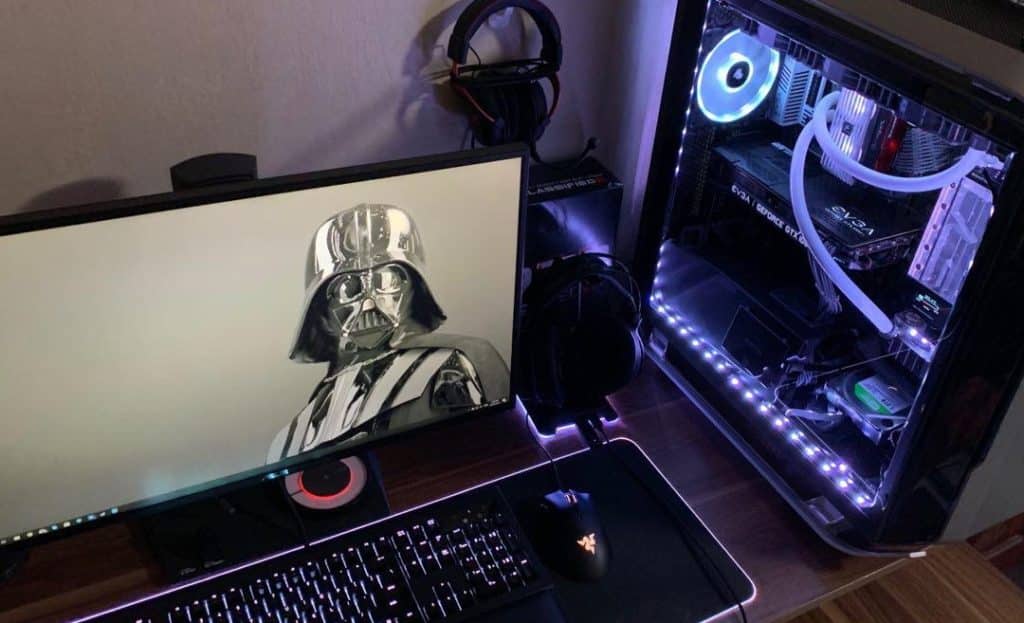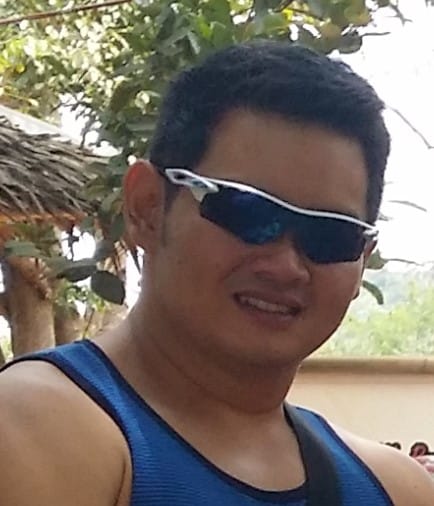 Paolo is a gaming veteran since the golden days of Doom and Warcraft and has been building gaming systems for family, friends, and colleagues since his junior high years. High-performance monitors are one of his fixations and he believes that it's every citizen's right to enjoy one. He has gone through several pieces of hardware in pursuit of every bit of performance gain, much to the dismay of his wallet. He now works with Monitornerds to scrutinize the latest gear to create reviews that accentuate the seldom explained aspects of a PC monitor.