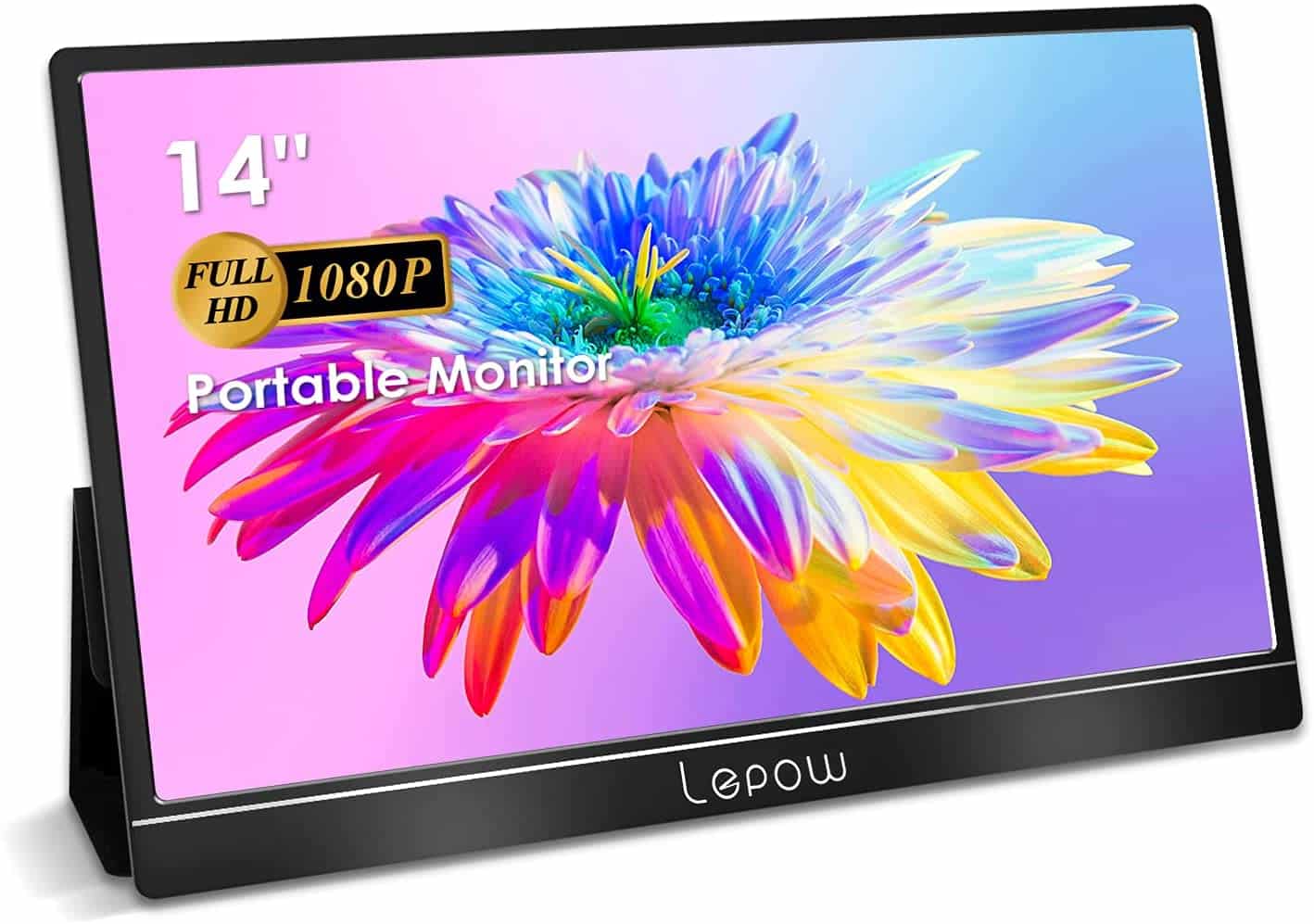 The Lepow Lite H1 is a reasonably-priced portable monitor that's compact enough for working and gaming on the go. It slips into most laptop bags with ease, plus it's lightweight so it doesn't add too much to your daily loadout. Let's check and see how it compares to the Lepow Z1 which wowed us with its price but left some to be desired in performance.
Lepow Lite H1 Specifications
Screen Size: 14 Inches
Resolution:1920 x 1080 FHD
Aspect Ratio: 16:9
Panel Technology: In-Plane Switching (IPS)
Refresh Rate: 60Hz
Contrast Ratio: 1000:1
Brightness: 300 cd/m²
Built-in Speakers: Yes (2 x 1 Watt)
Stand: Height – No
Stand: Tilt – Yes
Stand: Swivel – No
Stand: Pivot – No
VESA Compatibility: No
Connectivity: USB-C x 2, Mini HDMI 1.4 x 1, 3.5mm Jack x 1
Dimensions With Stand (WxHxD): 12.71″ x 8″ x .62″
Weight: 1.8 lbs (With Cover)

Design and Features
The Lepow Lite H1's design is simple but less sophisticated than offerings from brands like Asus, but it looks clean and functional. The device has a matte black chassis with a silver trim so it won't look out of style after a while. The display isn't bezel-free, but the sides and the top have thinner borders than the bottom edge.
What's great about the Lite H1 is it's barely bigger than a notebook so it should slide right into your bag's pocket. It only weighs slightly over a pound without its cover so it won't make your laptop backpack seem like it's a big piece of luggage. These aspects are the main draw of portable monitors, but their functionalities and performance are equally as important.
Its build quality isn't the best since there are aluminum-clad options in the market, but Lite H1 holds up quite well. The plastics used don't flex and they are strong enough to withstand cracking even if it's sandwiched in your bag. We wish the same could be said for its cover-slash-stand which doesn't do a great job of keeping the display propped up.
The Lepow Lite H1 has a scroll wheel for the OSD and a dedicated power button for ease of use. It takes some getting used to, but it's still more convenient and user-friendly compared to multiple buttons which can cause confusion. The monitor doesn't have plenty of settings to tweak, but this kind of functionality is important so as not to complicate the product's operation.
The included flip cover for the Lepow Lite H1 doubles as it's stand, but it is limited in many ways. You can orient the display in both landscape and portrait with some tilting range, but that's basically it. The flaps work great in protecting the monitor, but they can't match something like the Lenovo M14's built-in base which is more stable and compact.
The Lepow Lite H1 includes two USB-C slots, a mini HDMI port, and a 3.5mm jack for headphones. Note that only one USB-C slot supports DP Alt Mode, so the other one can only be used for an AC power adapter. The latter comes in handy if you don't want the display to draw power from your laptop, but that also means you have more cables to deal with.
The Lepow Lite H1 even has a pair of built-in speakers, but they sound tinny and are incapable of solid bass. They distort at higher volumes so laptop speakers will sound generally better for any type of audio output. However, it is still nice to have them as a backup in case your primary suddenly conks out without warning.
Display and Performance
The Lepow Lite H1 sports a 14-inch IPS panel with a 1920 x 1080 resolution and a 60Hz refresh rate. The backlight is listed at 200 cd/m2 to 300 cd/m2, while the contrast ratio is at 1000:1 like most IPS monitors. What's strange here is the brightness specification since Lepow indicated a variable range instead of a single number.
Laptop users won't find the Lepow Lite H1 awkward to use since it's basically just a laptop or notebook screen when it comes to pixel density. It looks crisper than most 1080p desktop monitors but it's still easy on the eyes when reading walls of text. It doesn't offer enlarged screen space like higher resolution models, but the idea behind a portable monitor is to extend or double your primary effortlessly.
The Lepow Lite H1 renders 99% of the sRGB gamut, and that's considerably higher than most of the available portable monitors.  the default accuracy is better than the Z1 this time around with a deltaE average of 2.98. That's not perfect, but one of the best scores in the portable display category.
The biggest downer with the Lepow Lite H1 is its brightness level which only managed to reach 171 cd/m2. That's sufficient for indoor use, but the monitor will look dim when it is used in well-lit areas or the outdoors. Its contrast ratio maxed out at 975:1, so deep blacks are also out of the question for the Lite H1.
Panel uniformity for the Lepow Lite H1 is great since there are no considerable light leaks on any of the screen's edges. There are some deviances in the backlight's output, but we didn't see any clouding issues on the screen. Take note that this could still vary between every monitor made due to tolerances and the well-documented limitations of IPS technology.
Motion handling for this model isn't comparable to a desktop monitor as well so it's prone to blurring and ghosting. Fast and contrasting transitions left a slight trail on the screen, so it's not ideal for action-packed titles. However, it is usable for casual gaming so it will be a good pair for something like the Nintendo Switch.
The Lepow Lite H1 isn't FreeSync or G-Sync compatible, but that's understandable since this is a business monitor. It also doesn't take a lot to get stable framerates at 1080p, so tearing and stuttering won't be as big of an issue. It's not a sluggish monitor, but it's clearly less responsive than a desktop variant with the same screen specs.
Thoughts on the Lepow Lite H1
The Lepow Lite H1 is a great choice if you want an affordable portable monitor with rich colors. It renders a fuller sRGB volume than its competitors, plus it's more accurate than its bigger sibling, the Lepow Z1. The simple and sleek design will satisfy most users, but the flip cover needs to be redesigned into something that works better.
Most of the Lepow Lite H1's limitations are common in its category, so we can't really complain about them. however, we consider its limited brightness a deal-breaker, especially for those who like to work in cafes or outdoor spots. It is still a great pick for a secondary display, but it's only usable indoors since it looks dim against glare or natural lighting.
Pros:
Wide Gamut Coverage Compared to Other Portable Monitors
Thin and Lightweight
USB-C Connectivity
Cons:
Flimsy Stand Design
Dim Screen
Mediocre Responsiveness
About the Author: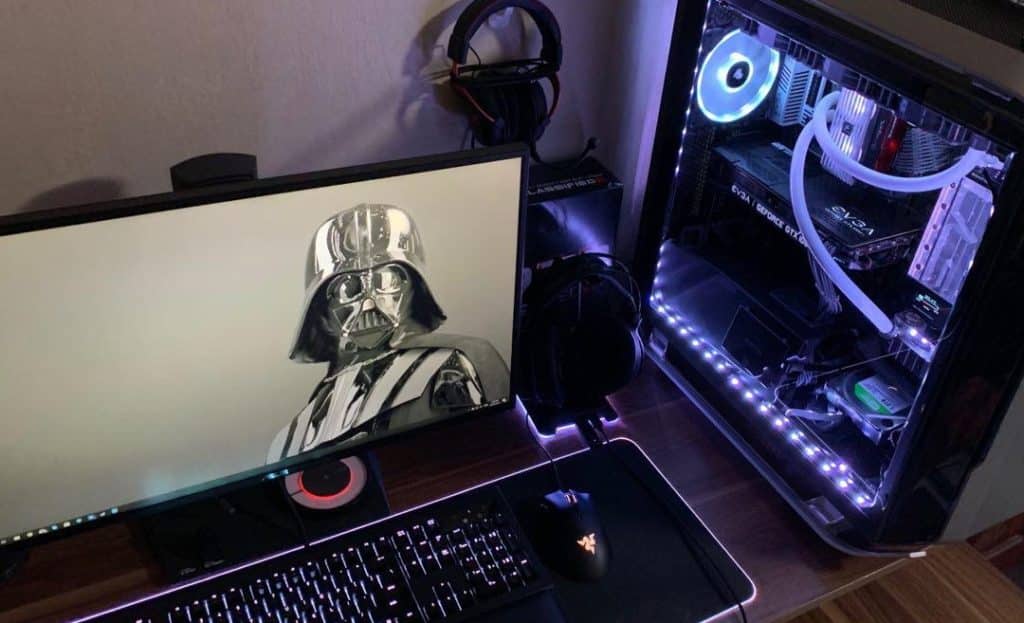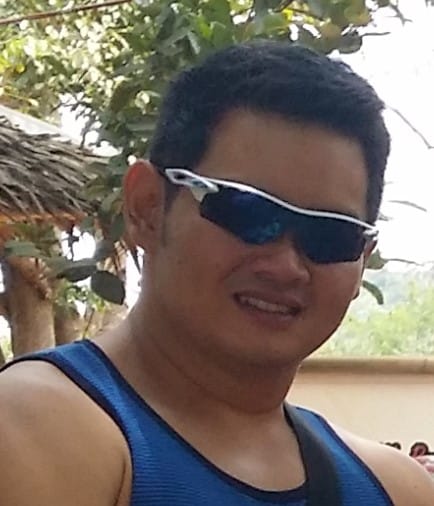 Paolo is a gaming veteran since the golden days of Doom and Warcraft and has been building gaming systems for family, friends, and colleagues since junior high. High-performance monitors are one of his fixations and he believes that it's every citizen's right to enjoy one. He has gone through several pieces of hardware in pursuit of every bit of performance gain, much to the dismay of his wallet. He now works with Monitornerds to scrutinize the latest gear to create reviews that accentuate the seldom explained aspects of a PC monitor.