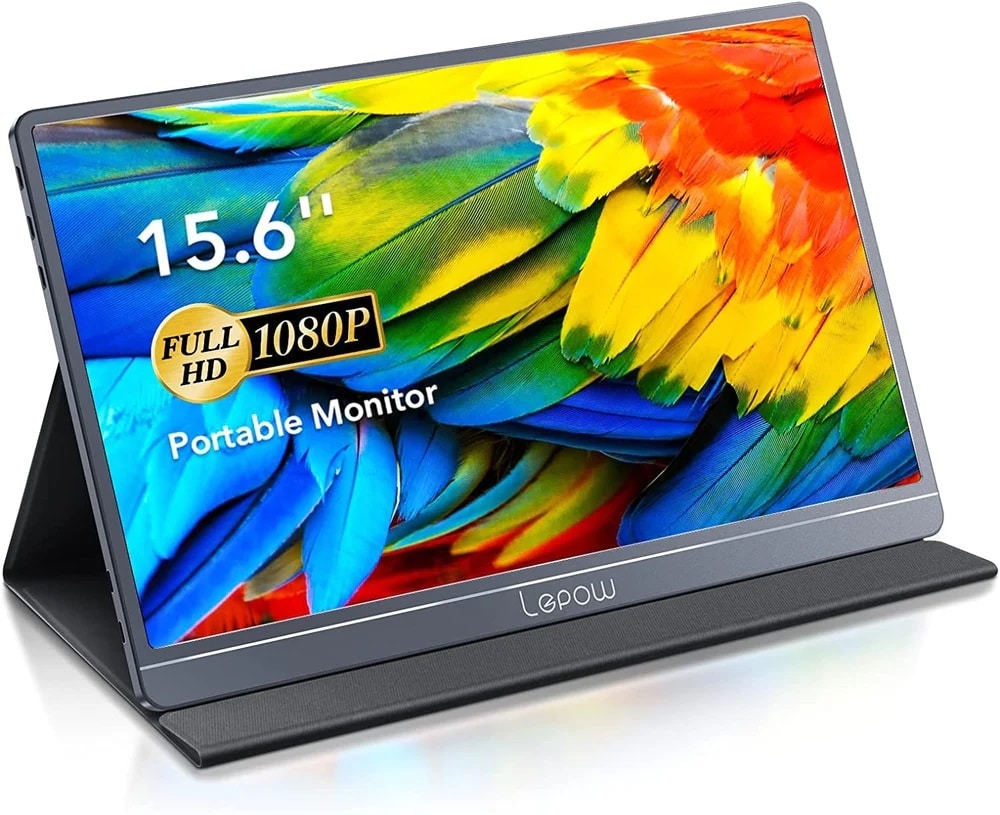 The Lepow Z1 is one of the most affordable portable USB-C monitors in the market with a large, yet slim 15.6 screen size. It's nice to hold and is easy to use, plus it doesn't feel like a cheap knockoff despite its sub-$150 price tag. Let's check it out to see if its performance is proportional to or above its price range.
Lepow Z1 Specifications
Screen Size: 15.6 Inches
Resolution:1920 x 1080 FHD
Aspect Ratio: 16:9
Panel Technology: In-Plane Switching (IPS)
Refresh Rate: 60Hz
Contrast Ratio: 1000:1
Brightness: ? cd/m²
Built-in Speakers: Yes (2 x 1 Watt)
Stand: Height – No
Stand: Tilt – Yes
Stand: Swivel – No
Stand: Pivot – No
VESA Compatibility: No
Connectivity: USB-C x 2, Micro HDMI 1.4 x 1
Dimensions With Stand (WxHxD): 14.56″ x 8.89″ x .27″
Weight: 1.69 lbs
 
Design and Features
The Lepow Z1 looks like a large tablet since it's so sleek and slim, especially when it's wrapped in its folio cover. This model has a nice gunmetal finish which looks clean and sophisticated compared to the plastic-clad alternatives. The display has bezels, but it's large enough to make them disappear against the screen when it's turned on.
The monitor itself and its folio cover won't need a lot of space, so you can probably squeeze it into your laptop sleeve if it has a bit of stretch. It's also very lightweight for its size at 1.69 pounds, so adding it won't wear you down. Its dimensions will only become an issue if you have a notebook-sized device like a 13 or 14-inch computer like certain MacBooks.
We were impressed by its build quality, which leaps over several plasticky competitors. The aluminum chassis feels solid and perfectly machined, with no uneven gaps or other cosmetic defects. It doesn't feel like it will flex, but you can dent it if something hits it at the wrong angle.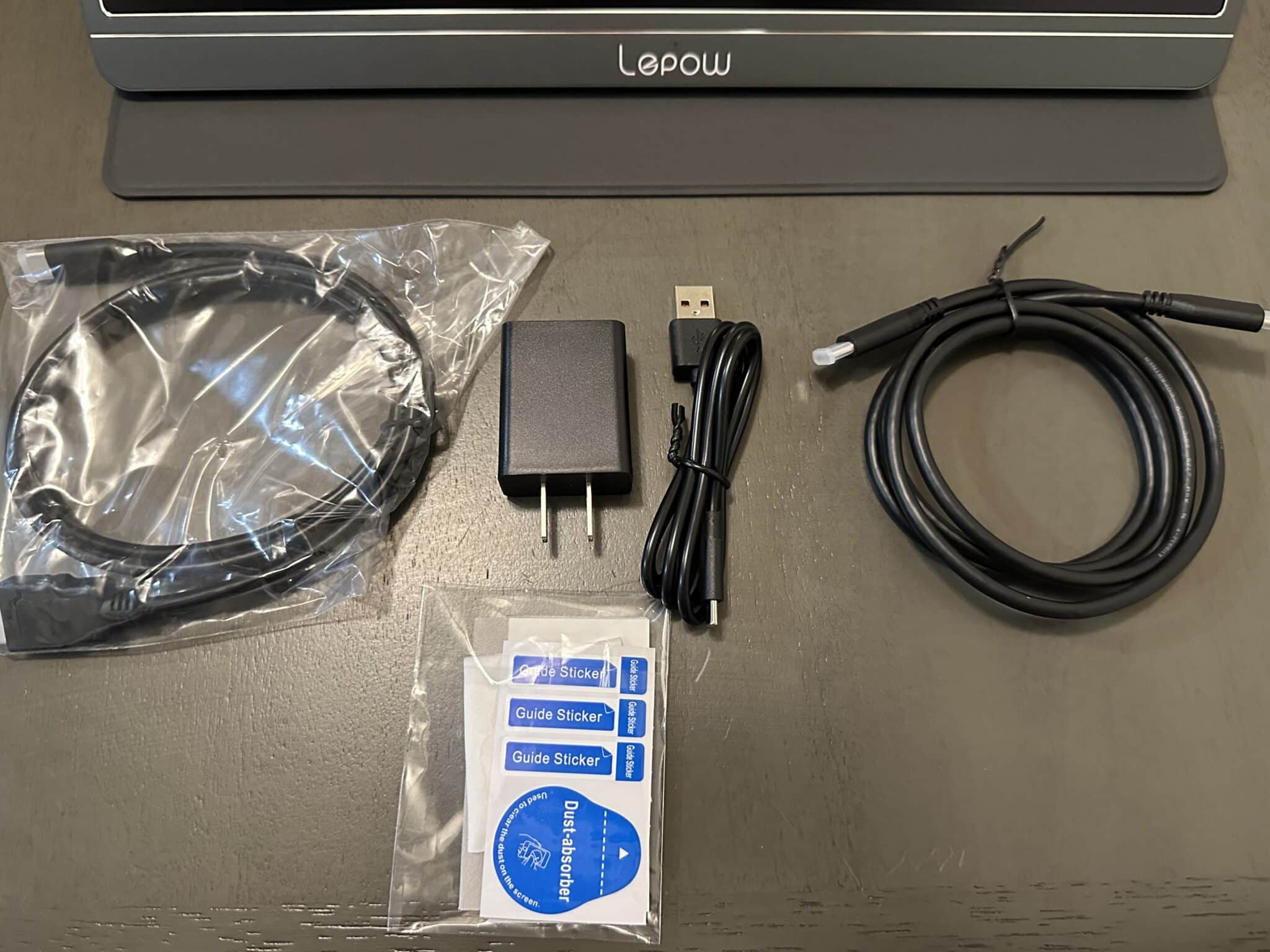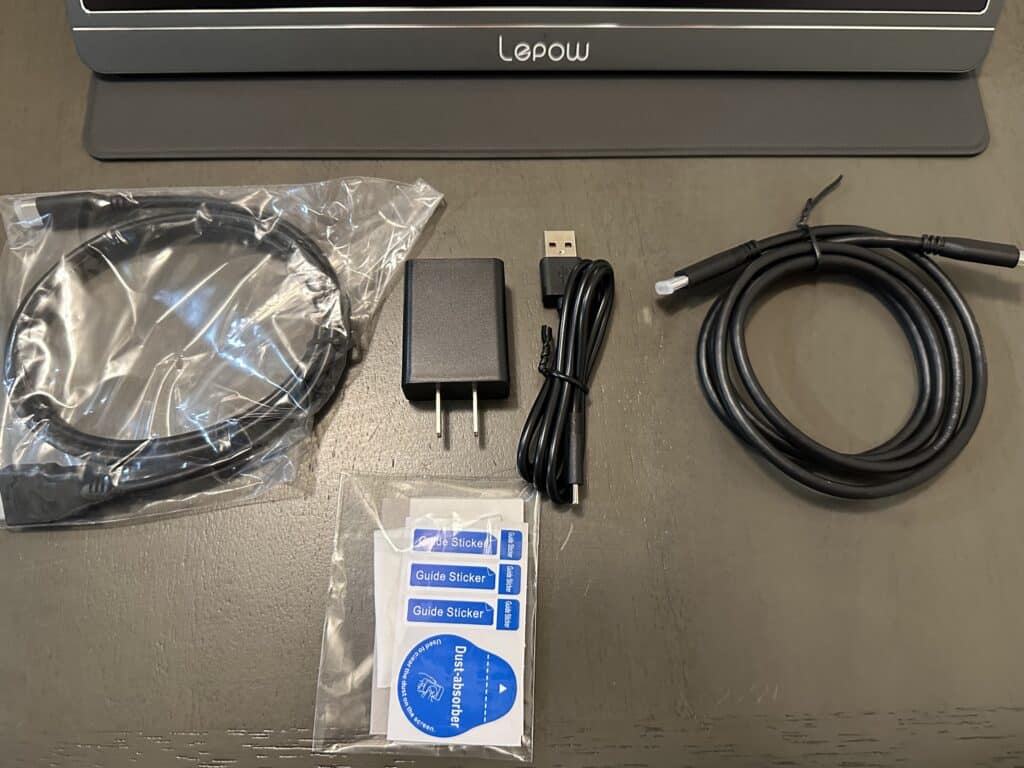 The Z1 comes in a nice and clean gift box that's nicely organized inside despite its slim depth. The package includes a USB-C to USB-C cable, a wall adapter, a USB-A to USB-C cable, and an HDMI to USB-C cable. You also get a cleaning kit and a specific screen protector, so you don't have to scramble for one that fits the panel.
The instructions are pretty clear in setting up the monitor, so you won't struggle with it. The device's control layout and connectivity are all on one side, so accessing its OSD and arranging the cables is easy. It only has three buttons, but they are easy to use and understand, especially if you hold the display with both hands like a tablet.
However, what we don't like about the package is its folio cover which uses magnets to double as a stand. It has a nice, non-slip texture, but the magnets easily disengage from the chassis with a simple nudge. The ridges for the display's bottom edge are not deep enough so that they can fall flat relatively easily.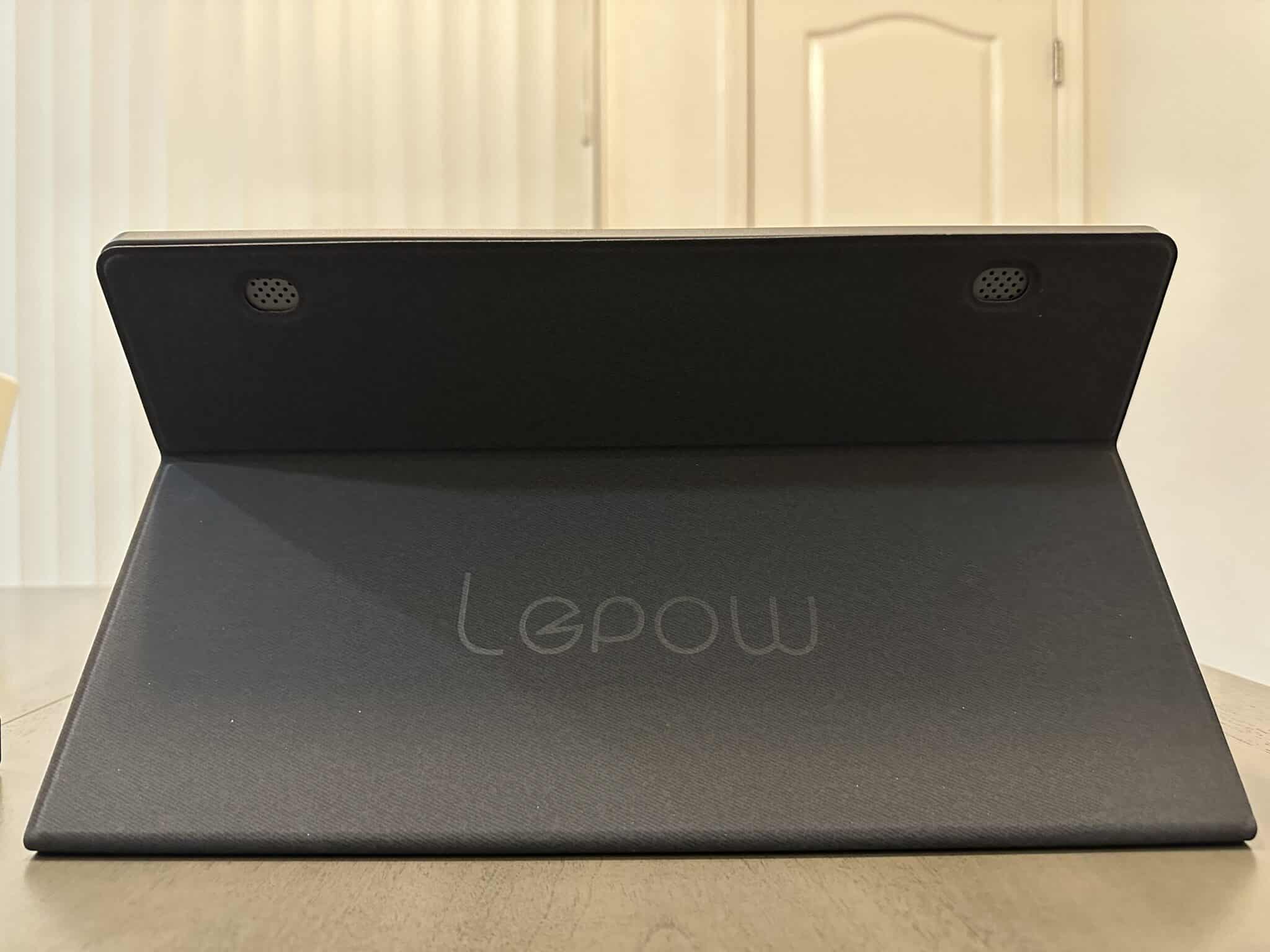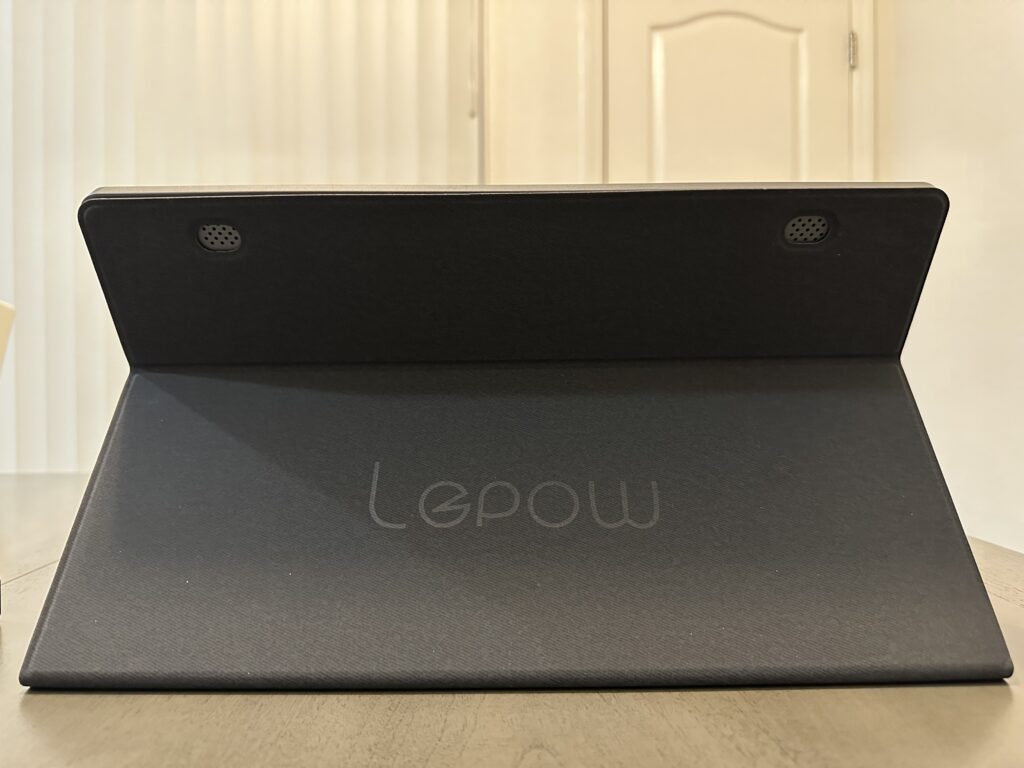 It does a good job of keeping the panel safe, but we'd rather see even a small kickstand on this monitor since that will work better. Mounting isn't an option as well since doing it will diminish the monitor's portability. It also doesn't have mounting holes at the back, so you can only use the non-VESA clamp types.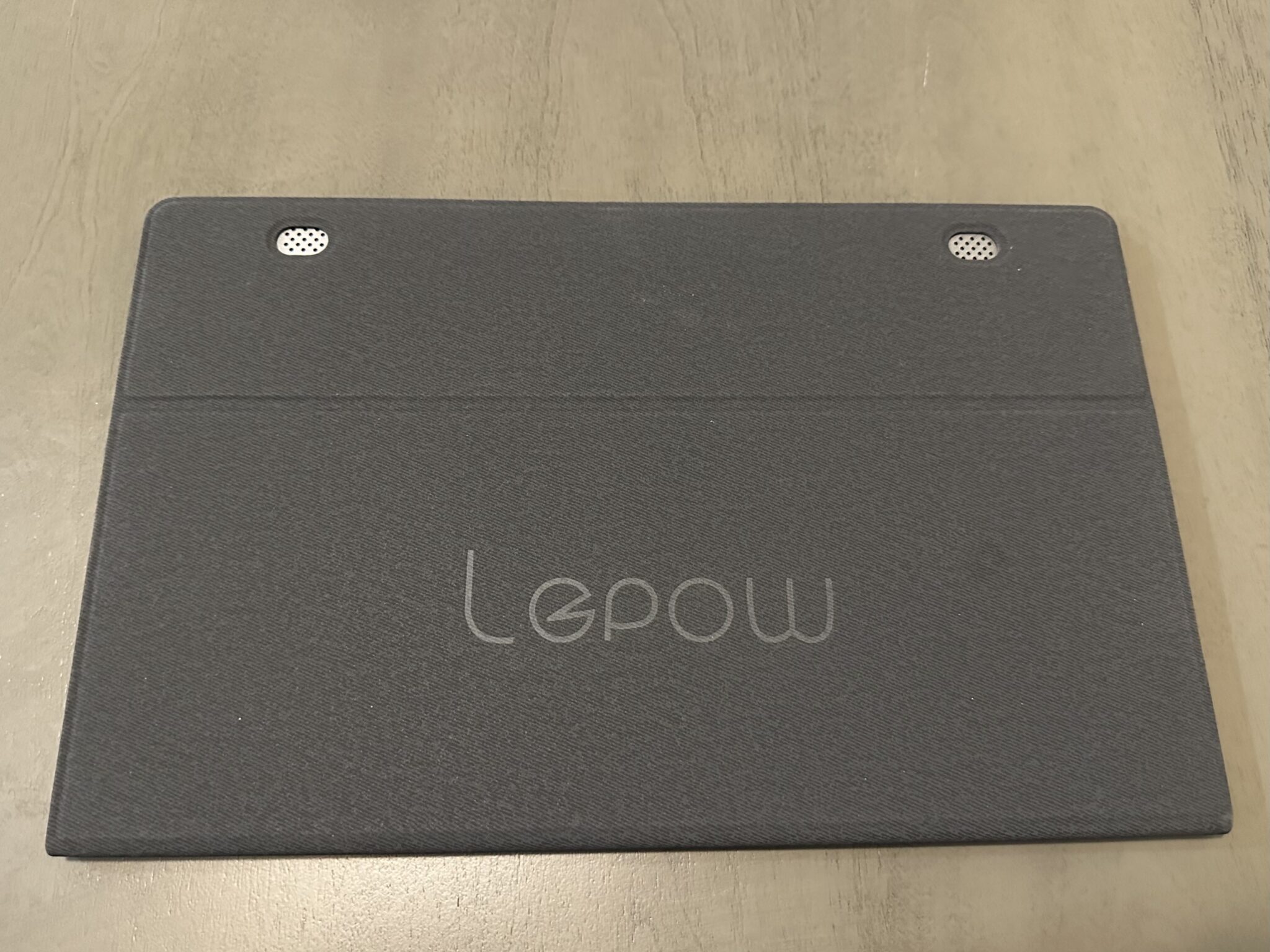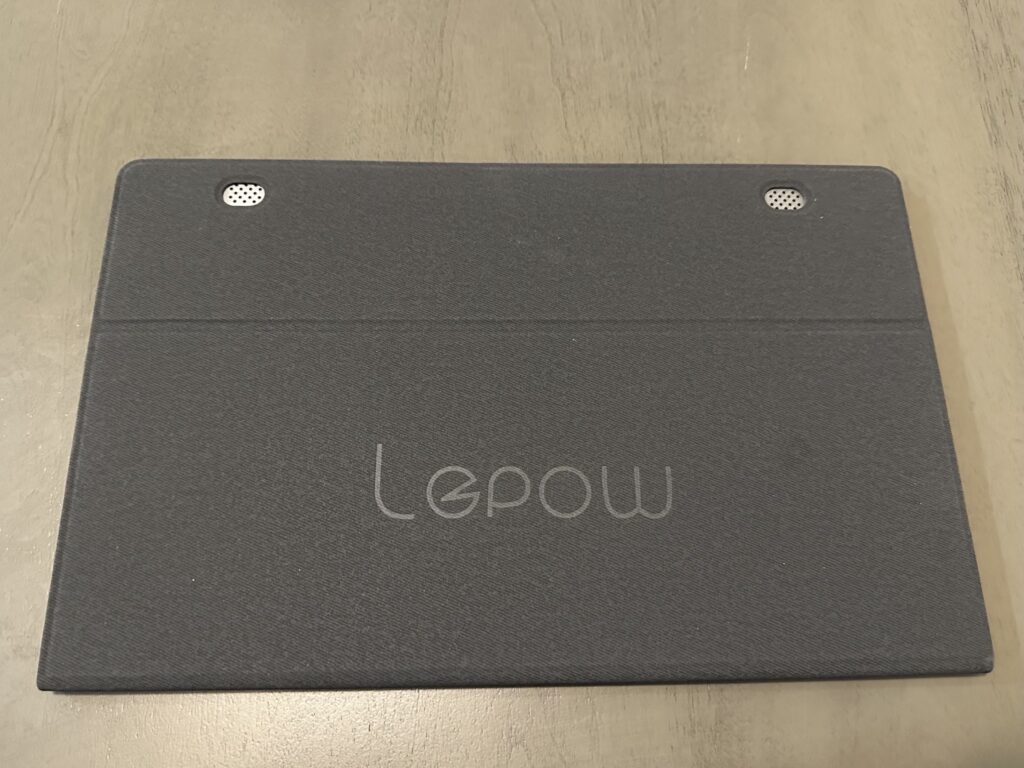 Its connectivity layout is simple and easy to use, but it can get a bit messy if your laptop doesn't have enough USB power. You get two USB-C slots and a micro HDMI port, although you only need one cable if you have a USB-C laptop with plenty of juice. You must plug in the Type-A to Type-C wire to the wall adapter if it doesn't power up or if the screen turns off if you push it above 30% brightness.
Using the Type-C to HDMI is the same since it doesn't have power delivery. It's a minor inconvenience, but it basically necessitates a wall outlet if you want to use the monitor with a gaming console like the Switch. The saving grace here is that Lepow already included all the tidbits you need for operation.
The Lepow Z1 also has a pair of 1-Watt speakers at the back of the chassis. The folio cover has holes for them so they can let their output out, plus it's a good indicator if you positioned the cover correctly. Their sound output is easily discernible, but they sound tinny and will quickly get drowned out in an alfresco setting.
Display and Performance
The Lepow Z1 sports a 15.6-Inch IPS panel with a 1920 x 1080 resolution and a 60Hz refresh rate, but its response time is undisclosed. The company also doesn't list its brightness rating, while its contrast is specified at 1000:1. This model supports HDR signals, but it is not certified by VESA like most desktop variants.
1080p looks crisper and sharper on it compared to a typical 24-inch setup, but that can change if you have a QHD or 4K laptop. Text and images are easy to read, but it won't look as nice next to a high-end laptop like a MacBook with a Retina display. That's understandable, but that doesn't mean the monitor's functional value is worth less.
We had no issues with the Lepow Z1 when we set it up with our Asus Zephyrus M16. The display fired right up as soon as it was plugged into the primary USB-C slot. It didn't flicker or shut down when the brightness was boosted to 100%, even if there is another monitor occupying the laptop's second USB-C connector.
Note that this depends on your laptop's USB-C power output, but Lepow's 5W/2A requirement is easy to handle for most models. If you ever run into power issues, you must use the wall adapter to beef it up.
The Lepow Z1 covered a disappointing 63% of the sRGB gamut and 47% of DCI-P3. But on the other hand, its default accuracy is quite decent, with a deltaE average of only 2.43. The errors on the red and turquoise swatches are sizable, but the other shades are proper enough for daily use.
Calibrating the monitor with our Calibrite Display Plus reduced the dE average to 1.3. That's an excellent score for a portable display, especially one that costs a hundred less than accuracy-focused offerings like the Asus ProArt PA148CTV. You also need a good colorimeter that costs as much as the monitor, so we can only recommend it if you need accurate colors for your work.
Its backlight mustered 223 cd/m2 at 100%, so it might struggle when used in an outdoor setting. Its impressive contrast reached 1065.58:1 at 70% brightness, resulting in a low black luminance of only 0.113. However, it's still incapable of deep blacks like a VA alternative, but that's an understandable limitation in this case.
The sample's panel uniformity was great since there were no backlight leaks of any sort on the monitor. The panel has some slight variances but is barely noticeable to the naked eye. Note that this can change between every unit made due to tolerances, so there are worse ones out there.
The Lepow Z1's pixel response time was not specified, but it is decent for a 60Hz display. It will show persistence in fast and contrasting transitions, but casual gamers need not worry about it. Single-player titles will perform decently on the monitor, so it's a decent pick if you want a display for playing on the go.
The Lepow Z1 isn't compatible with FreeSync or G-Sync, but that's understandable since it's a portable display. Most won't need VRR for 60Hz 1080p gaming, while consoles can steadily provide that now. We couldn't measure input lag accurately, but the display felt like a typical 8 to 10ms office display with no sluggish feel or delays.
Thoughts on the Lepow Z1
The Lepow Z1 is a decent choice if you need to expand your laptop's workspace or play on a larger screen with mobile platforms. It's built well and lightweight, plus it is very affordable for a 15.6 variant. It's also sufficiently accurate out of the box, so most users will be happy with it.
However, there are a few quirks we'd like to point out, such as the low gamut coverage and the flimsy folio cover-slash-stand. Lepow can easily make an improved variant down the line since they are already on track with the Z1. But to be fair, asking for a perfect portable at $150 is quite unfair since it does its job smoothly and conveniently.
Pros:
Very Affordable
Attractive Chassis with Great Build Quality
USB-C Connectivity
High Contrast and Low Black Luminance (For Portable IPS)
Cons:
Dismal Gamut Coverage
Flimsy Stand and Weak Speakers
About the Author: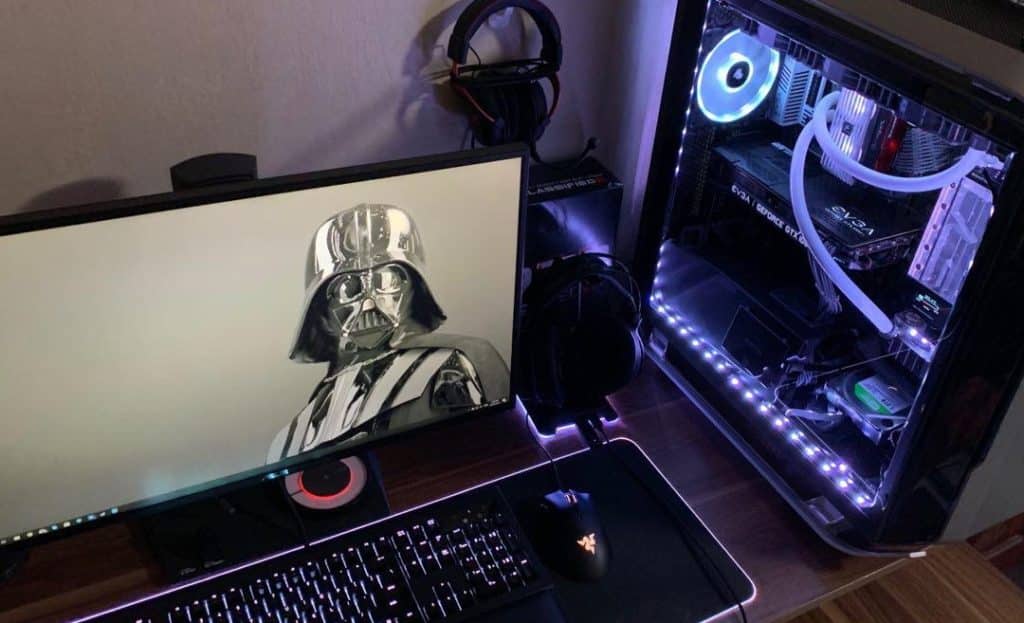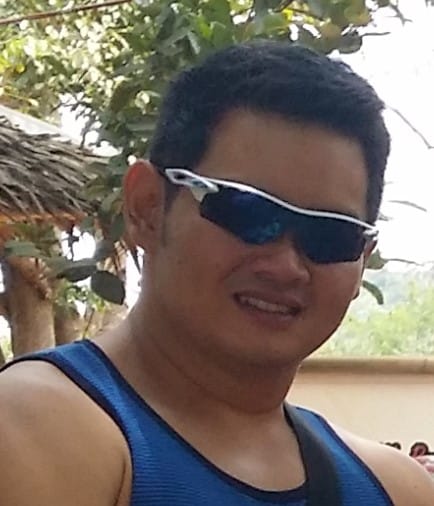 Paolo has been a gaming veteran since the golden days of Doom and Warcraft and has been building gaming systems for family, friends, and colleagues since junior high. High-performance monitors are one of his fixations; he believes that every citizen's right to enjoy one. He has gone through several pieces of hardware in pursuit of every bit of performance gain, much to the dismay of his wallet. He now works with Monitornerds to scrutinize the latest gear to create reviews that accentuate the seldom explained aspects of a PC monitor.