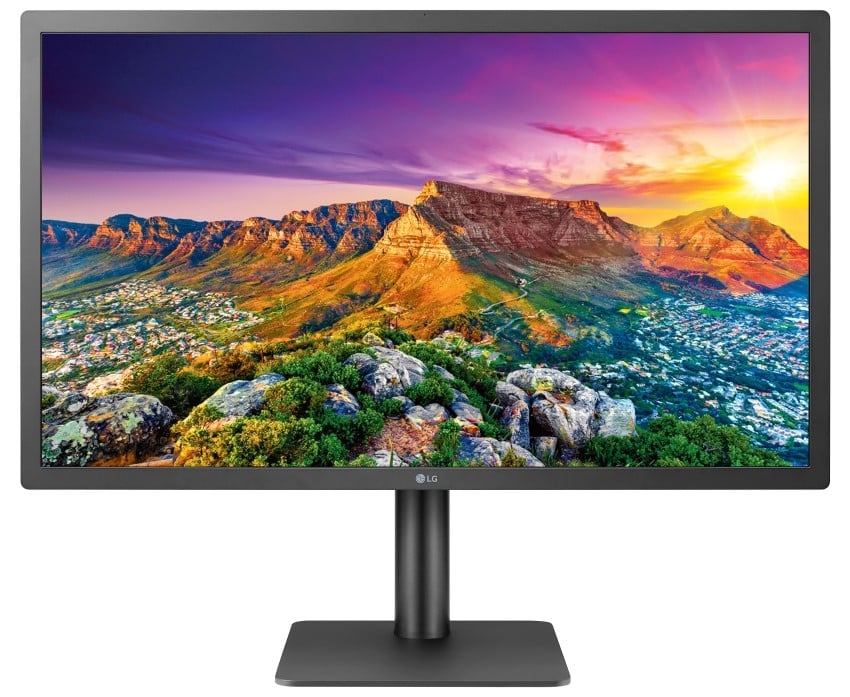 The LG 24MD4KL-B Ultrafine 4K monitor is one of the latest products of Apple and the Korean tech giant's union. This model is designed to replace the older Ultrafine 4K which did not succeed in the market due to issues and its limited usability. The LG 24MD4KL-B Ultrafine 4K comes with valuable upgrades such as Nano IPS, but will it impress Mac users?

LG 24MD4KL-B Ultrafine 4K Specifications
Screen Size: 24 Inches
Resolution: 3840 x 2160 4K UHD
Aspect Ratio: 16:9
Panel Technology: In-Plane Switching (IPS)
Refresh Rate: 60Hz
Response Time: 14ms
Contrast Ratio: 1200:1 (Static)
Brightness: 540cd/m²
Built-in Speakers: Yes (2 x 5 Watts)
Stand: Height – Yes
Stand: Tilt – Yes
Stand: Swivel – No
Stand: Pivot – No
VESA Compatibility: Yes 100 x 100
Connectivity:  USB-C Thunderbolt 3 x 2 (In/Out), USB-C 3.0 x 3
Dimensions(W x H x D): 21.9" x 80" x 9.00"
Weight: 15.4 lbs

Design and Features
The LG 24MD4KL-B Ultrafine 4K looks almost identical to its predecessor with very minor changes that most wouldn't notice. The chassis uses matte black plastics mostly, and we kinda wish it that LG used CNC aluminum to match the MacBooks for which it was made for. The monitor also isn't bezel-free, but the plastic borders are non-obtrusive and within reasonable limits.
What's fantastic about this option is its sleek size which will enable users to squeeze it into small desks or study corners. The stand takes up nine inches of depth, but its flat surface is a great place to use for wireless phone chargers or small speakers. The chassis's depth is modest, but the need for a separate mounting bracket will not let users it flush-mount it to a wall.
Build quality for the LG 24MD4KL-B Ultrafine 4K is excellent with no visible cosmetic defects or instabilities on the stand. The device is stable once placed on a desk, plus there is no audible creaking which usually comes from roughly made articulation joints. The plastics used feel thick and nice to the touch, but again, we wish they used the same aluminum the Macs have.
The LG 24MD4KL-B Ultrafine 4K is a joint project between Apple and LG, so you can't expect too many decorative features or extras. The monitor looks strictly industrial, but we know many users who prefer it that way. The straightforwardness of the product also extends to its functionality which is one of its main selling points.
The LG 24MD4KL-B Ultrafine 4K exclusively uses USB-C connectors for its inputs like its predecessor, but the port count has been expanded. You now get two USB-C Thunderbolt 3 slots, one of which is for signal input and 85 Watts of charging power while the other is for daisy-chaining. There is also a trio of USB-C 3.0 connectors for accessories such as peripherals and thumb drives.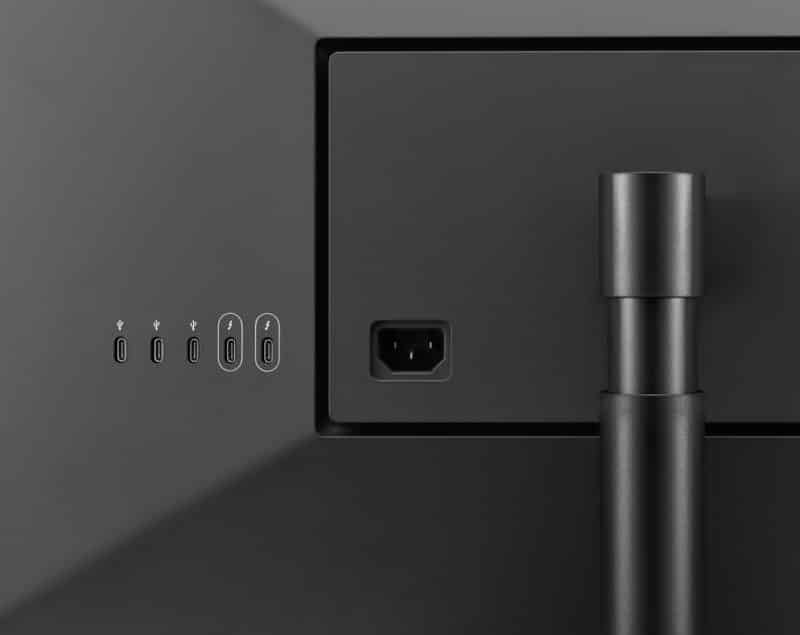 The 85-Watt TB3 input means you can use the meatiest MacBook Pros with the LG 24MD4KL-B Ultrafine 4K, and you wouldn't run into any charging issues. The last variant struggled with the upper variants since it could only provide 60 Watts, so the charger could not keep up if the laptop was in use.
The included stand for the LG 24MD4KL-B Ultrafine 4K offers tilt and height adjustments, so it's easy to get a comfortable viewing angle. You need to go with VESA mounting if you want more flexibility, but this model will require a separate adapter since the chassis doesn't have bolt holes at the rear. This setback can be a deal-breaker for many, especially since the monitor is already expensive by itself.
There is also a pair of 5-Watt speakers on the LG 24MD4KL-B Ultrafine 4K which is only ideal for background music or notifications. The pair sound surprisingly clear with a gentle punch of bass, but it doesn't supersede proper sets or headphones when it comes to fidelity.
Display and Performance
The LG 24MD4KL-B Ultrafine 4K Ultrafine 4K sports a 24-inch Nano IPS panel with a 3840 x 2160 resolution, 60 Hz refresh rate, and 14ms response time. The backlight specified goes up to 540 cd/m2, while contrast is rated to reach 1200:1 like the brand's other Nano IPS offerings. The monitor isn't ideal for gaming, but instead, it focuses on productivity and design purposes.
One of the goals of the LG 24MD4KL-B Ultrafine 4K's size and resolution formula is to replicate the benefits of Apple's Retina displays. The 186 pixels per inch of the display makes everything very crisp and extremely detailed, making this model great for editing and watching 4K videos. However, some users will struggle with the size of the text since they become very tiny in this format.
It's also worth noting that the LG 24MD4KL-B Ultrafine 4K works seamlessly almost every Mac product you can throw at it. The connection is easy to set up and it works flawlessly, plus it can utilize the questionable touch bars on certain MacBook models. The best use for the latter is to adjust the brightness of this monitor or the MacBook's main screen according to your needs.
The LG 24MD4KL-B Ultrafine 4K's default color output covers 100% of the sRGB gamut and around 87% of Adobe RGB. Color accuracy isn't fantastic, but the Delta E of only 2.4 is already very close to the ideal point. Color temperature exceeds the 6500K point by a few points, giving the screen a cooler look which many prefer over warm screens.
Of course, you can still improve these scores with a colorimeter which we recommend, especially since most Macs have a Delta E of less than 1.0. On the other hand, the LG 24MD4KL-B Ultrafine 4K does meet its contrast ratio rating, scoring a 1199:1 ratio at 100% brightness. Dropping the backlight to around 40% will also reduce the contrast to around 990:1, but doing so is more ideal since the device can reach 545 cd/m2 easily.
But the LG 24MD4KL-B Ultrafine 4K isn't perfect, especially since it uses an IPS panel which is usually prone to light leaks. The lower corners look dimmer than the center quadrants of the screen, especially on the right-hand side. The variance plays between 11% to 16%, so there are some instances such as dark scenes which will make the difference apparent.
Another limitation of the LG 24MD4KL-B Ultrafine 4K is its pixel response time which sits at a jaw-dropping 14ms for grey to grey transitions. Blurs are common on the screen in fast-paced sequences, and there is no overdrive function on the monitor to help alleviate this limitation. This model isn't ideal for gaming, but that's forgivable since its target users will likely use it for editing, document processing, and other productivity tasks.
The LG 24MD4KL-B Ultrafine 4K doesn't support FreeSync or G-Sync compatibility mode, so you can't expect buttery smooth frames if you try to play games on this monitor. FreeSync is pretty standard on almost every new display out there, but products designed for enterprise or business use. We couldn't measure input lag, but the monitor feels similar to 15-20ms monitors we've handled before.
Thoughts on the LG 24MD4KL-B Ultrafine 4K
The LG 24MD4KL-B Ultrafine 4K is an excellent USB-C monitor for Mac users who want a highly functional and seamless device. The monitor works instantly with most Mac products from Apple, especially the MacBook Pro where it can utilize the touch bar. The screen is pre-calibrated to a decent state, but there is more room for improvements with the use of a colorimeter.
The industrial, no-nonsense design works well with many tastes, and it matches the simplicity of the LG 24MD4KL-B Ultrafine 4K's functions. However, we wish LG utilized Apple's aesthetic which uses aluminum and other metals so the monitor can match Mac products better. Doing so will also justify the premium cost, although we think the issue-free connectivity of the monitor and its gorgeous screen more than makes up for every dollar spent.
About the Author: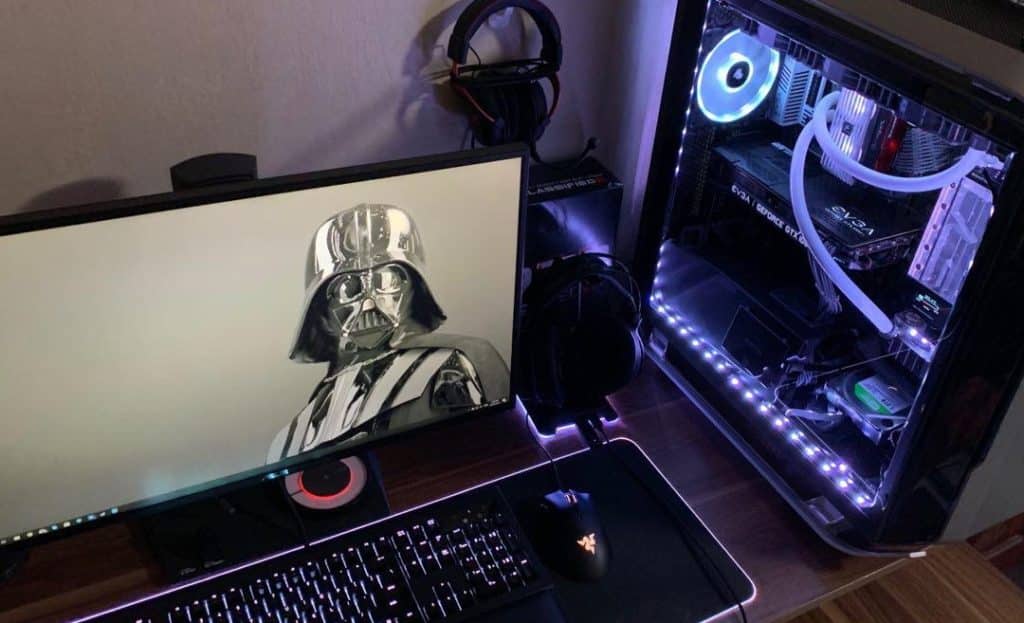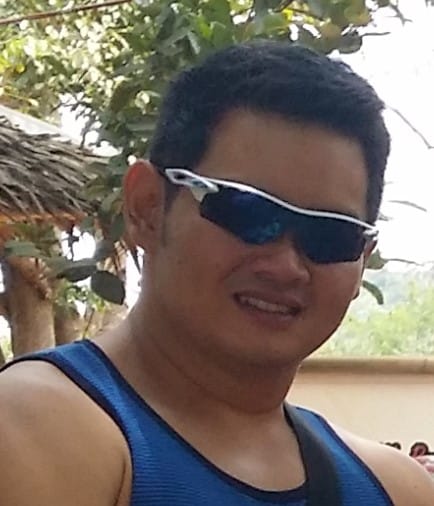 Paolo is a gaming veteran since the golden days of Doom and Warcraft and has been building gaming systems for family, friends, and colleagues since his junior high years. High-performance monitors are one of his fixations and he believes that it's every citizen's right to enjoy one. He has gone through several pieces of hardware in pursuit of every bit of performance gain, much to the dismay of his wallet. He now works with Monitornerds to scrutinize the latest gear to create reviews which accentuate the seldom explained aspects of a PC monitor.