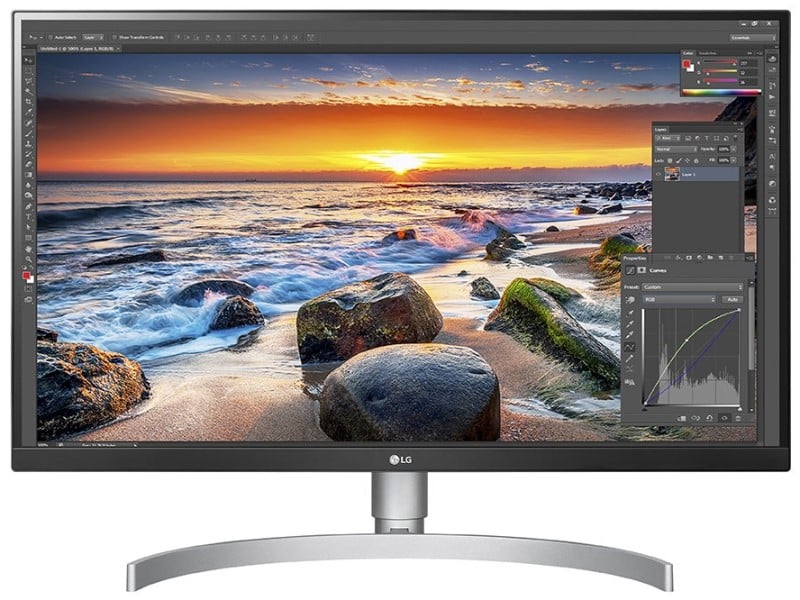 The LG 27UK850 is a premium, pre-calibrated 4K IPS monitor designed to pair with the latest USB-C devices such as MacBook Pros. This monitor used to sell for almost a grand, but its tenure in the market has already brought to price down to around half at this point. We loved the LG 27UK650's performance, but let see if the LG 27UK850 compares or is it all just a USB-C monitor with a 4K screen.

LG 27UK850 Specifications
Screen Size: 27 Inches
Resolution: 3840 x 2160 4K
Aspect Ratio: 16:9
Panel Technology: In-Plane Switching (IPS)
Refresh Rate: 60Hz
Response Time:5ms
Contrast Ratio: 1000:1
Brightness: 350 cd/m² (450 cd/ m² Max)
Built-in Speakers: Yes (2 x 5 Watts)
Stand: Height – Yes
Stand: Tilt – Yes
Stand: Swivel – Yes
Stand: Pivot – Yes
VESA Compatibility: Yes (100 x 100)
Connectivity: DisplayPort 1.2 x 1, HDMI 2.0 x 2, USB 3.0 x 2, USB-C x 1, 5mm Audio Jack
Dimensions With Stand(WxHxD): 24.11″ x 22″ x 9.2″
Weight: 13.45lbs

Design and Features
The LG 27UK850 is an older model in the brand's latest line up, but it still has the modernized aesthetics and design from the premium line. The combination of matte white and silver makes the device an attractive option for studios or as a pair for gadgets like the MacBook Pro. The screen isn't truly bezel-free, but the clever dual-stage design gives you the illusion of having no edges.
Build quality for the LG 27UK850 doesn't disappoint since the device is clean in every nook and cranny from defects. There are no cosmetic flaws on the monitor, while the plastics used do not feel thin and cheapened out. The stand offers excellent stability, although it has a considerable footprint on your desk.
One of the things we love about LG monitors almost all of them omits the need to go through OSD buttons. You can manipulate the settings via LG's OnScreen Control which lets you select and adjust the menus in your desktop. The app also allows users to save up to fifteen presets for different programs, helping designers make the most out of the device.
The LG 27UK850 features the ArcLine design stand which gives off a hint of elegance while keeping the cabinet upright. The arc-shaped base is a nice aesthetic touch, plus its wide reach gives users less room for error if ever they accidentally hit the device. This part is also completely removable, so you can easily mount the cabinet to a wall or a 100 x 100 VESA arm.
But we think there is little reason to do so since the LG 27UK850 is already fully adjustable. The mechanism offers tilt, swivel, pivot, and height adjustments, so virtually any angle or setup you can think of is possible. This capability also makes the monitor ideal for a multi-head setup that should be fantastic for productivity.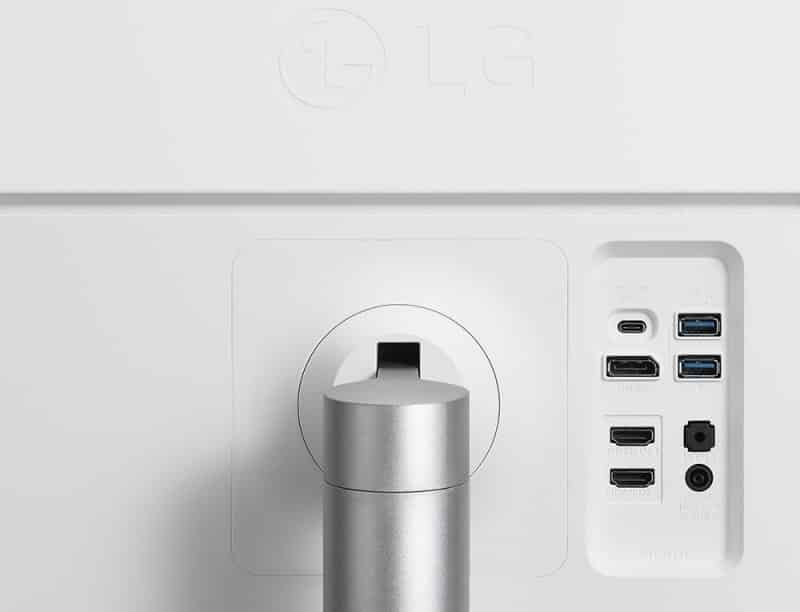 The connectivity ports on the LG 27UK850 includes the standard DisplayPort 1.2 and dual HDMI 2.0 slots, but what makes this model special is its USB-C port. You can connect your MacBook or something similar to receive data and video signals while simultaneously transmitting charging power to the device. This model is a fantastic option if you want a display as a dock, but it can only offer 60 Watts of power.
We do recommend that you get a better USB-C cable to ensure compatibility since we've run into some complaints regarding issues with the default wire. Getting a TB3-certified cable is ideal, but any that are rated for DP Alt mode should work fine.
The LG 27UK850 squeezed in a pair of 5-Watt speakers with MaxxAudio Tuning for better fidelity. We were genuinely surprised by the sound quality since it could offer a decent midrange and bass response. Of course, headphones or a separate set will be better, but having a good built-in extends the value of the product.
Display and Performance
The LG 27UK850 sports a 27-inch IPS panel with a 3840 x 2160 resolution, 60Hz refresh rate, and 5ms response time. The monitor comes with a backlight that has a typical 350 cd/m2 brightness, but it can pulse a bit higher for HDR content. This model fits into the DisplayHDR 400 certification, but that means it can only try to emulate the visual effects.
UHD or 4K in a 27-inch form factor squeezes the pixels closer together, giving users a crisper and more detailed image. This characteristic is great for design and gaming, but some users might struggle with smaller objects. We generally prefer 32-inch displays for 4K, but this model should work for many who are used to Retina or high-PPI screens.
The LG 27UK850 renders almost a hundred percent of the sRGB gamut which is excellent for many monitors but lacking for true HDR performance. Color accuracy reaches an excellent Delta E 1.7 after some minor tweaks to the settings. Color temperature exceeds the 6500K point considerably, but that makes the screen less warm and yellowish when viewing white backgrounds.
Gamma is slightly off at 2.1, but contrast reached a superb 1009:1 if you bring down the backlight to around 30%. Only a colorimeter can help perfect the color temperature and gamma, but we don't think it's worth the extra cost, especially if you are buying the LG 27UK850 due to its discounted price.
Panel uniformity for the LG 27UK850 test unit passed our expectations as well since deviances did not get to a point that they would affect colors and contrast on the quadrants. Backlight variance stayed at around 11%, while colors between the sectors of the screen stayed with DE 2.5 of D65 standard. We can't guarantee that every unit out there is good since IPS panels have wildly varying results due to their weaknesses.
Pixel responsiveness for the LG 27UK850 is at a reasonable level and close to the 5ms minimum that the company claims. Blurring only occurs if transitions are fast enough, but agile actions such as panning the screen could reveal some trailing. You can employ the Fast setting of the monitor's overdrive, but it also induces a bit of overshoot in some instances.
The LG 27UK850 is a FreeSync gaming monitor with a 48Hz to 60Hz range, but it's been also tested to work with G-Sync compatibility. However, you need to turn off the monitor's HDR feature if you want to use the latter since it somehow blocks the feature. Input lag sits at an average of 9ms, so there is no need to worry for delays or latency issues while gaming.
Thoughts on the LG 27UK850
The LG 27UK850 is a prime example of a mixed-use 4K monitor that includes all the right features and qualities. The gorgeous IPS panel is capable of providing superb imaging fidelity, but it needs a bit of help from tweaking. Gaming performance is excellent for both PC and consoles, especially since the device works well with G-Sync compatibility and AMD's FreeSync.
The main selling point of the LG 27UK850 is, of course, its USB-C slot which opens up more choices for productive individuals. You can use the monitor as a dock, but it can only offer 60 Watts of charging power which cuts off some of the meatier laptops used for design. However, the device already offers excellent value at its current price, so we couldn't really complain about these minor limitations.
About the Author: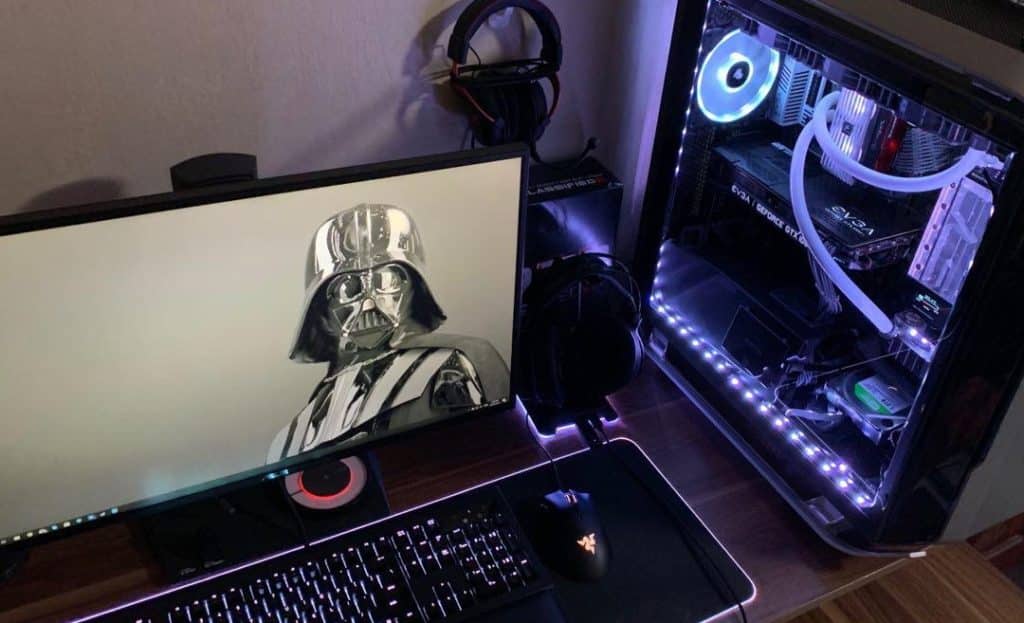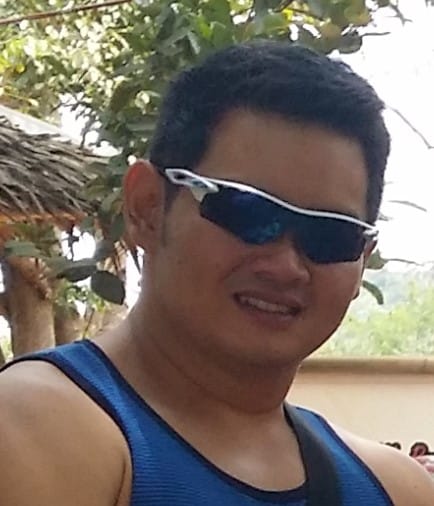 Paolo is a gaming veteran since the golden days of Doom and Warcraft and has been building gaming systems for family, friends, and colleagues since his junior high years. High-performance monitors are one of his fixations and he believes that it's every citizen's right to enjoy one. He has gone through several pieces of hardware in pursuit of every bit of performance gain, much to the dismay of his wallet. He now works with Monitornerds to scrutinize the latest gear to create reviews which accentuate the seldom explained aspects of a PC monitor.