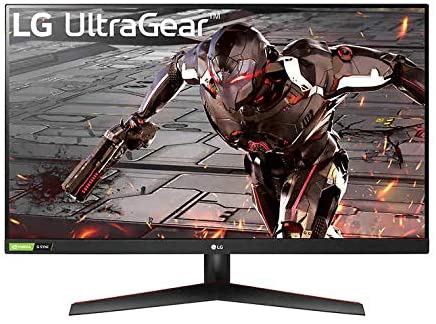 The LG 32GN50T-B is an affordable 165Hz monitor presented in a neat and affordable package that's great for PC and console gaming. The first complaint about it would be its terrible pixel density, but that can be worked with especially if you are couch gaming. The LG 32GN50T-B isn't the crispest monitor around, but can its reasonable price and performance persuade you to get it?

LG 32GN50T-B Specifications
Screen Size: 32 Inches
Resolution: 1920 x 1080 FHD
Aspect Ratio: 16:9
Panel Technology: Vertical Alignment (VA)
Refresh Rate: 165Hz
Response Time: 1ms MBR
Contrast Ratio: 3000:1
Brightness: 300 cd/m²
Built-in Speakers: No
Stand: Height – No
Stand: Tilt – Yes
Stand: Swivel – No
Stand: Pivot – No
VESA Compatibility: Yes
Connectivity: DisplayPort 1.2 x 1, HDMI 1.4 x 2, 3.5mm Audio Jack x 1
Dimensions With Stand(WxHxD): 28.1″ x 20.3″ x 8.9″
Weight: 13.01 lbs

Design and Features
The LG 32GN50T-B is designed to fit in the budget segment, but it manages to look neat and modern just like the rest of the UltraGear lineup. The monitor has a matte black finish with a few red streaks in some discrete spots across its body. The display is bezel-free on three sides, but they aren't as noticeable since the screen is quite large.
The LG 32GN50T-B doesn't weigh a lot for a 32-inch monitor and it's quite narrow so users won't struggle with placement. The device when fully assembled only needs nine inches of depth, leaving you with more room for your other peripherals. However, you need to take note of its width which is almost 2.5 feet, especially if you have a large tower sitting on your desk beside your monitor.
One of the characteristics where the LG 32GN50T-B took the hit is its build quality, particularly with its stand. The plastic panels are mostly ok and there are no cosmetic defects, but the monitor wobbles too much for our taste. You can replace it with a VESA mount, but the stand isn't completely removable so you have to deal with the stalk that sticks out from the bottom.
However, what we love about LG's monitors is their control layout built into each product from the budget segment all the way to the premium models. The LG 32GN50T-B works with the brand's On-Screen Display feature which lets you manipulate its settings directly in Windows. You also get to enjoy an OSD joystick at the center of the bottom bezel, so adjusting a common setting on the fly is easy as peas.
The stand with the LG 32GN50T-B only offers tilt so most users will want to replace it with a VESA mount instead. It has wobbling issues as well so we highly recommend replacing it, but the added cost might put you in range of a higher-tiered model. You should also take note that the pillar or the stalk isn't completely removable so it will be visible at the bottom even if you go with a VESA arm.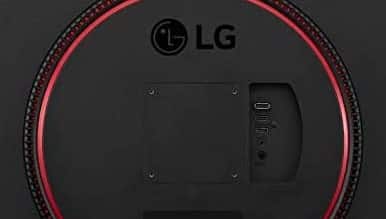 The LG 32GN50T-B is a budget monitor, so its connectivity layout is quite limited by today's standards. The panel at the back includes DisplayPort 1.2 and HDMI 1.4, plus a 3.5mm jack for headphones and speakers. That's enough for a PC and up to two secondary consoles, but only the DP slot can handle the maximum refresh rate.
The LG 32GN50T-B doesn't have speakers, but that's ok since most built-ins aren't potent enough for gaming or entertainment anyway. They are useful now that we are doing more conference calls for work, plus they would definitely add to the value per dollar rating of a product. However, we think it's fair that they were excluded since the price tag of this monitor is already quite low.
Display and Performance
The LG 32GN50T-B boasts a 32-inch VA panel with a 1920 x 1080 resolution, a 165Hz refresh rate, and a 1ms MBR response time. The backlight goes up to 300 cd/m2 and the contrast ratio is rated at 3000:1 like most VA panels. This model is flat unlike comparable models like the BenQ EX3200R so it can get tiring for the eyes unless you sit at a reasonable distance.
The LG 32GN50T-B's obvious weakness is its low pixel density which can make images grainy or pixelized. Even text doesn't look sharp from up close, but visibility is excellent since every object seems as if it is magnified. You have to sit further away from this monitor to enjoy it, but we also know that a few E-Sports players prefer this format since it's easier to spot small objects like peeking heads or limbs.
The LG 32GN50T-B covers 99% of the sRGB gamut and around 76% of DCI-P3 which is decent for gaming but sorely lacking for its HDR feature. But what's great about it is its color accuracy which has a deltaE average of 2.54. It's not photo-editing grade, but the screen looks great for gaming even if there is a slightly cool tint on it.
Calibrating the LG 32GN50T-B resulted in a dE average of only 1.03 which is excellent for a budget monitor. The screen also looks more temperate, but we don't think it is worth buying the colorimeter just to get minor improvements. Most users will either be satisfied with its default setup or at least try to tweak a few settings to get a preferable output.
The LG 32GN50T-B can reach as much as 360 cd/m2 which cleanly exceeds the specification the brand has listed. The contrast ratio also reached a mighty 4000:1 at 60% brightness, so dark or black images look deep and inky. You do have to tweak the backlight to modest levels at the expense of some contrast, but that's necessary for comfort and safety.
Panel uniformity for the LG 32GN50T-B is decent since there are no noticeable issues while playing games or watching movies. There are some clouding issues when the screen puts out an all-black image, but it's not as noticeable as many would think during regular use. Take note that this aspect varies between every unit since there are manufacturing tolerances to consider.
The LG 32GN50T-B has great response time for a VA panel at its maximum refresh rate of 165Hz. The screen looks clear and blur-free, although there is some smudging in contrasting and fast-paced transitions. Setting the overdrive to its Fast level is best since it doesn't induce too much overshoot which can become distracting.
The LG 32GN50T-B is a FreeSync gaming monitor, but it also works with Nvidia's G-Sync Compatible mode since it is certified. This is great if you often switch between GPU brands, although we know frame dips and stuttering won't be as common at 1080p. Input lag sits at 5ms at 165Hz, so there is no need to worry about delays or de-synced instances while playing competitive games.
Thoughts on the LG 32GN50T-B
The LG 32GN50T-B is an excellent buy at its more or less $250 price point, but it's not the most ideal option for desktop gaming. Color quality and contrast is nothing short of impressive, so your favorite titles will look good and saturated properly even when the lights are out. The monitor is also surprisingly good at handling motion so blurring or smudging won't be as much of an issue compared to other budget VA monitors.
The LG 32GN50T-B's screen looks vibrant and large, but the low resolution for it might be a letdown for some users. Its build quality could also use some improvements, particularly with its wobbly stand. It's a decent buy at its current price, but you have to live with some limitations that many consider to be deal-breakers by today's standards.
Pros:
Affordable
G-Sync/FreeSync Compatible
Minimalist Design
Low Input Lag and Fast Pixel Response Time
Decent Color Accuracy and High Contrast
Cons:
Stand is Wobbly and Not Completely Removable
Low Pixel Density
Limited Features
-About the Author: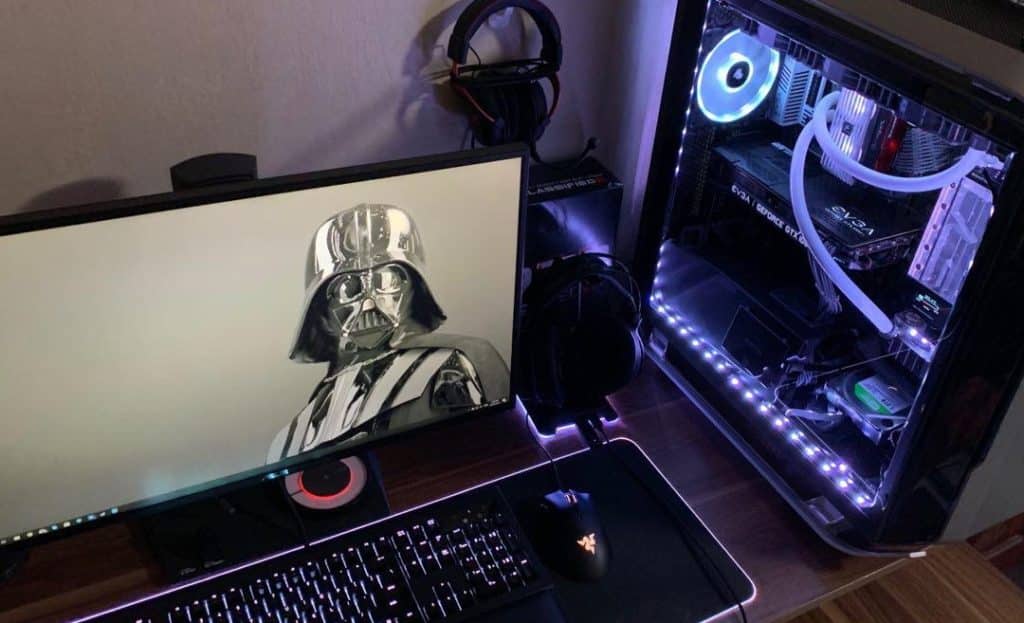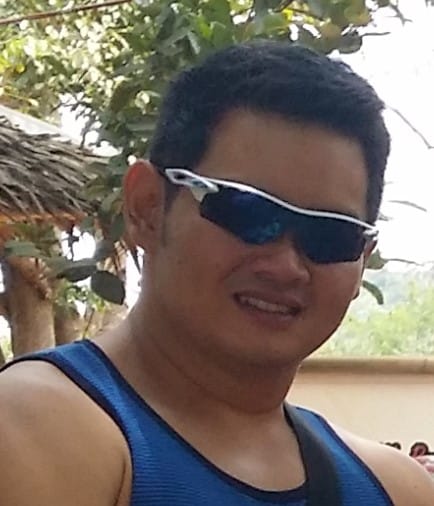 Paolo is a gaming veteran since the golden days of Doom and Warcraft and has been building gaming systems for family, friends, and colleagues since his junior high years. High-performance monitors are one of his fixations and he believes that it's every citizen's right to enjoy one. He has gone through several pieces of hardware in pursuit of every bit of performance gain, much to the dismay of his wallet. He now works with Monitornerds to scrutinize the latest gear to create reviews that accentuate the seldom explained aspects of a PC monitor.