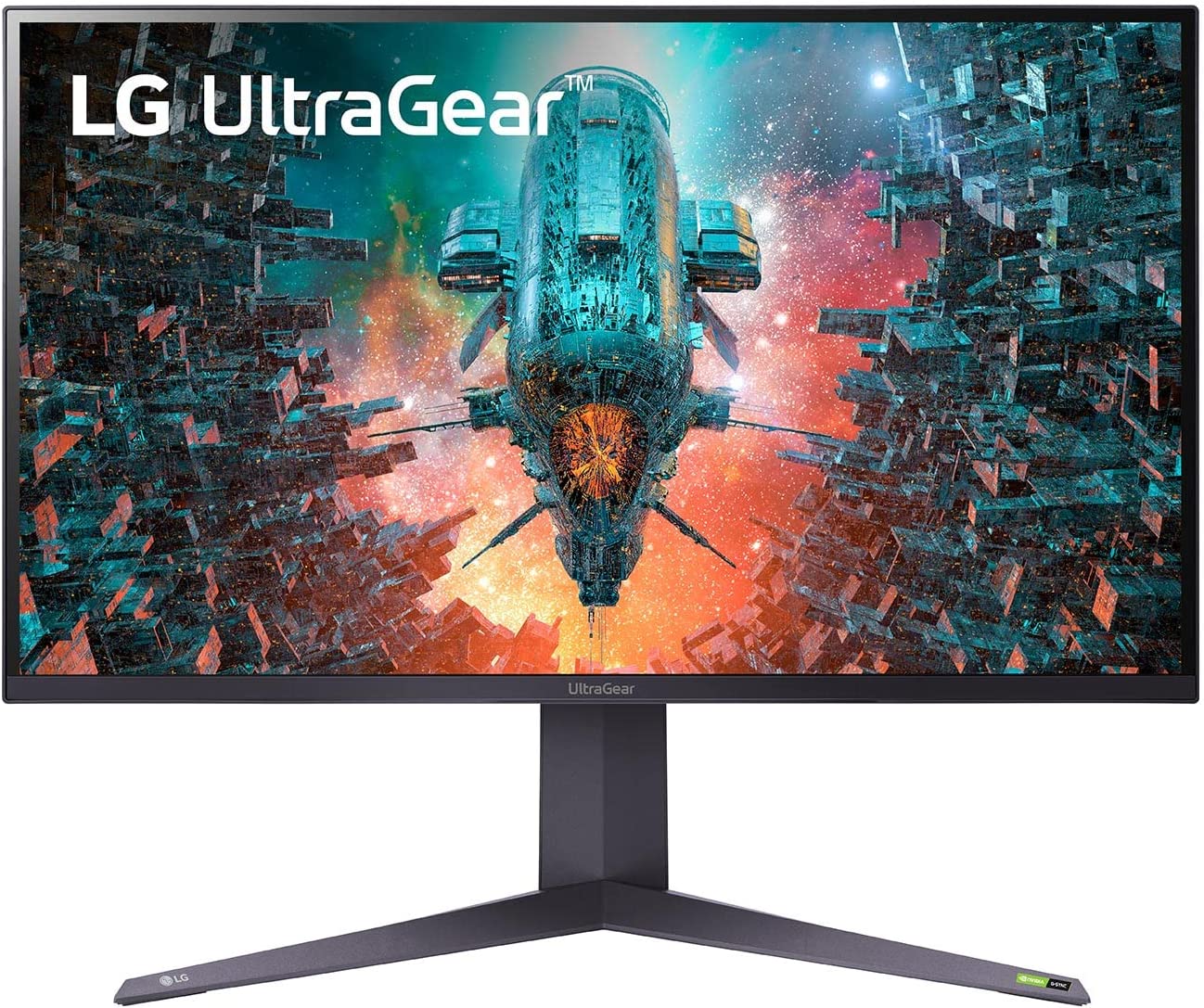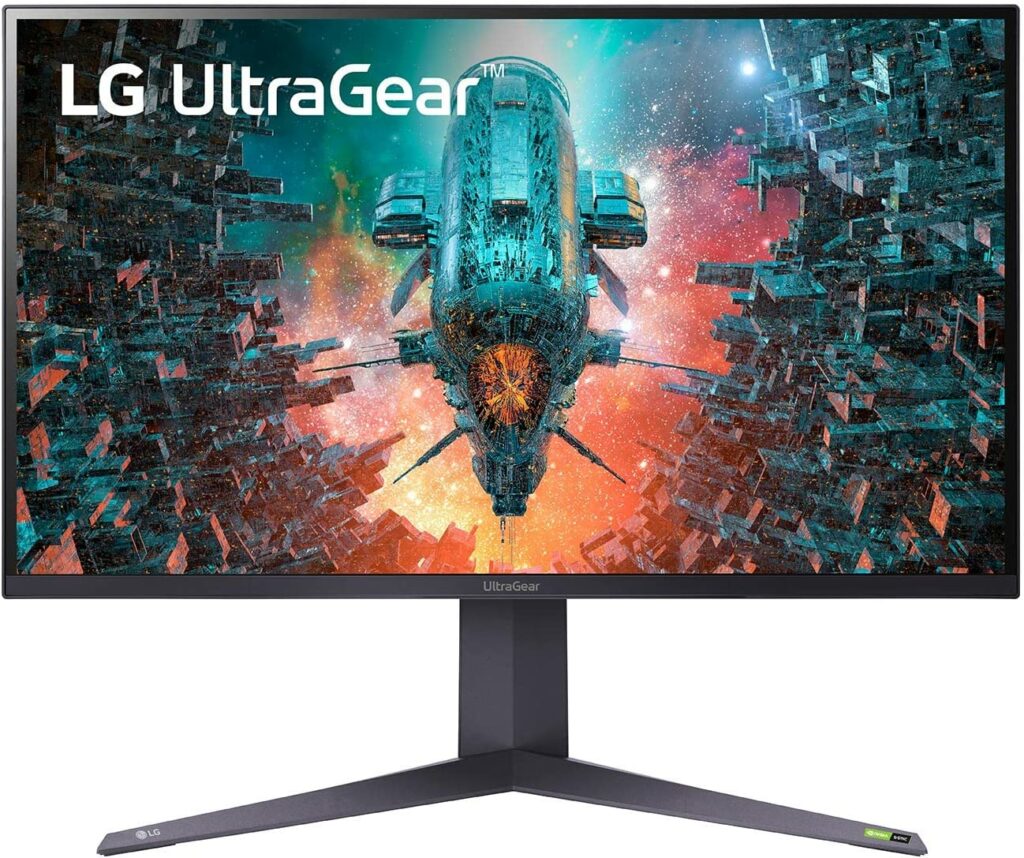 The LG 32GQ950-B offers an overclockable 4K display with full-bandwidth HDMI 2.1 for the best possible multi-platform gaming performance. One of its special features is its ATW Polarizer which we first saw on the very agile 32GQ850-B which has a higher refresh rate but a lower 1440p resolution. Let's see how LG 32GQ950-B scales against its stiff competition like the Aorus FI32U in the price-to-performance metric.

LG 32GQ950-B Specifications
Screen Size: 32 Inches
Resolution:3840 x 2160 UHD
Aspect Ratio: 16:9
Panel Technology: In-Plane Switching (IPS)
Refresh Rate: 160Hz
Response Time: 1ms
Contrast Ratio: 1000:1
Brightness: 450 cd/m2 (1000 cd/m2 Peak)
Built-in Speakers: None
Stand: Height – Yes
Stand: Tilt – Yes
Stand: Swivel – No
Stand: Pivot– Yes
VESA Compatibility: Yes (100 x 100)
Connectivity: DisplayPort 1.4 DSC x 1, HDMI 2.1 x 2, USB 3.0 x 2, 3.5mm Jack x 1
Dimensions With Stand (WxHxD): 28.3″ x23.7″ x 10.9″
Weight: 25.6 lbs

Design and Features
The LG 32GQ950-B is part of the UltraGear monitor series, so it has the simplified but more elegant aesthetic that its 1440p variant has. It doesn't have the gaudy streaks of red the older designs have, but it still has RGB lighting at the back for gamers who want themed builds. The display has a three-sided bezel-free design to make the screen look like its edge to edge, but it still has inner borders.
32-inch monitors are by no means compact, so you have to account for the space they will occupy before buying. It needs over 10 inches in depth, plus it's wide enough to offset large desktop audio equipment like bookshelf speakers. it is also one of the heavier options out there at 25.6 pounds so extra care will be necessary while handling it.
The brand's build quality has been great based on experience, and the LG 32GQ950-B isn't any different. Its parts have been slightly reduced in size, but the material selection is still great so there are no cosmetic defects or signs of weakness. The included stand is firm and stable so there is no need to worry about sagging or wobbling while enjoying your favorite titles.
We like LG's implementation of its OSD joystick simply because it's located directly under their logo on the monitor's bottom bezel. It's easy to access since you don't have to reach for the monitor's back or deal with pesky buttons which require multiple presses. You can also use LG's OnScreen Control app which adds another layer of convenience for the user.
The stand included with the LG 32GQ950-B offers tilt, pivot, and height adjustments for your comfort and convenience. We think swivel adjustments would be more important than pivoting, but that doesn't mean that this model isn't convenient to use. You can still use VESA mounts if you need more adjustment range, but it is only going to be necessary if you have multiple displays on your desk.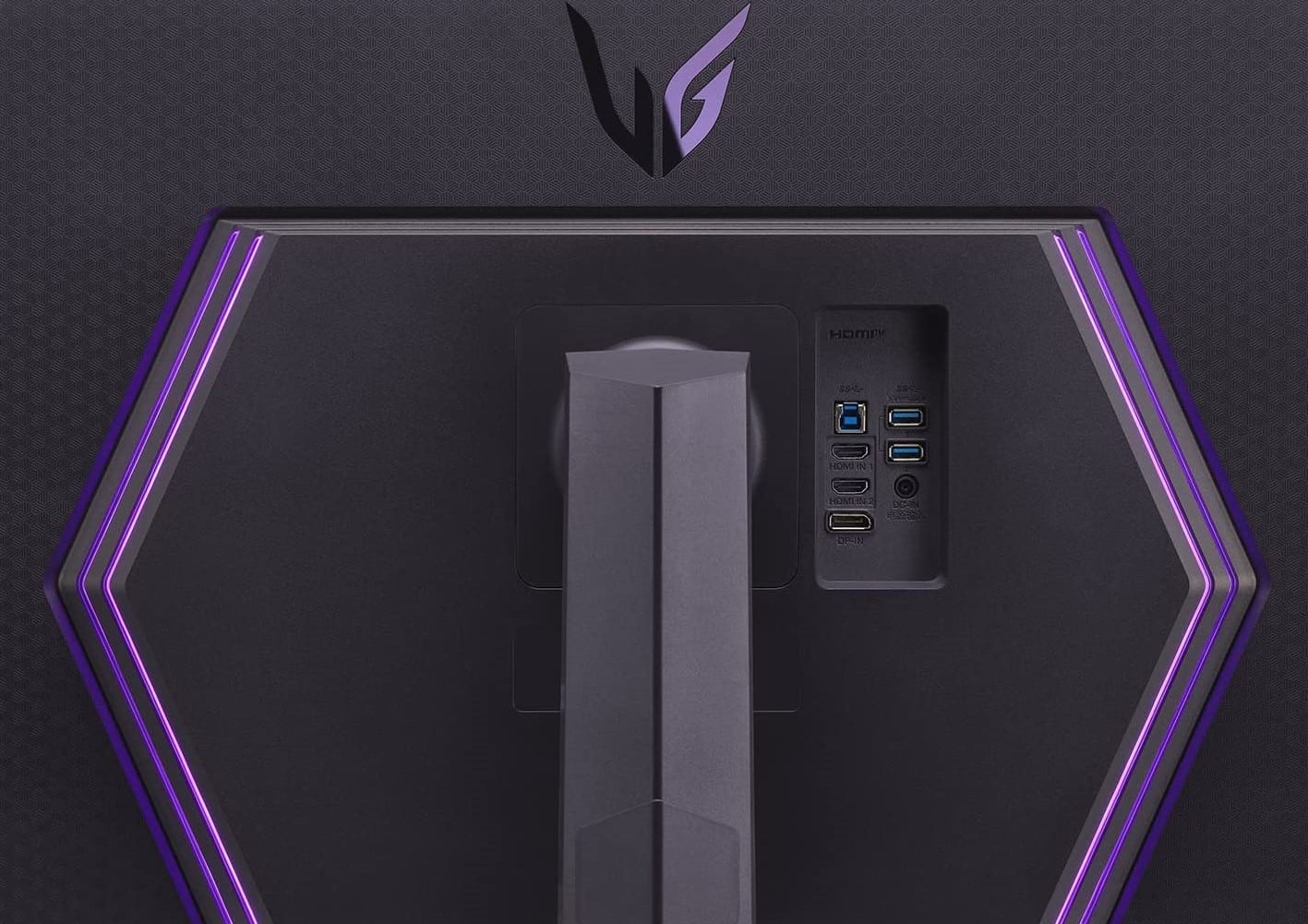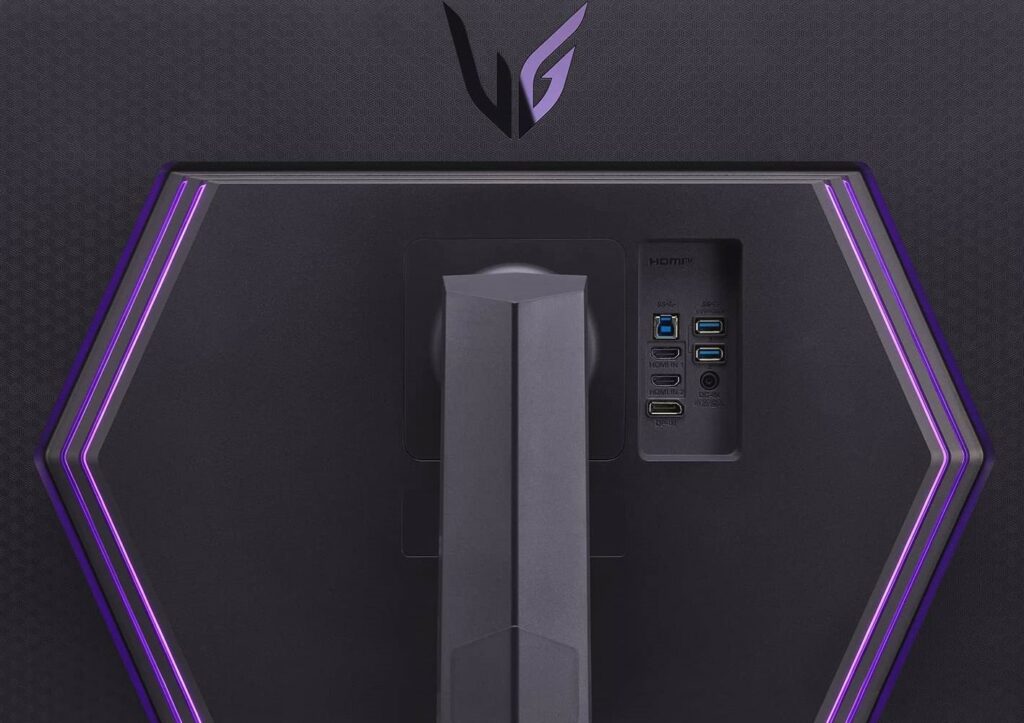 One of the highlights of the LG 32GQ950-B is its connectivity layout which conveniently lets you use its high refresh rate with its native resolution. It has a DisplayPort 1.4 DSC slot for PCs and two full-bandwidth HDMI 2.1 slots for 4K 120Hz consoles like the PS5. You also get two USB 3.0 ports and a 3.5mm jack for headphones.
We think it should include a USB-C slot at this price range, along with an upgraded pair of speakers that are usable for games and movies. These would add more value for every dollar spent on this monitor, but that hasn't been the case for many of the brand's offerings which often have limited port options. There is still some room for improvement in this regard, and we hope LG adds it to their objectives for their next releases.
Display and Performance
The LG 32GQ950-B sports a 32-inch Nano IPS panel with a 3840 x 2160 resolution, a 160Hz overclocked refresh rate, and a 1ms response time. The backlight has a 450 cd/m2 output and a 1000 cd/m2 peak, but its contrast ratio is still listed at 1000:1 like most IPS monitors. This model is HDR 1000 certified, and it has a 32-zone local dimming feature, but what stands out more is its ATW Polarizer which enhances accuracy and vibrancy by absorbing unnecessary spectrums of light.
32-inch 4K monitors are better for various computing tasks since their pixel density isn't too tight. Letters and numbers don't become microscopic, so you won't strain your eyes during long hours of work. On the other hand, objects and details are better defined due to the higher pixel count, so games will look considerably better even if you use lower graphics settings.
The LG 32GQ950-B renders more than 100% sRGB and 95% DCI-P3 for stunning color in games and movies. Its default accuracy doesn't have the best deltaE average at 2.66, but most users will like it for gaming. This kind of offset in color fidelity is common with wide gamut models, so it's entirely bad or detrimental to the actual viewing experience.
Calibrating it reduced that dE average to a stunning 0.41 which is something you'd see on prosumer models. Adding the ATW Polarizer does have its merits, but the default and calibrated scores just mean that the display didn't get enough tweaking from the factory. However, you still need to buy the colorimeter if you don't have one to get this level of accuracy.
The LG 32GQ950-B's backlight reached 396 cd/m2 at 100% in SDR, but it reached a peak of 1012 cd/m2 when it is HDR mode kicked in. However, its contrast was unimpressive at 981:1 in SDR so it's still incapable of deeper blacks. Its 32-zone edge-lit local dimming did little to improve that, although its high peak brightness enhanced highlights in some instances.
The issue with the limited local dimming zones on this monitor is in its panel uniformity when HDR mode is active. The sample had little variances when its backlight was steady, but haloing and clouding showed up when it was displaying dark content in HDR. It is still great in well-lit scenes, but the imperfections can be annoying at times.
The LG 32GQ950-B has an excellent pixel response time using either of its 120Hz, 144Hz, or 160Hz modes. You don't need to set its overdrive beyond the Normal level since doing so will induce overshoot. The monitor is very well suited to fast-paced or competitive gaming, although it might not be easy to play games in 4K at high refresh rates for many.
The LG 32GQ950-B is compatible with FreeSync and G-Sync so you don't have to lose protection from tearing and stuttering. This is a must-have feature so you don't have to ditch the monitor in case you switch to the other GPU brand when you upgrade. Input lag sits at 4ms at 160Hz, so there is no need to worry about sluggish performance or delays while playing.
Thoughts on the LG 32GQ950-B
The LG 32GQ950-B is a fantastic 4K gaming monitor that's designed for the latest gaming hardware in the market today. The ATW Polarizer-equipped Nano IPS panel produces stunning colors and imagery, especially when it's calibrated. We like the mature approach LG took for the design since it now looks more elegant and not as gaudy as the older UltraGear monitors.
The LG 32GQ950-B is reasonably-priced considering that it has a special panel and HDR 1000 certification. However, its severely limited local dimming feature and lack of essential features like USB-C can become deal breakers for enthusiasts. It's a nice step in lowering 4K and HDMI 2.1 monitor pricing, but there is some room for improvement.
Pros:
Rich Colors
Attractive and Mature Design
Fast and Responsive
High Peak Brightness (HDR 1000)
Cons:
Weak Contrast
No USB-C
Limited Local Dimming Zones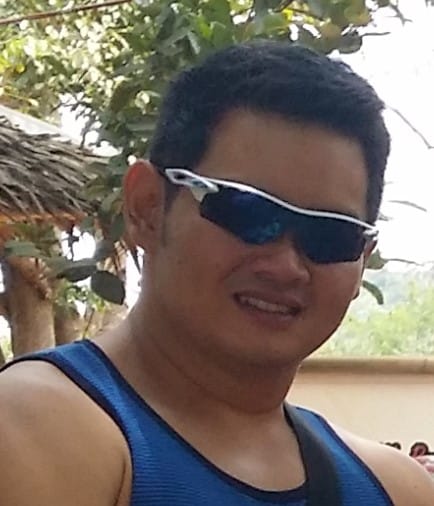 Paolo is a gaming veteran from the golden days of Doom and Warcraft. Since junior high, he has been building gaming systems for family, friends, and colleagues. High-performance monitors are one of his fixations; he believes that every citizen's right to enjoy one. He has gone through several pieces of hardware in pursuit of every bit of performance gain, much to the dismay of his wallet. He has also spent half a decade researching, reviewing, and writing about these products and now has over 1400 articles about the best gaming tech under his belt.