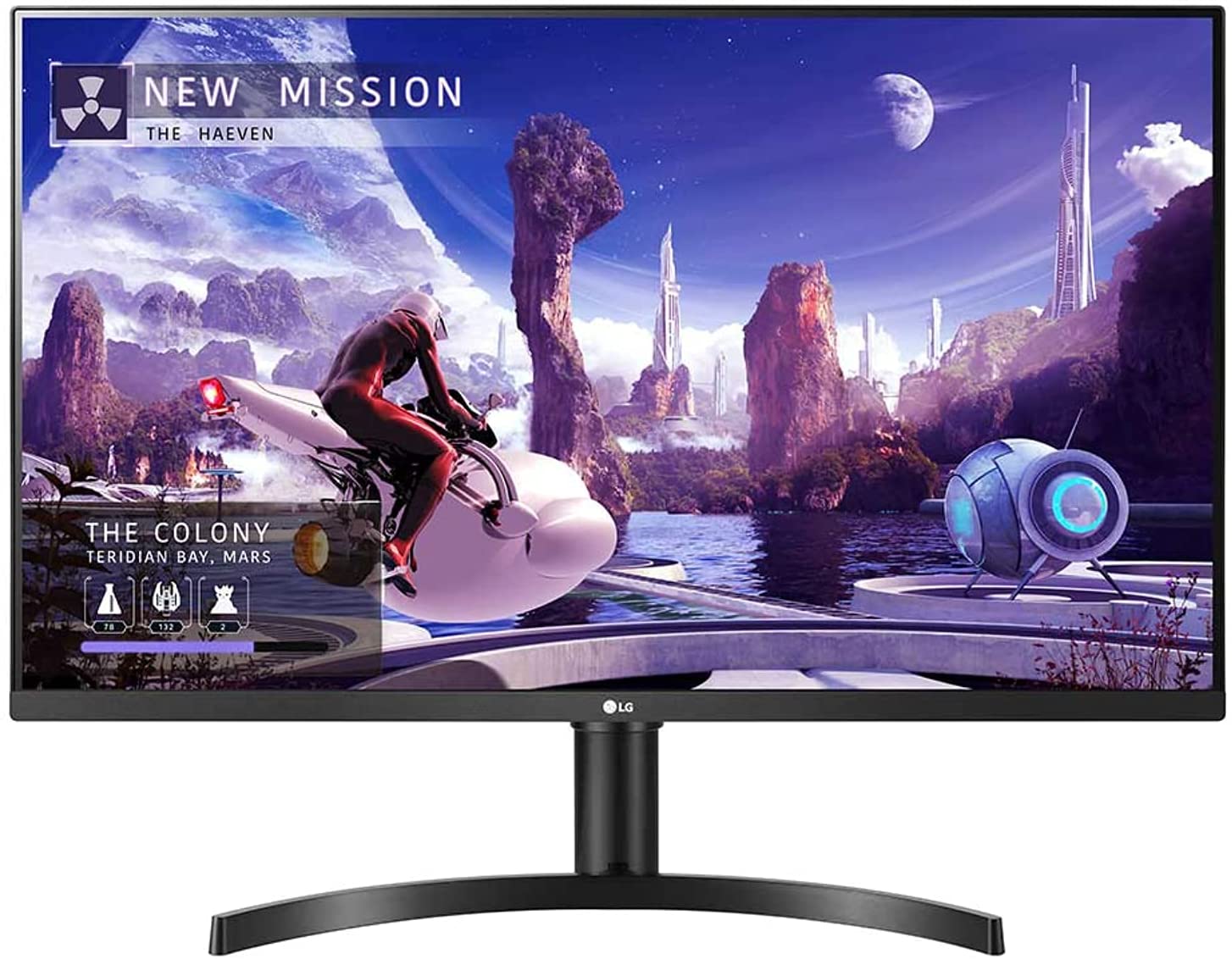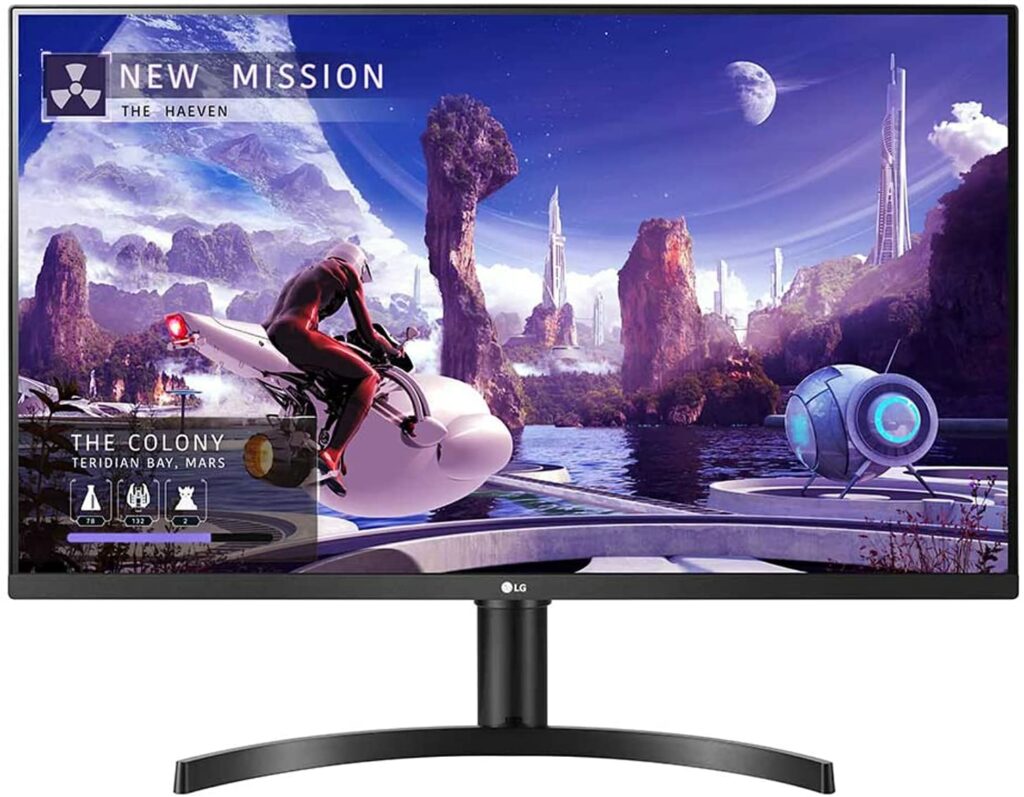 The LG 32QN55T-B is an attractive budget monitor with a large 1440p screen that's suitable for everyday use. Its not aimed at specialized use like competitive gaming or creatives, but you can't argue with a price tag that you normally see on smaller offerings. Let's take a closer look at what the LG 32QN55T-B can do to know if it punches beyond its price bracket.

LG 32QN55T-B Specifications
Screen Size: 32 Inches
Resolution: 2560 x 1440 QHD
Aspect Ratio: 16:9
Panel Technology: In-Plane Switching (IPS)
Refresh Rate: 75Hz
Response Time: 5ms
Contrast Ratio: 1000:1
Brightness: 350 cd/m²
Built-in Speakers: None
Stand: Height – No
Stand: Tilt – Yes
Stand: Swivel – No
Stand: Pivot – No
VESA Compatibility: Yes 100 x 100
Connectivity: HDMI 1.4 x 2, 3.5mm x 1
Dimensions With Stand(WxHxD): 28.1″ x 23.5″ x 8.9″
Weight: 13.9 lbs

Design and Features
The LG 32QN55T-B sports a simplified design that doesn't outdated or unattractive even if you place it next to its premium siblings. The slim chassis has a matte black finish that is very easy to maintain and clean, plus it doesn't attract smudges like glossy surfaces. The display is bezel-free on three sides so images can seem as if they go from edge to edge of the screen.
It's a large monitor, so you need to consider your desk space before pulling the trigger to avoid trouble and further spending. The monitor is quite wide at 28 inches, but its depth is more reasonable at 8.9 inches. You might need to adjust your work or gaming station, but at least that's going to be a bit easier since this monitor lightweight at 13.9 pounds.
One downside is its build quality which was apparently affected by the price cuts to make the product the most affordable iteration yet. The plastics used feel thinner than other LG offerings, so it will flex if you squeeze the chassis with modest amounts of force. The stand is wobbly and you need to jimmy it in a bit for the quick release lock to bite and secure the chassis to the plastic stand.
We like that the LG 32QN55T-B includes a joystick just like its higher-end siblings in the brand's entire line up. Its located just under the LG logo on the bottom bezel so you don't have to reach in or fumble around for it in the dark. The monitor is also compatible with LG's OnScreen Control so you can access its features directly inside your OS.
The stand included with the package only offers tilt so this might not be the best option for unconventional setups or the extra tall individuals. Ergonomics is important for your health and safety, so take the time to try out different positions to determine if the stock configuration works for you. The monitor can use VESA mounts to get around this, but that adds more cost to your upgrade if you don't already have one.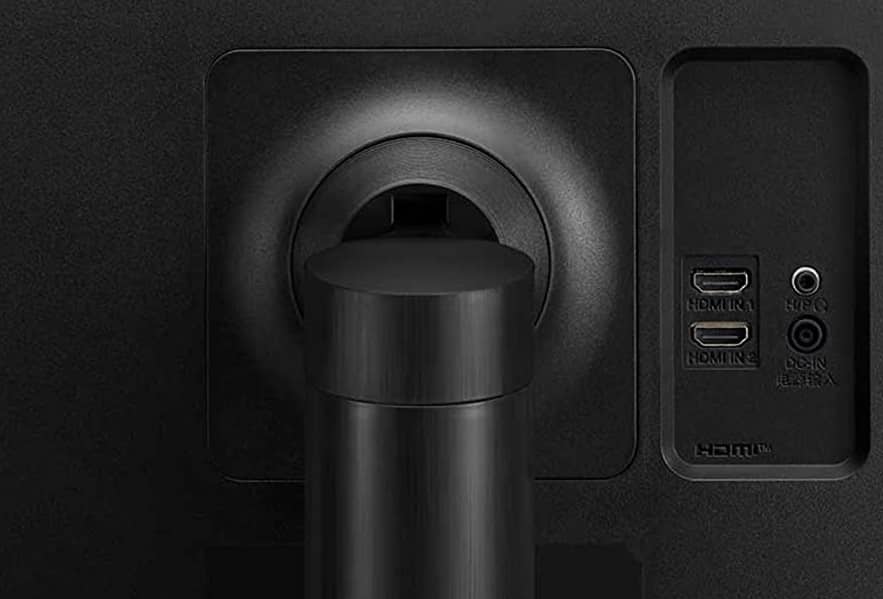 Another aspect that took a hit to help the LG 32QN55T-B reach a lower price point is its connectivity layout. You only get two HDMI 1.4 ports and an analog audio jack so it might be unappealing for those who want streamlined desk setups. It also doesn't have speakers, but that is the most understandable omission since most built-ins only get used as secondaries anyway.
Display and Performance
The LG 32QN55T-B sports a 32-inch IPS panel with a 2560 x 1440 resolution, a 75Hz refresh rate, and a 5ms response time. The backlight has a 350 cd/m2 maximum output while the contrast ratio is listed at 1000:1 like most IPS panels. This model supports HDR, but its not certified so it can only take HDR10 signals and translate them.
1440p at this size isn't as crisp as the smaller variants, but the higher pixel count and its other benefits are still there. You get around 60% more screen space so games will have bigger FOVs and you will be able to bring more apps to bear. Note that gaming performance will suffer if you have an entry-level GPU, but 75FPS is manageable for many by today's standards.
The LG 32QN55T-B renders 99% sRGB and around 77% DCI-P3 for decent vibrancy in any type of use. However, its color accuracy is all over the place with a high deltaE average of 3.67 with most colors looking either over or undersaturated. Daily use, media consumption, or gaming won't be affected, but this does mean that the monitor isn't ideal for editing work.
The only way to make it usable for that is to calibrate it which lowered the dE average to a fantastic 0.44. The downside is that you will need a colorimeter to get that kind of improvement, and those don't come cheap. Copying settings from other sources cannot guarantee that score since each panel is different, so you might have to invest in the gadget if you edit or create content.
Its backlight reached a healthy 348 cd/m2 at 100% brightness so it can fight off glare even if its used in well-lit rooms. The contrast ratio peaked at 1215:1 at 60% brightness so its slightly better than various other IPS variants in the market. However, its still unable to produce deep blacks like VA monitors, so you might want to consider them instead if this is important to you.
Panel uniformity for the LG 32QN55T-B sample had some issues due to backlight leaks at the top corners of the screen. They show up as clouding in dark scenes, but they become less of an issue while browsing or using office apps.  Note that this can change between every monitor made due to manufacturing tolerances, so it is entirely possible to get a better unit.
Its pixel response time isn't the best out there, but that's okay since this isn't a specifically tuned high-refresh model. You need to set its overdrive to its Fast level to improve blur reduction at the expense of some overshoot. Anything higher will add overshoot that's worse than the minor persistence and smudges, so we don't recommend pushing it further.
The LG 32QN55T-B is compatible with FreeSync and G-Sync so you don't have to suffer through tearing and stuttering. This duality is a must-have for any monitor if you are gaming since GPUs are still expensive and hard to find. Input lag sits at 8ms at 75Hz, so there is no need to worry about delays during regular use.
Thoughts on the LG 32QN55T-B
The LG 32QN55T-B offers tremendous value at its $250 price point if you consider its large 1440p screen. It's not the most accurate IPS monitor out of the box, but calibration results showed great potential. It also offers decent gaming performance and VRR, but almost every budget out there can do that too.
However, the LG 32QN55T-B compromised on a lot of critical aspects such as its stand and overall build quality. We're okay with the trade-offs to get the larger screen, but many will consider these small things such as the lack of DisplayPort a deal-breaker. We're impressed with how affordable it is, but there is still some room for improvement.
Pros:
Excellent Calibrated Accuracy
Very Affordable Price
Slim Profile
Bright with Decent Contrast for IPS
Cons:
Poor Build Quality
Wobbly Stand
Limited Features
About the Author: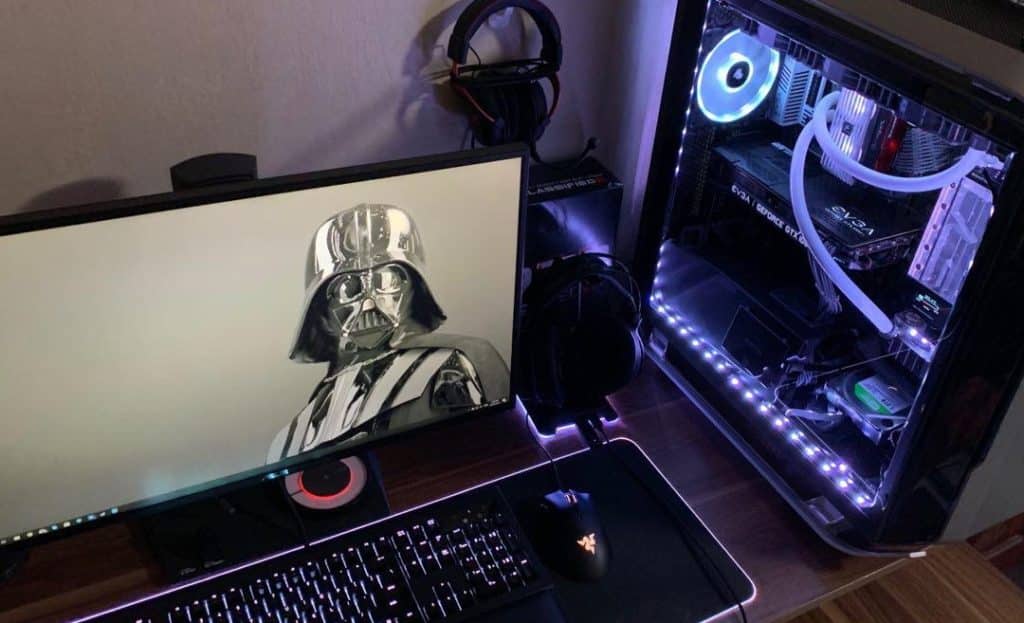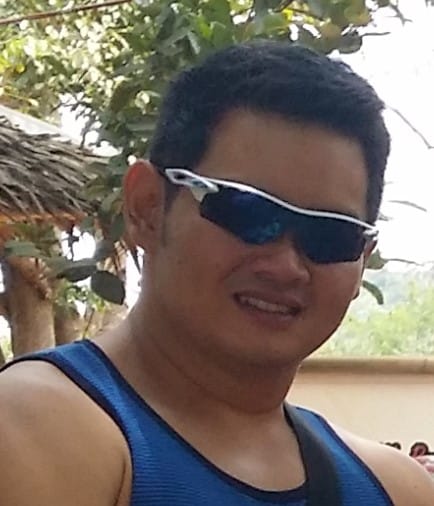 Paolo is a gaming veteran since the golden days of Doom and Warcraft and has been building gaming systems for family, friends, and colleagues since junior high. High-performance monitors are one of his fixations and he believes that it's every citizen's right to enjoy one. He has gone through several pieces of hardware in pursuit of every bit of performance gain, much to the dismay of his wallet. He now works with Monitornerds to scrutinize the latest gear to create reviews that accentuate the seldom explained aspects of a PC monitor.</span