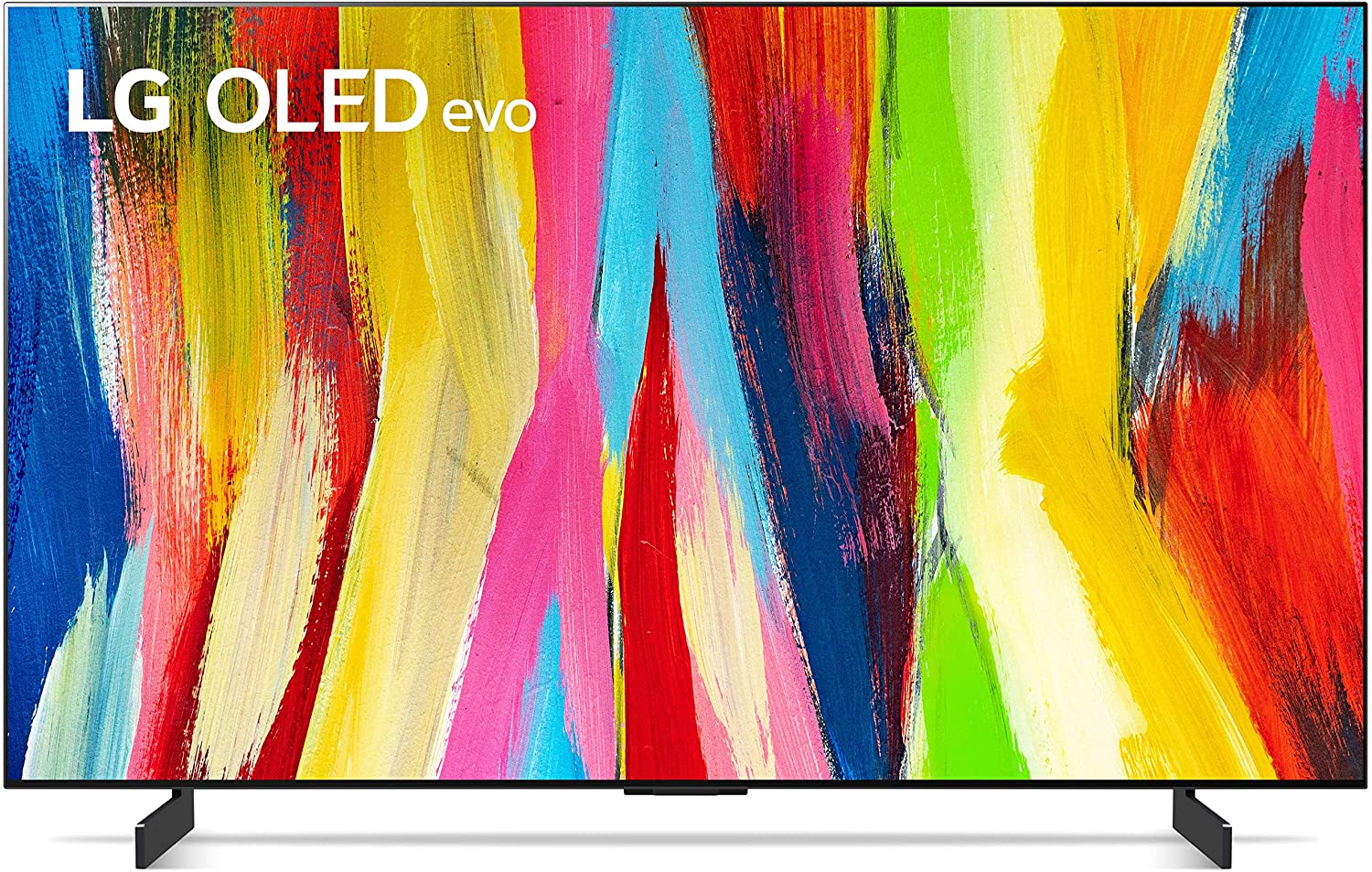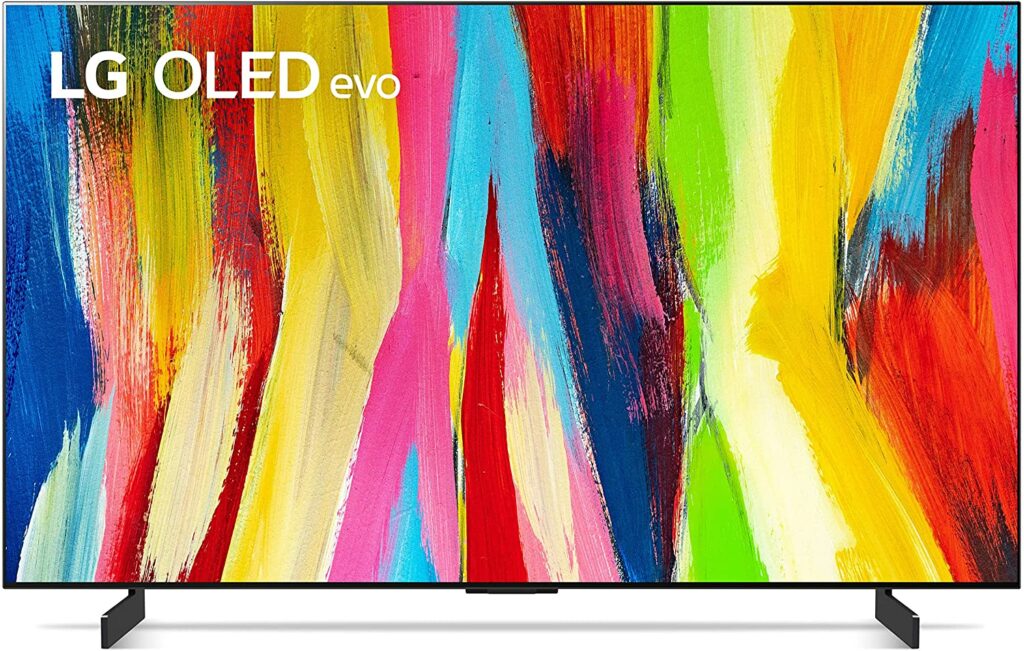 The LG OLED 42C2 is one of the prime choices if you want an OLED display with HDMI 2.1 for your top-of-the-line gaming setup. It's essentially a TV that's meant for living rooms, but this model is the smallest one yet at 42 inches. Let's take a closer look at the LG OLED 42C2 to know how it performs when it is used as a high-end PC monitor.

LG OLED 42C2 Specifications
Screen Size: 42 Inches
Resolution: 3840 x 2160 4K
Aspect Ratio: 16:9
Panel Technology: OLED
Refresh Rate: 120 Hz
Response Time: <1ms
Contrast Ratio: Infinite
Brightness: Unspecified
Built-in Speakers: Yes (2 x 10 Watts Dolby Atmos)
VESA Compatibility: Yes (300 x 200)
Connectivity: 2.1 x 4, USB 2.0 x 3, RJ45 x 1, RF Connection x 1, RS-232C x 1, Optical x 1, 3.5mm Jack Out x 1
Dimensions With Stand(WxHxD): 36.7″ x 22.7″ x 6.7"
Weight: 20.5 lbs

Design and Features
The LG OLED 42C2 has some minor aesthetic changes but it still doesn't resemble a desktop monitor. The device has a matte black finish all over, but you'll barely notice that since its front is all about the OLED screen. It's bezel-free, but the panel is still bound by borders that are less than 7mm thin on all sides.
This model is the smallest OLED TV right now, but it's still wider and taller than most desktop monitors with comparable specifications. It's quite tall at 22.7 inches and its 36.7-inch width will give you headaches if you have a narrow desk or large peripherals like bookshelf speakers. 20.5 pounds isn't much, but it is still basically a TV so asking for help with assembly and placement will avoid catastrophe.
Its build quality is excellent thanks to the brand's expertise in this market category, plus it is one of its flagship offerings. The plastics used are thick and sturdy, and there were no cosmetic defects on the device when it was unboxed. It is slightly wobbly like all TVs, but that's normal due to the way the stand is designed.


What's great about using TVs for desktop monitors is that you don't have to bother with buttons to access its OSD. It's a TV, so it has a very capable and easy-to-use remote control that lets you navigate its software effortlessly. It's a bit awkward to use if you are using the 42C2 on a desk, but that's a minor inconvenience compared to mushy keys that are too far at the back of the display.
The LG OLED 42C2's stand uses the basic design you'll find on most modern TVs in the current market. It doesn't offer any adjustments since it was only meant to keep the display upright stably and reliably. Positioning is key to maximizing a large display like this centering it to your seat, but you might want a VESA mount for more flexibility if that's not enough.
Its connectivity layout isn't the same as most monitors since it doesn't have DisplayPort slots for video inputs. It instead has four HDMI 2.1 ports with the full 48GBPS bandwidth for 4K 120Hz operation with next-gen consoles and PCs with newer HDMI 2.1 equipped GPUs. Most alternatives have one or two slots with full HDMI 2.1, but many out there have HDMI 2.0b which somehow manages an extended refresh rate.


You will also find three USB 2.0 slots, an Optical audio slot, analog jacks, a LAN port, and an RF connection for antennas. Most monitors only work with Adaptive Sync via DisplayPort, but the HDMI 2.1 slots on this TV work with both FreeSync and G-Sync. So in truth, losing DisplayPort isn't a big issue now, unless your GPU still has HDMI 2.0 outputs.
The best thing about the LG OLED 42C2 is its Dolby Atmos capable speakers with 10 watts of power each. It is not comparable to home theater setups used for a TV-like this, but it's considerably more powerful than most built-ins. It's clearer, louder, and it puts out punchy bass, so many users might actually like using it for games and movies.
Display and Performance
The LG OLED 42C2 boasts a 42-inch OLED panel with a 3840 x 2160 resolution, a 120Hz native refresh rate, and a sub-1ms pixel response time. Its actual brightness isn't specified while its contrast is listed as infinite thanks to its individually dimming pixels. This TV is compatible with popular HDR formats, but it doesn't mention VESA HDR certification since it is not a desktop monitor.
the biggest issue with using 4K TVs as monitors is the loser pixel density which counters the promised sharpness and level of detail. However, it's less of an issue with this model since it's considerably smaller than most OLED TVs, including the 48-inch C1 we reviewed. What doesn't change is the massive GPU requirements to run new games at 120 frames per second.
It is also worth noting that the LG OLED 42C2 has what the band is calling OLED Evo which is a newer generation of OLED panels with improved brightness. OLED TVs and monitors aren't as bright as HDR 1000 monitors, but they are capable of better HDR performance since FALD backlights can't match individually dimming pixels.
The LG OLED 42C2's OLED Evo panel renders more than 100%  sRGB, 98.5% DCI-P3, and 94% Adobe RGB. Its default accuracy isn't great since the deltaE average is at 4.96, but that's understandable due to the expanded gamut coverages. It is not tuned like a PC monitor since most TVs are intended to pump out as much vibrancy as possible without any regard for accuracy.
Thankfully, the monitor has presets in its Expert Bright Mode that takes advantage of the comprehensive gamuts and tones the respective errors down to sub-2.0 averages. Calibrating it with a colorimeter to lower the dE average to around 1.23. The older model had better results, but remember that this is only necessary if you are into color-critical work.
The LG OLED 42C2's backlight peaked at 247 cd/m2 in SDR but it reached 721 cd/m2 when its HDR magic kicked in. However, the real sorcery brought about by OLED technology is its infinite contrast which gives absolute blackness to dark images. This TV is capable of more accurate highlights and effects versus FALD units, so it should be your top pick if true HDR is important.
Its panel uniformity is also impressive since there were no clouding issues or backlight bleeding since it doesn't have a fundamental backlight like PC monitors. This is one of its many advantages, it is prone to burn-in in exchange. You have to avoid leaving static images on it since the resulting imprints from it are almost guaranteed to be permanent.
Pixel response time is fantastic as expected from an OLED panel since it's near-instant due to the individually controlled pixels. It works great for fast-paced games like competitive shooters or racing sims where this matters the most. Even the best Fast IPS panels in this regard cannot match it since many of them still rely on overdrive implementations to clear up ghosting and persistence.
The LG OLED 42C2 is compatible with both FreeSync and G-Sync so you don't have to worry about tearing and stuttering. The PS5 and Xbox Series X can also use this feature, along with all the bells and whistles of the new tech such as ALLM. Input lag sits at 9ms when the display's Game Optimiser mode is off, but turning it on will cut it in half.
Thoughts on the LG OLED 42C2
The LG OLED 42C2 is a fantastic OLED solution for modern gaming setups that may include the newest gaming consoles. It can harness the power of modern hardware and add amazing HDR performance to sweeten the visuals. It also comes with the right features to make games as smooth as possible, plus it comes in a more friendly form factor compared to its predecessor.
However, it does have its limitations such as the low peak HDR brightness and the lack of DisplayPort which is better for PC gaming. The former is a technological limitation that LG says is to help prevent burn-in and to extend the panel's life span. That's acceptable in our books, but we can't wait until the next breakthrough which will elevate the advantage of OLED panels versus the other popular technologies.
Pros:
Fantasic HDR Performance
Wide Gamut Coverage and Infinite Contrast
Gaming Features Work Great
Decent Build Quality
Cons:
Expensive
Prone to Burn-in
Dismal Default Accuracy
About the Author: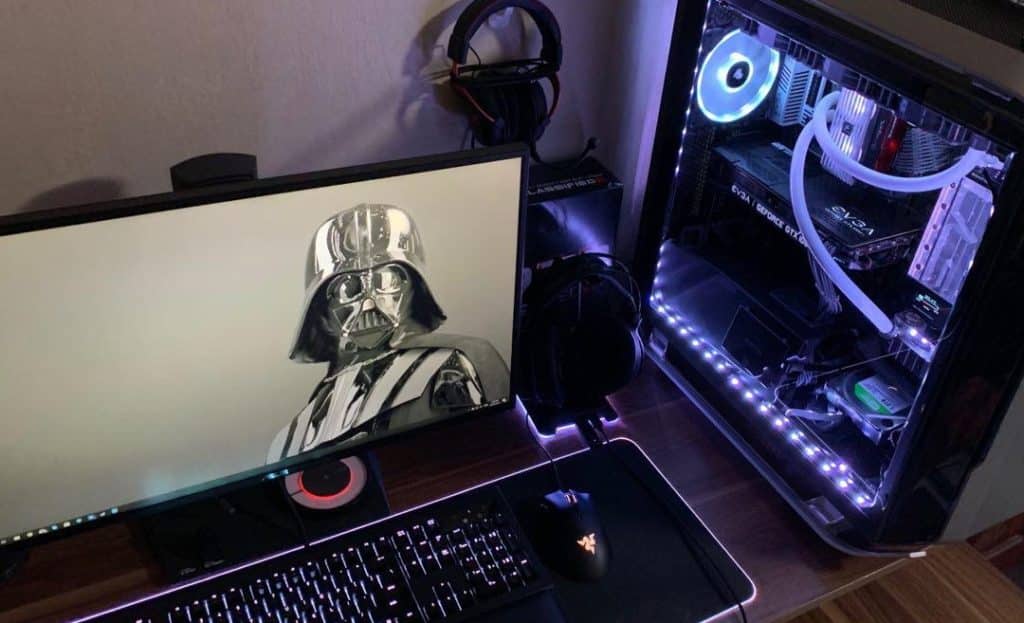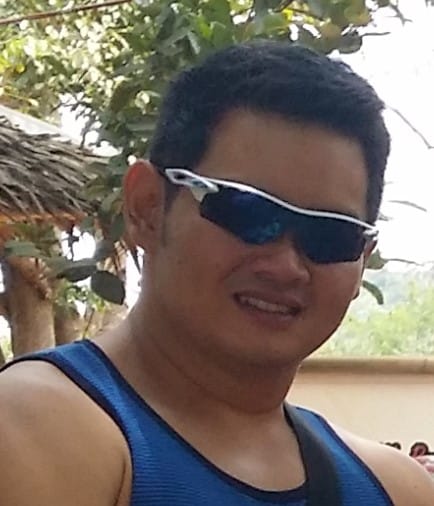 Paolo is a gaming veteran since the golden days of Doom and Warcraft and has been building gaming systems for family, friends, and colleagues since junior high. High-performance monitors are one of his fixations and he believes that it's every citizen's right to enjoy one. He has gone through several pieces of hardware in pursuit of every bit of performance gain, much to the dismay of his wallet. He now works with Monitornerds to scrutinize the latest gear to create reviews that accentuate the seldom explained aspects of a PC monitor.</span