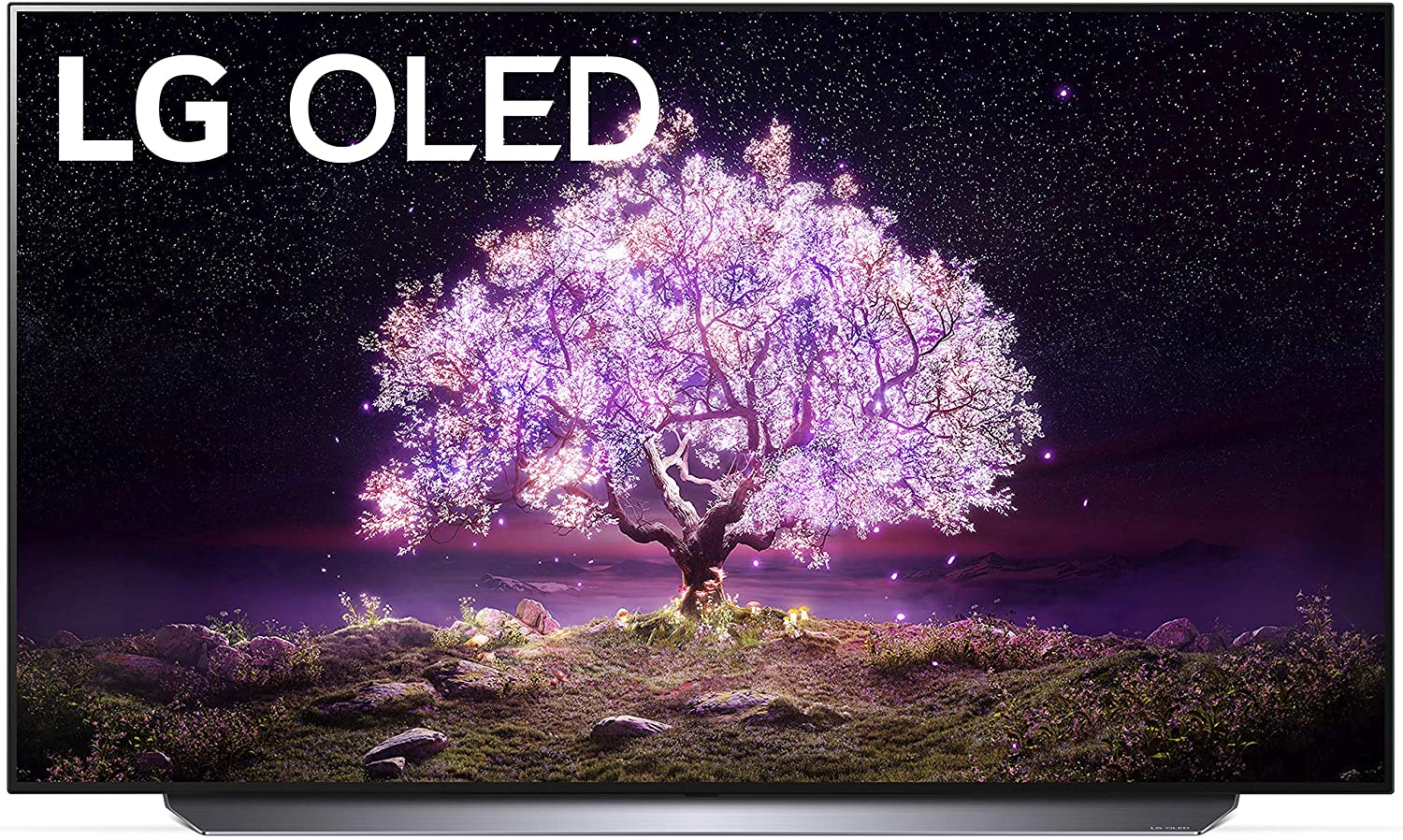 The LG 48 C1 OLED TV is the latest iteration of the brand's extremely good high-end TVs that have been increasingly great for gaming. TVs are still more ideal for living rooms than desks, but this 48-inch variant is already a good excuse to pick it over a dedicated desktop monitor. Let's check if the LG 48 C1 is a worthy upgrade to its predecessor or it's just the same TV with minor upgrades.

LG 48 C1 OLED Specifications
Screen Size: 48 Inches
Resolution: 3840 x 2160 4K
Aspect Ratio: 16:9
Panel Technology: OLED
Refresh Rate: 120 Hz
Response Time:>1ms
Contrast Ratio: Inf:1
Brightness: 1000cd/m²
Built-in Speakers: Yes (2.2 Channel 40w Total Output)
VESA Compatibility: Yes (300 x 200)
Connectivity: HDMI 2.1 x 4, USB 2.0 x 3, F-Type RF Antenna x 1, Optical Audio Out x 1, 3.5mm Jack Out x 1, RS232C x 1, Composite x 1, RJ45 x 1, Bluetooth v5.0 Connectivity, WiFi 802.11ac Connectivity
Dimensions With Stand(WxHxD): 42.2″ x 25.6″ x 9.9"
Weight: 41.7 lbs

Design and Features
The LG 48 C1 is a sleek and sophisticated gadget that will look great with any setup or any posh interiors and spaces. The TV has a matte black housing with a brushed textured bulge at the back along with a sleek and sophisticated metallic stand. The display isn't bezel-free, but you'll hardly notice the extra-thin bezels while it's in use.
It is no secret that the LG 48 C1 is larger than most of the PC monitors you will encounter, so clearing some space for it or buying a new desk might be in line. The device is 42.2 inches wide and almost 10 inches deep, and it doesn't sit high like most desktop monitors. It's also quite heavy at 41.7 pounds, so setting up will be at least a two-man job.
The LG 48 C1 is an exquisite piece of kit since it comes with fantastic build quality that goes well with its elegant look. The panels are perfectly machined, so you won't see any gaps, warping, or uneven seams on the monitor's parts. The stand doesn't have any wobbling issues so it will stand stable despite its size and weight.

You also get a very capable remote with the LG 48 C1 so sifting through its features and its OSD should be as easy as peas. The LG Magic Remote offers voice control and access to its webOS which carries plenty of apps like Netflix and Amazon Prime. It requires two AA batteries, but that's a small price to pay for the convenience it offers.
The LG 48 C1's stand was designed to merely keep it upright, so it doesn't even offer tilt like some TVs in the market. That's fine for most cases, but we know a few that would like to set this baby up higher. A VESA mount with a 300 x 200 bolt pattern is in order, and we think that it's a cheap upgrade for convenience and comfort this time around.

The LG 48 C1 has plenty of connectivity features since its also designed as the centerpiece for a home theater or media center. It comes with a standard port for antennas, but the focus here would be its four HDMI 2.1 slots, all of which are capable of 4K 120Hz operation. You also get three USB ports for thumb drives, a standard 3.5mm analog jack, and an optical output slot for home theater receivers.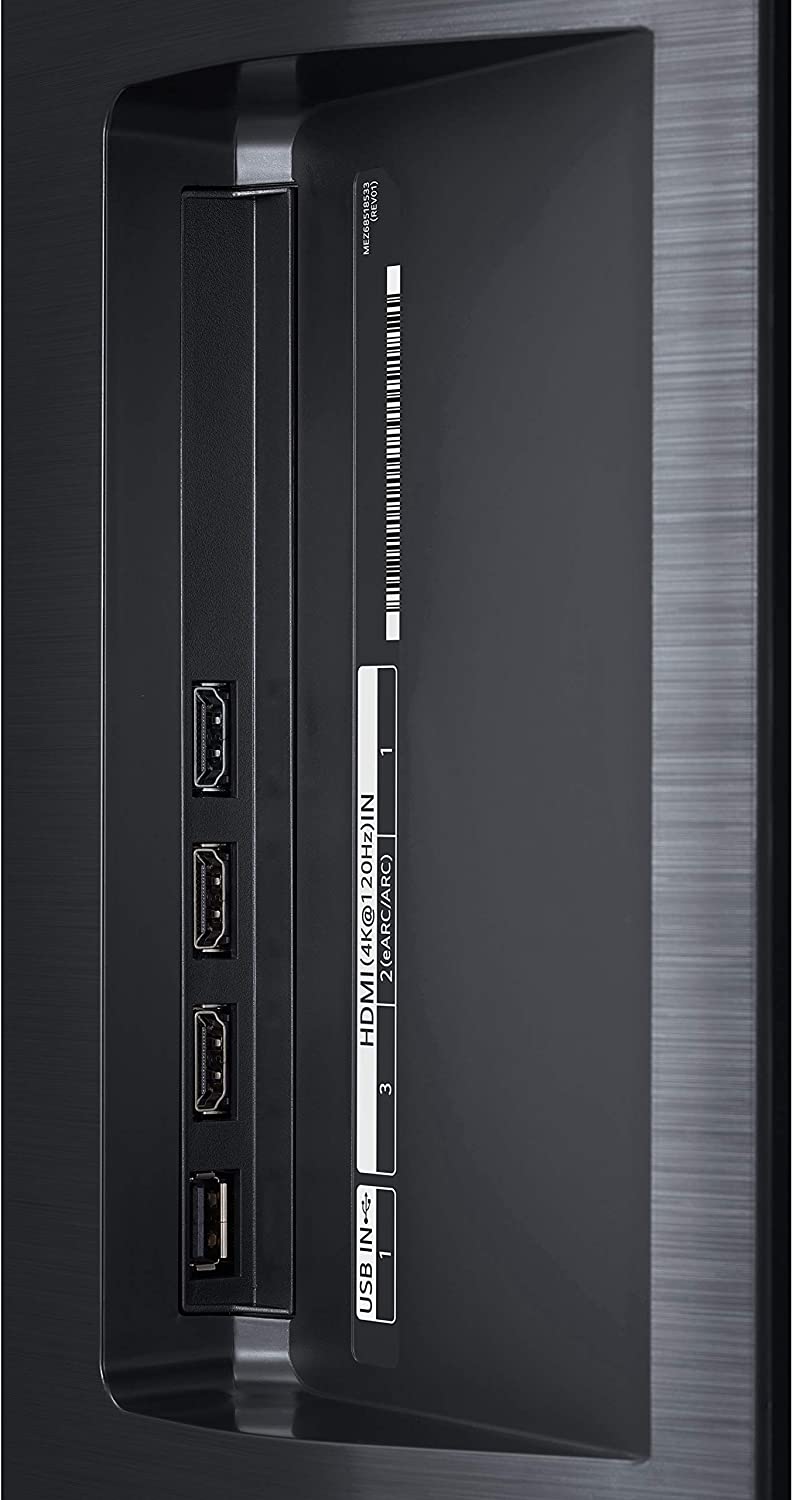 The device also has a LAN port for dedicated internet connectivity, but it's also WiFi 802.11ac certified for less cable fuss. You can also connect Bluetooth v5.0 devices to it, so it pretty much has every connectivity feature covered for your needs.
The LG 48 C1 has a very good audio package that has a 2.2 channel setup with 40 watts of power in total. It's already good enough for movies and games, but you can upgrade it by connecting LG XBOOM speakers wirelessly. However, for gaming, we'd still prefer headsets to help you focus since the built-in speakers are designed to project sound to rooms and aren't ideal for nearfield listening.
Display and Performance
The LG 48 C1 boasts a 48-inch OLED panel with a 3840 x 2160 resolution, a 120Hz refresh rate, and a response time of less than 1ms. OLED means it has self-lighting pixels unlike WLED displays, and its contrast ratio is listed at infinity:1. This model is compatible with HDR10, Dolby Vision, and HLG, unlike many monitors which are still stuck with HDR10.
The LG 48 C1's size unfortunately means that it's not great for office work since text appears a bit jagged from up close. It's great for games and movies, but you have to sit back a bit if you want sharp letters and use ClearType and an overall easier time reading and browsing. This is acceptable since the TV was made for couch viewing instead of desktop or nearfield usage.
The LG 48 C1 renders 100% sRGB and 92% DCI-P3 which is excellent for games, movies, and all-around daily use. Its default accuracy isn't perfect since the dE average falls at 2.89 due to the bluish tint of the screen. This is quite common with OLED panels due to their oversaturation and the usual cool hue they are tuned to from the factory.
Calibrating the LG 48 C1 produced an excellent color accuracy of 0.65 which means it can be used for editing applications. Doing so will also balance out the cool hue of the OLED panel and make images look more natural. However, most users don't have access to colorimeters, so manual tweaking, which is fine will be necessary.
The LG 48 C1 puts out 245 cd/m2 of brightness in SDR, but it peaks at 810 cd/m2 when HDR is active. We couldn't measure its contrast accurately since it is indeed at inf:1 thanks to the individual dimming of an OLED panel's pixels. The display is capable of deep inky blacks and excellent highlights even if it doesn't go as high as some of the HDR 1000 monitors we've tested.
Panel uniformity for the LG 48 C1 is perfect, so there are no backlight leaks or clouding issues on the display's quadrants. This is another advantage of OLEDs and one of the biggest reasons why an OLED monitor is more desirable. Take note that the panel differences due to manufacturing tolerances could still be present, but the chances that you will get a unit with uniformity issues are slim to none.
Another advantage of the LG 48 C1 and its OLED panel is its near-instant pixel response time and native 120Hz refresh rate. The screen is free from pixel persistence and blurring, so there is no need for overdrive or strobing features. This makes the TV great for fast-paced games, although it would be difficult to get a consistent 120Hz output at 4K.
The LG 48 C1 is great for gaming thanks to its FreeSync and G-Sync compatibility, along with ALLM or Auto Low Latency Mode. It's fantastic for both PC and console gaming, provided that you have the next-gen consoles or the latest GPUs to power through its 4K resolution. Its input lag is only at 6ms, making it one of the fastest TVs we have seen in the market.
Thoughts on the LG 48 C1
The LG 48 C1 is a worthy upgrade to its predecessor if you want the best possible gaming performance. Its pitch-black OLED panel with fantastic colors and HDR capabilities can provide a high-end experience without sacrificing responsiveness and speed. It's also compatible with plenty of gaming features like G-Sync compatibility and ALLM which are designed to improve your entertainment experience.
The only caveats we found on the LG 48 C1 are, of course, its high price tag and its poor performance in rendering text. Both, however, are expected since this model has an expensive OLED panel, and it's still basically a TV that wasn't designed for desktop use. It's a great buy if you want a large screen for entertainment purposes, but be prepared to shell out a hefty premium for it.
Pros:
Excellent Image Quality and Color Performance
Infinite Contrast
Superb HDR Performance
4K 120Hz with Near Instant Pixel Response Time
Great for Gaming
Cons:
Expensive
Bluish Tint from Factory
Prone to Burn In
Poor Text Rendering
About the Author: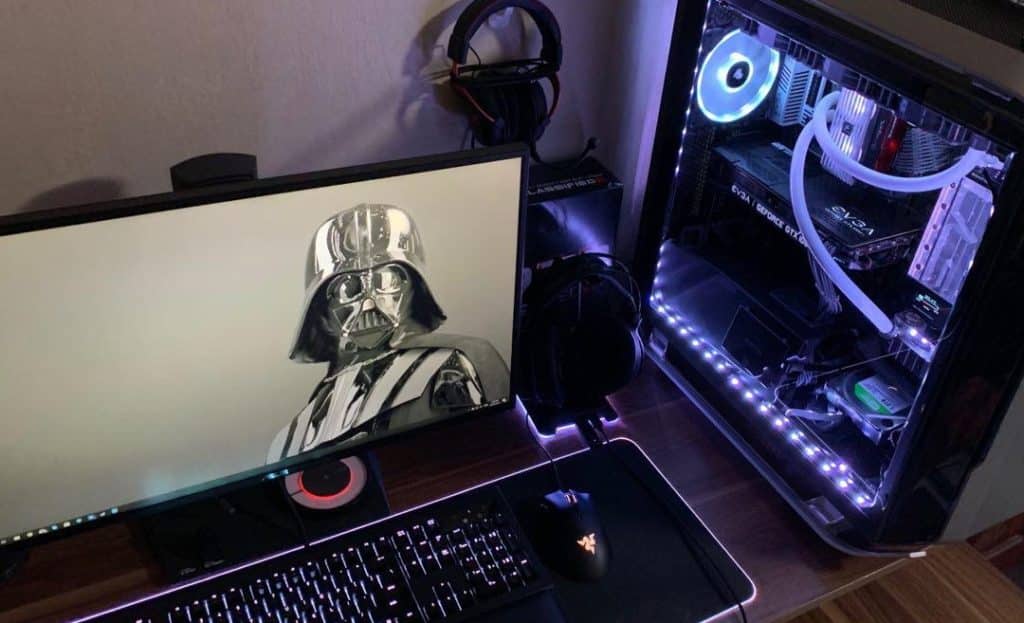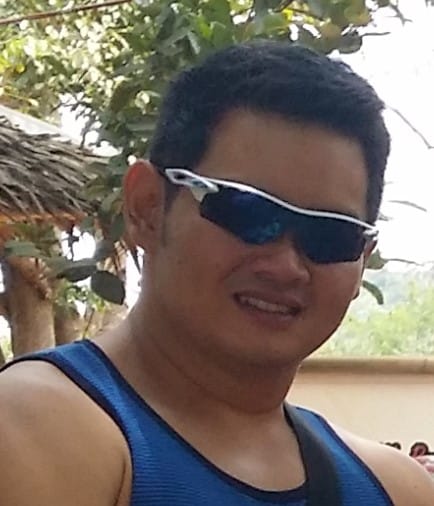 Paolo is a gaming veteran since the golden days of Doom and Warcraft and has been building gaming systems for family, friends, and colleagues since junior high. High-performance monitors are one of his fixations and he believes that it's every citizen's right to enjoy one. He has gone through several pieces of hardware in pursuit of every bit of performance gain, much to the dismay of his wallet. He now works with Monitornerds to scrutinize the latest gear to create reviews that accentuate the seldom explained aspects of a PC monitor.