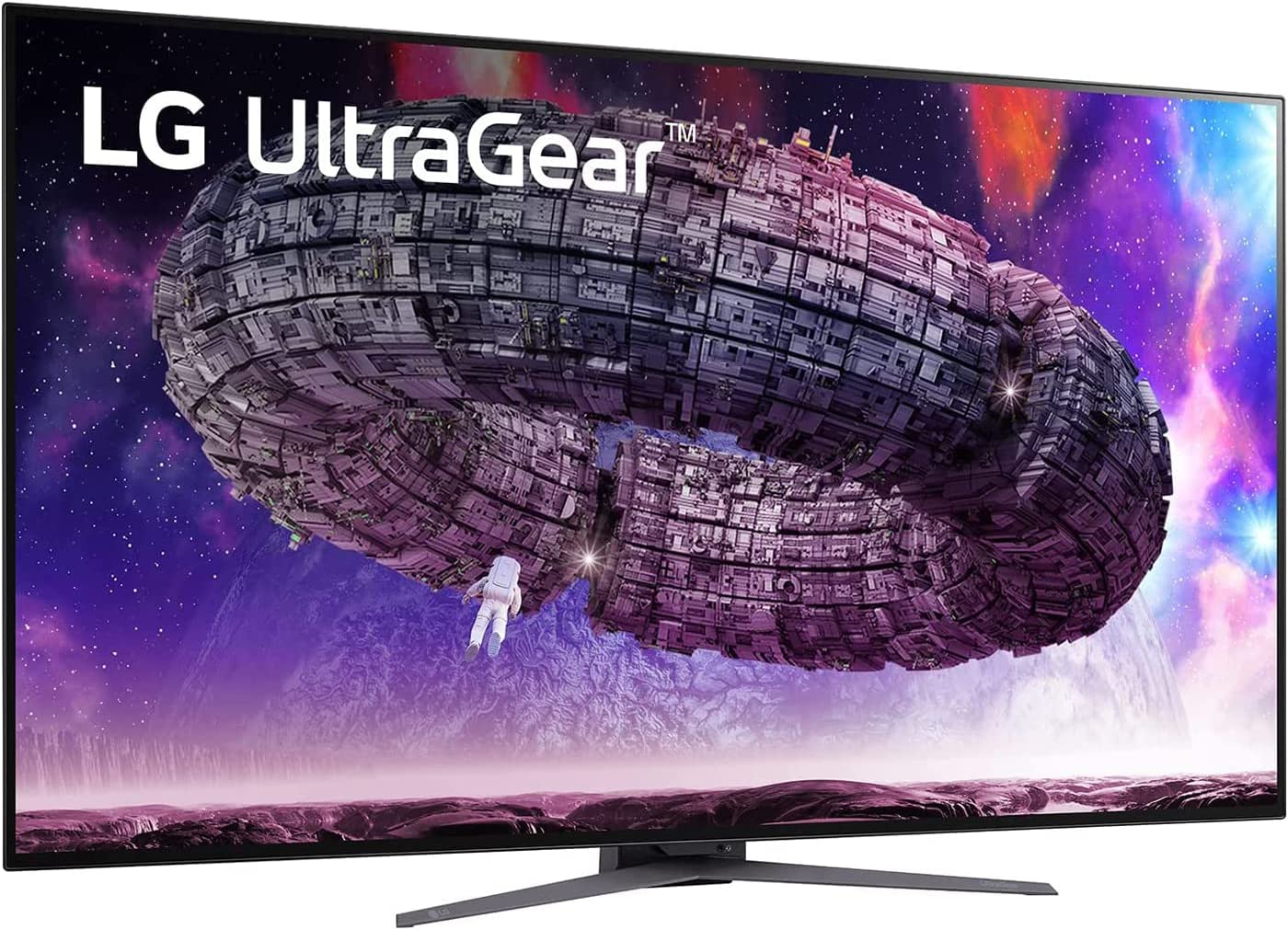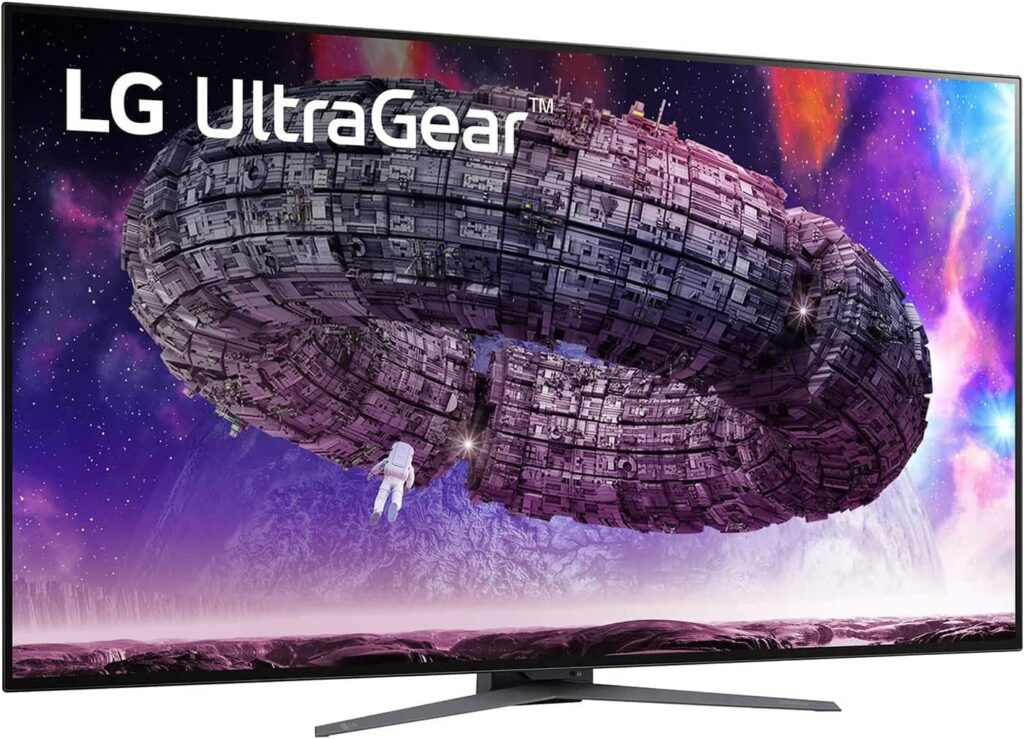 The LG UltraGear 48GQ900-B is a massive OLED gaming monitor that's meant to engulf your eyes with rich colors and contrast. It's one of the largest desktop monitors available now at 48 inches, but that also means that it can double as a display for your couch in case you want to sit back and relax. The LG UltraGear 48GQ900-B, so let's take a closer look so can know if it's a good investment.

LG UltraGear 48GQ900-B Specifications
Screen Size: 48 Inches
Resolution: 3840 x 2160 4K
Aspect Ratio: 16:9
Panel Technology: OLED
Refresh Rate: 120 Hz (138Hz OC)
Response Time: 0.1ms
Contrast Ratio: 1500000:1
Brightness: 135 cd/m² Typical
Built-in Speakers: Yes (2 x 20 Watts)
VESA Compatibility: Yes (300 x 200)
Connectivity: DisplayPort 1.4 DSC x 1, HDMI 2.1 x 3, USB 3.0 x 3, USB-C x 1, 3.5mm Jack Out x 2
Dimensions With Stand(WxHxD): 42.2″ x 25.9″ x 7.3"
Weight: 37.04 lbs

Design and Features
The LG UltraGear 48GQ900-B looks like any modern TV, but it has a base that resembles what a monitor has along with the Distinct UltraGear markings. It's a big black display with nicely placed RG lighting on the sides, so it shouldn't look out of place in any themed setup. The screen itself isn't bezel-free, but the thin borders are hard to notice against the massive panel.
The first difficulty you will encounter with the LG UltraGear 48GQ900-B is because of its size and weight. It's a little over 42 inches wide plus it's quite heavy for a display product since it weighs 37.04 pounds. Placing it on most desks will be tricky, especially if you also have other peripherals like bookshelf speakers or even other monitors next to it.
Its build quality is great and comparable with every other flagship the Korean tech giant has produced. The plastic panels are thick and sturdy, and we didn't notice any sort of cosmetic defects on any of its parts. The stand is a bit wobbly, but it is mostly because of the size and weight of the screen.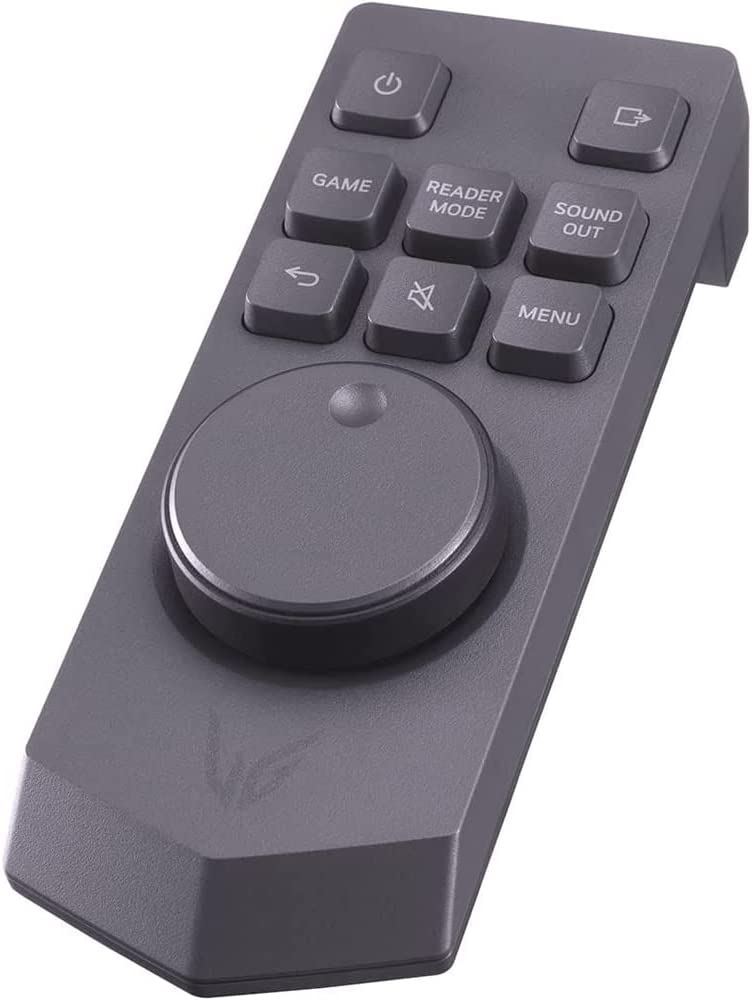 We love the LG UltraGear 48GQ900-B's remote and its design simply because it is easy to use thanks to that giant scroll wheel. It's also wireless unlike other remotes so it won't add clutter and consume a USB slot for functionality. However, it's a bit flimsy compared to LG's Magic remotes that they package with OLED TVs, so there is some room for improvement.
The stand included with the package is closer to what a TV has so it's not adjustable like so many other designs on gaming flagships. That's understandable since the monitor is so big, so you must correct your seating position instead of the screen's angle. You can use VESA mounts but finding a cheap 300 x 200-compatible model for it won't be cheap.
The LG UltraGear 48GQ900-B is kitted out with connectivity options just like a TV with its triple HDMI 2.1 slots. However, what sets it apart is it has a DisplayPort 1.4 DSC slot so you can use it with a PC and unlock a small refresh overclock. It also has a trio of USB 3.0 ports, plus a SPDIF out and DTS HP-X jack for audio equipment such as headphones and home theaters.
This model also has more powerful speakers with 20 watts of power so they can be used for entertainment purposes. The pair sounds decent, but it's going to be more immersive if you use surround speakers or headsets. However, they will come in handy in some instances like when you feel like playing on a couch instead of a desktop.
Display and Performance
The LG UltraGear 48GQ900-B boasts a 48-inch OLED panel with a 3840 x 2160 resolution, a 120Hz refresh rate with a 138Hz OC for PC, and a 0.1ms response time. The backlight has a 135 cd/m2 output and a whopping 1500000:1 contrast ratio. This model doesn't need the flagship HDR certifications since its OLED screen will take care of that feature beautifully.
The first issue with this monitor aside from its price or its size is its lower pixel density. It might look slightly pixelated if you sit too close to it. But on the other hand, that also makes it less painful to read and process documents with it. Gaming and entertainment will look great no matter what, but we recommend sitting a bit further to maximize the 4K resolution.
The LG UltraGear 48GQ900-B renders more than 100% sRGB and 98% DCI-P3 for stunning color and saturation in games and movies. Its default accuracy has a decent 2.08 deltaE average, unlike other highly saturated panels. It's good to go out of the box, but you can also use its sRGB filter which limits the gamut while improving the dE score to 1.67.
Calibrating it reduced the dE average to 0.87 so it is usable for color-critical work like photo or video editing. However, you will need a colorimeter to achieve the same level of improvement since each panel has different results. Buying the gadget is only practical if you will use the monitor professionally, so we recommend using the default settings and presets if you will only use it for games and videos.
LG only specified 135 cd/m2 for the brightness, but a colorimeter scan revealed that this OLED panel has a 501 cd/m2 SDR output at 100% power and a 1295 cd/m2 HDR peak. This enables the panel to produce extremely beautiful HDR effects like light rays or blooms without suffering from common WLED issues. we couldn't measure its peak contrast accurately, but the OLED panel shows true blacks and bright highlights when it needs to.
Panel uniformity for the LG UltraGear 48GQ900-B did not have any issue since it doesn't use a WLED backlight like a regular monitor. The screen looks evenly illuminated, and there are no clouding issues since each pixel can dim itself as needed. The bigger uniformity issue with OLEDs are called burn-in, but its 100% preventable if you take care of the monitor properly.
Its pixel response time is great since there are no blurring or smudging issues in fast-paced scenes. The 120Hz limit is noticeable if you are coming from a faster monitor, but motion clarity doesn't skip a beat unless you actively look for a stutter. This is one of the reasons why OLEDs are highly-sought after for gaming, although we're still behind from seeing a faster OLED panel anytime soon.
The LG UltraGear 48GQ900-B is compatible with both FreeSync and G-Sync so you don't have to worry about losing VRR. Having compatibility for both is essential so you don't get stuck with one brand when the time to upgrade arrives. Input lag sits at 4ms at 120Hz so the screen doesn't feel sluggish or jittery during any type of use.
Thoughts on the LG UltraGear 48GQ900-B
The LG UltraGear 48GQ900-B is a fantastic choice if you primarily want a giant OLED screen for immersion and eye-popping visuals. The OLED panel's imaging scores are very impressive, and we all know that you can't get the same experience from a mini-LED variant. Its designed great with a functional remote, but there is still some room for improvement in some aspects.
We don't have a lot of complaints about the LG UltraGear 48GQ900-B, but you have to consider some of its quirks as well. Its expensive but it doesn't have USB-C or an adjustable stand, plus it can look pixelated if you sit too close to it. It's a brilliant upgrade if you are coming from IPS or VA, but you should check out the issues we highlighted in the review before buying to avoid problems.
Pros:
Fantastic Colors and Contrast
Excellent HDR Performance
Smooth and Responsive
Attractive Design with Functional Remote
Cons:
Pricey
No Ergonomics
Still Bound by TV-Style Design Limitations (Ergonomics, Connectivity, Etc)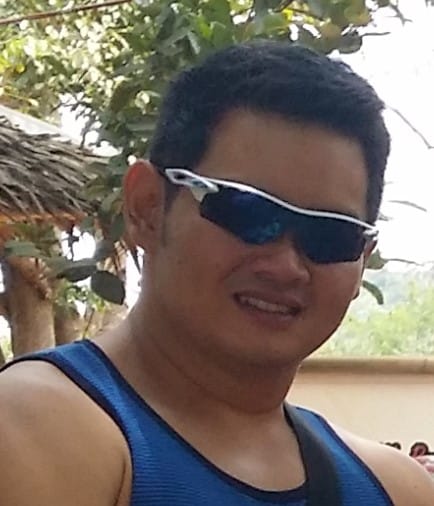 Paolo is a gaming veteran from the golden days of Doom and Warcraft. Since junior high, he has been building gaming systems for family, friends, and colleagues. High-performance monitors are one of his fixations; he believes that every citizen's right to enjoy one. He has gone through several pieces of hardware in pursuit of every bit of performance gain, much to the dismay of his wallet. He has also spent half a decade researching, reviewing, and writing about these products and now has over 1400 articles about the best gaming tech under his belt.