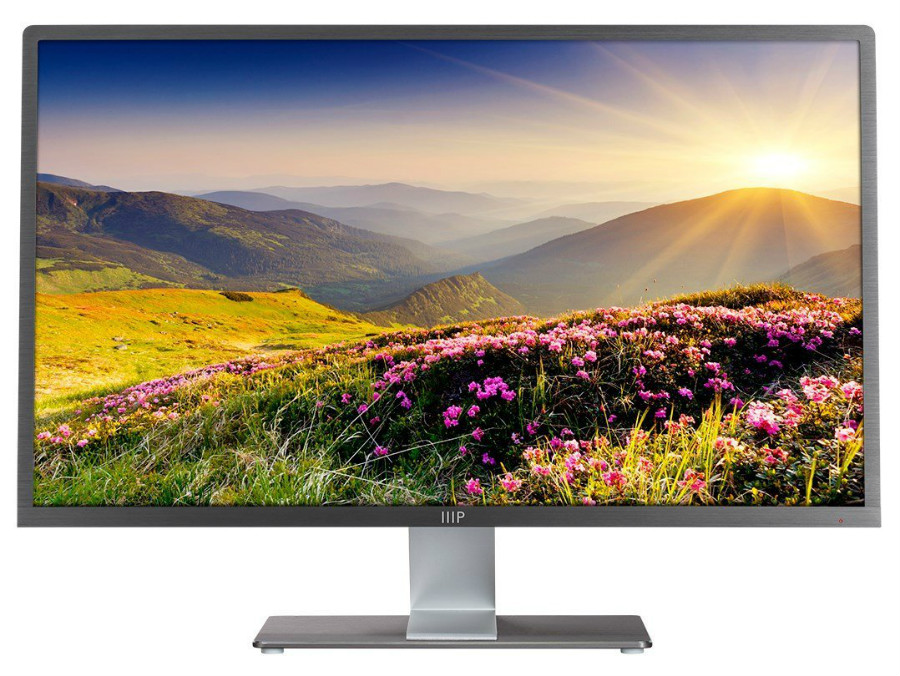 This model is reasonably priced for a QHD monitor, making it attractive for users with tight budgets. As always, there will be cut corners or compromises to meet the enticing price point. The Monoprice 27-Inch Premium Series is interesting because it's so easy to own, making its capabilities worth an in-depth look.

Monoprice 27-Inch Premium Series Specifications
Screen Size: 27 Inches
Resolution: 2560 x 1440 2K QHD
Aspect Ratio: 16:9
Panel Technology: In Plane Switching (IPS)
Refresh Rate: 60Hz
Response Time: 6ms
Contrast Ratio: 1000:1 (Static)
Brightness: 250 cd/m²
Built-in Speakers: No
Stand: Height – No
Stand: Tilt – Yes (-5°/+15°)
Stand: Swivel – No
Stand: Pivot – No
VESA Compatibility: Yes 100 x 100
Connectivity: DisplayPort 1.2 x 1, HDMI 1.4 x 1, DVI x 1
Dimensions with Stand(WxHxD): 24.5" x 15.3" x 2.1"
Weight: 12 lbs

Design and Features
The Monoprice 27-Inch Premium Series looks stunningly gorgeous with its brushed silver exterior and slim profile. The cabinet is only a little over two inches thick, making this one of the thinnest display products we have come across. This design covers the budget-oriented nature of this monitor, which is a big selling point for a lot of consumers who want a beautiful centerpiece on the desktop.
The included stand is equally attractive with its minimalist design, but it can only offer a tilting range of up to twenty degrees. You can't pivot, swivel or adjust the height, plus there are no VESA mounting options, so you are stuck with the stock dimensions. The screen is large enough for most users, but taller or shorter individuals might need extra maneuvering to get a perfect view.
The Monoprice 27-Inch Premium Series's I/O layout is limited as well, since it only includes a DisplayPort 1.2, an HDMI slot, and a DVI connector for video input. These receptacles are more than enough for regular usage, but we would have preferred to see USB ports for peripherals. There are no speakers included, although, that's ok because most inclusions in affordable packages aren't that good to warrant regular usage.
Our favorite physicality of the Monoprice 27-Inch Premium Series is the four-way OSD joystick which helps to navigate the menus quickly. Settings included are limited to typical items such as brightness, contrast, and color temps, but we reckon that buyers who consider models like these do not focus on calibration features. The joystick tends to be oversensitive if your touch is a bit heavy, so some users could accidentally select some items.
Display and Performance
The Monoprice 27-Inch Premium Series features a 27-inch IPS screen with a 2560 x 1440p resolution, 60Hz refresh rate, 6ms response time, and 1000:1 contrast ratio. Colors are decently saturated with an excess in the reds, but there are deviances in both green and blue. These flaws resulted in green and blue tinting depending on images, making this model unsuitable for photo editing.
Another problem with the Monoprice 27-Inch Premium Series' IPS panel is the poor contrast and grayscale performance. All shades of black appear crushed, and details, dark environments, and objects under low-light appear muddy. On a positive note, viewing angles are excellent and wide, without any degradation when the screen is viewed at a slight angle.
It's disappointing that this beautiful product isn't ideal even for basic photo-editing use, but we also have complaints about its gaming performance. While still viable for basic after hours enjoyment, the Monoprice 27-Inch Premium Series still has the fundamental flaws most of the best gaming displays have come so far to solve.
The 6ms response time is responsible for ghosting and interlacing in fast paced action during our Battlefield 1 test, although the game's environments were still pleasant to look at despite the limitations. The tunnels in the Argonne forest map looked too dark, although the greens of the jungle looked alive and vibrant. The glossy tempered glass layer of the screen does not interfere with the color output, but using it in a well-lit room might induce intense light glare.
The Monoprice 27-Inch Premium Series' input lag is also at a dismal 33ms, making this model unsuitable for competitive gaming. Here at Monitornerds, we usually recommend monitors with 20ms or below before users start noticing the delays from input to screen. Gaming on this model felt disconnected at times, but some slower-paced genres like adventure games are still enjoyable overall.
Finally, there is no FreeSync involved in the Monoprice 27-Inch Premium Series. 1440p with adaptive sync would be a godsend for basic gaming builds, and it's too bad it is one of the important features that did not make the price cut. Gaming with a mid-range AMD card and a cheap 1440p monitor could be one of the hottest selling combinations out there.
Thoughts
The Monoprice 27-Inch Premium Series looks gorgeous enough to hide its affordable nature, but upon use, the trade-offs readily appear. For starters, the color and contrast for the promised high-quality IPS panel have a lot of improvement. Colors are slightly skewed in the blues and greens, plus the panel is quite slow in refresh and response rates.
But for basic tasks and light gaming, the Monoprice 27-Inch Premium Series is still a considerable choice if you want an aluminium-clad product. The design makes it an ideal centerpiece for your home or office, and people won't be able to tell the difference if this is a generic display or a branded one.