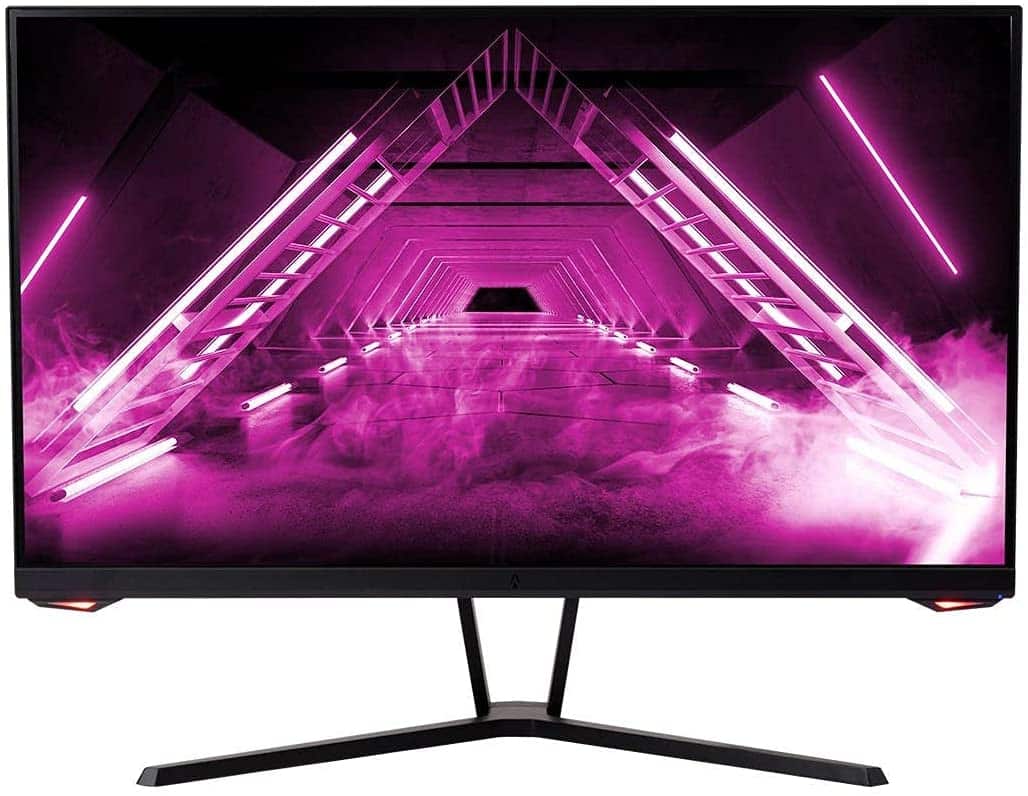 The Monoprice Dark Matter 42771 joins the fray of fast IPS gaming monitors with a cheaper package that includes the essentials. It'snot as feature-packed as its premium counterparts, but that also means that the price you pay is compressed towards performance. Let's check the Monoprice Dark Matter 42771 to see if it comes out on top or sinks to a slump in its highly competitive segment in the monitor market.

Monoprice Dark Matter 42771 Specifications
Screen Size: 27 Inches
Resolution: 1920 x 1080 FHD
Aspect Ratio: 16:9
Panel Technology: In-Plane Switching (IPS)
Refresh Rate: 165Hz
Response Time: 1ms MPRT
Contrast Ratio: 1000:1 (Static)
Brightness: 350 cd/m²
Speakers: No
Stand: Height -Yes
Stand: Tilt – Yes
Stand: Swivel – Yes
Stand: Pivot – Yes
VESA Compatibility: Yes (75 x 75)
Connectivity: HDMI 1.4 x 2, DisplayPort 1.2 x 1, 3.5mm Jack x 1
Dimensions (W x H x D): 24.4" x 17.4" x 8"
Weight: 10.9 lbs

Design and Features
The Monoprice Dark Matter 42771 employs a simple design with a bit of gamer-centric vibes that betray its main purpose. It has a matte black finish so it will fit right into your setup even if it's themed. The display isn't bezel-free, but the three sides have very thin borders which are almost invisible to the user.
The Monoprice Dark Matter 42771 takes up less space than the 42892 IGZO model. Its base has a wide reach, but the legs are thin enough so they won't block your other peripherals sitting on top of the keyboard. The monitor weighs 10.9 pounds, so it's pretty light so setup should be easy even if you don't have help.
Build quality for the Monoprice Dark Matter 42771 is decent just like it is with the rest of the newer models. The plastics used are resistant enough to flexing and tagging, so gripping it won't break it. The aluminum stand can sometimes make you worry, but it's quite stable so there is no wobbling of any sort.
It's worth noting that the Monoprice Dark Matter 42771 has LED lights at the back and on the corners of the front bezel. It is always nice to have aesthetic extras, but these lights only glow red and the frontal ones can be distracting while gaming. Thankfully, you can turn them off in the OSD if they bother your or if the color clashes with your setup.
The Monoprice Dark Matter 42771 also includes an OSD joystick for easy access to its OSD and the features within. Previous models had to make do with buttons that were clunky and confusing, so this is an improvement. Users spend less time and effort with it trying to get to a specific submenu or setting like brightness.
The stand included with the monitor only offers tilt so some users like the taller ones might need something better. It would be nice if it at least had height adjustments, but this is expected since it goes with a budget model. You can use VESA mounts with 75 x 75 patterns, but buying one will put your overall cost in range of a better-equipped model like the AOC 27G2.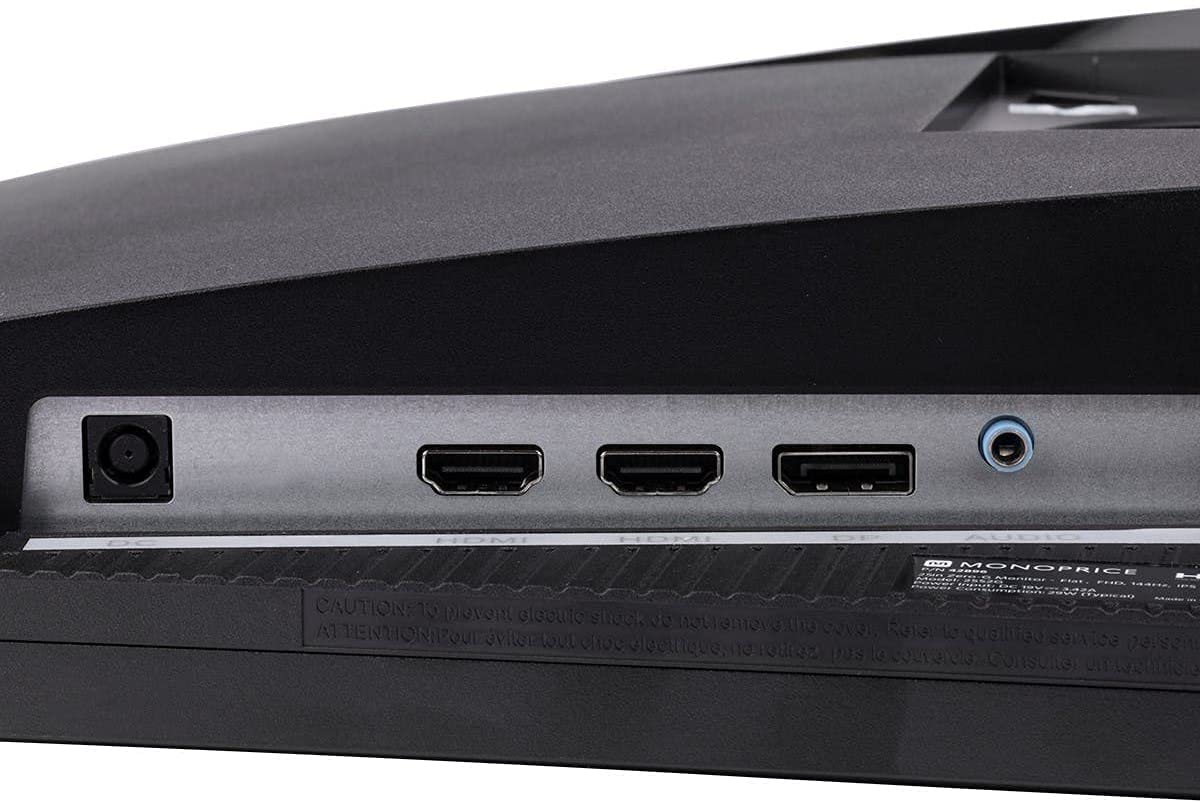 The Monoprice Dark Matter 42771 also has a simplified connectivity layout because it's a budget model. It does include DisplayPort 1.2 for your PC and two HDMI 1.4 slots that can be used for gaming consoles. There is also a 3.5mm jack, but there are no USB ports that you would normally find on a more expensive model.
The Monoprice Dark Matter 42771 also doesn't have speakers, but that's another understandable omission since it's so cheap. They won't get much use anyway since most gamers prefer headsets for immersion and accuracy. That doesn't mean that they don't have a little usefulness, but it is not a big issue with this model due to its price.
Display and Performance
The Monoprice Dark Matter 42771 sports a 27-inch IPS panel with a 1920 x 1080 resolution, 165Hz refresh rate, and a 1ms boosted response time. The backlight has a 350 cd/m2 maximum while the contrast is listed at 1000:1 like most IPS monitors. This model is the entry-level variant of the lot so it doesn't have special features like HDR.
1080p monitors are popular for budget gaming which is where this model fits since you can spend less and still enjoy your titles. It is not very demanding on GPUs, so you can get by with low to midrange-tier cards. They are also easier on the eyes since the DPI is lower, but that comes at a cost to the sharpness and details on the screen.
The Monoprice Dark Matter 42771 renders more than 100% sRGB and around 91% DCI-P3 for excellent vibrancy in games and movies. However, its default accuracy isn't as impressive since the deltaE average is at 3.31. it is not accurate, but gamers will not think of it as an issue unless they have a better monitor to compare it with.
Calibrating the Monoprice Dark Matter 42771 with a colorimeter improved the dE average to 2.68 which is better. The screen looks more balanced this time, but the improvement isn't a massive jump compared to other IPS monitors we've seen. We don't recommend spending on a colorimeter just to get this result, especially since they are more expensive than the monitor itself.
The Monoprice Dark Matter 42771's backlight was limited to 321 cd/m2, but that's plenty even for well-lit rooms. The screen can fight off glare, and most of the time, you'll find that you will only be needing less than half of that while gaming. Its contrast is impressive for IPS since it reached as much as 1312:1 at 50% brightness, but the monitor is still unable to produce deep blacks like VA panels.
The sample's panel uniformity was immaculate since there was barely any sign of backlight bleeding or clouding. There is some variance in the backlight's spread, but it was only visible when the screen was measured with a colorimeter. Take note that this can vary between every 42771 monitors out there, so there could be some with worse symptoms.
The Monoprice Dark Matter 42771's response time is just as good as many Fast IPS monitors in the market. Blurring won't be a big issue in fast-paced scenes, so you don't need to maximize its overdrive for competitive titles. There will still be some persistence, but they are minor compared to what VA alternatives suffer from.
The Monoprice Dark Matter 42771 is compatible with both FreeSync and G-Sync so you won't be left without Adaptive Sync if you switch GPU brands. This is a handy feature to have since graphics cards aren't readily available and their pricing fluctuates badly due to high demand. Input lag sits at 6ms at 165Hz, but it's still fast enough and free from delays for E-Sports use.
Thoughts on the Monoprice Dark Matter 42771
The Monoprice Dark Matter 42771 is your easy ticket if you want to upgrade to a larger, high-refresh screen. It's fast and vibrant, so it delivers good visual experiences for all types of games, including competitive titles. The brand has consistently improved its products, but there is still room for more.
As you can expect, some characteristics that you can only find on top-brand offerings are absent on the Monoprice Dark Matter 42771. It is missing a few creature comforts like full adjustability and USB ports, but that's okay since this is a budget model. It's a great pick if you want to upgrade while spending as little as possible, but there are better picks for a bit more cash out there.
Pros:
Fast and Responsive
Vibrant Colors
FreeSync/G-Sync Compatible
High Contrast for IPS
Affordable
Cons:
Stand Limited to Tilt
Mediocre Color Accuracy
Limited Features
About the Author: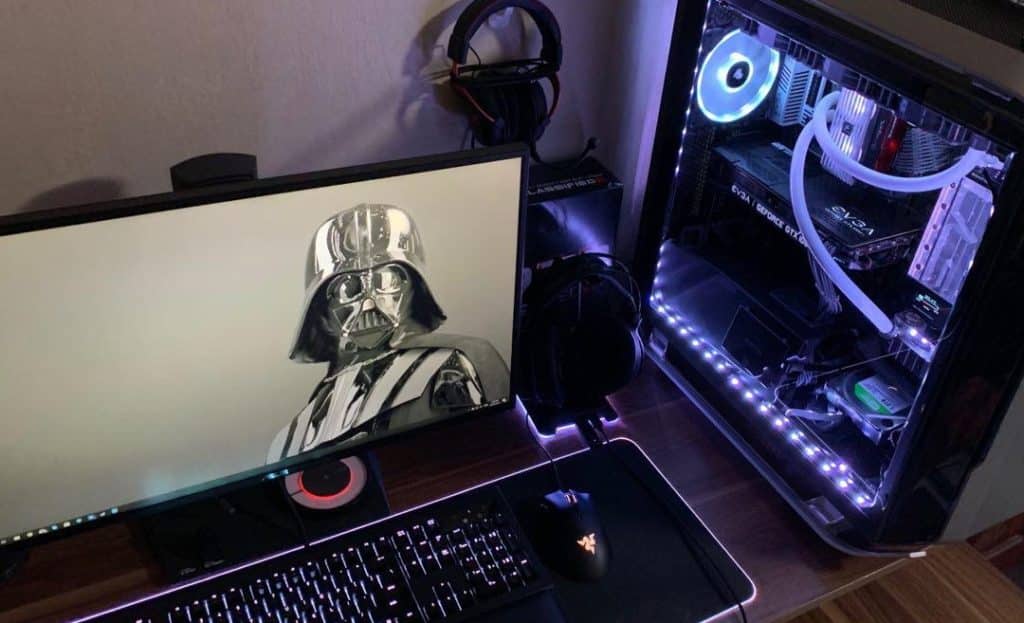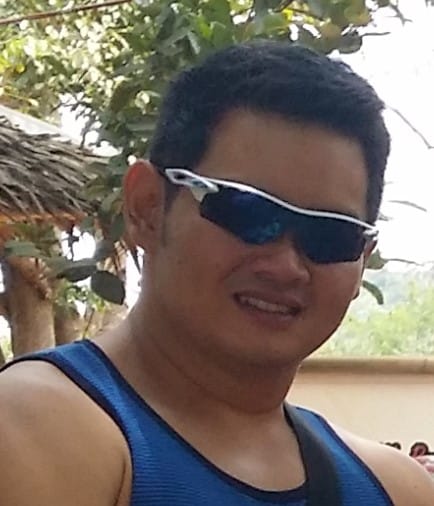 Paolo is a gaming veteran since the golden days of Doom and Warcraft and has been building gaming systems for family, friends, and colleagues since junior high. High-performance monitors are one of his fixations and he believes that it's every citizen's right to enjoy one. He has gone through several pieces of hardware in pursuit of every bit of performance gain, much to the dismay of his wallet. He now works with Monitornerds to scrutinize the latest gear to create reviews that accentuate the seldom explained aspects of a PC monitor.