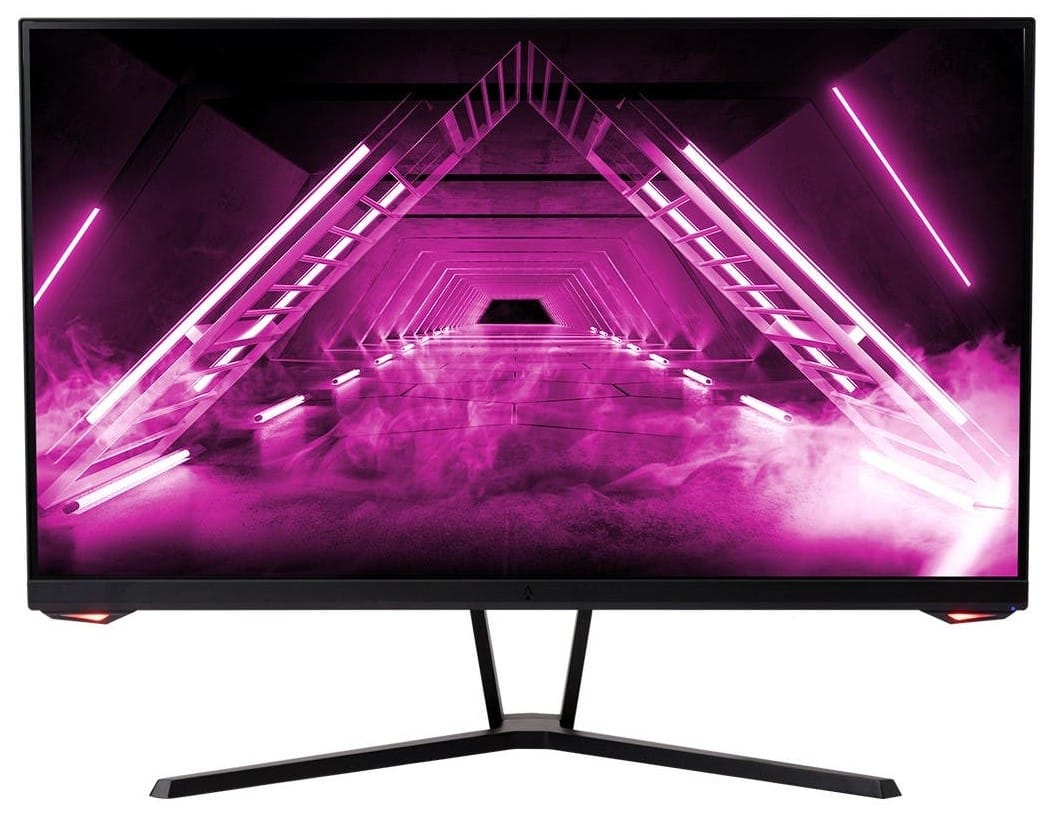 The Monoprice Dark Matter 42892 offers a unique IGZO-IPS panel with a 180Hz refresh rate along with excellent colors and responsiveness. It is so affordable, some may doubt the specifications that it mentions. Let's see what the Monoprice Dark Matter 42892 can do and if it can go toe to toe with the myriad of 1440p gaming monitors in the market.

Monoprice Dark Matter 42892 Specifications
Screen Size: 27 Inches
Resolution: 2560 x 1440 QHD
Aspect Ratio: 16:9
Panel Technology: IGZO In-Plane Switching (IGZO-IPS)
Refresh Rate: 180Hz
Response Time: 1ms MPRT
Contrast Ratio: 1000:1 (Static)
Brightness: 400 cd/m²
Speakers: No
Stand: Height -Yes
Stand: Tilt – Yes
Stand: Swivel – Yes
Stand: Pivot – Yes
VESA Compatibility: Yes (75 x 75)
Connectivity: HDMI 2.0 x 3, DisplayPort 1.4 x 1, USB-C PD15W x 1, 3.5mm Jack x 1
Dimensions (W x H x D): 24.4" x 18.8" x 9.3"
Weight: 18.6 lbs

Design and Features
The Monoprice Dark Matter 42892 has a simple design that features a few gamer-centric accents to make it a bit more attractive. It has a matte black finish all over, so it won't clash with most gaming setups. The display isn't bezel-free, but the borders are flush so it is unnoticeable even when the display is powered on.
The monitor is decently sized for its category, but it does take up more space than models that included a fully adjustable stand. Its base eats up more depth, but at least the feet are thin so you can place your peripherals in between them. it's not the heaviest as well, but its aluminum stand adds more weight and stability.
Build quality for the Monoprice Dark Matter 42892 has improved compared to its predecessors which felt more fragile in some cases. The aluminum stand provides excellent stability while the plastics used are reasonably resistant against cracking and flexing. There is some slight wobbling, but it only happens if you nudge the screen accidentally.
It also has an easy-to-use joystick for its OSD, unlike its predecessors which had to make do with pesky buttons. This model has more features to explore, so its nice to have a handy tool that can help you maximize its capabilities. Higher-priced models sometimes include remotes as an accessory, but that's unnecessary in most cases since joysticks are easy enough to use.
The Monoprice Dark Matter 42892  does have LED lights on the front and back of the monitor to complement its gamer-oriented nature.  The front lights are distracting while gaming, and you can't change their color to suit your build's theme. Fortunately, you can turn them off in the OSD if they bother you or if red simply isn't your style.
The stand included with the Monoprice Dark Matter 42892 looks and feels great thanks to its molded aluminum build. However, it only offers tilt for adjustments, so it can feel limiting especially for the taller users that need a bit of vertical allowance. You can replace it with a 75 x 75 VESA mount, but that adds cost which we don't want if we're trying to save as much cash as possible.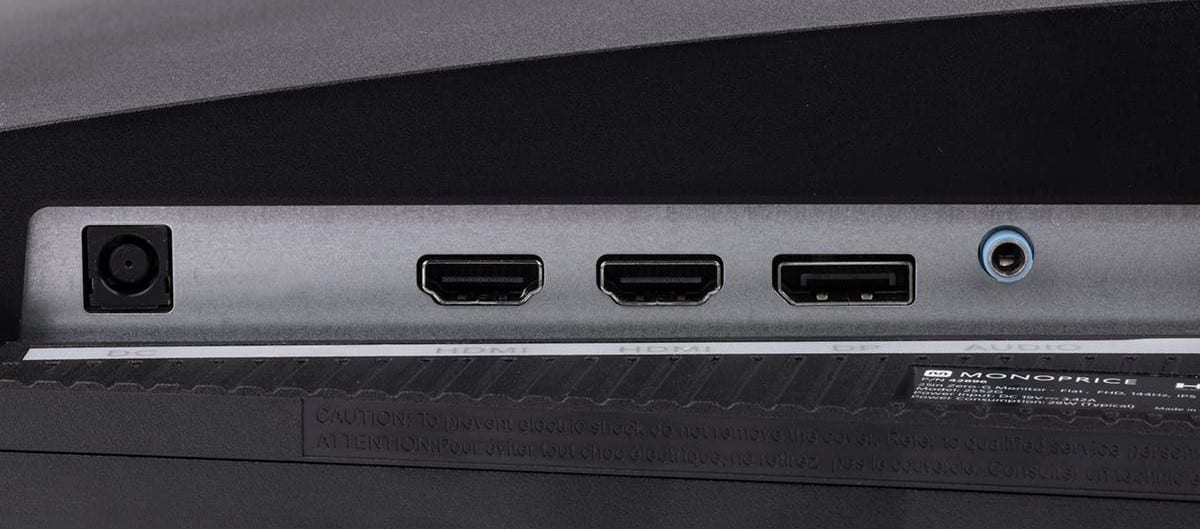 This model doesn't have a lot of extra features like USB ports, but it does have quite a few video inputs at your disposal. You get a DisplayPort 1.4 slot as the primary, along with three HDMI 2.0 ports for secondary devices like gaming consoles. You also get a USB-C slot that accepts video signals, although it can only provide up to 15 watts of charging power.
That's a lot for a budget monitor, and we love that it can be used for a myriad of devices for gaming, entertainment, and even productivity. what is missing is a pair of good built-in speakers that are powerful enough for the aforementioned purposes. However, we think that its lack of it is forgivable due to its very low price.
Display and Performance
The Monoprice Dark Matter 42892 sports a 27-inch IGZO-IPS panel with a 2560 x 1440 resolution, 1 80Hz refresh rate, and a 1ms boosted response time. The backlight has a 400 cd/m2 maximum, while the contrast ratio is listed at 1000:1 like most IPS panels. This model advertises HDR capabilities and a wide gamut coverage, but it doesn't have the necessary technical features to achieve true HDR visuals like some high-end models.
27-inch 1440p monitors are wildly popular now since they offer a sweet spot between high refresh 1080p screens and high resolution 4K screens. It's easy on the eyes when it comes to basic tasks like reading, but it offers extra details and crispness for games and movies. However, it's easier to reach maximum refresh rates now with upper-tier GPUs compared to 4K where you need the top-end cards.
The Monoprice Dark Matter 42892 produces an impressive 97% sRGB and 94% DCI-P3 of color coverage. The vibrant screen has a very nice default accuracy of only 2.43, so it looks reasonably balanced and ready for gaming once it's out of the box. Most users won't need to calibrate or tweak the screen, apart from adjusting its default brightness to a more comfortable level.
Calibrating the Monoprice Dark Matter 42892 only improved its dE average to 1.97 which isn't noticeable in normal use. You don't have to spend the extra on a colorimeter with this model, so your only solution is to buy a prosumer variant if you want better accuracy. Alternatively, the monitor has a decent sRGB filter which drops the dE average to 1.77, but it will tie down the sRGB gamut to 94%.
Its backlight only managed to reach 330 cd/m2 in SDR, but it peaked at 405 cd/m2 when HDR is active. Its contrast is a bit stronger than regular IPS panels at 1255:1 at 50% brightness, but it doesn't increase exponentially like with the better-equipped HDR monitors out there. Deep blacks still aren't possible as well, so only VA and OLED-based variants are your solutions if high black luminance bothers you.
Panel uniformity for the Monoprice Dark Matter 42892 sample was decent overall since there were no considerable backlight leaks or clouding issues. There are some deviances in the backlight's spread, but it is only slightly visible in very dark scenes. Take note that this aspect varies between every unit due to the nature of IPS technology and some manufacturing tolerances.
The Monoprice Dark Matter 42892's response time is just as good as the premium models in the market. It doesn't show a lot of blurring, so you don't need to maximize its overdrive setting which will introduce overshoot. It's great for all types of games including E-Sports titles without having to worry about distractions in fast-paced scenes.
The Monoprice Dark Matter 42892 also works with both FreeSync and G-Sync so you don't have to stay with one GPU brand as long as it's in use. This is important nowadays since pricing and availability are still unstable. Input lag sits at 5ms at 180Hz, so there Is no need to worry about delays if you will use this product for competitive gaming.
Thoughts on the Monoprice Dark Matter 42892
The Monoprice Dark Matter 42892 punches beyond its price point when it comes to color and gaming performance. It's a very vibrant screen with excellent default accuracy and its pixel transitions are on the dot thanks to its IGZO panel's benefits. It doesn't have a lot of extra features like an ergonomic stand, but you're already getting the good stuff with the low price.
However, its lack of creature comforts is also its weakness in a very competitive segment of the monitor market. better-equipped models like the Acer XV272U KV can be had for a bit more cash which only matters if you are also upgrading other parts. Overall, it is an excellent buy for budget gamers who want to upgrade their visual experience without hurting the wallet too much.
Pros:
Great Gamut Coverage and Default Accuracy
USB-C
Fast and Responsive
Crazy Low Price
Cons:
Stand Only Offers Tilt
Limited Contrast
About the Author: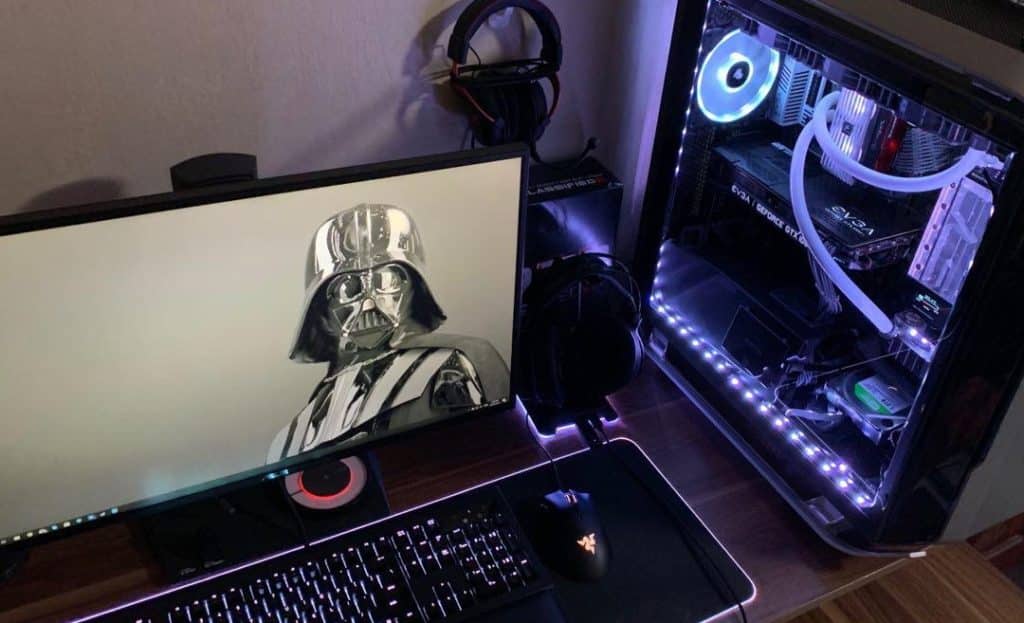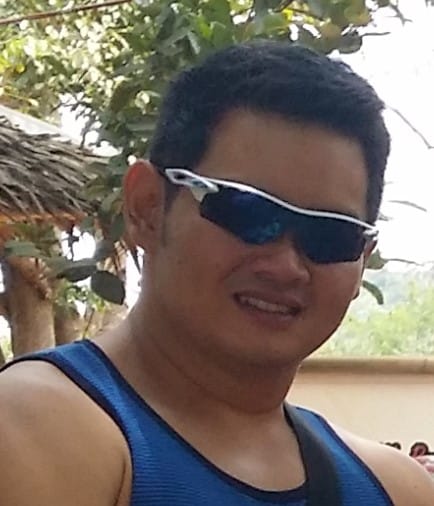 Paolo is a gaming veteran since the golden days of Doom and Warcraft and has been building gaming systems for family, friends, and colleagues since junior high. High-performance monitors are one of his fixations and he believes that it's every citizen's right to enjoy one. He has gone through several pieces of hardware in pursuit of every bit of performance gain, much to the dismay of his wallet. He now works with Monitornerds to scrutinize the latest gear to create reviews that accentuate the seldom explained aspects of a PC monitor.