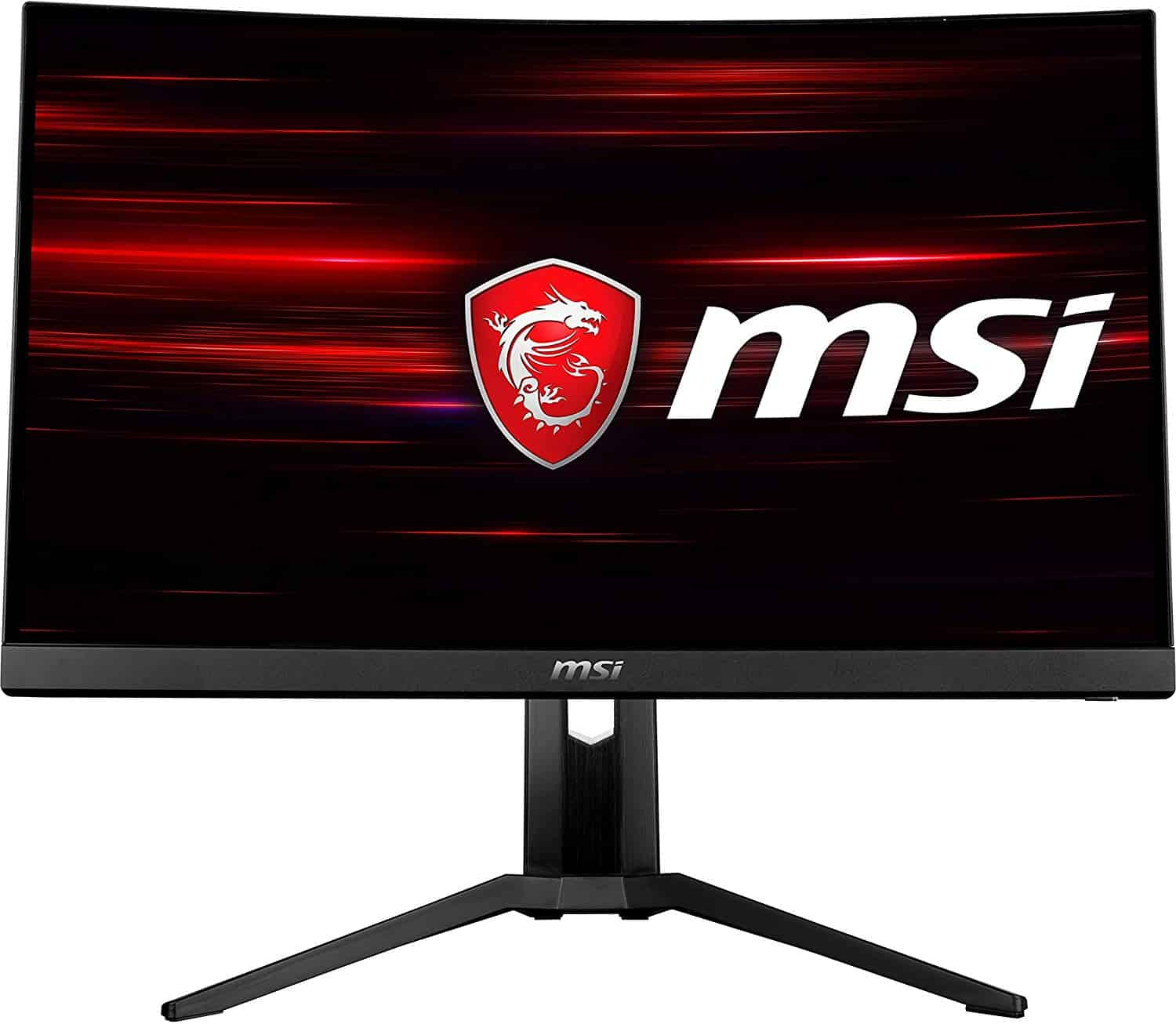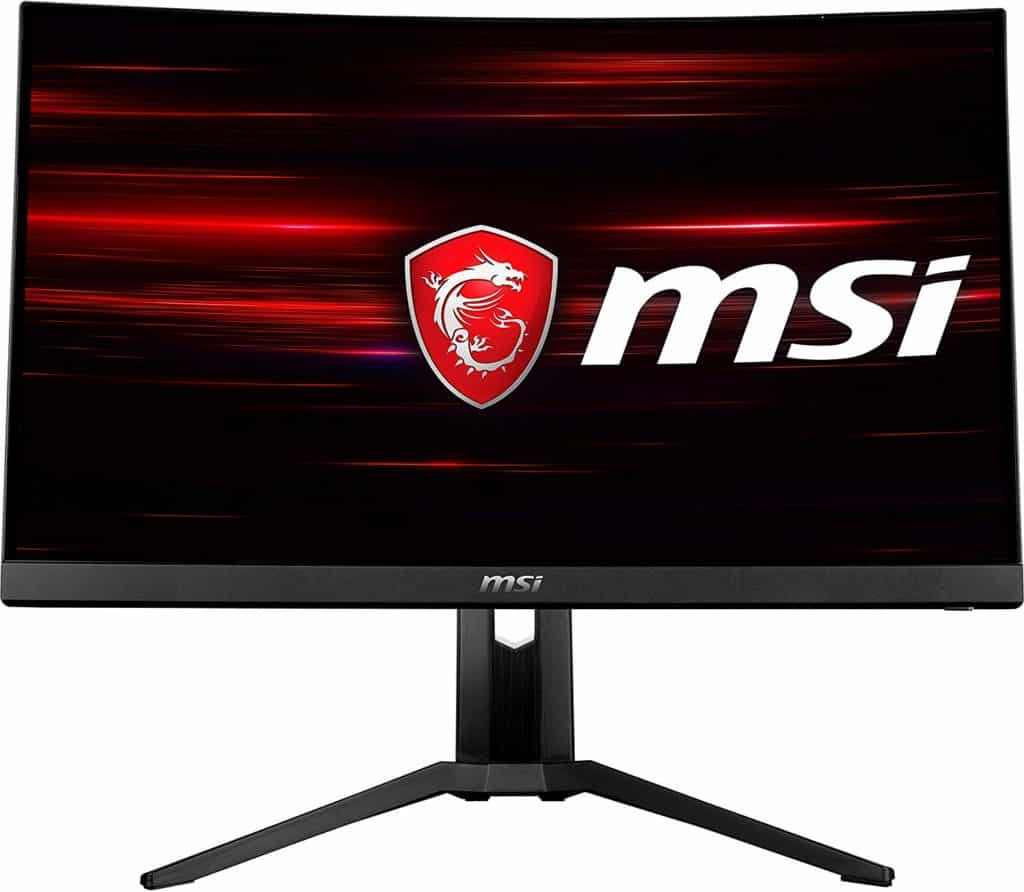 ---
Pros:
Excellent Color and Contrast
FreeSync and G-Sync-Compatible
Low Price
Cons:
Gamma needs Correction
MPRT mode Adds Latency
---
The MSI MAG271CQR is a reasonably-priced QHD gaming monitor with a curved VA screen that offers pumped-up colors and contrast for gorgeous eye-candy. This model offers a 144Hz refresh rate as a standard feature, along with FreeSync and G-Sync compatibility for buttery-smooth visuals. The MSI MAG271CQR sits in a highly competitive segment with many top-rated options, so let's check out if it's worth your hard-earned cash.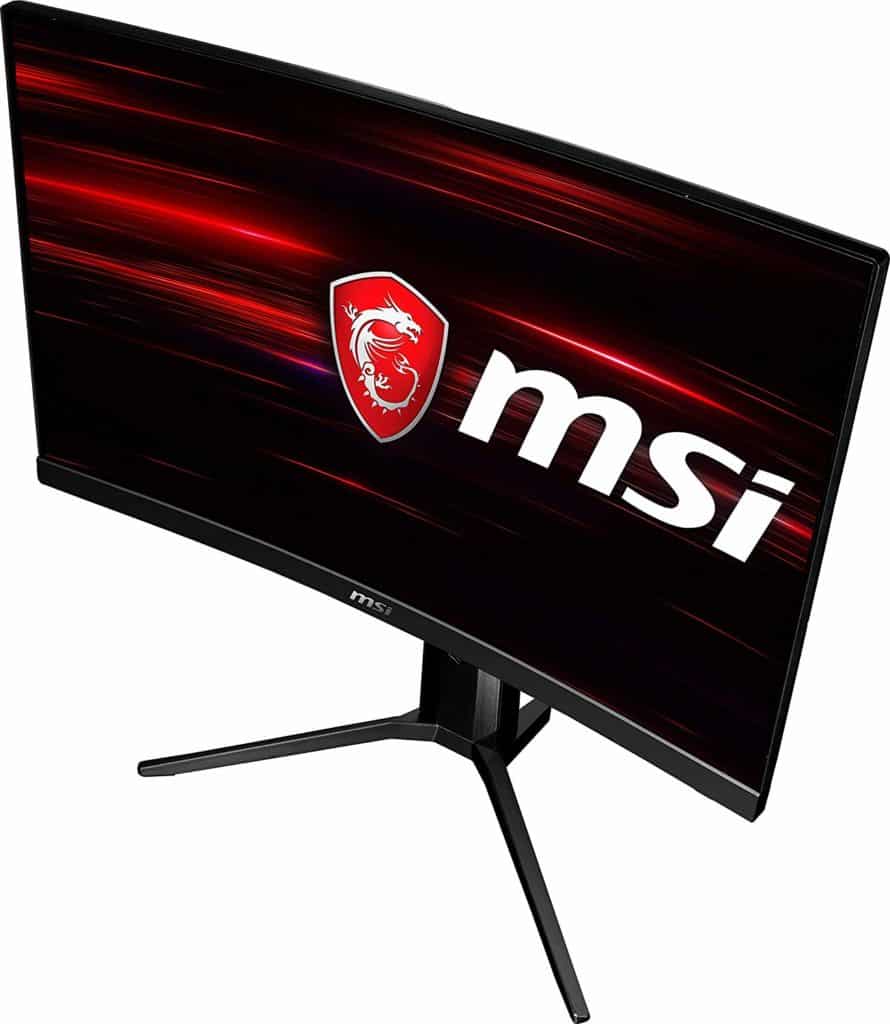 MSI MAG271CQR Specifications
Screen Size: 27 Inches
Resolution: 2560 x 1440 QHD
Aspect Ratio: 16:9
Panel Technology: Vertical Alignment (VA)
Refresh Rate: 144Hz
Response Time: 1ms(MPRT)
Contrast Ratio:3000:1
Brightness: 400 cd/m²
Built-in Speakers: No
Stand: Height – Yes
Stand: Tilt – Yes
Stand: Swivel – No
Stand: Pivot– No
VESA Compatibility: Yes (100 x 100)
Connectivity: DisplayPort 1.2×1,HDMI 2.0 x 2, USB 3.0 x 3, 3.5mm Headphone jack x 1
Dimensions (W x H x D): 24.1" x 22" x 10.5"
Weight: 17.64 lbs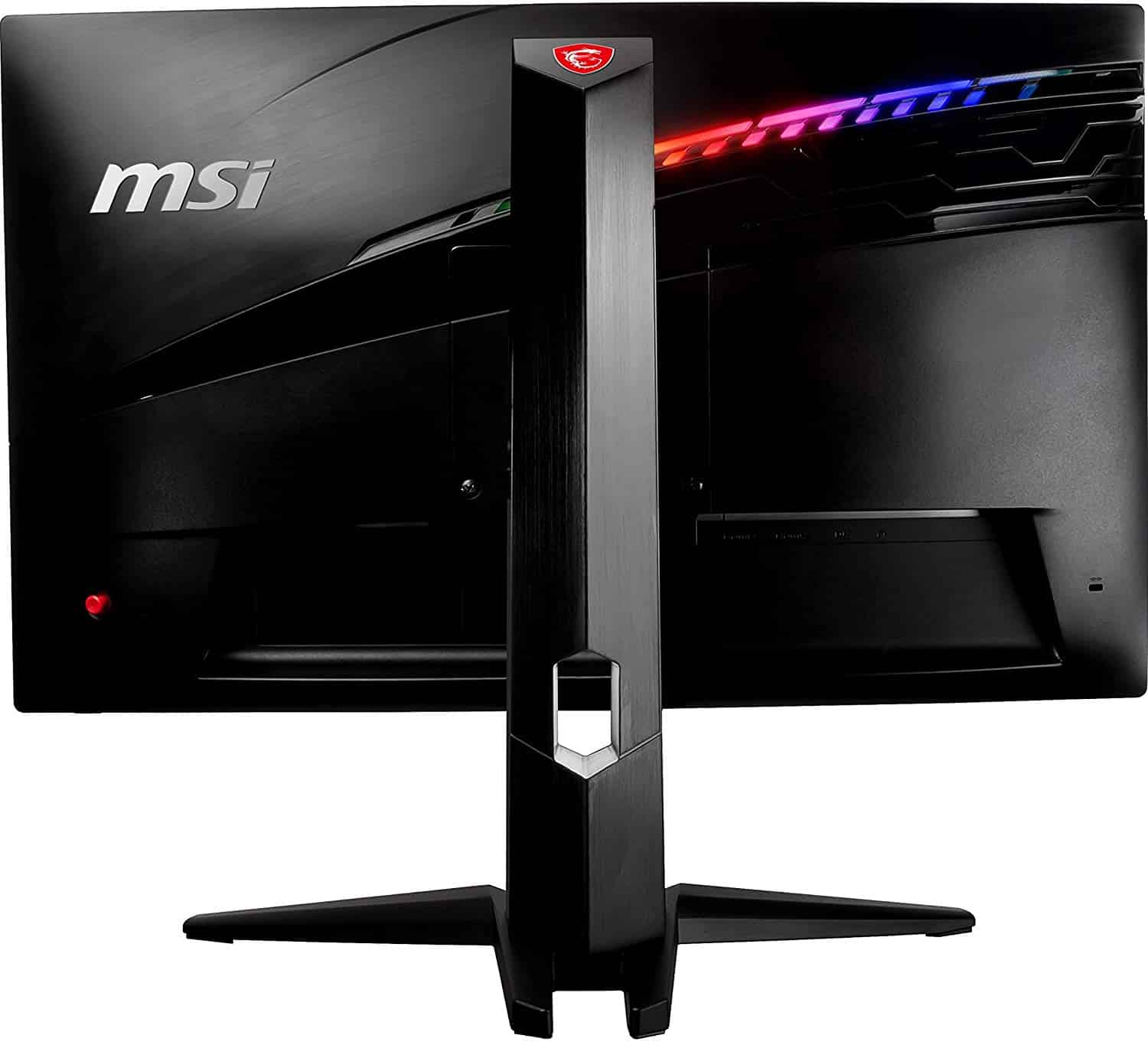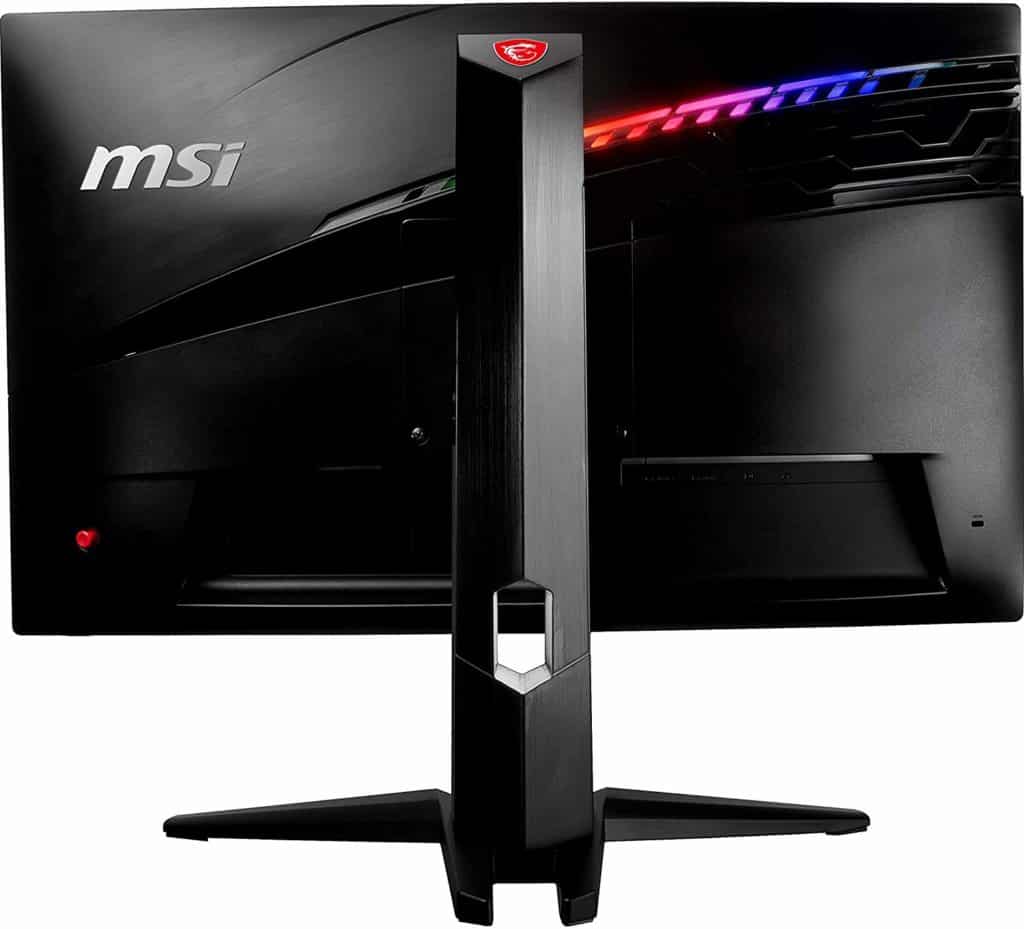 Design and Features
The MSI MAG271CQR sports the same design formula as its 1080p cousin which we think looks better than the brand's first releases. The monitor is finished in matte black with discrete branding accents on the stand and at the rear. The display area is bezel-free on three sides, so you won't get distracted by annoying pillars of plastic if you set this model up in doubles or triples.
This model includes lighting features, but it isn't the full setup which includes the GameSense-reactive strips at the front. LEDs are limited to the rear panel, and they can be controlled with MSI's Mystic Light app which offers several themes and granular color selections. The array at the rear isn't bright enough to be a full-on bias light, but the gentle glow it produces adds a nice touch to a themed setup.


The build quality for the MSI MAG271CQR is great thanks to plastic panels that feel thick and sturdy and a stand that offers excellent stability. We did not notice any uneven seams or blemishes on the monitor which would indicate poor manufacturing practices. The monitor also did not exhibit an audible electrical buzz while it was in use.
The MSI MAG271CQR is considerably heavier than similar-sized products, plus it takes up more space on a desk. You will need to give it ten and a half inches of depth clearance, and that might conflict with your keyboard if it has a wrist rest.
The stand on the MSI MAG271CQR isn't fully adjustable, but you can tilt the display or slide it up or down. We think the limitation is reasonable since you won't need to swivel a curved screen and its more or less unusable for portrait viewing. You only have to sit at the dead center so you can enjoy what the curved screen has to offer.
You can also swap out the stand with a 100 x 100 VESA mount if the limited ergonomics and the space-hungry base bothers you. You will find the bolt holes concealed behind the stand's attachment plate. You will need screwdrivers for this job, but it shouldn't take more than five minutes to finish the task.
Connectivity isn't an issue with the MSI MAG271CQR even if it falls into the budget to mid-range category as far as gaming monitors are concerned. The layout at the rear includes DisplayPort 1.2, dual HDMI 2.0 slots, and a trio of USB 3.0 connectors for your peripherals. We've seen better-equipped models in this regard, but there is little reason to ask for anything beyond this layout.
Display and Performance
The MSI MAG271CQR boasts a 27-inch curved VA panel with a 2560 x 1440 resolution, 144Hz refresh rate, and 1ms MPRT response time. The backlight goes up to 400 cd/m2, while the contrast ratio is rated at 3000:1. the 1800r makes the screen more immersive, but you need to sit closer to feel its benefits or go with a larger variant instead.
QHD fits perfectly in 27-inch monitors and creates a well-balanced pixel density that favors both sharpness and visibility. The screen will not look fuzzy in any way, and you won't need to use scaling to read text. It's also worth noting that high framerates are doable with 1440p monitors, making them instantly better for the masses than 4K.
The MSI MAG271CQR hits almost 120% of the sRGB gamut and around 89% of the DCI-P3 color space. Accuracy is a few notches shy of the ideal at DeltaE 2.6, but you can calibrate it to improve it to DeltaE 2.09. The screen looks vibrant and rich, making this model fantastic for immersive titles which will sit well with the curved screen.
The MSI MAG271CQR also reached a maximum contrast ratio of 2450:1 when set to 50% brightness which creates excellent black luminance and grayscale uniformity. The display looks good when viewed in the dark since dark scene does not look grayish. The only issue was the screen's gamma which did not budget from its 2.06 setting even when calibrated.
Uniformity for the MSI MAG271CQR test unit presented excellent results with no deviances reaching over 10%. Most of the variances were recorded near the corners, but they were not enough to affect color temperatures and contrast on the adjacent quadrants at a noticeable scale.
The is still prone to blurring, but there are two steps you can take to reduce the ghosting and trailing issues on the display. Your first response is to set the monitor's overdrive to its Fast setting which cleans up the trails without inducing overshoot, unlike the max level. You can also opt for the Anti Motion Blur setting which activates the MPRT or backlight strobing capability of the monitor, but it adds a bit of latency.
The MSI MAG271CQR is a FreeSync gaming monitor, but it also works with G-Sync even if it's not certified. You have to activate the latter manually, but there were no issues experienced during gameplay. Input lag sits at around 5ms at 144Hz, making this model one of the fastest in its category.
Thoughts on the MSI MAG271CQR
The MSI MAG271CQR is a well-designed and competitively-priced QHD gaming monitor that offers fantastic color and gaming performance. There are a few limitations such as the immovable gamma, but the wide gamut coverage and the excellent contrast more than makes up for it. It's also fantastic that you can use both FreeSync and G-Sync, so both sides of the GPU race can enjoy buttery-smooth visuals.
The MSI MAG271CQR comes highly recommended if you want a gaming display that balances between competitive and immersive gaming. We feel that curved screens and their benefits are more appreciable at larger sizes, but this model will still get the job done.