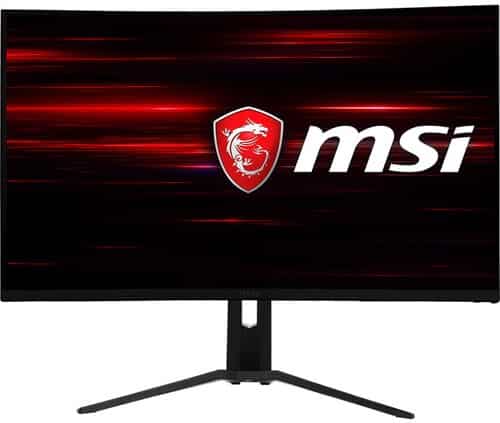 The MSI MAG322CQR offers a proven display formula in a larger and curved format that makes it attractive for immersive gaming. This model uses VA technology like many of the brand's offerings, so a high bump in contrast and vibrancy can be expected. The MSI MAG322CQR has a reasonable price point, but let's check out if it's worth your hard-earned cash.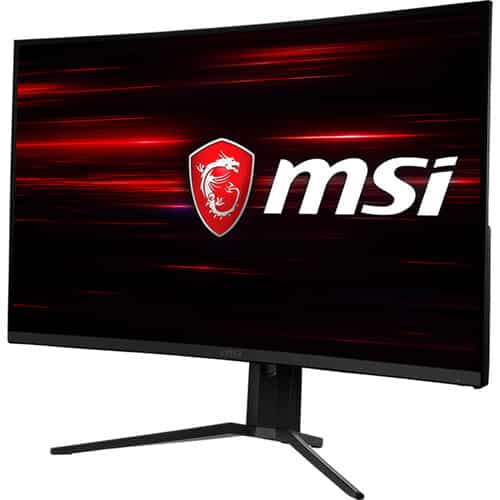 MSI MAG322CQR Specifications
Screen Size: 32 Inches
Resolution: 2560 x 1440 WQHD
Aspect Ratio: 16:9
Panel Technology: Vertical Alignment (VA)
Refresh Rate: 165Hz
Response Time: 1ms MPRT
Contrast Ratio: 3000:1
Brightness: 300 cd/m²
Built-in Speakers: No
Stand: Height – Yes
Stand: Tilt – Yes
Stand: Swivel – No
Stand: Pivot – No
VESA Compatibility: Yes 100 x 100
Connectivity: DisplayPort 1.2 x 1, HDMI 2.0 x 2, USB 2.0 x 2, 3.5mm x 1
Dimensions with Stand (WxHxD): 28.0″ x 20.2″ x 10.5″
Weight: 15.43 lbs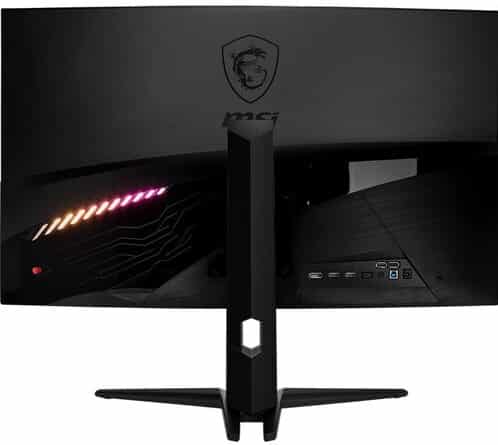 Design and Features
The MSI MAG322CQR is almost identical to the brand's newer models like the MAG273R except it's bigger and curved. The monitor is finished almost entirely in matte black, but there is a glossy strip with RGB lighting splashed on the rear shell of the chassis. This model is bezel-free on three sides, but panel borders can still become visible when it is in use.
This model is considerably bigger than typical gaming monitors, but it isn't as heavy as it seems at 15 and a half pounds. You do need to account for the space it will require on your desk, but its base has thin legs and it only requires 10.5 inches unlike other monitors at this size. Wall-mounting isn't recommended since it's curved since the sides will stick out and look distracting for the neat freaks.

Build quality is excellent for the MSI MAG322CQR and you can tell that the brand has matured if you've handled their models since day one. The plastics are thicker and noticeably stronger while the monitor looks refined since there are no cosmetic defects. The included stand doesn't wobble so it won't get dizzying if you are trying to access its settings or after an accidental tap.
The MSI MAG322CQR has RGB LEDs at the rear panel which casts a gentle glow that you can appreciate at night. It is not bright enough to cast a bias light for the screen, but at least you can set the monitor to match your theme. Our only complaint about it is it's stacked to one side, so the resulting effect looks awkward
It's great that the MSI MAG322CQR includes an OSD joystick which makes it easier for the user to adjust a setting or access a feature. You can't see it, but it is located at the bottom corner on the rear so it is easy to reach. It's also the power button, but it's not that easy to mistakenly power down the screen since the menus are laid out quite well.
The included stand with the MSI MAG322CQR only offers tilt and height adjustments, but you won't need swivel and pivot since it's a curved screen. You can get the most out of monitors like this when sitting at the exact center, plus it is not ideal for use in portrait mode. You can opt for a VESA mount instead, but there is little reason to spend the extra on it unless you have multiple screens.
The layout of the MSI MAG322CQR is great since it is identical to what the MSI MAG251RX offers. You get DisplayPort 1.2 and two HDMI 2.0 slots which can handle a gaming PC and up to two consoles. You also get a USB-C slot that supports DP Alt mode and two USB 2.0 ports for accessories.
The MSI MAG322CQR doesn't have speakers, but that's okay since gamers will opt for headsets which are better for immersive and competitive gaming anyway. Built-ins would have enhanced the value of the monitor, but we understand that it might be one of the things that were omitted to help keep the price reasonable.
Display and Performance
The MSI MAG322CQR boasts a 32-inch curved VA panel with a 2560 x 1440 resolution, a 165Hz refresh rate, and a 1ms MPRT response time. The backlight is rated at 300 cd/m2 while the contrast ratio is listed at 3000:1 like most VA panels. This model has a 1500R curvature which is more pronounced than other models, and its benefits are better felt and more appreciable at this size.
The MSI MAG322CQR's pixel density is a bit looser at this size and it's almost comparable to a 24-inch 1080p screen. However, you have to remember that 1440p has more pixels than 1080p, so you will notice an upgrade in sharpness and details in games. Productivity will not be a struggle as well because you don't have to squint to read walls of text plus you get more space to work with.
The MSI MAG322CQR's VA panel is able to produce around 110% sRGB and 94% DCI-P3 which is close to the company's claims. It is also capable of great color accuracy since the default setting's deltaE average is only at 1.51. Most users won't need to calibrate this monitor except for a few minor tweaks such as the brightness level of the backlight.
Calibrating the MSI MAG322CQR produced an impressively low dE average of 0.71 which is already usable for color-critical work. Applying it will also help with the gamma which is slightly off while using the default settings. However, we don't think it's necessary to spend the extra cash on a colorimeter since the default profile will look great for games and media.
The MSI MAG322CQR can reach as much as 330 cd/m2 which is already too bright for extended use. its contrast ratio hovered around 2600:1 at 60% brightness which results in deep blacks and excellent saturation for the screen. You might see some black crush from time to time in select instances, but that's normal for a screen with this kind of contrast ratio.
The MSI MAG322CQR's panel uniformity is acceptable since there are no considerable or visible deviations on the screen. the lower quadrants have a bit of variance from the center of the backlight, but it's only noticeable in extreme instances such as all-black images. Take note that this aspect varies between every unit due to tolerances, so there are better or worse specimens out there.
Pixel response time for the MSI MAG322CQR is great as far as VA panels are concerned since blurring and ghosting are minimal at best. The monitor's overdrive does a decent job at reducing persistence, but be wary of using its maximum level since it can induce overshoot. You can also go with the monitor's backlight strobing feature, but it's our least favorite solution since it dims the backlight considerably.
The MSI MAG322CQR is a FreeSync gaming monitor, but it works with Nvidia's G-Sync Compatible mode. This duality is great for gamers since you aren't stuck with one GPU brand if you want to enjoy VRR and its benefits. Input lag sits at 9ms which isn't the fastest, but you'd be hard-pressed to know the difference even if you compare it to a faster model.
Thoughts on the MSI MAG322CQR
The MSI MAG322CQR is an excellent choice if you want an immersive 16:9 screen that won't hurt your finances. It's a great pair for the latest AMD big Navi cards or Nvidia's Ampere options since they can more or less maximize the refresh rate at maximum graphics settings. The VA panel's results are excellent and there is no need to calibrate it to get good image quality.
It is also fantastic that MSI has come very far when it comes to design and build quality since most of their monitor offerings are now more durable and easier on the eyes. The USB-C connector is a surprising feature for a gaming display, but we're glad that the option is available for those who also plan to use it for productivity with laptops like the MacBook Pro. The MSI MAG322CQR is an excellent buy for gaming or work-related use and we highly recommend it if you are looking for a 1440p screen.
Pros:
Reasonable Price
Excellent Image Quality (Default and Calibrated)
USB-C Connectivity with DP Alt Mode
FreeSync/G-Sync Compatible
Cons:
Stand Only Offers Tilt and Height Adjustments
RGB Lighting Awkwardly Stacked to One Side
Lower PPI than 27-Inch Variants
About the Author: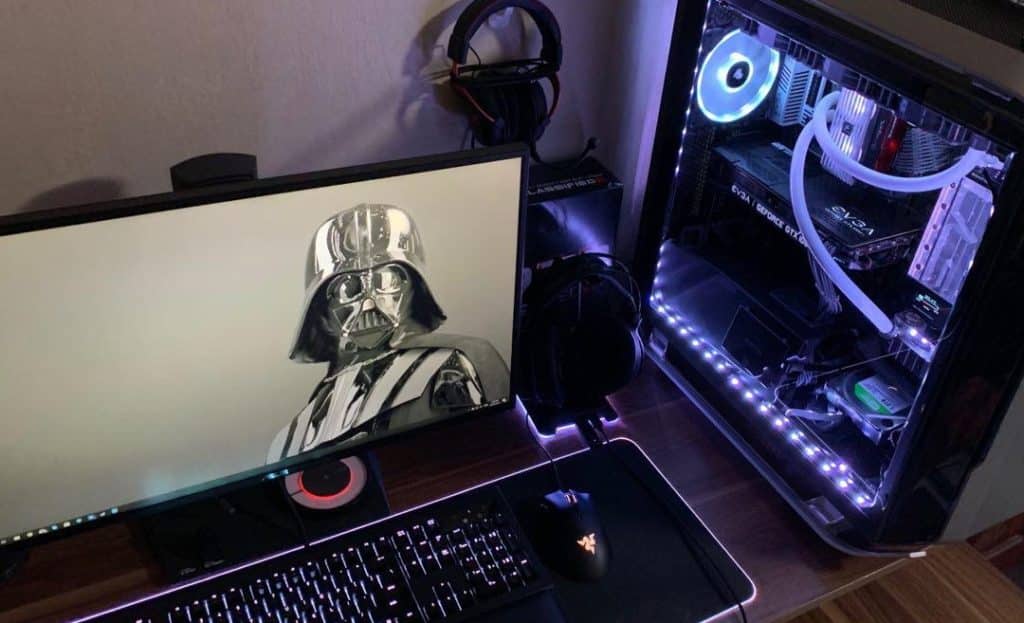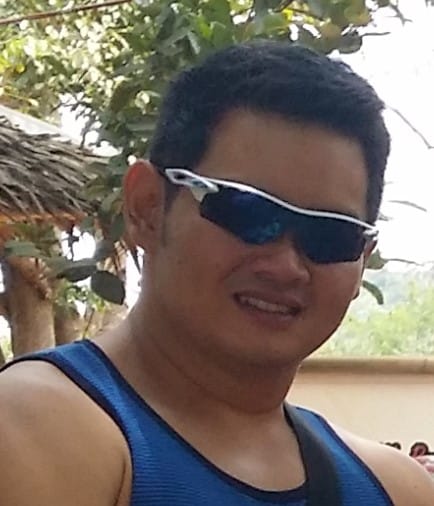 Paolo is a gaming veteran since the golden days of Doom and Warcraft and has been building gaming systems for family, friends, and colleagues since his junior high years. High-performance monitors are one of his fixations and he believes that it's every citizen's right to enjoy one. He has gone through several pieces of hardware in pursuit of every bit of performance gain, much to the dismay of his wallet. He now works with Monitornerds to scrutinize the latest gear to create reviews that accentuate the seldom explained aspects of a PC monitor.