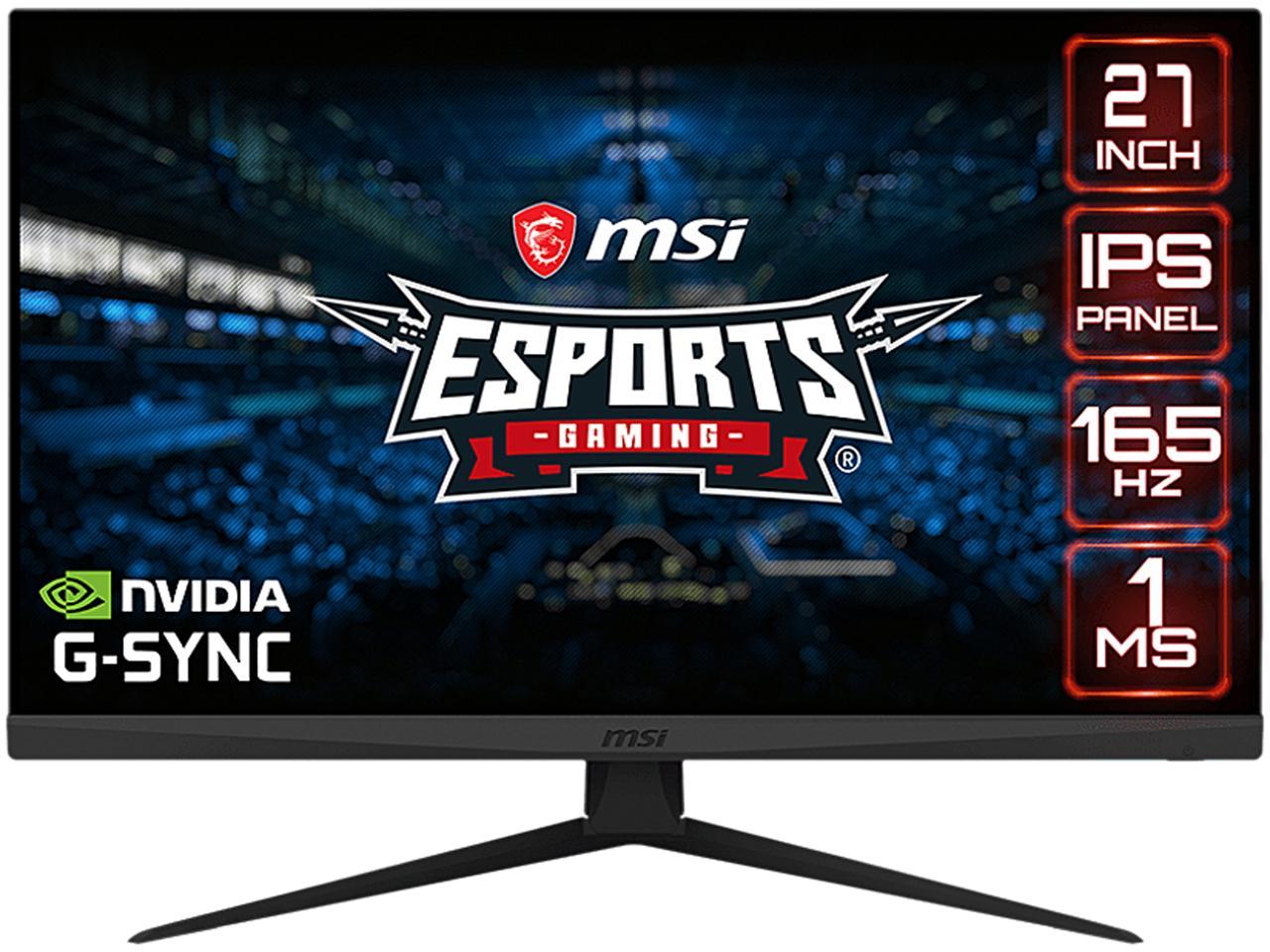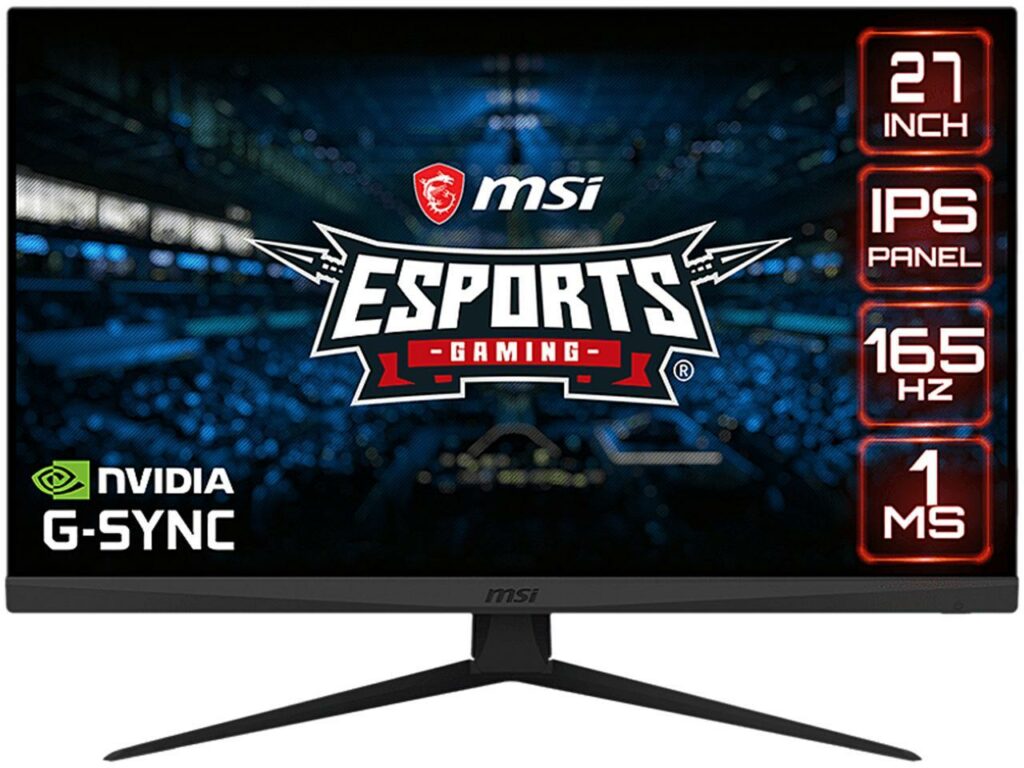 The MSI Optix G273 is an affordable option for gamers who want improved gaming performance more than a sharp, high-resolution screen. its main upgrade is its use of IPS which has some advantages over the VA panels used by its predecessors such as the G27C6. Let's see if the MSI Optix G273 is a good option for gaming or if you should consider a higher-tiered alternative.

MSI Optix G273 Specifications
Screen Size: 27 Inches
Resolution:1920 x 1080 FHD
Aspect Ratio: 16:9
Panel Technology: In-Plane Switching (IPS)
Refresh Rate: 165Hz
Response Time: 1ms MPRT
Contrast Ratio: 1000:1 (Static)
Brightness: 300 cd/m²
Speakers: No
Stand: Height -No
Stand: Tilt – Yes
Stand: Swivel – No
Stand: Pivot – No
VESA Compatibility: Yes (100 x 100)
Connectivity: HDMI 1.4b x 2, DisplayPort 1.2a x 1, 3.5mm Jack x 1
Dimensions (W x H x D): 24.21" x 17.5" x 8.99"
Weight: 9.92 lbs

Design and Features
The MSI Optix G273 has a simpler overall aesthetic, but the elements that identify its Optix branding are still there. The monitor has a matte black finish with a glossy strip at the back, but there are no RGB LEDs behind it. The display is bezel-free on three sides to make the screen look bigger and to lessen the distractions.
This model isn't the largest you'll see now, but it's still 2 feet wide so those who live in tight spaces with small desks might find it too big. its 9 inches of depth isn't much, but that's more than what most tilt-limited monitors require from your desk. The best thing about it is its weight which only totals 9.92 pounds.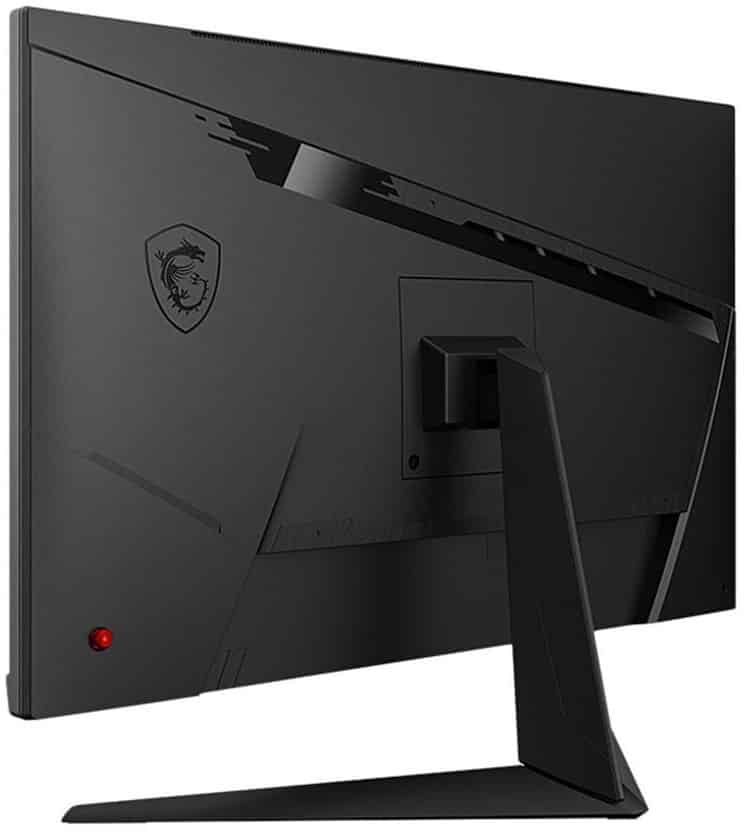 It's a budget model, but its build quality is still quite decent compared to other alternatives who also shaved bits and pieces to lower the price. The plastic panels are strong and molded perfectly, so there are no gaps or flexing. The included stand provides great stability thanks to the wide reach and depth of its base.
We also like that the MSI Optix G273 has an OSD joystick to ease the burden of tweaking the monitor to suit your preferences. It's located at the back near the right-hand bottom corner so you only need maximum effort to reach it. Not a lot of brands do this for their budget displays, but we think it is an underrated upgrade that they could do for consumers.
The stand included only offers tilt so setting a preferable orientation can be tricky. Taller users will need to stack it on top of a few books, while those who use monitors at an offset angle might suffer from neck and eye strain. You can use VESA mounts, but that's an additional cost that may bring your total closer to a better-equipped model.
The MSI Optix G273's connectivity layout also got a few things omitted to help with lowering its price point. You only get DisplayPort 1.2, two HDMI 1.4 slots, and a 3.5mm jack at the back of the chassis. That's fine in most cases since you have extras for other devices like gaming consoles. This model also doesn't have speakers, but that's okay since its main purpose will be better served by immersive headsets that will help you focus.
Display and Performance
The MSI Optix G273 sports a 27-inch IPS panel with a 1920 x 1080 resolution, a 165Hz refresh rate, and a 1ms response time. the backlight has a 300 cd/m2 output while the contrast ratio is listed at 1000:1 like most IPS panels. This model doesn't have special features like HDR since it was intended to be an essential solution for games where high resolutions can be a hindrance, such as competitive shooters.
1080p monitors are great for all-around use since most of us are already accustomed to using them. It is easy to read on them and process documents, plus it is easy to run games at high framerates even if you have an entry-level system. It doesn't offer more space to work with or extra sharpness, but it will get the job done.
The MSI Optix G273 renders 99% of the sRGB gamut and around 85% of Adobe RGB so colors are rich and vibrant. Its default accuracy isn't great since the deltaE average is at 2.97, but that's still within acceptable limits for gaming. Most users only need a few tweaks before gaming, so calibration won't be necessary.
On the other hand, using a colorimeter can help you lower that dE average to 0.66 which is a score you would see on a prosumer variant. However, you need to spend an extra $200 or so, and it's not practical considering this monitor's price range. We can only recommend it if you are into color-critical work, but you should also have a better monitor for that kind of work in the first place.
The monitor's backlight reached 291 cd/m2 so it can still fight off a decent amount of glare in well-lit rooms. Its contrast is quite impressive since it reached 1287:1 at 60% brightness, and that's higher than what most IPS panels offer. However, its still unable to produce deep blacks like its VA counterparts, but that's an acceptable limitation of IPS technology.
Its panel uniformity had some minor issues due to some backlight bleeding at the top and bottom edges of the screen. They show up as very light clouding in dark scenes, but you have to pay attention to the affected areas to notice them. Note that the IPS lottery concept applies here, so it is entirely possible to get a unit with a better panel.
The MSI Optix G273 is fast enough to be used for competitive gaming which is its primary purpose. It's not perfectly blur-free, so you will still see a bit of persistence in some instances even with modest levels of its overdrive feature. However, we don't recommend using the maximum level since it will induce visible overshoot in fast transitions.
The MSI Optix G273 is compatible with both FreeSync and G-Sync so you don't have to worry about tearing and stuttering. Dual compatibility is essential now since GPUs are quite expensive and difficult to get. Input lag sits at 4ms at 165Hz, so there is no need to worry about delays or a sluggish feel while gaming.
Thoughts on the MSI Optix G273
The MSI Optix G273 is a decent choice if you want a fast gaming monitor for competitive and casual play without overspending. Its IPS panel has superb colors and it has all the essential gaming features, so you won't be disappointed with it. It is also well-built for a budget display, unlike so many affordable gaming monitors that came before it.
However, some of its limitations such as the lack of a fully-adjustable stand or the average response time performance might be deal-breakers for some. It is understandable because of the low price, but better-equipped models like the AOC 27G2 aren't that much more expensive. The MSI Optix G273 is a great buy, but you have to consider its limitations first since you will live with them for as long as you are using it.
Pros:
Excellent Calibrated Accuracy
FreeSync/G-Sync Compatible
Affordable
Cons:
Tilt-Limited Stand
Insufficient Contrast
About the Author: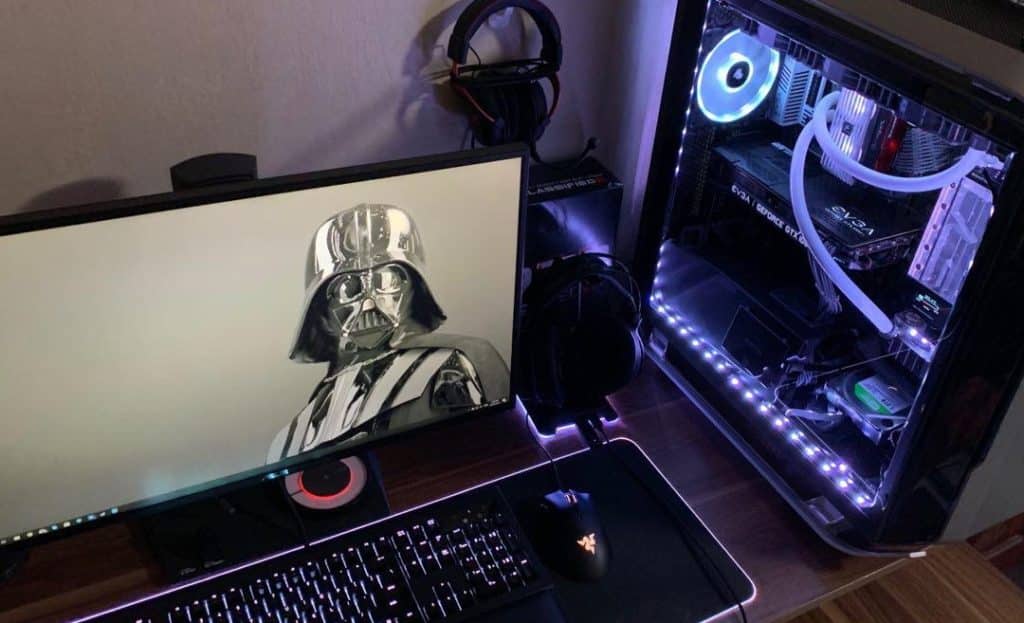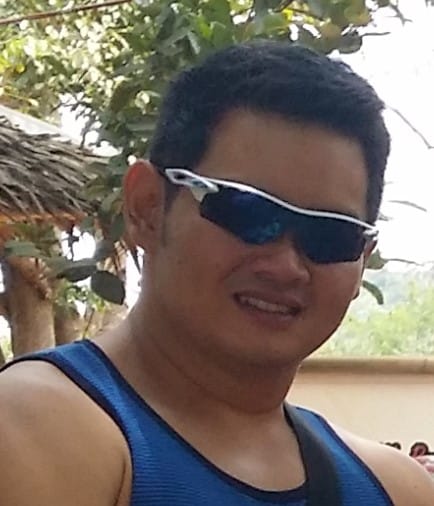 Paolo is a gaming veteran since the golden days of Doom and Warcraft and has been building gaming systems for family, friends, and colleagues since junior high. High-performance monitors are one of his fixations and he believes that it's every citizen's right to enjoy one. He has gone through several pieces of hardware in pursuit of every bit of performance gain, much to the dismay of his wallet. He now works with Monitornerds to scrutinize the latest gear to create reviews that accentuate the seldom explained aspects of a PC monitor.