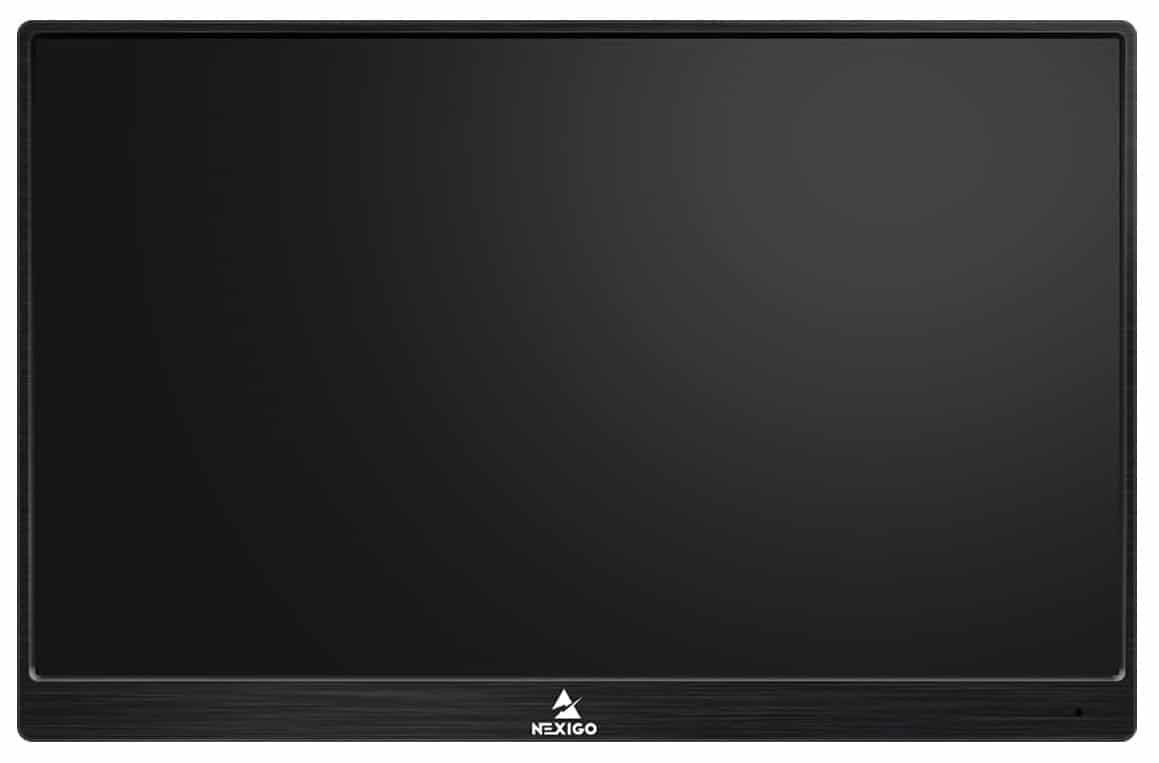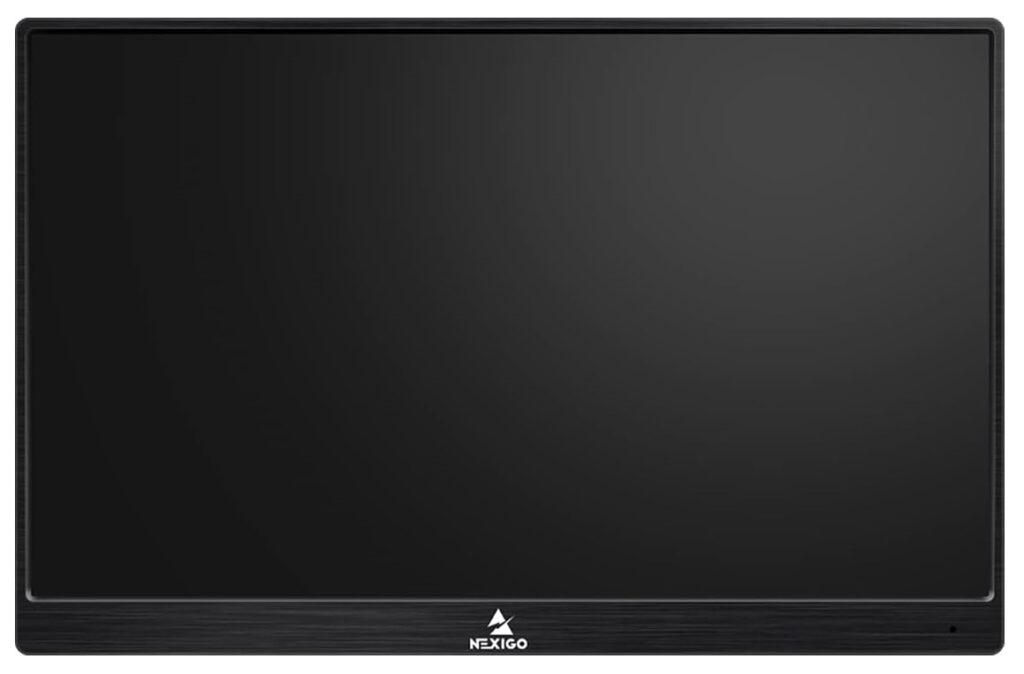 The Nexigo NG17FGQ offers a larger 17-3 inch screen that goes up to a blazing 300Hz using the right type of USB-C slot. It is one of the few that can match the speeds of a desktop monitor, so it's a must-have for enthusiasts on the go just like the Asus XG17AHP. Let's check the Nexigo NG17FGQ out to see if it's an ideal upgrade for gamers who always hit the road.
Nexigo NG17FGQ Specifications
Screen Size: 17.3 Inches
Resolution:1920 x 1080 FHD
Aspect Ratio: 16:9
Panel Technology: In-Plane Switching (IPS)
Refresh Rate: 240Hz (HDMI) 300Hz Max (USB-C)
Response Time: 3ms
Contrast Ratio: 1000:1
Brightness: 300 cd/m²
Built-in Speakers: Yes
Stand: Height – No
Stand: Tilt – Yes
Stand: Swivel – No
Stand: Pivot – No
VESA Compatibility: No
Connectivity: USB-C x 2, HDMI x 1, 3.5mm x 1
Dimensions With Stand(WxHxD): 15.5 x 9.9
Weight: 2.1 lbs

Design and Features
The Nexigo NG17FGQ sports a simple design that you would expect to see on something that was for business. It has a black chassis with a brushed steel texture so it looks elegant compared to most gaming variants. The display isn't bezel-free, but the top and side edges have thinner borders which are barely noticeable while playing games.
This model has a larger 17.3 screen, but is still small enough to fit into laptop backpacks or messenger bags. It almost weighs next to nothing at 2.1 pounds so users will barely feel the added weight while carrying it with a gaming laptop. Its size only becomes an issue if you have a smaller laptop and a bag or case that matches its size.
It may seem plasticky with its lightweight, but its build quality is actually quite good even if it doesn't come from a premium brand. The plastic panels are molded perfectly so they match well, and there were no cosmetic defects of any kind. The device feels sturdy so it won't bend or crack easily unless you apply a decent amount of force.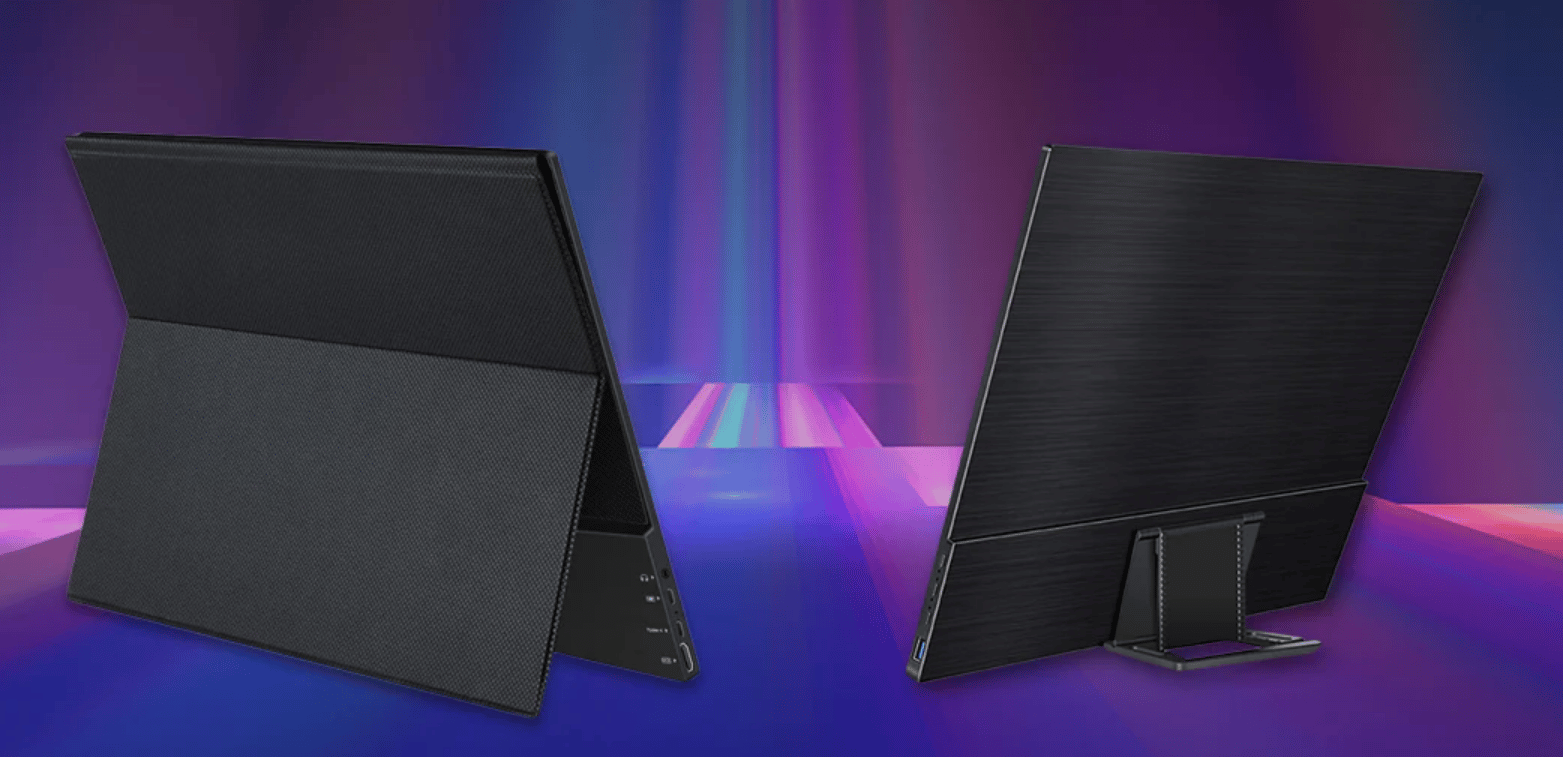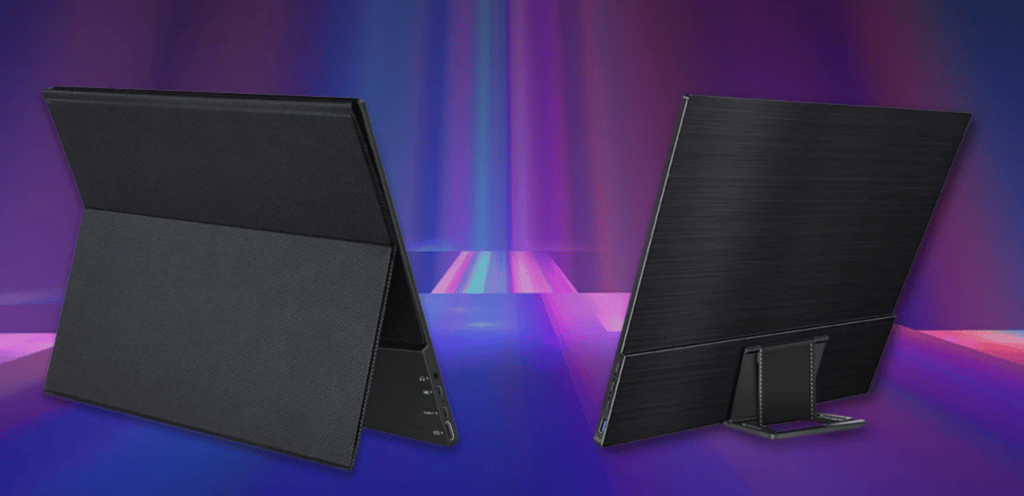 The Nexigo NG17FGQ has two arrangements that act as stand to prop it up wherever and whenever. You get a magnetic flip cover that doubles as protection for the screen, but there is also an adjustable stand that allows you to arrange it in portrait or landscape mode. We honestly prefer the latter since it's more stable even if it is smaller.
You get OSD buttons with this model, but they are clunky so it is difficult to access each and every setting. Thankfully, the package includes a remote which is more functional and easier to use versus the built-in option. However, it's kind of awkward to bring it out of your bag in public just to adjust something on a portable display.
The Nexigo NG17FGQ's connectivity layout includes two USB-C slots, an HDMI port, and a 3.5mm jack for headphones. Its 300Hz maximum refresh rate is only attainable if you connect the monitor to a full bandwidth USB-C slot from your laptop. The monitor will be limited to 240Hz otherwise, just like the HDMI slot.
There is also a USB-A port on the other side for charging devices when the monitor is plugged into a power source. Note that this monitor doesn't have a built-in battery so it will draw power from your laptop unless it is plugged into a wall adapter. High-refresh portable monitors are power hogs, and this is where a battery pack will come in handy.
The Nexigo NG17FGQ has a pair of built-in speakers with unspecified wattage to round up the monitor. They are a bit more powerful than most built-ins we encountered on portable displays, but we still wouldn't use them for gaming. Extras like this add a nice touch even if they aren't ideal for gaming or entertainment since you will still be able to use them at some point.
Display and Performance
The Nexigo NG17FGQ sports a 17.3-inch IPS panel with a 1920 x 1080 resolution, a 300Hz maximum refresh rate, and a 3ms response time. The backlight has a 300 cd/m2 output while the contrast ratio is listed at 1000:1 like most IPS panels. This model doesn't advertise VESA HDR certification, but it is compatible with HDR10 signals.
1080p looks crisper on screens like this since the pixel density is higher just like it is on laptops. That's why 1080p variants still sell like hotcakes since images are clear and highly visible, plus they are not as expensive as 1440p or 4K models. It's also going to be easier to reach that 300Hz limit at 1920 x 1080, making high performance more accessible.
The Nexigo NG17FGQ rendered more than 100% sRGB and around 77% DCI-P3 so it beats most portable monitors in this metric. Its default accuracy isn't perfect with a deltaE average of 2.97, but that's fine for a gaming display. Most users won't need to calibrate this monitor so it is ready for gaming right away.
Trying to tweak the monitor and its limited user control settings reduced that dE average to 2.33 which is a bit better. However, it's a very minor improvement so it's not worth the trouble, let alone make you feel the need to spend on a colorimeter. This monitor is great for everything except for editing and color-critical work.
The Nexigo NG17FGQ's backlight reached 281 cd/m2 at 100% which is decent, but it might not be enough for outdoor use. Its contrast reached 1366:1 at 80% brightness so it's a bit more decent when it comes to grayscale and black luminance. However, the monitor might struggle if you play in a spot without complete shade or cover.
Panel uniformity for the Nexigo NG17FGQ sample was decent even though there was a bit of IPS glow on the monitor's edge. The flaws only become noticeable if you are viewing the monitor in the dark, but its minor compared to what we've seen on other IPS monitors. Note that this can vary between every unit made due to tolerances, so you can get a better one if you are lucky.
The Nexigo NG17FGQ's strength is its pixel response time which barely shows any blurring or ghosting. Both its 240Hz and 300Hz modes work great for fast paced games since you won't be distracted by smudges or trailing. This portable monitor doesn't have an overdrive feature, but that's okay since it is not needed anyway.
The Nexigo NG17FGQ is compatible with FreeSync, but it is not officially G-Sync compatible and it doesn't become available as an option when it is connected to an Nvidia card. However, it seems like it works if you force it since the monitor doesn't show any tearing or any kind of stuttering. Input lag sits at 3ms at 300Hz, making this model one of the fastest portable displays on the market.
Thoughts on the Nexigo NG17FGQ
The Nexigo NG17FGQ is a fantastic option for portable gaming judging from its imaging performance alone. It's got full sRGB coverage and it's lightning fast so it is one of the best portable monitors you can buy for hardcore gaming. It's also built well even if it comes from a relatively new player in the gaming display market.
However, it has a few quirks that you might need to deal with like its tricky 240Hz limitation if your laptop's USB-C slot isn't up to spec. It's also more expensive than a regular portable display, but that's reasonable since it uses a more specialized panel. The Nexigo NG17FGQ is a great buy for hardcore enthusiasts who travel a lot.
Pros:
Fast and Blur-Free
Full sRGB Coverage
Great Contrast for IPS
Adaptive Sync Works
Cons:
Pricey
Default dE Average High
Needs Potent Hardware to Run 300Hz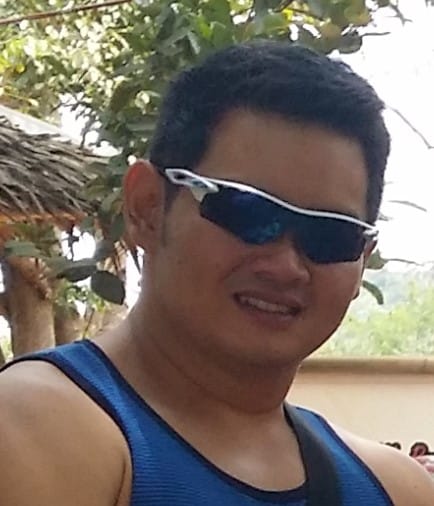 Paolo is a gaming veteran from the golden days of Doom and Warcraft. Since junior high, he has been building gaming systems for family, friends, and colleagues. High-performance monitors are one of his fixations; he believes that every citizen's right to enjoy one. He has gone through several pieces of hardware in pursuit of every bit of performance gain, much to the dismay of his wallet. He has also spent half a decade researching, reviewing, and writing about these products and now has over 1400 articles about the best gaming tech under his belt.