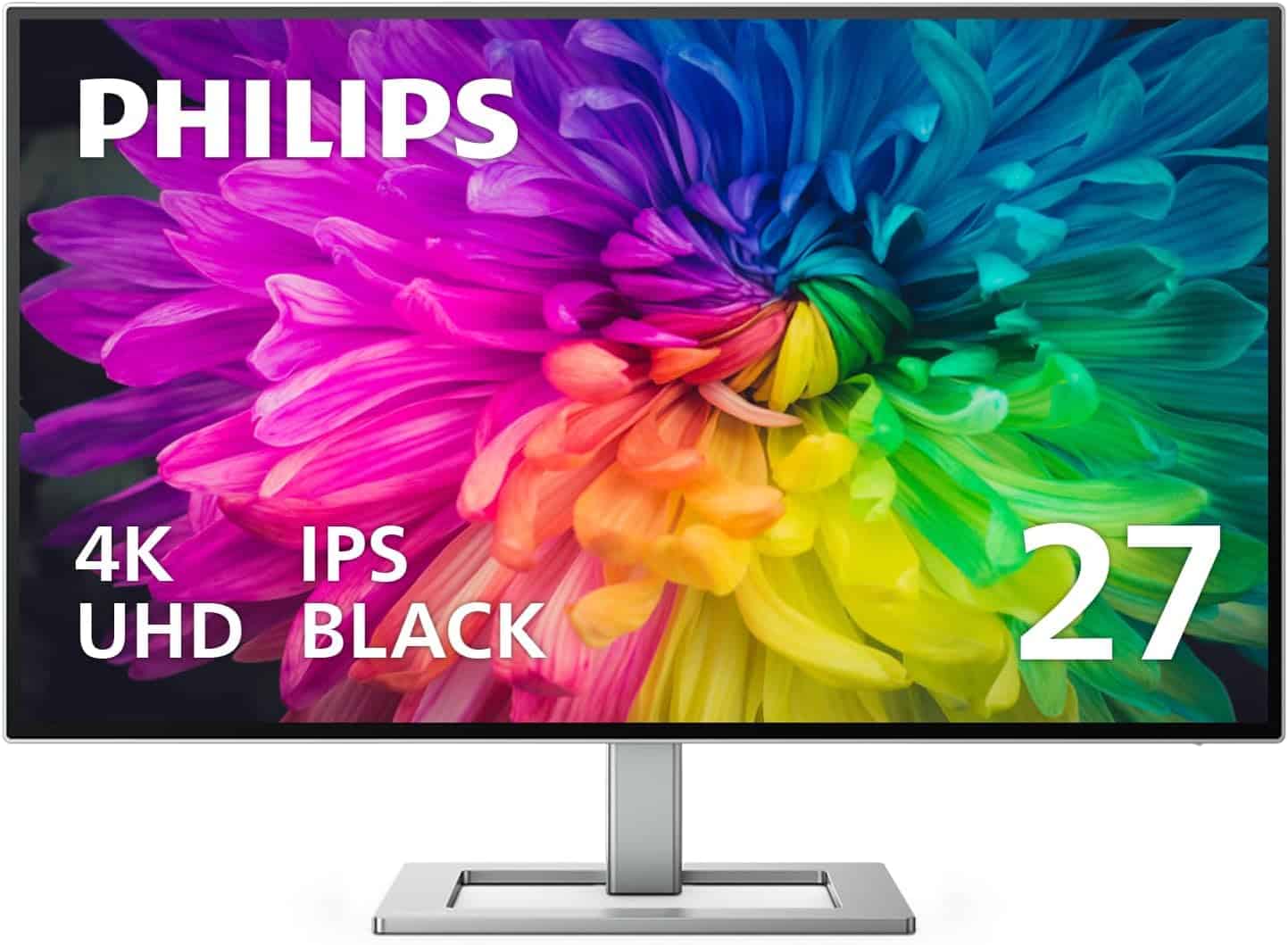 The Philips 27E2F7901 is currently the cheapest IPS Black-equipped monitor we've seen on the prosumer market. It is designed to stand out feature and aesthetic-wise, but it's also priced like a mid-tier option versus Dell's U2723QE. Let's take a closer look to see if your dollar goes further with this value-oriented option.

Philips 27E2F7901 Specifications
Screen Size: 27 Inches
Resolution:3840 x 2160 4K UHD
Aspect Ratio: 16:9
Panel Technology: In-Plane Switching (IPS Black)
Refresh Rate: 60Hz
Response Time: 8ms
Contrast Ratio: 2000:1 (Static)
Brightness: 400 cd/m²
Built-in Speakers: None
Stand: Height – Yes
Stand: Tilt – Yes
Stand: Swivel – Yes
Stand: Pivot – Yes
VESA Compatibility: Yes 100 x 100
Connectivity: DisplayPort 1.4 x 1, DP 1.4 Out x 1, HDMI 2.0 x 1, USB-C PD96W x 1, USB-C Upstream x 1, USB-C Downstream PD15W x 1, USB 3.2 x 5, USB-B Upstream x 1, 3.5mm Audio Jack
Dimensions with Stand(WxHxD): 24.2" x 22.4" x 7.9″
Weight: 11.9 lbs

Design and Features
The Philips 27E2F7901 looks different and more attractive than your regular office monitor. It has a silver finish all over, so it looks more like it would fit nicely with high-end workstations like the Apple Mac Pro. The screen doesn't have bezels, but it still has minimal panel borders if you look closely enough.
It's a 27-inch monitor, so we can't say it's gigantic if we compare it to today's standards. The monitor only needs 7.9 inches of depth, so users with smaller desks won't mind too much regarding spacing. The monitor is also lightweight at 11.9 pounds, so it is easy to move it around if you want to rearrange your setup.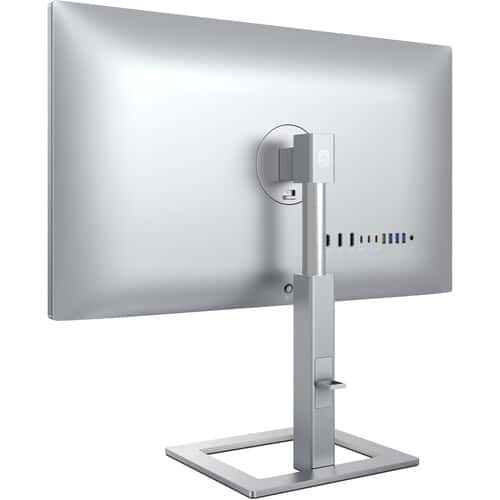 Its build quality is great, although its lightweight and plasticky exterior might make you think that it is cheap. The panels don't have signs of weakness or cosmetic defects like uneven gaps or seams. The included stand is firm and stable, so the screen won't sag or shake during normal use.
It has a joystick at the back on the center of the monitor's bottom edge. It is not visible, but it's easier to reach from the front compared to the usual location near the right side edge of the monitor. Some models have software implementations, but that's not necessary in most instances.
The included stand offers tilt, swivel, pivot, and height adjustments for your comfort and convenience. It's easy to get a preferable viewing angle with it, so you won't have to struggle during long and tedious projects and work hours. You can use VESA mounts, but it is only necessary if you have multiple monitors.
The Philips 27E2F7901 was intended to be as flexible as possible via its connectivity layout. It has DisplayPort 1.4, DP 1.4 Out for daisy-chaining, a 96-watt USB-C port, and an HDMI 2.0 slot for video inputs. You also get five USB 3.2 ports, a type-C 15-watt upstream port, and a 3.5mm jack for your headphones.
These options were designed for the monitor's KVM functionality, which lets you switch between different devices without swapping out the monitor and peripheral cables. It seems that KVM is now a must-have since many users have a multitude of devices that are dedicated to specific usage scenarios on one desk.
However, the Philips 27E2F7901 doesn't have speakers or other useful accessories like webcams. We think it is acceptable in this case since it's considerably cheaper next to its closest competitor. Take it as an opportunity to buy a nice speaker set to match your setup.
Display and Performance
The Philips 27E2F7901 sports a 27-inch IPS black panel with a 3840 x 2160 resolution, a 60Hz refresh rate, and a 4ms response time. The backlight has a 400 cd/m2 while the contrast is doubled at 2000:1. This monitor. This monitor quotes wide gamut coverage and HDR 400 certification, but we all know how limited the latter is when it comes to actual visual improvements.
27-inch monitors are extra crisp, so they are great for anything related to imaging. However, text can be a bit jarring to absorb since it looks way smaller than what we're normally used to. You can use scaling, but it is not 100% free from issues since some apps will not follow your settings.
The Philips 27E2F7901 covers 100% sRGB, 97% DCI-P3, and 87% Adobe RGB for stunning color in any mode of use. Its default accuracy had a deltaE average of 0.91, so the factory already did an excellent job before shipping them out. Most users won't need to calibrate the screen, although you might want to adjust its brightness level.
Calibrating it reduced the dE average to a fantastic 0.41, making it comparable with the best prosumer monitors out there. We think that you can get by without buying a colorimeter, but it's a necessity to maintain the screen's fidelity. You save a lot if you buy this monitor, so we imagine that leaves some room for the gadget as well.
The Philips 27E2F7901's backlight reached 415 cd/m2 at 100%, with a peak of 421 cd/m2 with HDR mode kicking in. Its contrast was also impressive since it reached 2144:1 at 30% brightness. The screen is capable of considerably better black luminance versus non-IPS Black models, so it sort of defeats the advantage of VA panels.
Panel uniformity for the test sample did not have any major issues like backlight leaks on the screen's edges. There is some variance in the backlight's spread, but it is not as substantial as it was on some monitors we've seen. Note that this can vary with every monitor made due to tolerances, so it's still possible to get a unit with some defects.
The Philips 27E2F7901 isn't the most responsive monitor out there, but that's understandable since it's meant for prosumers. Blurring can happen in quick transitions, but it's nothing to worry about if you only play casual titles. We don't consider this a deal-breaker since the monitor is poised to maximize value and cater to designers or creators.
The Philips 27E2F7901 also mentioned that it's compatible with Adaptive Sync, but FreeSync or G-Sync did not work. However, that's understandable since the monitor was not originally designed for that use case anyway. Its input lag sits at 10ms at 60Hz, so it is still pretty responsive even if it's not the fastest 4K monitor out there.
Thoughts on the Philips 27E2F7901
The Philips 27E2F7901 is a fantastic option thanks to its qualities, features, and lower pricing than its competitors. Its IPS Black panel works great when it comes to contrast, but that's only the icing compared to its color accuracy and clarity. We like the fresh aesthetic as well since it doesn't look like it was meant to be on a clerk's desk like the brand's other models.
We can't really find anything to complain about with this monitor, apart from its supposed Adaptive Sync support. Maybe that's a fluke with its software, so Philips can still fix it with a firmware update. However, it's a fantastic choice beyond that, and we wouldn't hesitate to recommend it to our readers.
Pros:
Fantastic Colors and Contrast
Great Build Quality and Design
Affordable
USB-C and Daisy-Chaining
Cons:
About the Author: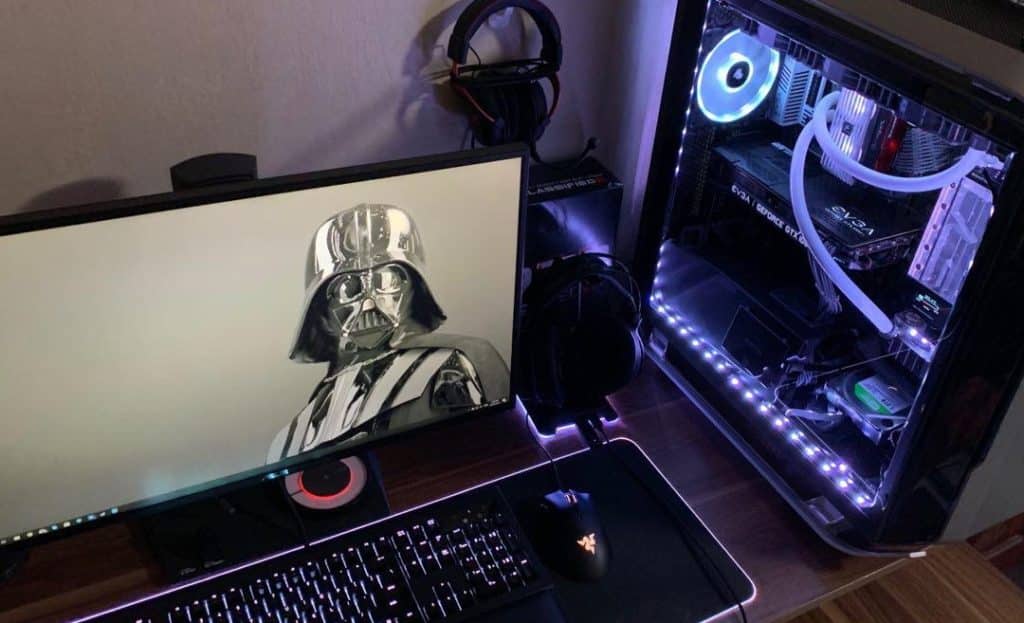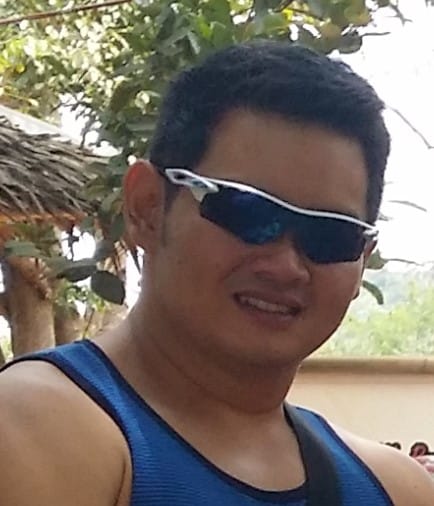 Paolo has been a gaming veteran since the golden days of Doom and Warcraft and has been building gaming systems for family, friends, and colleagues since junior high. High-performance monitors are one of his fixations; he believes that every citizen's right to enjoy one. He has gone through several pieces of hardware in pursuit of every bit of performance gain, much to the dismay of his wallet. He now works with Monitornerds to scrutinize the latest gear to create reviews that accentuate the seldom explained aspects of a PC monitor.