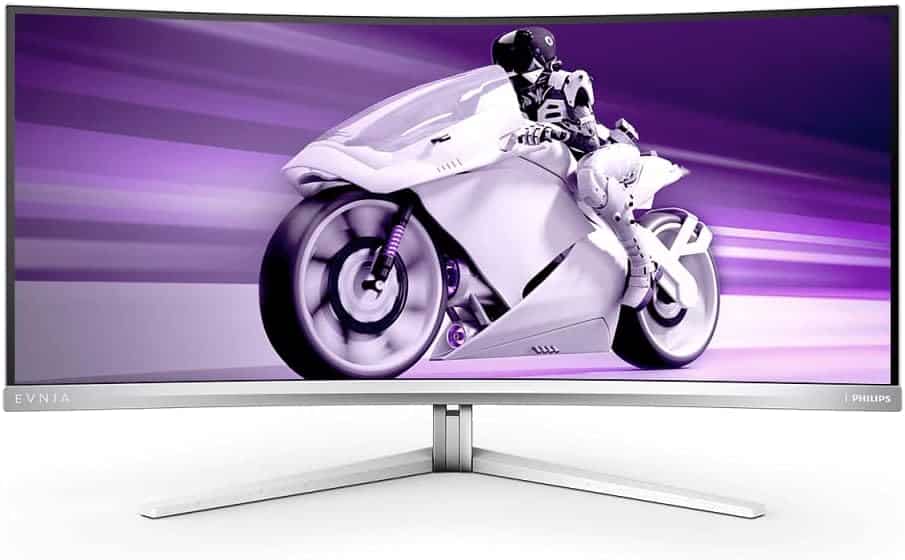 The Philips Evnia 34M2C8600 is another premium ultrawide gaming monitor with a highly-desirable curved QD-OLED panel. It's bringing the fight to tough opponents like the Alienware AW3423DW, but striking contrast and HDR performance are pretty much guaranteed. Another commonality it has with the OLED ultrawides is its high price, so let's check it out to see if it comes out on top.

Philips Evnia 34M2C8600 Specifications
Screen Size: 34 Inches
Resolution: 3440 x 1440 UW-QHD
Aspect Ratio: 21:9
Panel Technology: QD-OLED
Refresh Rate: 175Hz
Response Time: 0.1ms
Contrast Ratio: 1000000:1
Brightness: 250 cd/m² (1000 cd/m² Peak)
Built-in Speakers: Yes (2 x 5 Watts DTS)
Stand: Height – Yes
Stand: Tilt – Yes
Stand: Swivel – No
Stand: Pivot – No
VESA Compatibility: Yes (100 x 100)
Connectivity: DisplayPort 1.4 x 1, HDMI 2.0 x 2, USB-C PD90W x 1, USB 3.2 x 5, 3.5mm Audio Jack x 1
Dimensions (W x H x D): 32" 21.8" x 11.6"
Weight: 19.2 lbs

Design and Features
The Philips Evnia 34M2C8600  has the same aesthetic as the 34MC2C7600MV, so it looks more like it was meant for a studio rather than gaming. Its white and silver finish looks luxurious and modern, and it separates the product from regular ultrawides. The display has a bezel-free design, so there are fewer distractions from its large screen.
You also get the AmbiGlow lighting feature with this monitor for immersive effects while gaming. The rear panel is outlined by several LEDs, which can shine colored lights that match what the screen is showing. It also doubles as a bias light, in addition to giving you an expanded perception of the action.
It's a curved ultrawide monitor, so it takes up more space than a typical desktop display variant. It is two and a half feet and almost a foot deep, so it might displace some of your other main peripherals if your desk is small. The good news is that it's not as heavy as some ultrawides due to the thinner frame, so it's easy to move it around if needed.
Its build quality was great and comparable to other premium monitors. The plastic panels and metal parts are robust, and there were no cosmetic defects like uneven gaps on it. The stand is firm and stable, so the large cabinet won't sway or wobble unwantedly.
The Philips Evnia 34M2C8600 includes a joystick which is very handy for its confusing and jam-packed OSD. Philips also packaged its SmartControl and new Evnia P-Center software for smoother and more direct access to its features and settings. Other display products in the same price range include remotes, but they are usually unnecessary.
The included stand offers tilt, swivel, and height adjustments for your convenience. Pivoting wasn't included since the monitor was not intended to e a portrait display on the side. You can use VESA mounts via an adapter, but buying it is unnecessary since the default setup is sufficient for most users.


The Philips Evnia 34M2C8600's connectivity layout gives it an advantage over competitors like the Dell Alienware AW3423DW. It has the usual DisplayPort and dual HDMI 2.0 combination, but it also includes a USB-C slot with DP Alt Mode and 90 Watts charging. It also has four USB 3.2 ports for your peripherals and its KVM functionality.
You also get a pair of DTS-tuned speakers with 5 watts of power per channel. They are a bit better and louder than the usual built-ins, so they are usable for more basic entertainment purposes or when it is too hot for headsets. However, we think that the latter will still be a better option if you want to focus or e immersed in your games.
Display and Performance
The Philips Evnia 34M2C8600 boasts a 34-inch QD-OLED panel with a 3440 x 1440 resolution, a 170Hz refresh rate, and a 0.1ms response time. The backlight has a 250 cd/m2 typical output, but it's rated to go up to 450 cd/m2 with a 1000 cd/m2 peak in HDR. This model is DisplayHDR True Black 400 certified versus its HDR 1400 sibling, but we all know this OLED monitor has the advantage.
34-inch ultrawides are great for gaming and considerably better for productivity and multitasking. The extra screen space gives you more room to maneuver, plus you can see more of a game's environment since the FOV is wider. You will need a more powerful GPU for it, but it's still not as demanding as a 4K variant.
The Philips Evnia 34M2C8600 covers 100% sRGB and 98% of the DCI-P3 color space for enhanced vibrancy in games and movies. Its default accuracy is impressive, with a deltaE average of 2.09. Wide gamut displays often have high dE averages, except for the models that are calibrated at the factory.
Using a colorimeter on it reduced the de average to 0.56, making it comparable with the prosumer variants. However, you will need the help of the gadget if you want to refine the screen since copying settings or ICC profiles will not guarantee the same results. We only recommend spending the extra on it if your job requires absolute color accuracy.
Its OLED panel only reached 241 cd/m2 in SDR, sustained 442 cd/m2 in HDR, and reached a peak of 1031 cd/m2. Its contrast was incalculable, so black backgrounds are truly black, and dark scenes look very convincing. It's the best in this regard, even if mini-LED HDR monitors are also becoming common.
The monitor doesn't have panel uniformity issues since WLED backlights usually cause those. The screen has some occasional blooming, but they are not noticeable unless you actively look for them. However, OLEDs are prone to burn-in, so you have to take extra care of them so your screen doesn't get marked.
As expected, its response time is excellent since the pixels can transition individually and instantly. Fast transitions do not have trails or ghosting, so it's perfect for competitive titles like Valorant or CSGO. High-end VA or IPS panels with special HDR backlights and overdrive implementations cannot match it when it comes to this as well.
The Philips Evnia 34M2C8600 is compatible with FreeSync and G-Sync, protecting you from tearing and stuttering. The GPU market and pricing aren't great right now, so the freedom to choose based on which one is a better value is a must-have. Input lag sits at 4ms at 170Hz, so the monitor is just as fast as the best options.
Thoughts on the Philips Evnia 34M2C8600
The Philips Evnia 34M2C8600 is another fine QD-OLED example that makes the panel type more accessible for gamers. It's capable of fantastic imaging and HDR, and not even the best mini-LED monitors can match it. It's attractive and equipped with essential features like USB-C so users can get more out of it.
One downside is that it isn't cheap, plus we think it should include HDMI 2.1, which has more bandwidth for HDR imagery. The usual issues with QD-OLED panels, like fringing, are still there, but that's one of its natural limitations. It's a fantastic buy, but the high MSRP isn't for everyone.
Pros:
Fantastic Colors and Contrast
Brilliant HDR Capability
FreeSync and G-Sync Compatible
Attractive Design
USB-C PD90W Included
Cons:
Prone to Burn-in
Expensive
About the Author: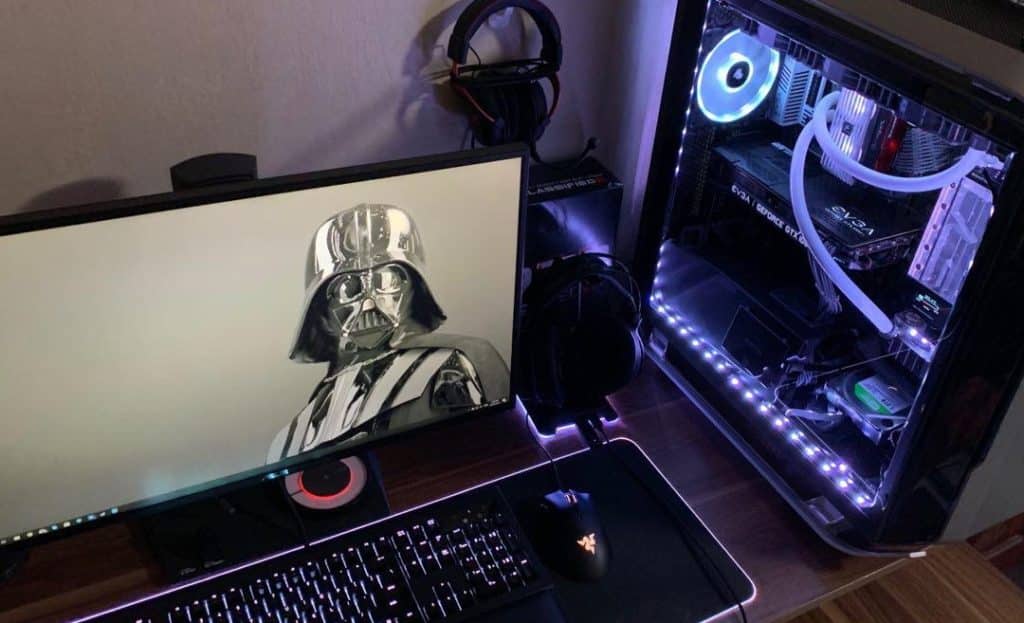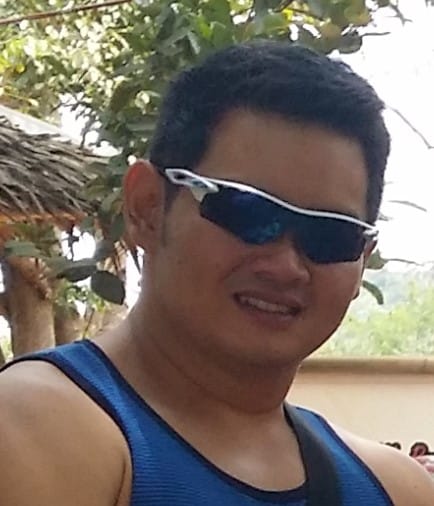 Paolo has been a gaming veteran since the golden days of Doom and Warcraft and has been building gaming systems for family, friends, and colleagues since junior high. High-performance monitors are one of his fixations; he believes that every citizen's right to enjoy one. He has gone through several pieces of hardware in pursuit of every bit of performance gain, much to the dismay of his wallet. He now works with Monitornerds to scrutinize the latest gear to create reviews that accentuate the seldom explained aspects of a PC monitor.