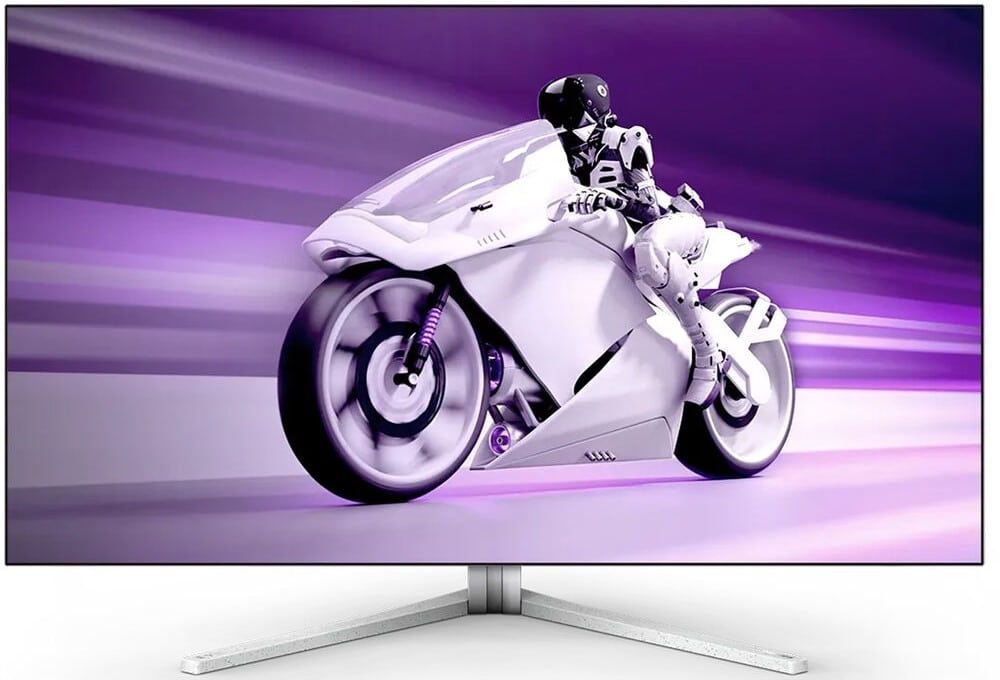 The Philips Evnia 42M2N8900 is a beautifully-designed large format monitor with an equally attractive, overclockable 4K OLED panel. It is not cheap, but a gaming-grade OLED display for around the price of a regular OLED TV is a good deal in our books. Let's take a closer look if this should be your ultimate gaming setup upgrade for the summer.

Philips Evnia 42M2N8900 Specifications
Screen Size: 42 Inches
Resolution:3840 x 2160 UHD
Aspect Ratio: 16:9
Panel Technology: OLED
Refresh Rate: 138Hz
Response Time: 0.1ms
Contrast Ratio: 1500000:1
Brightness: 135 cd/m2 (450 cd/m2 Peak)
Built-in Speakers: Yes (2 x 10 Watts DTS)
Stand: Height – Yes
Stand: Tilt – Yes
Stand: Swivel – No
Stand: Pivot– No
VESA Compatibility: Yes
Connectivity: DisplayPort 1.4 DSC x 1, HDMI 2.1 x 2, USB-C PD90W x 1, USB 3.2 x 5, 3.5mm Jack x 1
Dimensions With Stand (WxHxD): 36.7" x 27.1″ x 14.1″
Weight: 38.06 lbs

Design and Features
The Philips Evnia 42M2N8900 has an ultra-modern aesthetic that looks gorgeous, especially when it's used with a themed display. Its matte white finish looks clean and sophisticated, and the RGB glow of its Ambiglow LEDs plays well against it. The display has a bezel-free design, but it still has inner borders even if you can't notice them.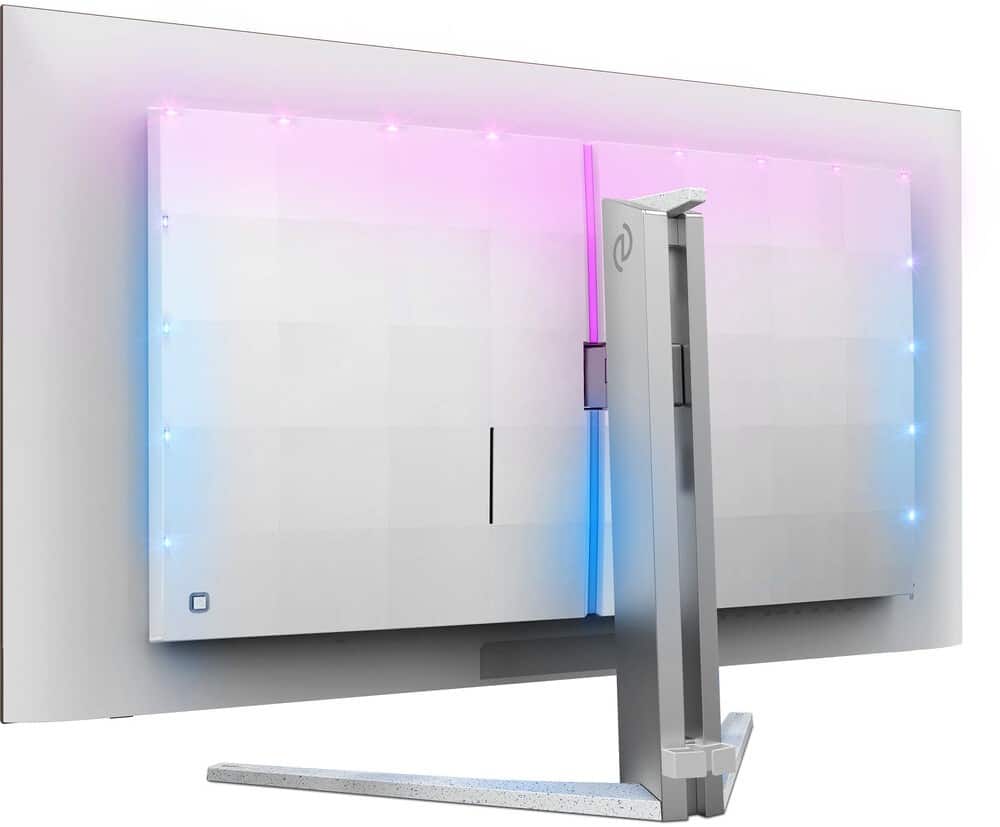 We'd like to highlight the monitor's Ambiglow feature which is comprised of LEDs at the top and side edges of its back panel. They sync with the main colors on the screen and shine a biased light, creating an improved sense of immersion. It's crazy good if you play visually-striking games, so it is nice that you don't have to buy LED strips and a sensor to achieve its effects.
It's a massive monitor, so you might want to consider your available desk space before pulling the trigger. It has a massive base that requires 14 inches of depth, so it will definitely offset your other larger peripherals. It's also very heavy at 38 pounds, so you will need an extra set of steady hands for setting it up and a robust table to hold it stably.
It is built like a true premium monitor, so there are no signs of structural weakness or cosmetic defects. Each part looks like they were manufactured with precision, so you are getting your money's worth if we judge it in this aspect alone. The included stand is firm enough to keep the large screen up, although it still wobbles a bit because of the weight.
The Philips Evnia 42M2N8900 has an OSD joystick at the back, but you don't have to struggle to reach it since it has a dedicated remote. The screen is so large so you would have to lean in quite a bit to reach it, so it is nice that there's an option that lets you sit back and relax. The only inconvenience with it is that it will need batteries at some point, but that's minor compared to the benefits.
Another unique feature of the Philips Evnia 42M2N8900 is its stand which, unlike many other designs, offers height and tilt adjustments. Most large displays are limited to either tilt or the motionless bases used on other TV-sized monitors. It's also compatible with a VESA mount, but the only excuse to buy one for it is if you have limited desk space.
Its connectivity offers excellent flexibility since it can accommodate multiple modern devices. It has DisplayPort 1.4 DSC, two HDMI 2.1 slots, and a 90-watt USB-C slot for modern laptops. It also has four USB 3.2 ports to take advantage of the monitor's KVM feature.
The Philips Evnia 42M2N8900 also comes with a pair of 10-watt speakers that are capable of booming sound. 10-watt stereo sets are standard on TVs, so they may seem unimpressive, but hearing them up close is a different story. Headphones will still be better, but even the most expensive pair out there cannot fill a room with sound.
Display and Performance
The Philips Evnia 42M2N8900 boasts a 42-inch OLED panel with a 3840 x 2160 resolution, a 138Hz overclocked refresh rate, and a 0.1ms response time. The panel's brightness is listed at a humble 135 cd/m2 and a 450 cd/m2 peak, along with a 1500000:1 contrast ratio. The monitor isn't HDR-certified, but it doesn't need to be based on what it can do.
4K is perfect on a 32-inch screen, and a screen of this size can be polarizing for most users during the first few weeks or months. However, it is more flexible because of that since you can use it for couch gaming as well. It has a looser pixel density, but that high pixel count still makes games and movies look cleaner and more detailed.
The Philips Evnia 42M2N8900 covers 100% of the sRGB gamut and 96% of the DCI-P3 color space, resulting in punchy colors in games and movies. Its default accuracy had a deltaE average of 2.71, but that is mostly because of its extended gamut. Most users will be happy with the way it looks unless they want to use the monitor for editing.
Calibrating it with a colorimeter reduced the dE average to an excellent 1.21, making it more usable for editing work. However, it is not worth getting the gadget, especially since it has an sRGB mode that locks down the dE score at 1.46. The difference between the two settings is minimal, although some panels might produce better results.
Its OLED panel reached 201 cd/m2 at 100%, and it reached a peak of 509 cd/m2 when its displayed content in HDR. That's not as high as what the sophisticated HDR monitors out there can achieve, but they cannot produce the infinite contrast ratio this model can. It is capable of excellent HDR imagery along with deep and inky dark scenes, so it's considerably better even when compared to a mini-LED variant.
Panel uniformity for the test sample did not have any major issues since it doesn't use a typical WLED backlight. However, it does have anti-burn-in measures like Pixel Orbiting and a Screen Saver, along with a Pixel Refresh procedure. The latter takes a little over 2 minutes to finish, so it can get annoying if you need to do it while gaming.
You can simply turn it off for that type of usage but use it for computing that involves static images, like browsing or office work. OLEDs are still prone to burn-in even if they are not as common as they were with the older generations, so extra care for its uniformity will be necessary.
The Philips Evnia 42M2N8900 barely shows any blurring since it doesn't have the limitations set by backlight units. Each pixel can transition on its own, so there are no trails or ghosting in fast-paced and contrasting transitions. 138Hz might be low for today's E-Sports standards, but the OLED's pixel response time will beg to differ.
The Philips Evnia 42M2N8900 is compatible with FreeSync and G-Sync, so there is no need to worry about tearing and stuttering. VRR is essential for 4K gaming since it's difficult to keep framerates stable, even if you have a powerful AMD or Nvidia GPU. Input lag sits at around 4ms at 138Hz, so it is as fast and responsive as the best of them.
Thoughts on the Philips Evnia 42M2N8900
The Philips Evnia 42M2N8900 is an excellent choice if you want a functional yet very capable gaming display. Its OLED panel's performance can only be matched by other OLED monitors like the Asus PG42UQ, so it can't be beaten in HDR or contrast performance. Its unique aesthetic and Ambiglow feature also makes it more attractive, especially for RGB fans out there.
There is very little to complain about with this model, except for the fact that its availability is quite limited. Its price could also be a downside since it basically puts OLED out of reach for the masses. However, it's a fantastic gaming monitor, and only a few can compare to it when it comes to raw performance.
Pros:
Fantastic Color Quality
Excellent Design with Ambiglow
FreeSync and G-Sync Compatible
Infinite Contrast
Cons:
Limited Brightness
Prone to Burn-in
Limited Availability
About the Author: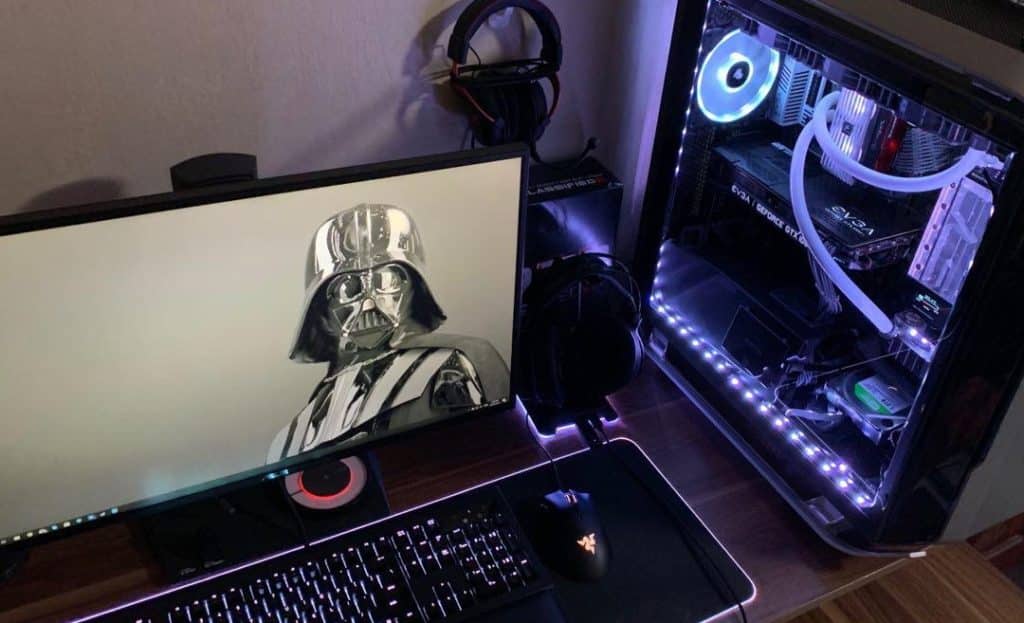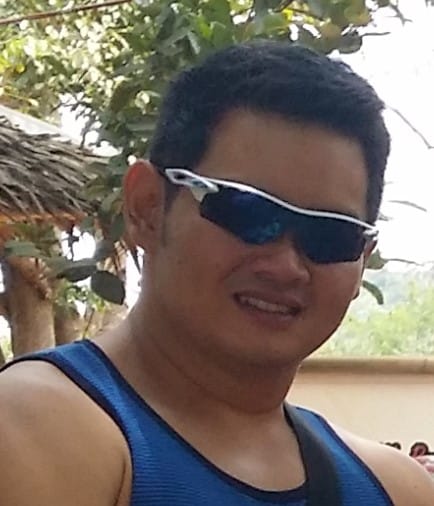 Paolo has been a gaming veteran since the golden days of Doom and Warcraft and has been building gaming systems for family, friends, and colleagues since junior high. High-performance monitors are one of his fixations; he believes that every citizen's right to enjoy one. He has gone through several pieces of hardware in pursuit of every bit of performance gain, much to the dismay of his wallet. He now works with Monitornerds to scrutinize the latest gear to create reviews that accentuate the seldom explained aspects of a PC monitor.