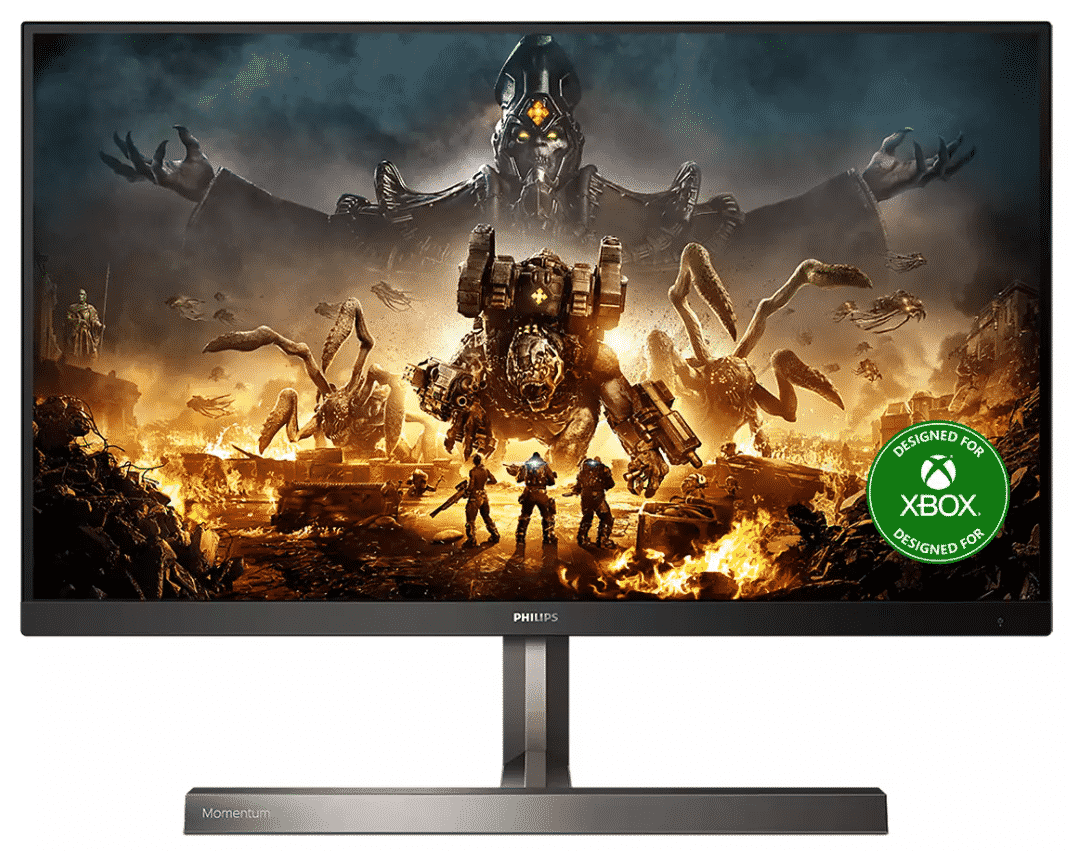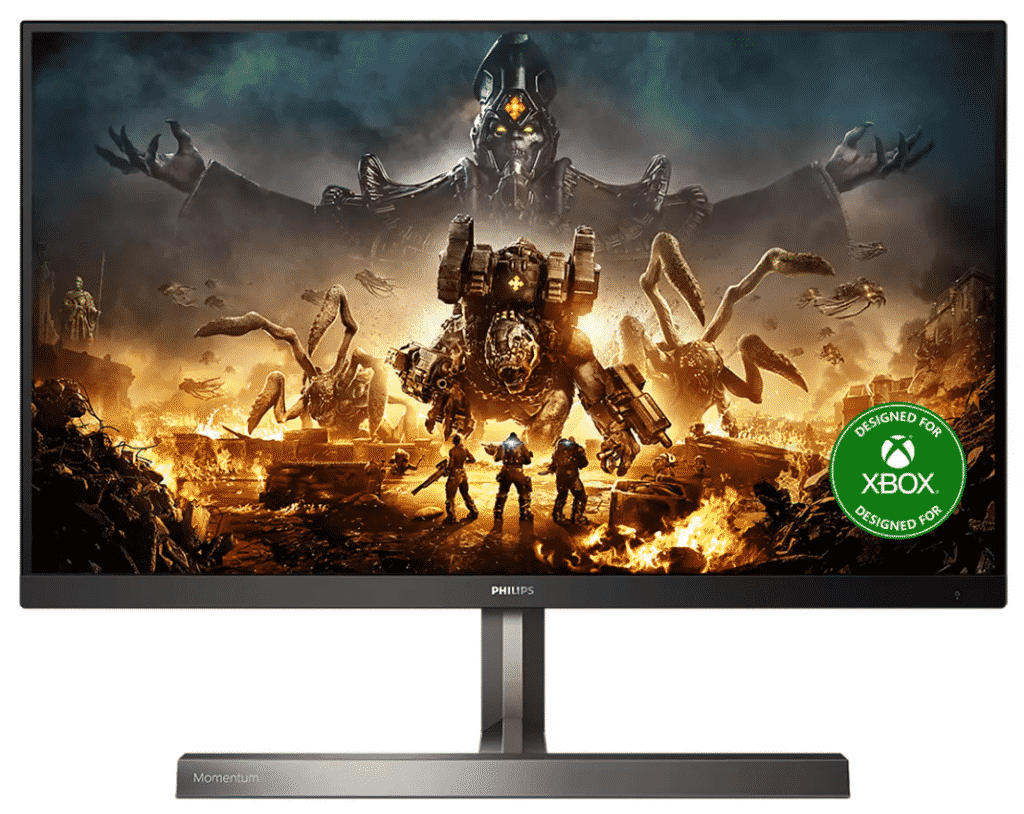 The Philips Momentum 279M1RV is an impressively equipped 4K 144Hz monitor that's designed for high-end PC and console gaming. It's the smaller yet equally capable version of the 329M1RV for users who want a more compact and slightly more affordable alternative that has the same features and design. Let's check it out and find out if the Philips Momentum 279M1RV is one of the top picks in its heavily contested category.

Philips Momentum 279M1RV Specifications
Screen Size: 27 Inches
Resolution:3840 x 2160 UHD
Aspect Ratio: 16:9
Panel Technology: In-Plane Switching (IPS)
Refresh Rate: 144Hz
Response Time: 1ms MPRT
Contrast Ratio: 1000:1
Brightness: 450 cd/m2
Built-in Speakers: Yes (2 x 5 Watts DTS)
Stand: Height – Yes
Stand: Tilt – Yes
Stand: Swivel – Yes
Stand: Pivot– No
VESA Compatibility: Yes (100 x 100)
Connectivity: DisplayPort 1.4 DSC x 1, HDMI 2.1 x 3, USB-C PD65W x 1, USB 3.2 x 4, 3.5mm Jack x 1
Dimensions With Stand (WxHxD): 23.98″ x 21.46″ x 11.10″
Weight: 19.84 lbs

Design and Features
The Philips Momentum 279M1RV adopts a classy aesthetic versus the gamer-centric and often gaudy designs used by its competitors. The monitor has a matte black chassis and a gunmetal stand that looks great compared to the usual black and red schemes we've seen. The screen is bezel-free on three sides, but it still has inner borders so it is not a completely edge-to-edge display.
It is not a massive monitor by today's standards, but its overall dimensions can still surprise you if your desk is below standard sizing. It needs almost a foot of depth when fully assembled, although it is not too wide for most setups at a little under two feet. The monitor feels like it's built like a tank at 19.84 pounds but you can still move it around easily if needed.
The product's build quality is nothing short of superb thanks to its premium nature and excellent material selection. The plastics used on the chassis are thick and durable so they won't crack or flex with moderate force. The included metal stand is steady and firm so the screen won't sag or wobble until you try to adjust its angle again.
What you will immediately notice on the Philips Momentum 279M1RV are the Ambiglow LEDs that outline the rear of its housing. What it does is it matches the dominant color on the screen so it can extend the screen's output and immerse your peripheral vision. Frankly, it's one of the smarter RGB implementations in our opinion since it is more functional compared to others which are merely decorative.
You also get an OSD joystick with this monitor instead of pesky monitor buttons that are still quite common on many of the brand's offerings. It's located at the back and accessible from the screen's right-hand side so you don't have to extend a lot of effort to use it. Some of its competitors go as far as including remotes, but they aren't completely necessary unless you are using the monitor for couch gaming.
The stand included with the package offers tilt, swivel, and height adjustments for your comfort and convenience. The stock setup is all you will ever need since it can help you get a palatable angle for your screen that won't strain your back or neck. You can also use VESA mounts, but they only become necessary if desk space is limited or if you have other displays for your setup.


One of the main attractions of the Philips Momentum 279M1RV is its modern connectivity layout. It includes DisplayPort 1.4 and three HDMI 2.1 ports, allowing you to connect 4K 120Hz and 4K 144Hz capable devices without worrying about issues. it also has a USB-C slot with DP Alt Mode and 65 Watts of charging power so you can include your USB-C laptop from work as needed.
You also get four USB 3.2 ports for peripherals with this monitor so you can manage the crisscrossing cables on your desk more efficiently. There is a pair of decent-sounding DTS speakers with 5 watts of power each. It is nice to have capable secondaries for audio, but pairing the Philips Momentum 279M1RV with a good headset or desktop speakers will provide a better entertainment experience.
Display and Performance
The Philips Momentum 279M1RV sports a 27-inch Nano IPS panel with a 3840 x 2160 resolution, a 144Hz refresh rate, and a 1ms boosted response time. the backlight has a 450 cd/m2 maximum while the contrast is listed at 1000:1 like most IPS monitors. This model is certified for HDR 600, so it is a bit better compared to its bigger version in that regard.
This smaller monitor is obviously sharper than its bigger variant, so it will look better for some while playing games or watching movies. it's a minor advantage, but what many worry about with a sharper screen is its levels of visibility and legibility. Some individuals with anything less than 20/20 vision might struggle with reading or processing documents since letters become smaller if scaling isn't used.
The Philips Momentum 279M1RV renders 100% sRGB and around 95% DCI-P3 for superb colors in games and movies. Its default accuracy is equally impressive since the deltaE average is only at 1.18, telling us that it has been calibrated from the factory. Most users will be happy with it so only a few minor tweaks like adjusting the brightness will be necessary.
Calibrating the monitor reduced the deltaE average to 0.66 which is even better, especially for a gaming display. The monitor is usable for professional applications such as editing and content creation, making it even more flexible. However, you are going to need a colorimeter to achieve this, and buying one will only become practical if you will use the monitor for making money.
Its backlight reached 451 cd/m2 in SDR but it peaked at 742 cd/m2 when it is HDR mode kicked in. Its contrast, on the other hand, only reached 1091:1 at 40% brightness which means that its incapable of deep blacks. It only has limited edge-lit dimming zones, so its HDR performance is a hit or miss depending on where the hotspot is on the screen.
The Nano IPS panel didn't have any considerable uniformity issues aside from variances that only a colorimeter can detect. However, that changes with its HDR mode since its local dimming is limited to the edges of the screen. Note that this can change with every monitor made so it's entirely possible to get a unit with worse performance due to tolerances.
The Philips Momentum 279M1RV has an excellent pixel response time if your games run at 120 frames or higher. It is still prone to some blurring or ghosting, so you need to set its overdrive to its Faster level to get the described performance. There will be some very minor overshoot, but it's almost impossible to notice them while playing games.
The Philips Momentum 279M1RV is compatible with both FreeSync and G-Sync for tearing and stutter-free gaming. This duality is essential for high-resolution gaming, especially now when both GPU companies have very capable options that can 4K at high framerates. Input lag sits at 4ms at 144Hz, so there is no need to worry about delays or sluggish transitions while you are enjoying your favorite titles.
Thoughts on the Philips Momentum 279M1RV
The Philips Momentum 279M1RV is of the top options in this new segment for high-end gaming monitors. It's equipped with modern features like HDMI 2.1 and USB-C which are must-haves if you have premium laptops and the latest 4K 120Hz consoles in your arsenal. It is not the flashiest option out there, but its solid design and Ambiglow feature are fantastic bonuses.
We don't have any massive complaints about the Philips Momentum 279M1RV, but it is one of the rare HDMI 2.1 monitors on the market. It's also quite pricey, so some might just go with superb and readily available alternatives like the LG 27GP950-B. It is one of our favorites in its category, but we wish there was more of it on the retailer's shelves.
Pros:
Wide Gamut Coverage with Excellent Color Accuracy
High HDR Brightness
Functional Design with Ambiglow
USB-C and HDMI 2.1
Cons:
Limited Contrast
Not Available in All Regions
Pricey
About the Author: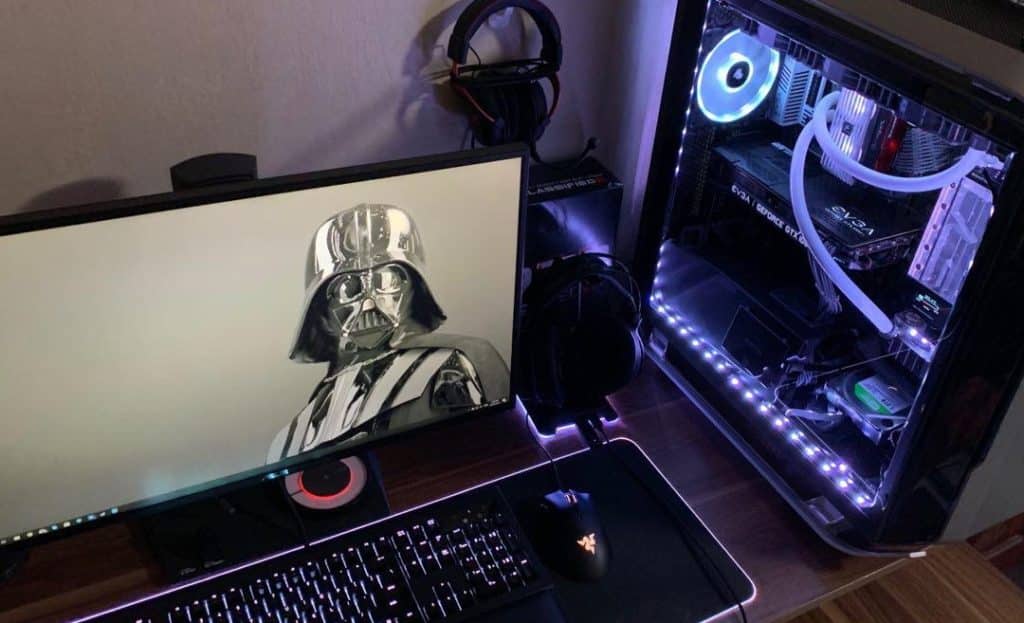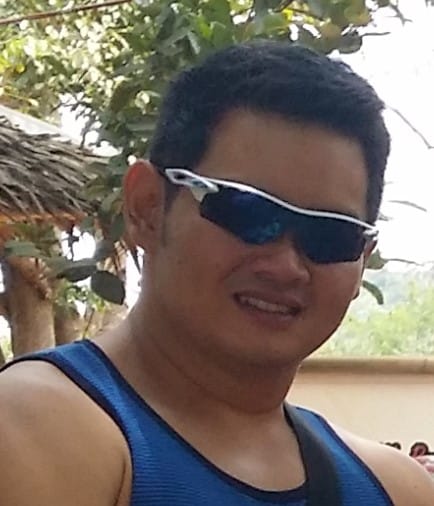 Paolo is a gaming veteran since the golden days of Doom and Warcraft and has been building gaming systems for family, friends, and colleagues since junior high. High-performance monitors are one of his fixations and he believes that it's every citizen's right to enjoy one. He has gone through several pieces of hardware in pursuit of every bit of performance gain, much to the dismay of his wallet. He now works with Monitornerds to scrutinize the latest gear to create reviews that accentuate the seldom explained aspects of a PC monitor.