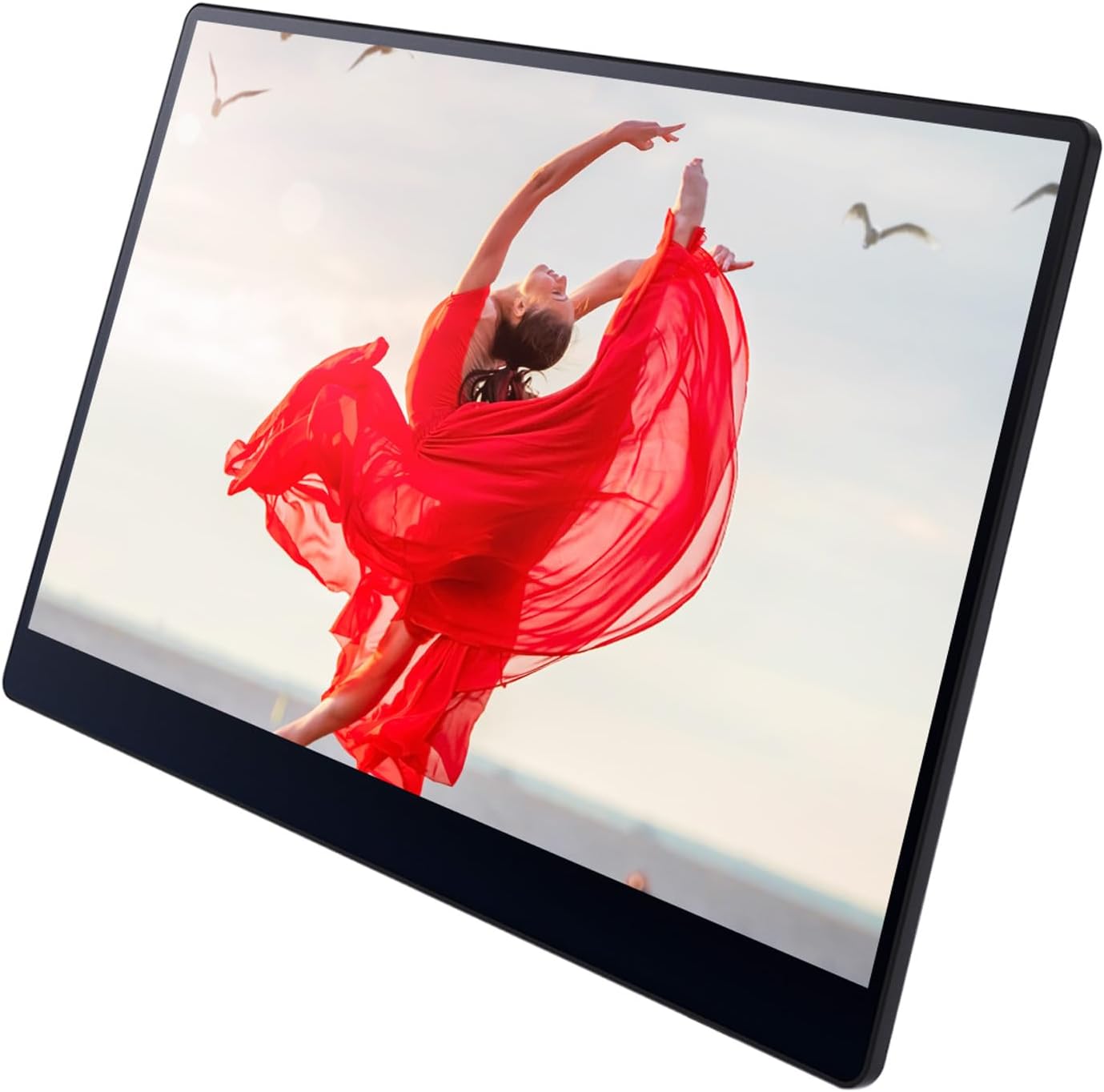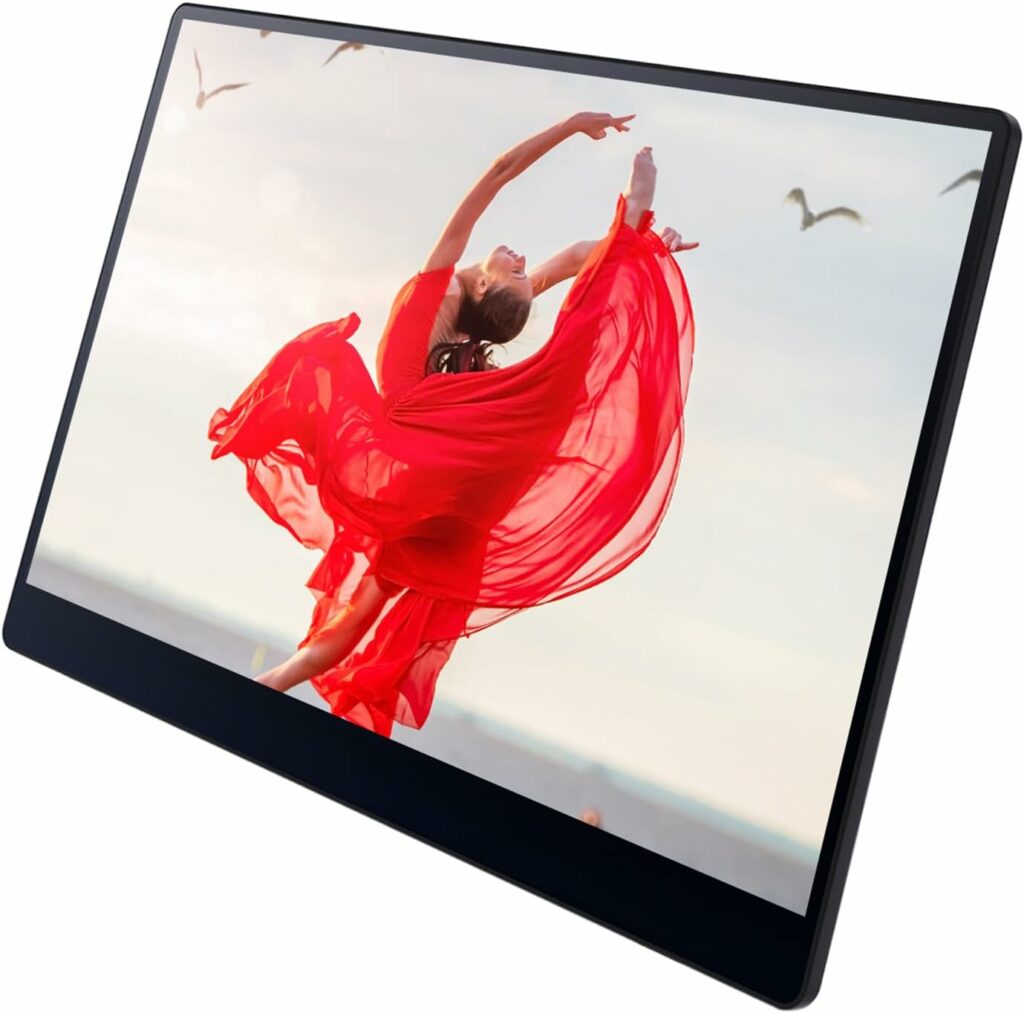 The RICOH 150BW offers a crisp package that combines a beautiful OLED panel and a lightweight yet sophisticated offering. The monitor comes from a Japanese company that has extensive heritage in imaging, so it will surely give its competitors a run for their money. Let's take a look at this fancy piece of kit to see what it can do.

RICOH 150BW Specifications
Screen Size: 15.6 Inches
Resolution: 1920 x 1080 FHD
Aspect Ratio: 16:9
Panel Technology: OLED
Refresh Rate: 60Hz
Response Time: 1ms
Contrast Ratio: 1:100000
Brightness: 400 cd/m²
Built-in Speakers: Yes (2 x 1.5 Watt)
Stand: Height – No
Stand: Tilt – Yes
Stand: Swivel – No
Stand: Pivot – No
VESA Compatibility: No
Connectivity: USB-C x 2, Wireless Connectivity
Dimensions (WxHxD) 14.01" x 8.73" x 0.43"
Weight: 1.58 lbs

Design and Features
The RICOH 150BW features a simple yet elegant aesthetic that deserves to be sat next to an equally opulent laptop. The device has a matte black finish that's accented by the gunmetal kickstand. The display is thin and practically bezel-free, so you can maximize the viewing space that it has to offer.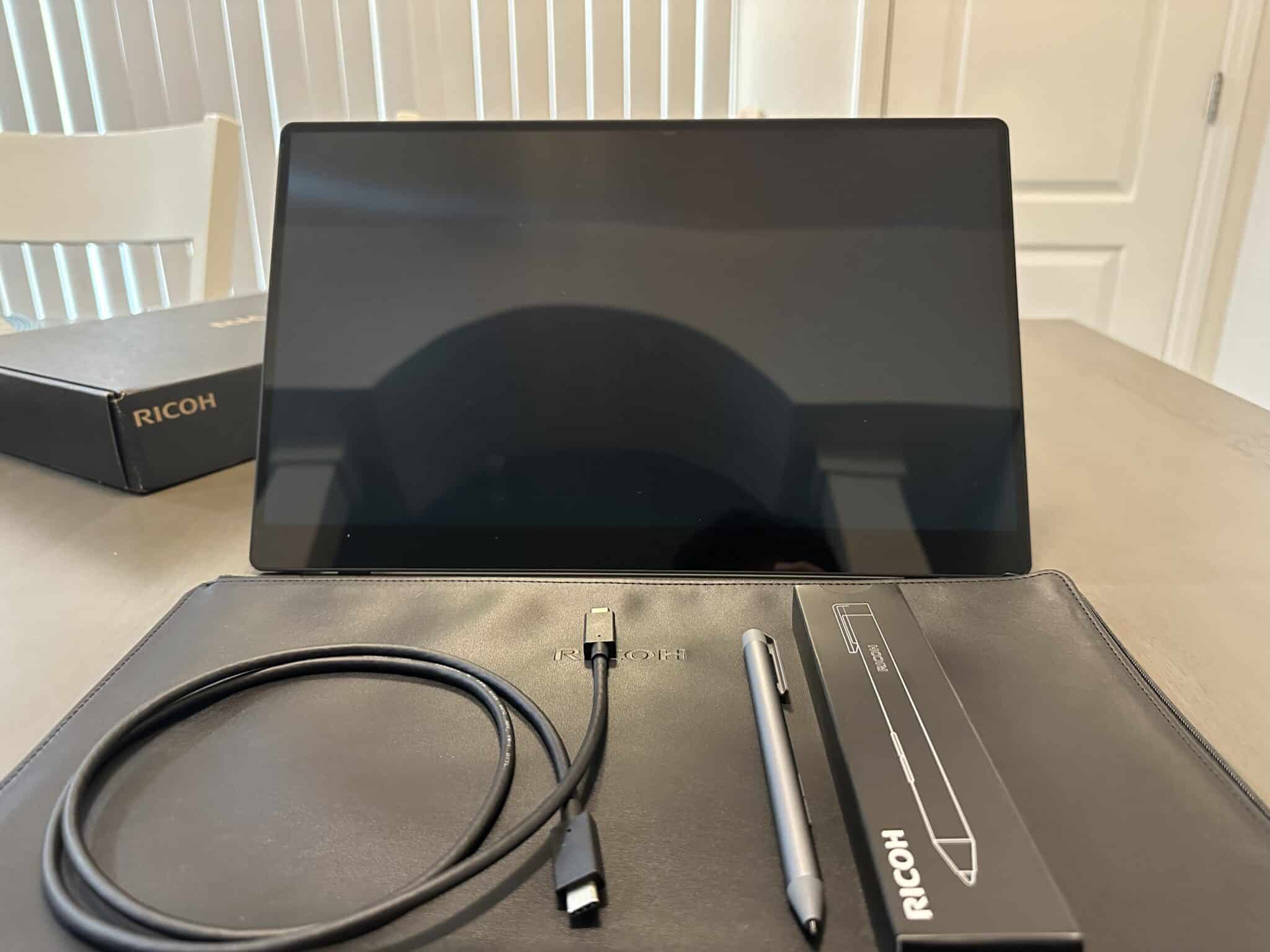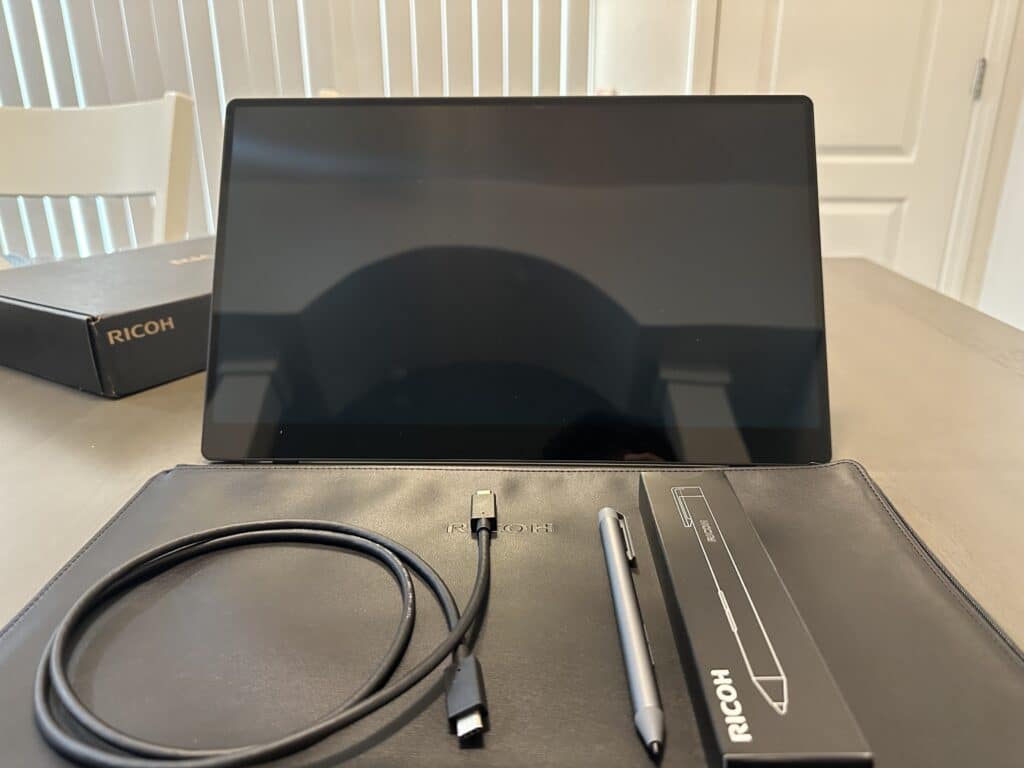 It arrived with a leather case, a  USB-C cable, and RICOH's  AES2.0-compatible Monitor Stylus Pen Type 1. But just to be clear, PFU America reached out to us to clarify that the Type1  is not included in the 150BW's sale or price. It's a bummer, but the pen itself isn't too expensive anyway compared to something like the Apple Pencil which is limited to their products.
We like the Type 1's pinpoint accuracy and its size which doesn't go beyond how a standard ballpen feels.  Its AES 2.0 functionality ensures that it will be compatible with other touch-capable screens and pen tablets, so you don't have to buy another one in the future. Its also very light and compact despite having a triple-A battery inside, and it made us wonder how RICOH squeezed everything inside that very slim tube.
The portable monitor also has a built-in battery and multi-language manuals, but that's all we found in the box with the monitor. It could use another USB-C cable for power and a wall adapter, but to be frank, everything you need to fire it up is already in there. The non-BW variant doesn't have an internal battery, so we think that it should include a wall adapter to avoid adding strain to a laptop's already limited battery capacity.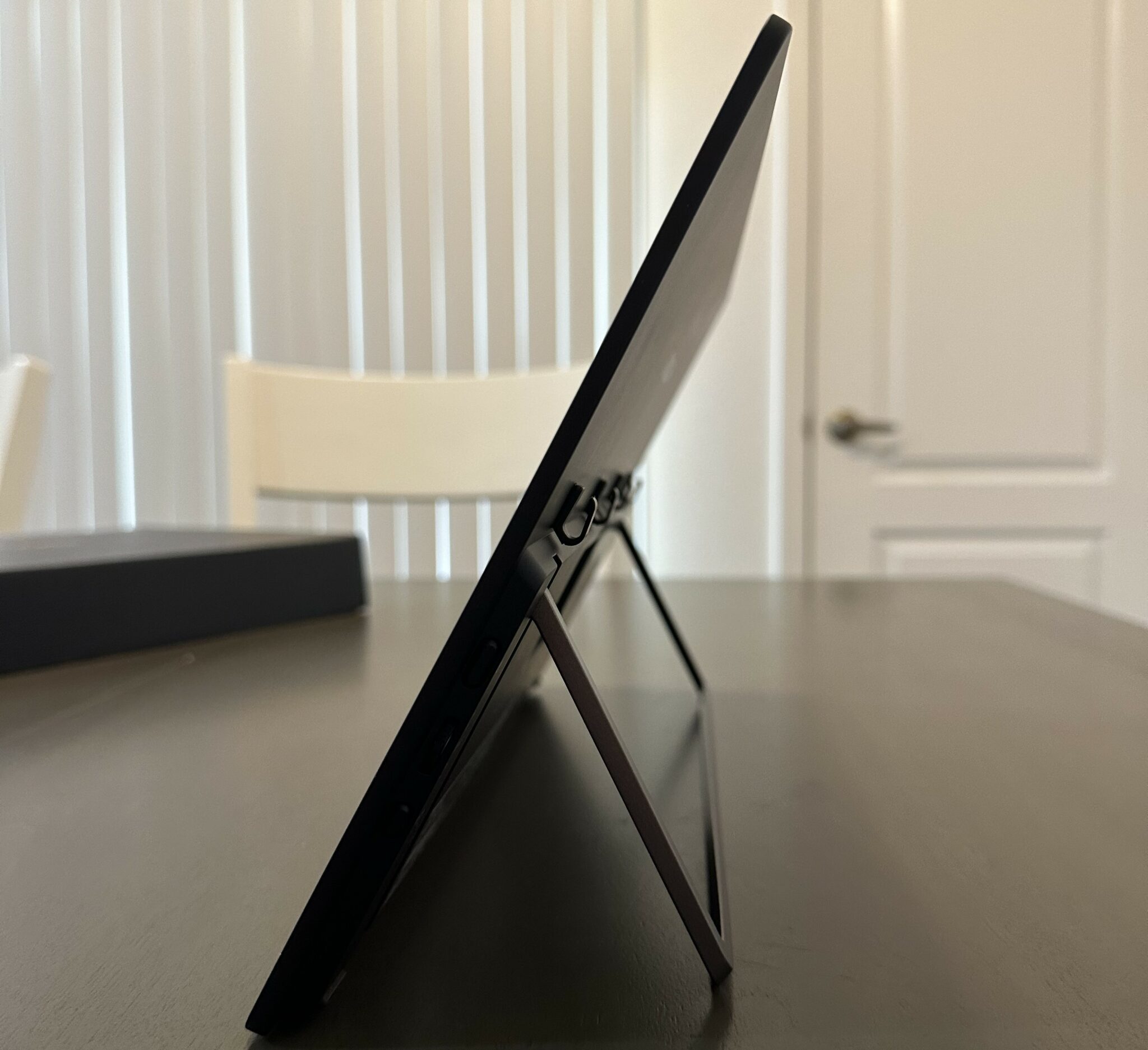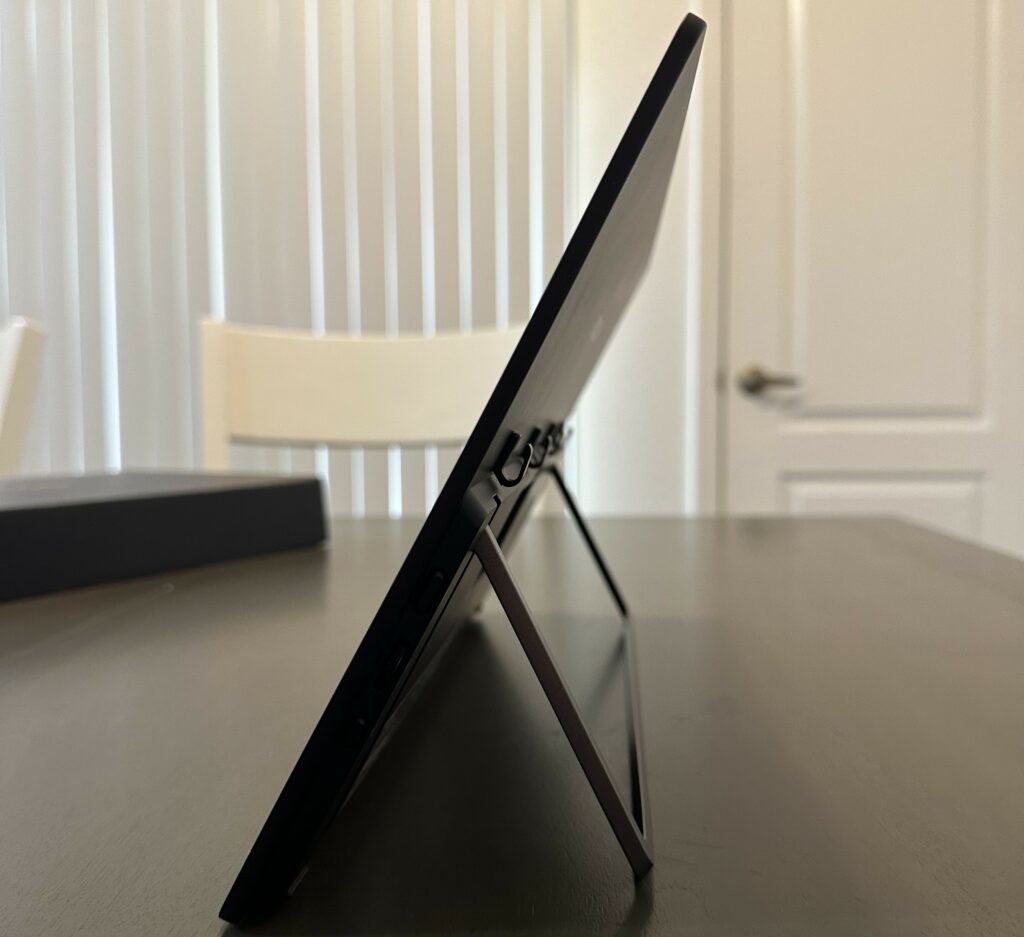 The first thing you'll notice when holding this product is how thin and light it is. It's only .43 inches thick at the bulge, so it's one of the few out there that truly maximizes the meaning of portability. The monitor itself only weighs 1.58 pounds, making it one of the lightest portable monitors we've ever held and tested.
The RICOH 150BW is born out of Japanese-grade design and manufacturing processes, so it's built like no other. Its parts teem with precision so you won't see cosmetic defects, loose parts, or uneven gaps. The kickstand is also very firm, so the screen won't just topple over with a gentle gust of wind or an accidental nudge.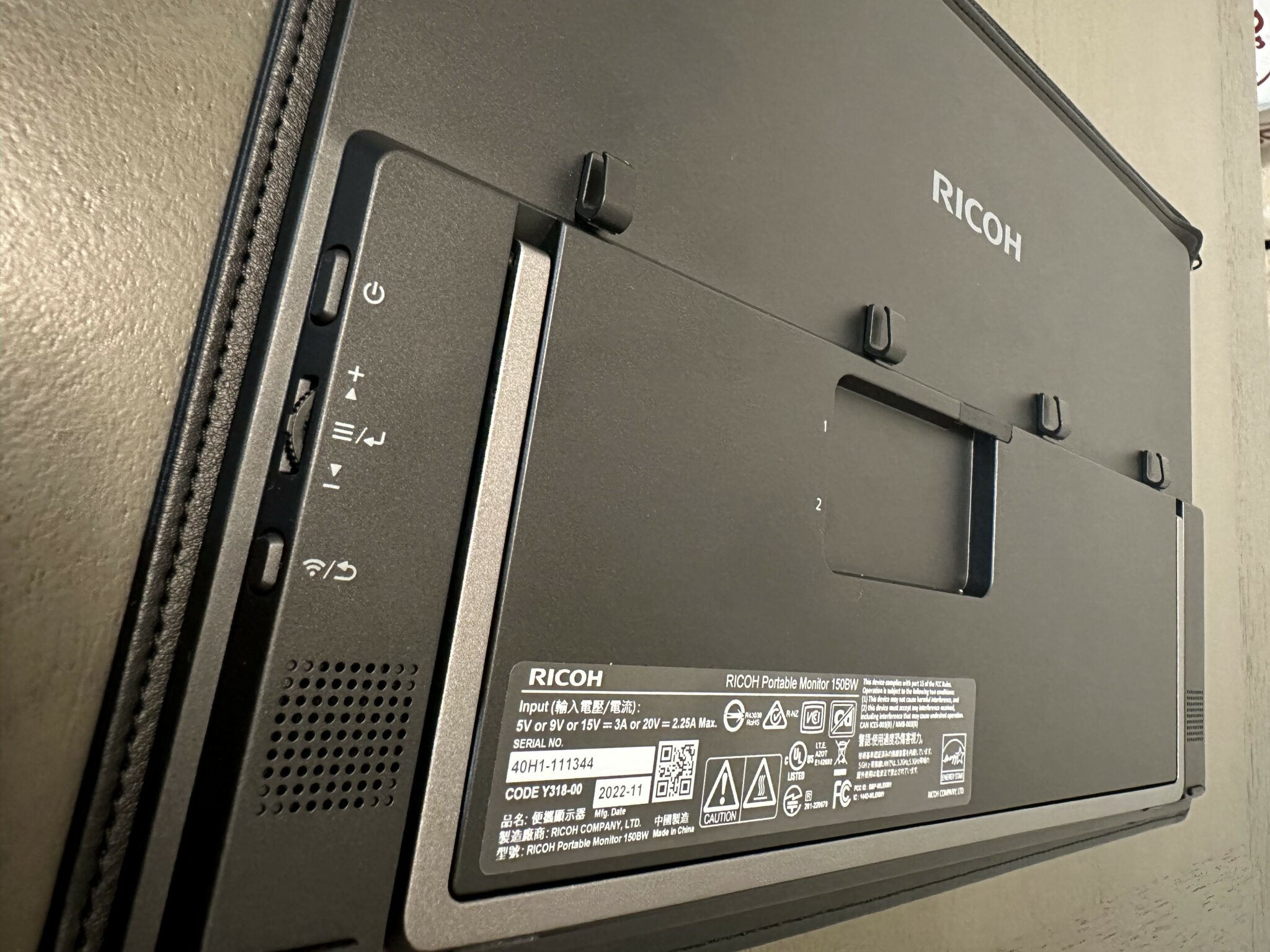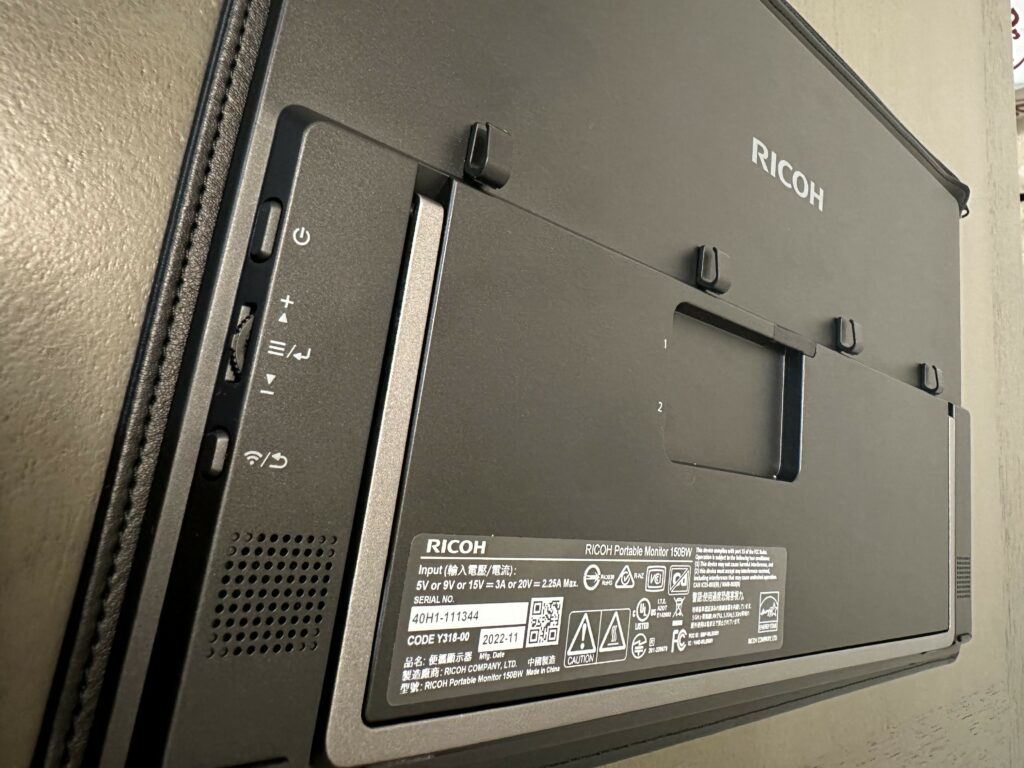 The only thing we're not fans of with this monitor is its control layout which is a bit more challenging to use. It has a springy scroll wheel that's embedded a bit deep, so those with thick fingers might find some difficulty there. Above it is the dedicated power button which can get pressed accidentally, while the bottom key is the back button that also activates the monitor's wireless connection.
But on the other hand, we like how RICOH designed the 150BW's stand since it integrates into the chassis perfectly. It gives you a large range of tilt and allows you to prop it up in portrait mode.  It is not removable in favor of a clamp-type stand, but we also highly advise against that since using one can damage the thin panel.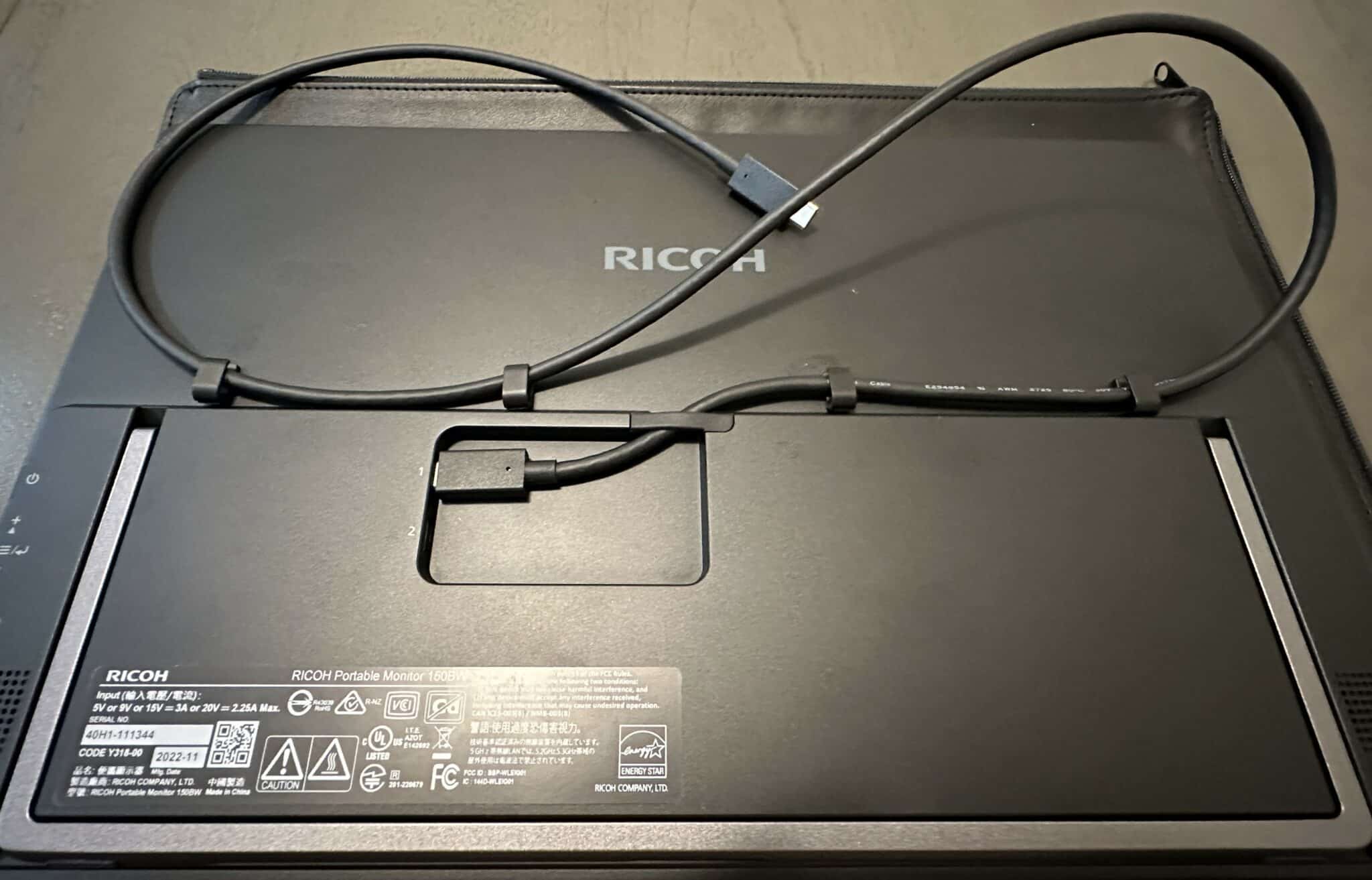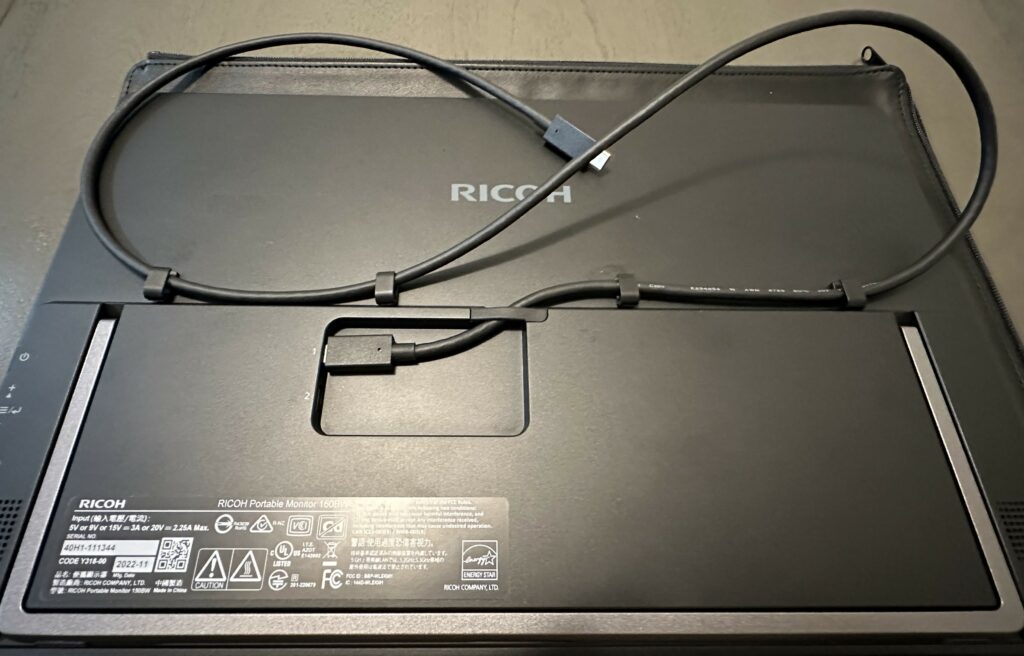 The RICOH 150BW's connectivity layout is pretty straightforward since it only has two USB-C slots. You can also connect it wirelessly to a mobile device via your OS's features or RICOH's apps. The rear part also has cable clips which will let you route the USB-C wire neatly to the left or right of the monitor,
The BW variant also carries a 3740mAh internal battery, so it doesn't drain the life out of your laptop when you are working unplugged. It lasted around the 2-hour mark during tests, but you can get more if you lower the screen's brightness. A cheaper and lighter wired version called the RICOH 150 will also become available, but we recommend getting this one since OLEDs seem to need a lot of juice.
It also has a pair of 1.5-watt speakers to complete its convenience setup. The speakers are incapable of deep bass, but they are surprisingly clearer and are not muffled by their limited output. They can be used as an alternative audio source for basic needs, but that only applies when you are indoors.
Display and Performance
The RICOH 150BW boasts a 15.6-inch OLED panel with a 1920 x 1080 resolution, a 60Hz refresh rate, and a 1ms response time. Its brightness rating goes up to 300 cd/m2, while its contrast ratio is listed at 1:100000. This model doesn't have HDR certifications, but it certainly is capable of deeper dynamic range thanks to its panel type.
This model has a 1080p resolution, so it can feel cramped when it's used as a main display. It is designed to extend your screen space, but its gorgeous image quality may make users think about using it instead of a laptop's built-in. Its easy to read and write on it, but we recommend scaling down to 100% or below to make the image sharper and to create more room.
Most portable OLEDs, like the UPERFECT O OLED we reviewed earlier, use a glossy outer layer instead of a matte AG coating. That lessens its effectiveness against sunlight when it's used outdoors, but panel brightness and proper angles can counter that. However,  it doesn't filter or affect color output, so images look fuller, more accurate, and have punchy tones or shades.
The 150BW is plug-and-play, and it booted up faster when it was connected via USB-C to our laptop. It doesn't automatically power up when it detects a signal, but that shorter boot time helps in lessening the inconvenience. Wireless connectivity is a different story since it takes more time, but the operation was smooth nonetheless.
This model was designed to be touch-capacitive and used with an active stylus pen like the Type1 that we received. It is great for creators because there is no perceivable delay between the pen and the screen, plus the sensitivity feels just right. The novelty of launching apps or games by pressing the screen is also nice to have, but this feature is more valuable for prosumers because of the pen functionality.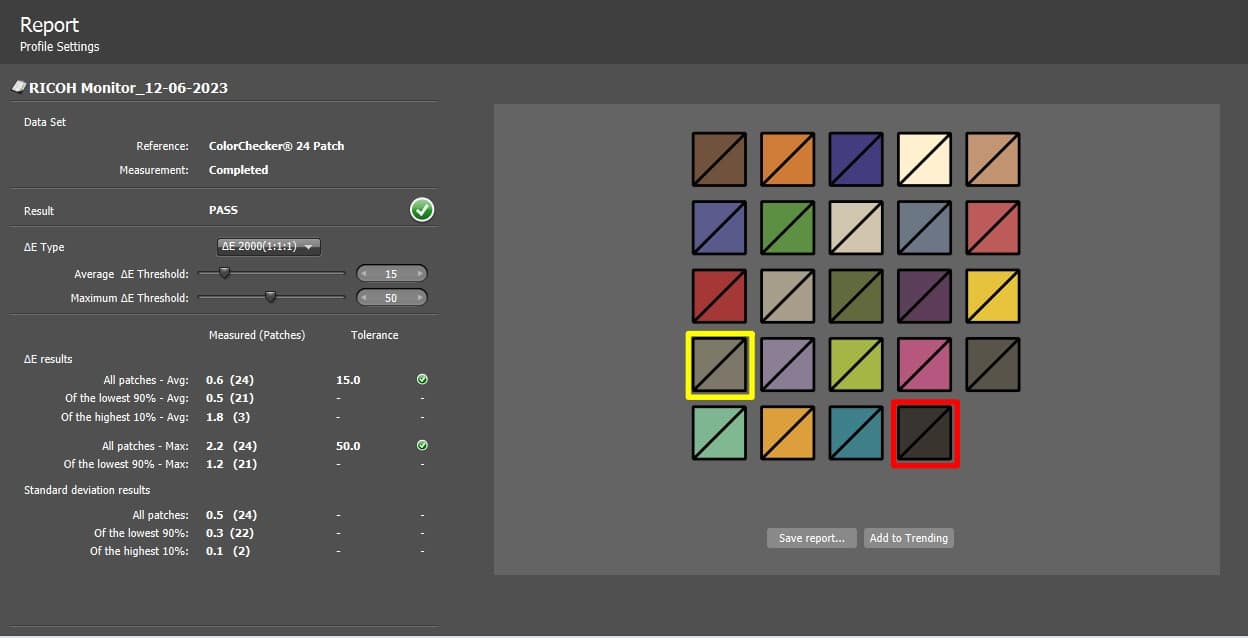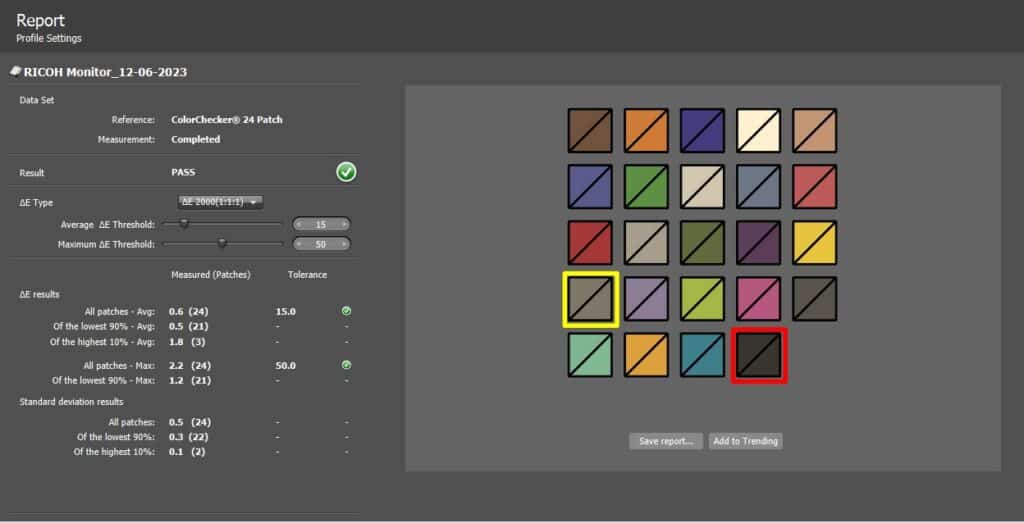 The RICOH 150BW stunningly covered 100% sRGB, 100% of Adobe RGB, and 95% of DCI-P3, according to our Spyder 5. That's considerably higher than what most portables can offer, and it makes colors from any media. Its downfall is its color accuracy which had a deltaE average of 4.0 due to the full-color coverages and lack of factory tuning.
Calibrating the monitor with the Calibrite Display Plus reduced the dE average to 0.6, indicating that its capable of prosumer-grade performance. The downside is that you will need to buy the colorimeter if you don't have one yet to get comparable results. We can only recommend that if you are into color-critical work, while anything else can make do by simply using the monitor's more neutral 8000K color temp.
The 150BW's OLED panel reached 284 cd/m2 at 100%, which is just enough for the monitor's purpose, except when used under lots of sunshine. Its contrast was incalculable for our colorimeters, indicating that it's near-infinite, just like most OLED monitors. It is capable of deep and true blacks, putting it steps ahead of its more prevalent IPS competitors.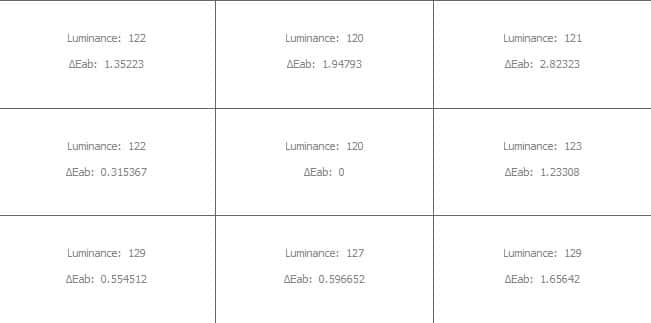 Panel uniformity for the test sample had very minor variances, particularly in the right-side corners of the screen. However, they were invisible to the naked eye while we tested the monitor, so our images and games were unaffected. Note that this can vary with every unit made due to tolerances, especially with OLED types, which are more sensitive and challenging to manufacture.
It's also important to note that OLEDs are prone to burn-in, even if the technology has significantly moved forward. The monitor didn't have an auto-refresh feature to help prevent this, so you must be conscious of it. Avoiding burn-in should be easy if you power down the screen when it is not in use.
It's a 60Hz model, but the screen's pixel response time was brilliant, thanks to the natural abilities of OLED technology. The monitor doesn't have to rely on a WLED backlight for transitions, so there is virtually no blurring or ghosting in fast-paced scenes. It is perfect for gaming because of this and its fantastic image quality, even if it's limited to 60Hz.
The RICOH 150BW isn't compatible with FreeSync or G-Sync, just like most business models in the market. That's fine since it doesn't take a lot to run games at 1080p, and it wasn't designed for that purpose. Its input lag feels lower or close to 10ms, so it is comparable with most business monitors, including portable models.
Thoughts on the RICOH 150BW
The RICOH 150BW is now our favorite portable monitor since it raised the bar in key categories. Its OLED panel is capable of extremely good visuals, while its operations, such as its touchscreen capabilities, are top-notch. It's beautifully designed and delicate but is built quite well, like all precision-manufactured and designed equipment from big-name Japanese brands.
There is still room for improvement, such as in its control layout, poor default color accuracy, or svelte leather case which needed more padding or protection. It's also pricey at its $736 MSRP for a portable at this size, although its OLED panel makes up for that premium. However, the RICOH 150BW basically ruined 1080p portable monitors for us since it's so good and is now our favorite in its category.
Pros:
Fantastic Image Quality
Full Gamut Coverage and Infinite Contrast
Brilliant Design and Build Quality
Easy to Use Connectivity
Cons:
Prone to Burn-in
Pricey
Sleeve Needs More Protective Padding
About the Author: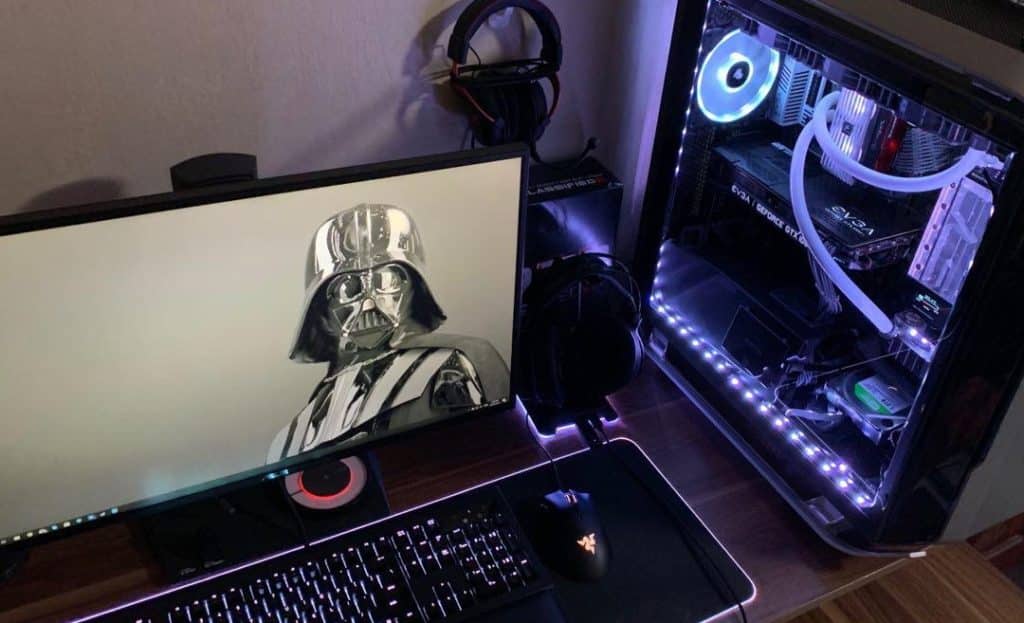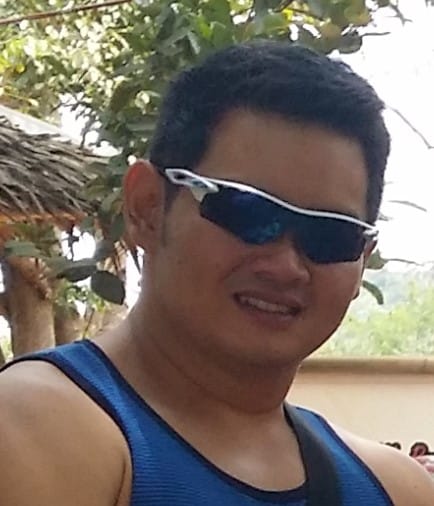 Paolo has been a gaming veteran since the golden days of Doom and Warcraft and has been building gaming systems for family, friends, and colleagues since junior high. High-performance monitors are one of his fixations; he believes that every citizen's right to enjoy one. He has gone through several pieces of hardware in pursuit of every bit of performance gain, much to the dismay of his wallet. He now works with Monitornerds to scrutinize the latest gear to create reviews that accentuate the seldom explained aspects of a PC monitor.