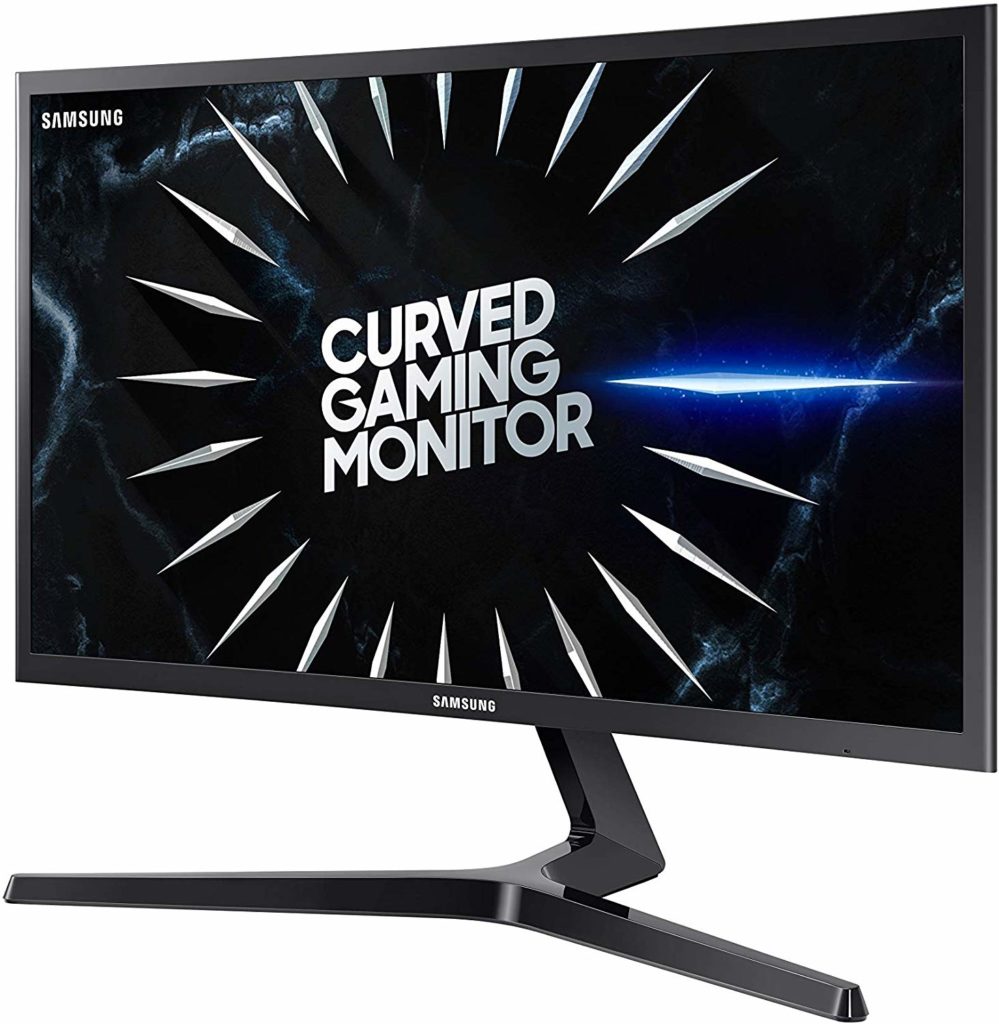 Pros:
Decent Image Quality
Affordable 144Hz Curved Display
Good Contrast
FreeSync and G-Sync Compatible
Cons:
Prone to Ghosting
Tilt Only Stand
The Samsung C24RG50 offers competitive gaming standards and a curved screen with excellent contrast at an attractive price point that's difficult to resist. This model emphasizes immersive visuals while enjoying smooth graphics which are essential if you want to upgrade your gaming beyond the norm. The Samsung C24RG50 offers a familiar formula in a more presentable design, but let's take a closer look at what it brings to the table.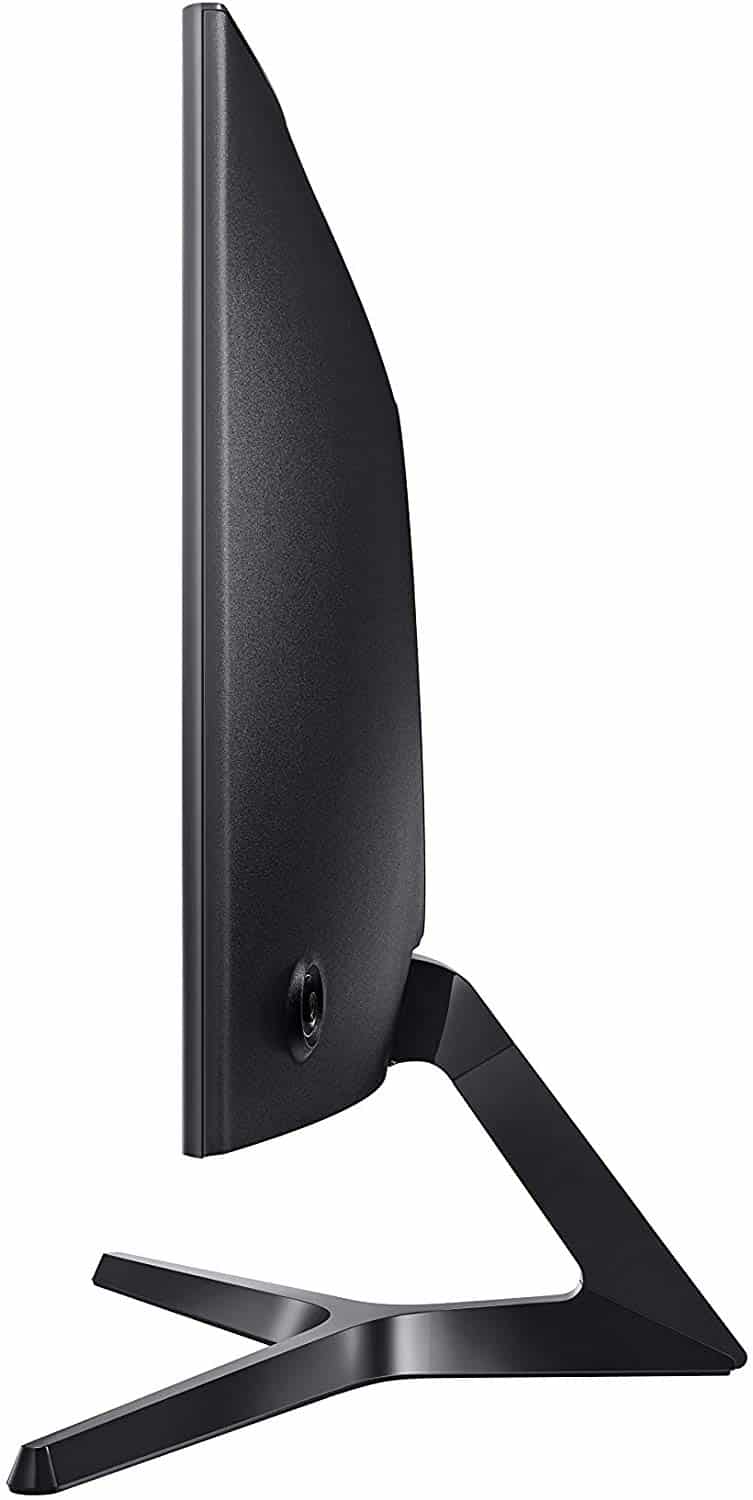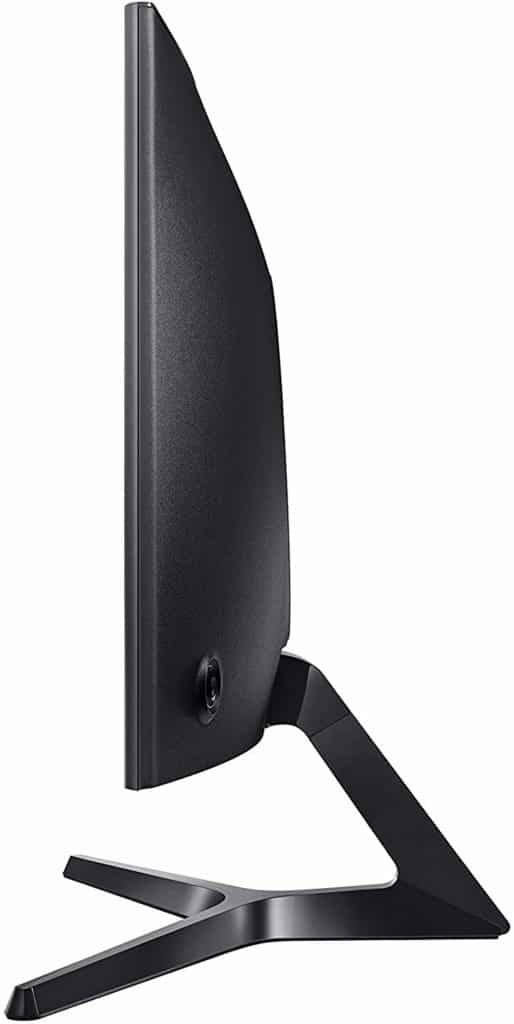 Samsung C24RG50 Specifications
Screen Size: 24 Inches
Resolution: 1920 x 1080 FHD
Aspect Ratio: 16:9
Panel Technology: Vertical Alignment (VA)
Refresh Rate: 144Hz
Response Time: 4ms
Contrast Ratio: 3000:1
Brightness: 250 cd/m²
Speakers: No
Connectivity: DisplayPort 1.2 x 1, HDMI 1.4 x 2, 3.5mm Jack x 1
Stand: Height – No
Stand: Tilt – Yes
Stand: Swivel – No
Stand: Pivot – No
VESA Compatibility – No
Dimensions (WxHxD): 21.57" x 16.95″ x 9.6"
Weight: 7.28 lbs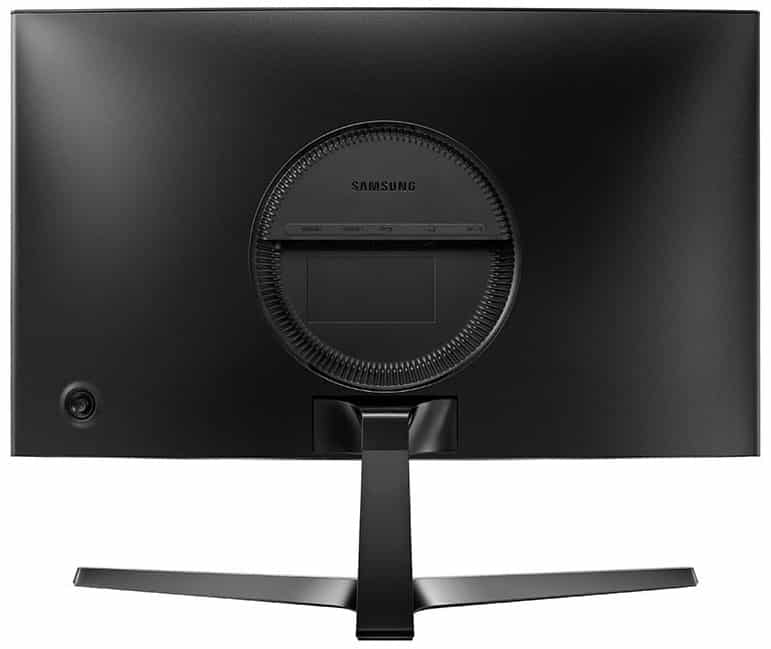 Design and Features
The Samsung C24RG50 sports a simplified aesthetic that would easily make anyone think that it's a business monitor rather than one for gaming. The chassis has a matte black finish all around which makes it look sleek while resisting dust and fingerprints as well. The display isn't bezel-free, but the thin borders encroach on the display's edges to sufficiently cover its panel borders which are usually thicker on VA types.
One thing that's immediately noticeable on the Samsung C24RG50 is its deeper than most 24-inch offerings. That's a given for the cabinet itself due to the 1800r curve, but the stand's Y-shaped base looks like it occupies too much space. The feet are thin they don't completely consume the desk space required, but the angled prongs will not let you place a keyboard or a mini soundbar as close as you would like.
This part also has a slight wobble due to its attachment point which lowers the center of gravity of the entire unit. Build quality is at least decent, so the Samsung C24RG50 manages to feel sturdy and reliable. The materials used do not have defects like warping, while all of the seams match together perfectly.
What we love about the Samsung C24RG50 and many of the brand's budget offerings is their use of a joystick instead of pesky buttons. This implementation always makes it easier to access and manipulate the OSD, and we're glad Samsung isn't skimping out even on their lower-tier offerings. It also doubles as the power button, so you don't see additional knobs or holes on the rest of the chassis.
The biggest limitation of the Samsung C24RG50's physical design is its stand which can only offer tilt for adjustments. You don't have to swivel a curved monitor so that's fine, but height adjustments would make the device more suited for taller users. You can, however, remove it in favor of a VESA mount, but you will need a separate adapter for it.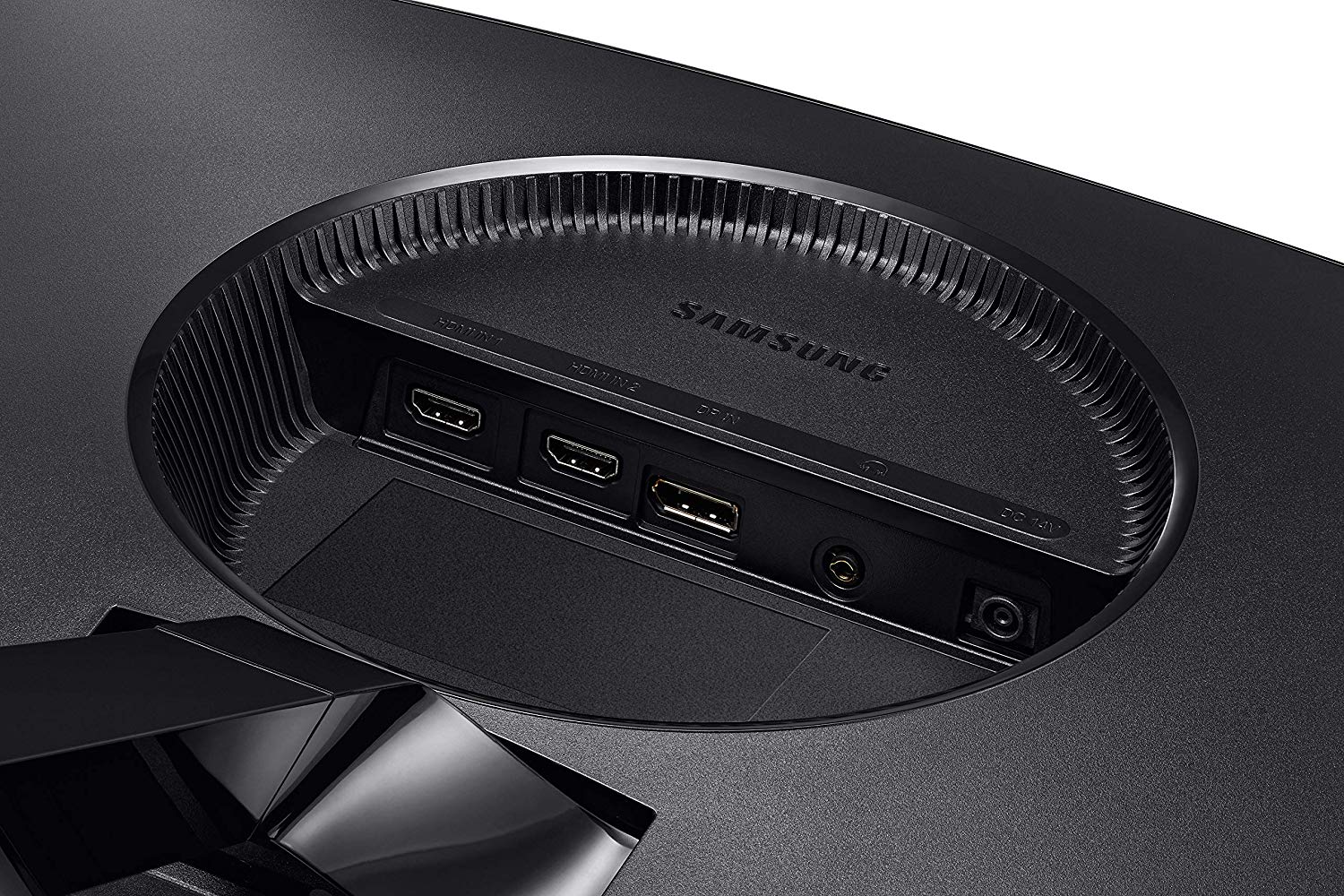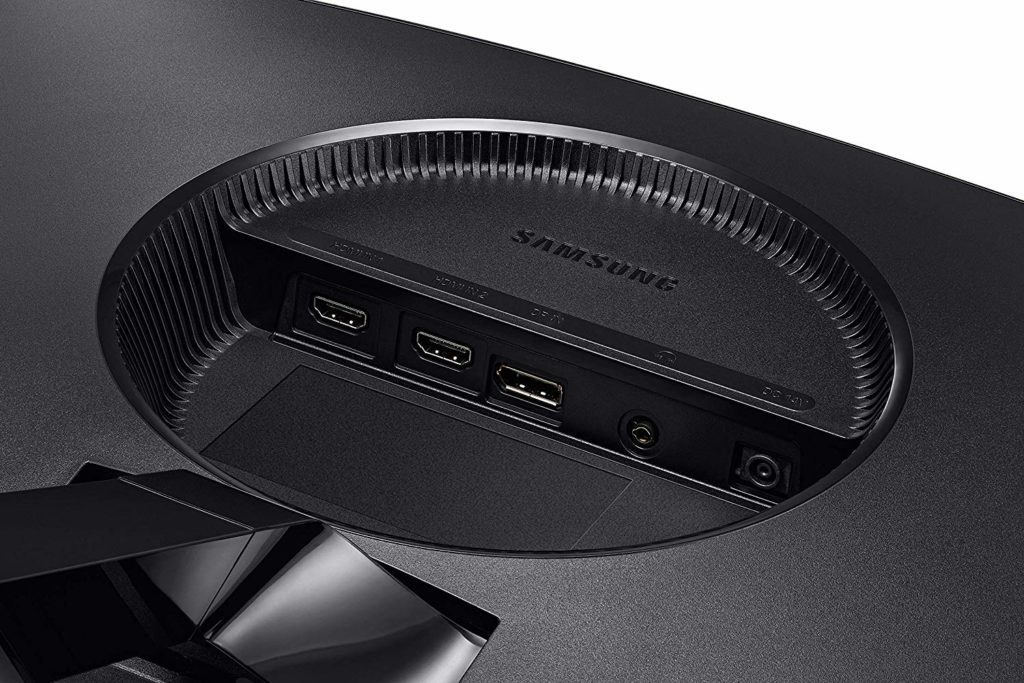 The Samsung C24RG50's connectivity panel is simplified as well, but it includes all you will ever need for a gaming PC and some secondaries. The DisplayPort 1.2 slot should handle 144Hz operation, while the two HDMI 1.4 connectors can accommodate two consoles with 1080p outputs. There is also a 3.5mm jack for your headset, but USB slots are not included in the package.
One of the things you can't expect to be included with a budget monitor like the Samsung C24RG50 is a pair of good built-in speakers. We think the omission is fair since this model is so cheap, but it would always be nice to have an alternative for your can's ear cups when they get hot. However, most built-ins do not have enough output power for entertainment purposes, so it doesn't matter as much anyway.
Display and Performance
The Samsung C24RG50 sports a 24-inch curved SVA panel with a 1920 x 1080 resolution, 144Hz refresh rate, and a 4ms response time. The backlight is limited to 250 cd/m2, while contrast is at a typical ratio of 3000:1 like most VA-type screens. The curvature has a 1800mm radius, but its less apparent on this variant since its quite small.
But what makes the proposition of the Samsung C24RG50 as a curved display is its suitability for multi-head setups since its affordable. The curve's benefits can be better enjoyed when three are positioned on your desktop for surround vision which costs less than $600. However, we don't recommend buying this model if you are banking on immersion if you are only getting one unit.
The full HD resolution on the Samsung C24RG50 fits its size perfectly, and it still is the universal standard for everyday computing. The pixel density is just right, so images don't look too soft or sharp that will go beyond a comfortable range. Walls of text will be entirely readable for most, but games won't look as sharp as a 1440p screen in a 27-inch form factor.
The Samsung C24RG50 covers a little over 99% of the sRGB gamut which is excellent for day to day use. The color temperature is slightly biased towards the cooler side of the 6500K point, but accuracy is pretty decent with a Delta E average of 2.63. You can calibrate the monitor to get a better result, but for most gaming applications, it isn't completely necessary.
The VA screen's contrast ratio isn't as high as the Samsung C24FG73's result at 2300:1, but that is still considerably higher than what you can get with TN or IPS variants. Blacks look deep and rich, while grayscale and shade separation are cleanly defined. The screen doesn't get too bright with a max output of 247 cd/m2, but we reckon most will only use 50% of that for eye safety purposes.
The curved panel of the Samsung C24RG50 produced a bit of clouding due to brightness inconsistencies at the center, but it did not affect the overall performance of the display. Most of the deviances are more apparent if you view dark images with the lights off, but they are not noticeable when full-color images are on display. This aspect of a monitor varies wildly between every unit due to manufacturing tolerances, so we recommend buying from a seller that will allow returns and exchanges in case you have issues.
Motion handling is the weakest imaging quality of the Samsung C24RG50 due to the nature of its VA panel. Some blurs and ghosting trails manifest when the transitions on screen are too fast or when you pan the camera too quickly. This model doesn't have the 1ms MPRT feature of its higher-tiered siblings, so you may have to look at other models if you play competitively.
The Samsung C24RG50 is a FreeSync monitor, but its also compatible with G-Sync for Nvidia GPU users. Buying this monitor will not lock your options to the two competing GPU brands, so you can reuse it as long as you would like between upgrade cycles. Input lag sits at 6ms when the monitor's Low Input Lag mode is active, so you won't feel any delays or "de-synced" instances while gaming.
Thoughts on the Samsung C24RG50
The Samsung C24RG50 is worthy of consideration if you want an affordable gaming monitor with a high refresh rate and good image quality. The screen's higher contrast helps pump up the eye-candy in gorgeously designed games such as the Outer Worlds. It's nice to have a curved screen for these types of titles, but the immersive properties of the monitor aren't as profound as it is on larger models.
We think it's fair that the Samsung C24RG50 is lacking a few creature comforts since it's so affordable by today's standards. The only considerable weakness of the product is its motion handling, which can only be fixed if there was a viable overdrive feature. The gaming monitor offers excellent value, but the newer IPS variants such as the AOC 24G2 are better in some aspects.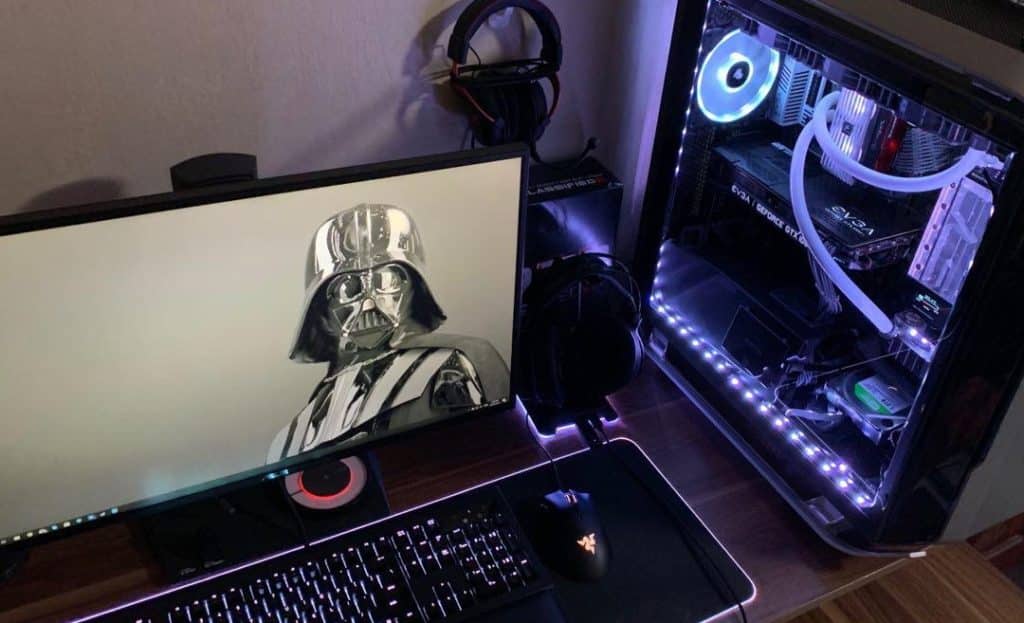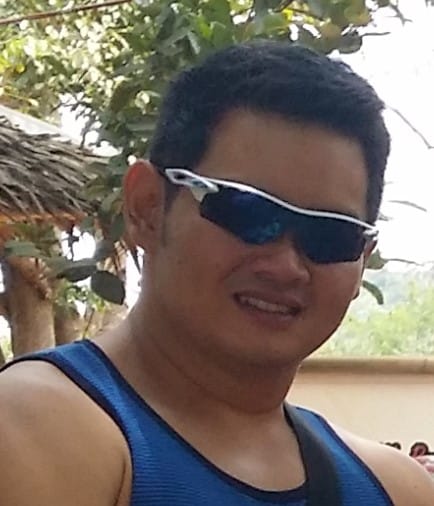 Paolo is a gaming veteran since the golden days of Doom and Warcraft and has been building gaming systems for family, friends, and colleagues since his junior high years. High-performance monitors are one of his fixations and he believes that it's every citizen's right to enjoy one. He has gone through several pieces of hardware in pursuit of every bit of performance gain, much to the dismay of his wallet. He now works with Monitornerds to scrutinize the latest gear to create reviews that accentuate the seldom explained aspects of a PC monitor.