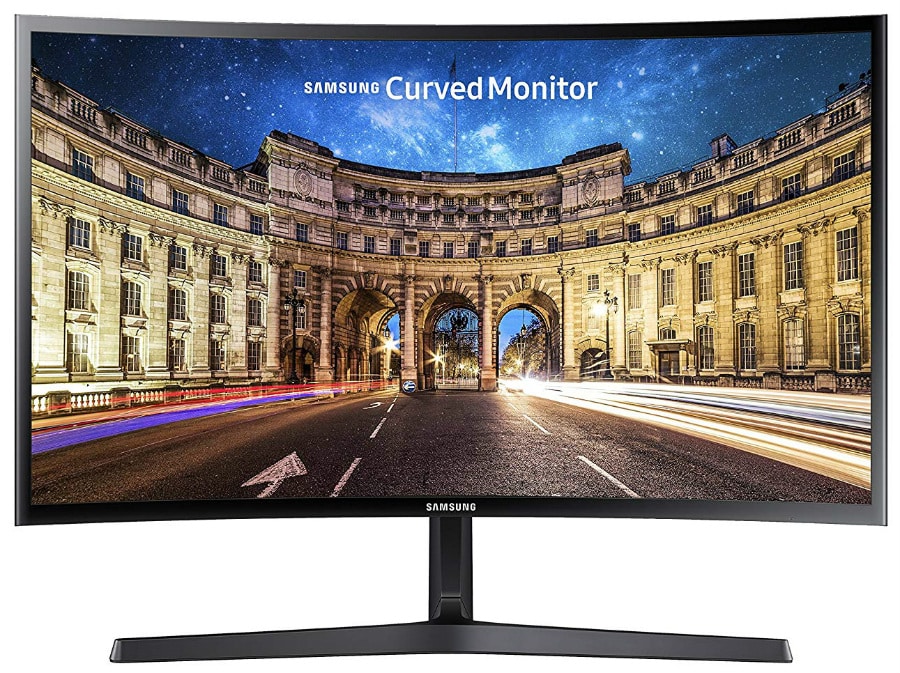 The Samsung C27F398 is an elegant, yet affordable display solution for all types of users who want an immersive full HD screen for everyday use. The monitor's specifications are as typical as budget monitors go, but its curved VA panel makes it unique in its price bracket. The Samsung C27F398 could be your next home or office screen, but just how good is it when it comes to image quality?

Samsung C27F398 Specifications
Screen Size: 27 Inches
Resolution:1920 x 1080 FHD
Aspect Ratio: 16:9
Panel Technology: Vertical Alignment(VA)
Refresh Rate: 60Hz
Response Time: 4ms
Contrast Ratio: 3000:1 (Static)
Brightness: 250 cd/m²
Speakers: No
Stand: Height -No
Stand: Tilt – Yes
Stand: Swivel – No
Stand: Pivot – No
VESA Compatibility: Yes (100 x 100)
Connectivity:HDMI 1.4 x 1, DisplayPort 1.2 x 1, 3.5mm Jack
Dimensions (W x H x D): 24.5" x 14" x 9.6"
Weight: 9.03lbs

Design and Features
The Samsung C27F398 is a budget-oriented offering, but it gets the same treatment as its higher-tiered cousins. The monitor sports a glossy black front with a combed, matte black rear for a clean and classy look. The face does have bezels, but they conceal the panel's borders almost entirely while still having reasonable widths.
The Samsung C27F398's build quality is what totally sets it apart from the brand's high-end offerings since there are some weaknesses. The plastic feels cheaper than the usual while the device feels very light and fragile. It stands up properly when propped onto a desk, but there is a slight wobble even if you nudge it gently.
The Samsung C27F398 takes up a relatively sizable amount of desk space due to the Y-shaped base's orientation. This provides stability for most of the brand's display products, but the hinge type attachment on the cabinet is clearly a weak link. The glossy finish used on this part is susceptible to smudges and dust so that upkeep could be bothersome for some users.
Another weak point on the Samsung C27F398 is its tilt-only mechanism, whereas several displays with identical designs have at least height adjustments. This limitation is forgivable since its expected from budget monitors, but many will dislike the product for this characteristic alone. Thankfully, you can opt for a VESA standard mount with a 75 x 75 bolt pattern which is easy to find for cheap.
To be fair, we can say that we like the Samsung C27F398's other functionalities such as its connectivity layout. The panel includes DisplayPort and HDMI instead of DVI or VGA which would make it easier to match the monitor to newer computers. There are no extras save for the 3.5mm jack, but that isn't a fault at this price category.
It's also commendable that the brand applied its OSD joystick feature to the Samsung C27F398. Joysticks are a godsend compared to multiple buttons which are uncomfortable and confusing to use. It also gives the product a cleaner look without sacrificing ease of access for most users, unlike models with protruding buttons at the bottom or rear.
Display and Performance
The Samsung C27F398 includes a 27-inch curved VA panel with a 1920 x 1080 resolution, 60Hz refresh rate, and 4ms response time. The panel's backlight can only go up to 250cd/m2, but the display is rated with a 3000:1 contrast ratio. The 1800r curve radius is slightly more aggressive than some ultrawides we've tested, but it doesn't distort images up to a certain degree.

In fact, the characteristic even increases the Samsung C27F398's value because it seems to be more engrossing if you are watching movies or playing casual games. The corners of the display appear closer especially if you sit close enough. However, it's best to opt for a larger screen if this aspect is what you are after in a monitor.
The Samsung C27F398 posts decent scores for a budget display, but it falls short of our expectations for a VA panel. The screen is only able to produce 97% of the sRGB gamut volume with a mediocre default accuracy of Delta E 3.5. Calibration or even tweaking the OSD can induce massive improvements, reducing the errors to Delta E .8 which is on-par with prosumer variants.
Gamma is also slightly off at 2.1 out of the box, but apply calibration and reducing the default brightness can increase it to 2.2 for perfect tracking. Doing this treatment also corrects the extra warmth of the screen and places its temperature closer to 6500K. That's a massive improvement over the 6000K at default, which, again, is too yellowish for our taste.
The Samsung C27F398 excels in contrast, putting out a maximum of 2900:1 when brightness settings are perfectly tuned. This gives the screen a lusher appearance with improvements in grayscale performance and black luminance. The screen looks a bit brighter on the center when a full black image is displayed, but that shouldn't be an issue in most games and movies.
But the latter has to start somewhere, and unfortunately, its the Samsung C27F398's panel uniformity which could use some improvements. The module on the test unit had some noticeable deviations from the center to the side which amounts to around 14%. The flaw isn't entirely devastating to the monitor's usability, but we hope other units or variants have better quality.
The Samsung C27F398 is a VA-based monitor, so slow pixel response times which equates to blurring can be expected in fast-paced games or even action movies. Thankfully, the monitor already includes a three-stage Response Time setting which you can use to alleviate ghosting or smudging. Setting the option to its Fastest level is highly recommended even if there is minimal overshoot since its the only way to lessen this known flaw from VA screens.
This model is FreeSync certified with a functional range of 48Hz to 72Hz, but it has not been tested with G-Sync compatibility. You can also increase the refresh rate to 72Hz without overclocking to add more value to the monitor's capabilities. This can be achieved by activating FreeSync or by setting a custom resolution via Nvidia Control Panel.
The Samsung C27F398's input lag only goes up to 10ms, meaning it will be very responsive even if it doesn't have an extended refresh rate. This score is good enough for competitive gaming, but it's optimal to choose a 144Hz variant instead for smoother gameplay.
Thoughts on the Samsung C27F398
The Samsung C27F398 is a well-rounded budget monitor since its one of the cheapest 27-inch curved displays we've come across. The monitor's imaging qualities aren't perfect, but its merits are considerable due to the pricing and the use it was designed for. This model is an excellent option if you want to watch movies or play games casually, aside from the usual document processing or daily browsing.
We're a bit disappointed in the build quality and the included functionalities which took the biggest hit so the monitor could make its price point. The Samsung C27F398 is a great choice if you can live with its limitations such as its tilt-only stand and would rather enjoy a large, curved screen for media consumption or light gaming.