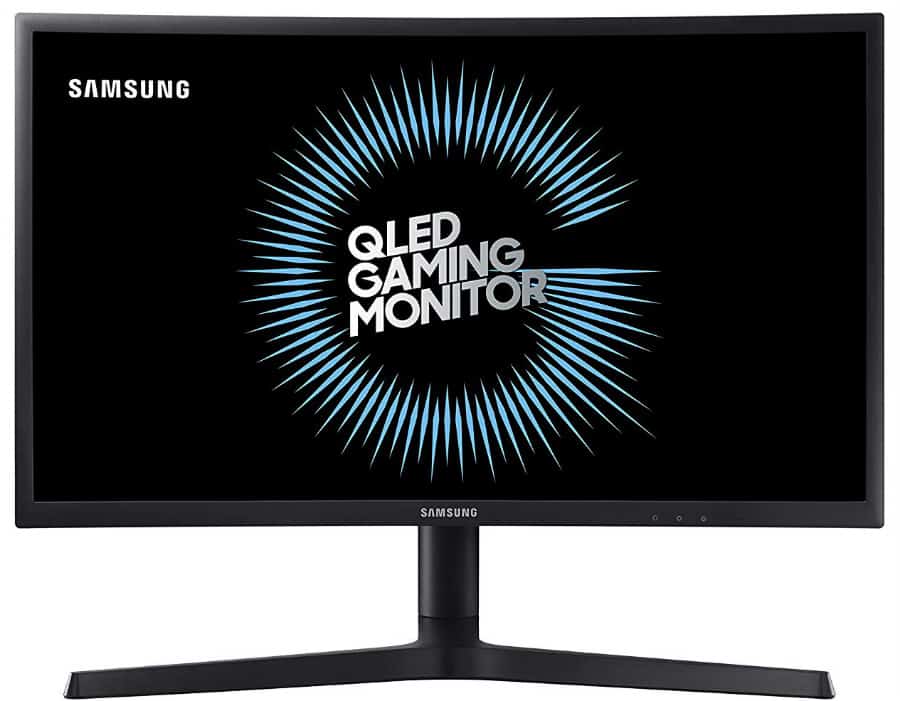 The Samsung C24FG73 is an improved evolution of the attractive CFG70 series which provides excellent specifications for a reasonable price. This model is advertised as a business monitor, but its specs betray a gaming pedigree we would consider as the standard for competitive players or enthusiasts. The Samsung C24FG73 has supposedly cured the imaging issues of its predecessor, but how does it stack against today's latest and greatest?

Samsung C24FG73 Specifications
Screen Size: 24 Inches (1800R Curvature)
Resolution: 1920 x 1080 FHD
Aspect Ratio: 16:9
Panel Technology: Vertical Alignment (VA)
Refresh Rate: 144hz
Response Time: 4ms
Contrast Ratio: 3000:1 (Static)
Brightness: 350 cd/m²
Built-in Speakers: No
Stand: Height -Yes
Stand: Tilt – Yes
Stand: Swivel – Yes
Stand: Pivot – Yes
VESA Compatibility: Yes (100 x 100)
Connectivity: HDMI 1.4 x 2, DisplayPort 1.2 x 1, 3.5mm Audio Jack
Dimensions with Stand(WxHxD): 21.45″ x15.14″ x 05″
Weight: 7lbs.

Design and Features
The Samsung C24FG73 retains the general aesthetic formula from its predecessor which is composed of a matte black chassis with very discrete baby blue accents. The monitor is included in the firm's business monitor portfolio, and if it weren't for the screen specs, you'd think it truly was an office display. This newer variant isn't bezel-free, but the borders are within acceptable limits that cover most of the inner panel border.
This variant has a 1800r curvature which is slightly too aggressive for this size which diminishes its benefits. Curved screens are more suited to larger displays in our opinion so users can appreciate the closer peripheral views to lessen eyeball movements and strain. But what's great about an affordable curved gaming monitor like the Samsung C24FG73 is you can easily assemble a semi-circle of multiple units for extreme immersion.
Build quality for the Samsung C24FG73 is fairly good and there is no feeling of cheapness or cost-cutting like what you can see on some lower tier gaming monitors. The plastic panels of the chassis feel nice to the touch and are pretty solid. Samsung also solved the wobbling issues we noticed on the previous model, but it took an overhaul to get rid of it.
This model now sports the Y-shaped stand with wide-reaching base arms you will normally find on a lot of Samsung's newer offerings. You can tilt, swivel, pivot, and adjust the height of the display, so virtually any comfortable position is possible. This model is also VESA-friendly, but the mechanism to remove the stand isn't the easiest to manipulate.
What we love about Samsung's monitors is that they consistently offer a joystick for the device's functions instead of pesky buttons. This gadget is positioned at the far corner so users won't have to overextend to reach it to switch power or adjust something in the OSD. It's also worth noting that the brand removed the arena lighting feature on this model.
The Samsung C24FG73's connectivity suite isn't the best out there, but it does carry all the essentials. You will find a DisplayPort 1.2 as the main video input along with dual HDMI 1.4 slots for consoles or video players. This model doesn't get USB slots and speakers which aren't missed by most but should add value to any display product.
Display and Performance
The Samsung C24FG73 sports a 24-inch curved VA panel with a 1920 x 1080 resolution, 144Hz refresh rate, and 1ms response time. An edge-lit backlight with a 350 cd/m2 maximum output and a contrast ratio of 3000:1 is also specified for excellent range and brightness control. This model also includes Quantum Dot technology for better vibrancy and deeper shades.
The Samsung C24FG73 is available in a 27-inch form factor, but the resolution fits more perfectly in this size. 27-inch 1080p variants are great for visibility, but they spread out the pixels which in turn degrades details and sharpness. That kind of monitor has its merits, but we know most still prefer the sharpness of 1080p on a smaller diagonal.
The Samsung C24FG73 punches out with excellent vibrancy, reaching up to 130% of the sRGB gamut for eye-popping colors. Accuracy could do better at DeltaE 2.7, but we think the overextensions in some shades are mostly to blame. The screen has a slight blush despite having a well-balanced color temp, so we recommend turning down the red in the RGB controls by one click to fix it.
Contrast is equally impressive at a maximum of 2500:1, giving way for excellent black depth and grayscale performance. The Samsung C24FG73 is also able to hit a perfect gamma level of 2.2 just by using Mode 1 in its OSD, so you won't need a colorimeter unless you want to push it to its limits. Games like The Division 2 look much more convincing or engrossing on a gaming display like this variant.
One of the Samsung C24FG73's biggest flaws is its panel uniformity due to some clouding issues at the corners. Using the monitor in dark rooms at high brightness will make these deviances extra noticeable, so we recommend limiting it to 30% at the most. Colors aren't affected at a large scale, but the differences are there if you look close enough.
Motion handling on the Samsung C24FG73 could also use some improvements due to the slightly noticeable smudging on high-contrast objects in games. The trailing and ghosting will show if you swipe the screen, so we advise against using this monitor for fast-paced games like CSGO. It's also unfortunate that this model doesn't have an overdrive function in the OSD to cure this issue.
You can, however, use the Samsung C24FG73's 1ms MPRT to boost the screen and get rid of blurs and smudges. However, remember that you might have to re-adjust your brightness in this mode since it will drop the max brightness to around 225 cd/m2 versus the original maximum of 348 cd/m2.
The Samsung C24FG73 includes FreeSync, but its functional range is shorter than most at 70Hz to 144hz. This model also works with G-Sync compatibility for Nvidia card users, but there are some glitches such as needing to power cycle the monitor to get the VRR tech working again. Input lag for the product averages at 10ms, so there are no delays or "de-synced' instances when using this model.
Thoughts on the Samsung C24FG73
The Samsung C24FG73 is a well-designed display with excellent build quality, but it has a lot of issues that many will find irritating. We don't have any complaints regarding the color accuracy, quality, and contrast of the VA panel, but the clouding issues will be difficult to ignore. Many will dislike the limited variable range of the monitor, not to mention that this model also doesn't play well with G-Sync compatibility.
But if you are the gamer type who wants more eye-popping colors or excellent visuals on engrossing RPG titles, the Samsung C24FG73 is a good fit. Its reasonable price makes it an easy pick especially if you wish to avoid the flood of TN-based offerings in the market.