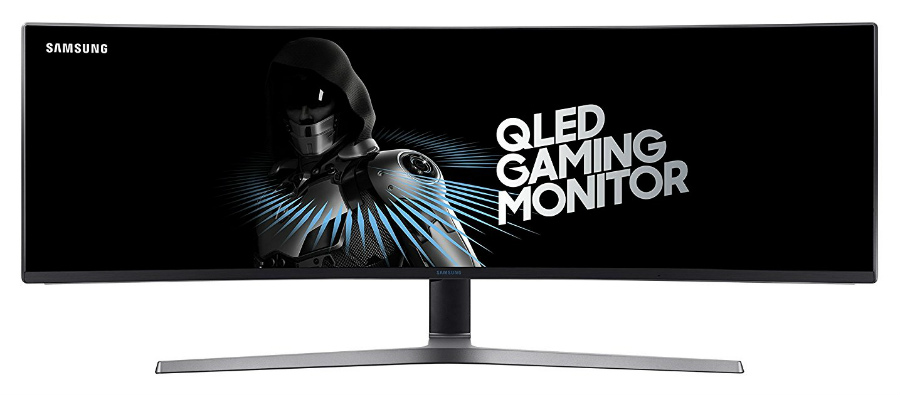 The Samsung C49HG90 is an all-new and exciting ultra-wide concept monitor from one of best Korean brands in the display game. This new model features a breath-taking 49-inch diagonal with a 32:9 aspect ratio which is almost similar to a dual 27-inch setup. Samsung proudly announces that this latest range will focus on gaming, but the most exciting feature this device brings is its HDR compatibility and the introduction of AMD's FreeSync 2 technology.

Samsung C49HG90 Specifications
Screen Size: 49 Inches
Resolution: 3840 x 1080 DFHD
Aspect Ratio: 32:9
Panel Technology: Vertical Alignment (VA)
Refresh Rate: 144Hz
Response Time: 1ms MPRT (Motion Picture Response Time)
Contrast Ratio: 1000:1 (Static)
Brightness: 600 cd/m²
Stand: Height –Yes
Stand: Tilt – Yes
Stand: Swivel – Yes
Connectivity: DisplayPort 1.2 x 1, Mini DisplayPort x 1, HDMI x 2, USB 3.0 x 4, 3.5mm Jack
Dimensions with Stand(WxHxD): 47.4" x 20.7" x 15"
Weight: 33.1lbs

Design and Features
The Samsung C49HG90 is a matte bluish black-clad ultra-wide beast with clean, streamlined design lines and an alluring physical profile which suits a designer model better than a gaming one. The minimalist and borderless makes the insane, 49-inch screen all the more engrossing. Although we suspect that there will still be black borders on the upper edge and to the sides, only the bottom bezel is strikingly visible.
Of course, the 49-inches of viewing space hugs the user via an 1800r curvature which is the most probable sweet spot for curved ultrawide because it isn't too aggressive, but its effects are felt. The included Y-shaped stand's width almost reaches to the sides of this massive panel so it might eat up a lot of desktop space, but in our opinion, the arm's length is a necessity for stability.
The mechanism will include height, tilt, and swivel adjustments which surpass the older models Samsung offered. So far, only the Samsung C49HG90 is this flexible, although there is no word if this part can be removed. A LED light ring surrounds (Arena Lighting)the joint on the cabinet as a decorative feature. We aren't sure if it's RGB, but it does have cool features like increasing intensity as games become louder or explosive.
Since this product is going to be the new flagship for the brand, the Samsung C49HG90 features a complete array of connectivity options. The I/O panel is hidden by a removable cover on the bottom part of the screen, and it includes DisplayPort 1.2a, Mini DP 1.2a, two HDMI slots, and four USB 3.0 ports for peripherals. There are no included speakers, but you do get 3.5mm audio passthrough jacks for your headset.
Display and Performance
The Samsung C49HG90's 49-inch QLED SVA panel has a 10-bit interface and is capable of 1.07 billion colors, which enables its announced 125% sRGB and 100% Adobe RGB coverage. The screen is HDR10 compliant so that it might have some coverage for Rec. 2020 which is the ultimate HDR gamut standard. These specs are very impressive for a gaming monitor, and we finally might get to see a suitable model which doesn't compromise between gaming and professional use.
Since the Samsung C49HG90 biases towards gaming performance, the new SVA module from Samsung can go up to 144Hz with an incredible 1ms response time. Typically, VA panels can only go up to 4ms, but for this model, Samsung is using their Motion Picture Response Time technology which uses an Impulsive Scanning Strobe backlight. These features, if implemented entirely, should bring this type into competitive monitor territory with low input lag figures and virtually non-existent image flaws like ghosting.
The native resolution for the Samsung C49HG90 sits at 3840 x 1080 which equates to a little over 4 million pixels. It isn't going to be difficult for today's powerful top end GPUs to crush that with extreme performance, but the real questionable aspect here is the 32:9 aspect and compatibility. Samsung claims that AAA titles shouldn't have an issue with this spec and that they have worked closely with big name developer studios like Dice to make sure that the Samsung C49HG90 performs up to par with the latest and the greatest.
These two companies are working on this new monitor tech with the upcoming Star Wars Battlefront II which will also have HDR compatibility you can maximize on monitors like the Samsung C49HG90. Ghost Games is also working closely with the partnership to ensure the upcoming Need for Speed game is up to spec, so gamers can enjoy the full benefits of HDR10 and this display's capabilities.
Another Exciting feature of the Samsung C49HG90 is it's FreeSync 2 compatibility which was designed for HDR-ready monitors. Announced at CES last January, we did not expect Samsung to be one of the first to offer the new tech. We have yet to see AMD's new VRR solution at work and how will it implement HDR graphic-goodness.
On the other hand, Nvidia GPU users shouldn't worry because Samsung already collaborated with the green company to check and ensure that Samsung C49HG90's HDR capabilities will function with the latest GPUs. You won't get to enjoy the stutter and tear-free benefits FreeSync brings, but we speculate that this new model's extremely unusual resolution would be a piece of cake for the likes of the mighty GTX 1080ti.
Thoughts
We are excited to see the Samsung C49HG90 in action and to experience a true HDR screen with spanking brand new technologies like FreeSync 2. The 32:9 aspect ratio is also intriguing, and even if this is only a preview, we already know that dual or even triple 27-inch screens will be phased out from techie wishlists. The Samsung C49HG90's unique form factor answers the desire to have an even wider view space which previous 21:9 models cannot provide, but are ruined by bezels if done with multiple 16:9s.
Of course, these trail-blazing features and capabilities will come at a whopping price. The Samsung C49HG90 will cost $1500 on release, and even if that is a considerable wad of cash, we think, for what it offers, this model is reasonably priced. For comparison, the Asus PG348Q costs $1100 to $1200 on the market today. For what this new type of ultrawide offers, the $300 to $400 is a small price to pay.
If this preview is convincing and you can't wait for the Samsung C49HG90 to reach the mainstream, we have good news. Samsung announced that the C49HG90 would ship worldwide by the end of this month (June 30, 2017). You can pre-order from Amazon right now by clicking the link below!