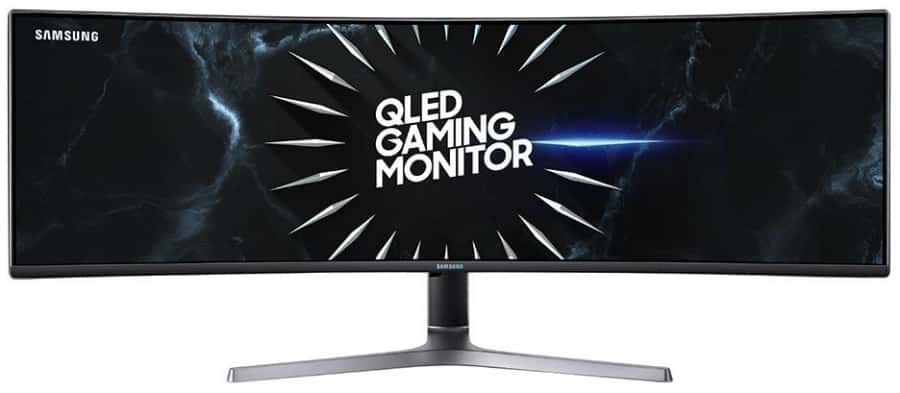 The Samsung C49RG90 is the latest evolution in the crazy-popular super ultrawide segment which includes the best specifications the industry has to offer. The massive, 32:9 screen offers a 120Hz refresh rate alongside its equally humongous resolution, then pumps it up with VESA DisplayHDR 1000 capabilities for gorgeous visuals. The Samsung C49HRG90 won't come cheap, but its one of the few you can invest in to enjoy the very best PC gaming has to offer.

Samsung C49RG90 Specifications
Screen Size: 49 Inches
Resolution:5120 x 1440 QHD
Aspect Ratio: 32:9
Panel Technology: Vertical Alignment(VA)
Refresh Rate:120Hz
Response Time:4 ms
Contrast Ratio: 3000:1 (Static)
Brightness: 600 cd/m²(1000 cd/m² Peak)
Stand: Height–Yes
Stand: Tilt – Yes
Stand: Swivel–Yes
VESA Compatibility: Yes (100 x 100)
Connectivity: DisplayPort 1.4 x 2,HDMI0 x 1, USB 3.0 x 5, 3.5mm Jack
Dimension (W x H x D): 47.22" x 20.59" x 77"
Weight: 32.19 lbs

Design and Features
The Samsung C49RG90 doesn't try to mutate the brand's current aesthetic direction with something new or gamer-ish which is a good thing in our opinion. The chassis has an all-matte black finish that is stylized with clean lines and an overall minimalist appearance. The screen isn't bezel-free, but the sides and top have thin borders thanks to a dual-stage design.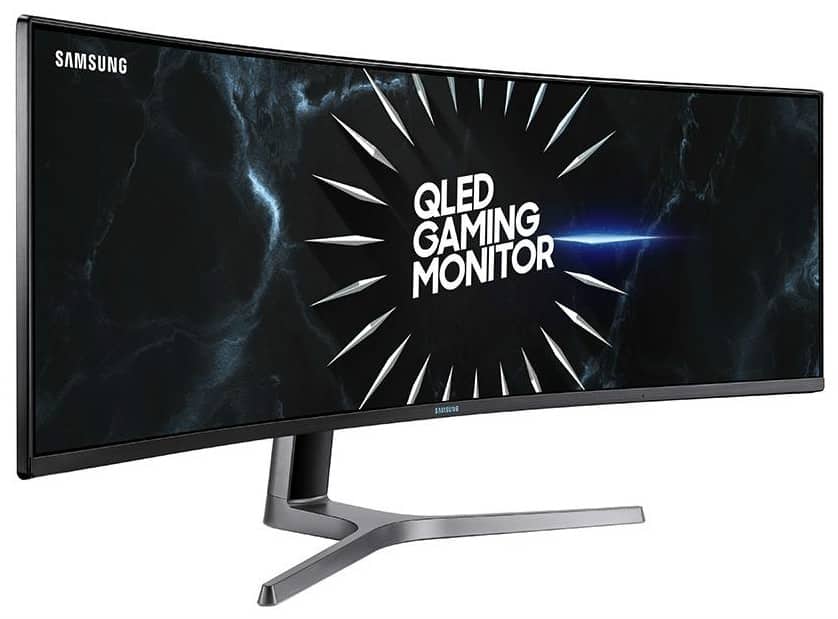 You are paying a small fortune for the Samsung C49RG90, but its build quality says a lot about that. The device's finish feels refined, plus the monitor feels stable and robust once its propped on a desk. There are no signs of wobbling or weakness on the plastics, meaning the monitor will last and always look new for a few years to come.
The rear of the chassis has a smooth, matte surface which gives the Samsung C49RG90 an immaculate look. The brand isn't one of those who design their gamer-specific products with aggressiveness and decorations which some may like, but many find to be tacky. You will find a circular indent at the middle which doubles as the stand's attachment point and a decorative feature. This part includes an LED ring that glows blue which can be synchronized to your PC's audio output. You can set it to static or turn it off, but unfortunately, its color is fixed.
The most notable characteristic of the Samsung C49RG90 is its massive size which four feet of desk space plus some allowance. The display is expansive due to its 32:9 aspect ratio which is comparable to two 27-inch 1440p monitors side by side minus the bezels. It's great for multitasking and immersive gaming, but a visit to Ikea or something similar for a new desk might be required.
We like that Samsung opted to place the OSD joystick centrally at the bottom bezel for easy access. Most of their designs have the controller at the corner, and we imagine it would be very hard to reach on a monitor of this width.
The Samsung C49RG90 is supported by a flexible stand that has a penguin-feet shaped stand that should offer sufficient stability to the massive device. You can tilt, swivel, and adjust the cabinet's height, but this part requires more than a foot of depth on your desktop. That shouldn't be an issue for most, but some users with keyboard wrist rests might have difficulty placing the peripherals comfortably.
The I/O layout on the Samsung C49RG90 is decently equipped and is neatly tucked behind a cover that conceals and streamlines cables via a reasonably-sized tidy hole. The panel includes dual DisplayPort 1.4 and a single HDMI 2.0 slot for video inputs, along with a total of five USB 3.0 slots for peripherals. The monitor doesn't have speakers, but it includes a 3.5mm jack for audio passthrough.
Display and Performance
The Samsung C49RG90 boasts a 49-inch SVA panel with a 5120 x 1440 DQHD resolution, a 120Hz refresh rate, and a 4ms minimum response time. A contrast ratio of 3000:1 is also listed, but what makes this variant special is its 600cd/m2 backlight which can pulse to 1000cd/m2 when it's needed for HDR visuals. The monitor qualifies for VESA's DisplayHDR 1000 specifications which indicates that it will offer the best possible HDR quality for PC monitors.
The Samsung C49RG90 may be massive, but its sharpness is still comparable to a 27-inch QHD monitor like the Asus PG278QR. The screen is equivalent to two of the latter as mentioned, so there is virtually no noticeable difference when it comes to details and sharpness. It's also fantastic that you won't need to use scaling to read text while enjoying the considerably expanded viewing space.
Color quality is one of the Samsung C49RG90's advertised selling points, and it did not disappoint us. The VA panel is capable of exceeding 100% of the sRGB gamut or around 90% of the DCI-P3 color space if HDR is active. Color accuracy sits at Delta E 2.5, which isn't the best we've seen, but there are no visible miscolorations or variances.
Gamma is slightly off at 2.1, but the overall color temperature of the screen is almost perfectly set at the ideal 6500K standard. The screen looks rich with the color pop we like, but it doesn't look oversaturated or imbalanced.
Contrast is fantastic as well, reaching as much as 3500:1 in SDR mode. HDR contrast is another story since the backlight which reaches 850 cd/m2 when this mode is active pumps it up exponentially. These go hand in hand with the excellent color rendering in providing lush details and superb lighting effects.
HDR compatible games like Battlefield V or Rise of the Tomb Raider look fantastic in an HDR monitor like the Samsung C49RG90. Even minor details such as dimples on wet rocks are highlighted, while colors are noticeably more alive than on an SDR variant. The screen's engrossing qualities are enhanced by the sharper curve, along with these traits.
The Samsung C49RG90's panel uniformity is pretty decent since backlight variant stayed within 12%. Unfortunately, most of the flaw concentrated along the bottom row of quadrants, although the fault isn't immediately noticeable. This had little effect on color uniformity, resulting in a maximum error of DE 2.7 from the D65 standard, which is unnoticeable for the naked eye.
Responsiveness is one of our primary concerns with the Samsung C49RG90. Thankfully, blurs were kept to a minimal, becoming visible only when you pan the screen too fast. There is still a functional overdrive feature in the monitor, but setting it too high will induce evident overshoot.
The Samsung C49RG90 is a FreeSync 2 gaming monitor, but it isn't certified by Nvidia to be compatible with their VRR tech. G-Sync compatibility mode works, but functionality without any issues can't be guaranteed at this time. Input lag sat below 10ms when Low Input Lag mode is enabled, so you won't experience delays or de-synced instances in your sessions.
Thoughts on the Samsung C49RG90
The Samsung C49RG90 is a fantastic HDR gaming monitor if you want to enjoy the visceral impact of today's latest titles. The screen's imaging qualities are fantastic, although you should calibrate it with a colorimeter to iron out the errors the screen showed. Motion handling is excellent, since its noticeably faster than some of the VA screens we've tested in recent times.
The only caveat we can think of is the price you have to pay for the Samsung C49RG90 and the system needed to run it. The screen's massive pixel count will warrant a top-tier GPU or two, plus you have to pay almost two grand for the device itself. But if funding isn't an issue, this is one of the best you can buy in 2019.
About the Author: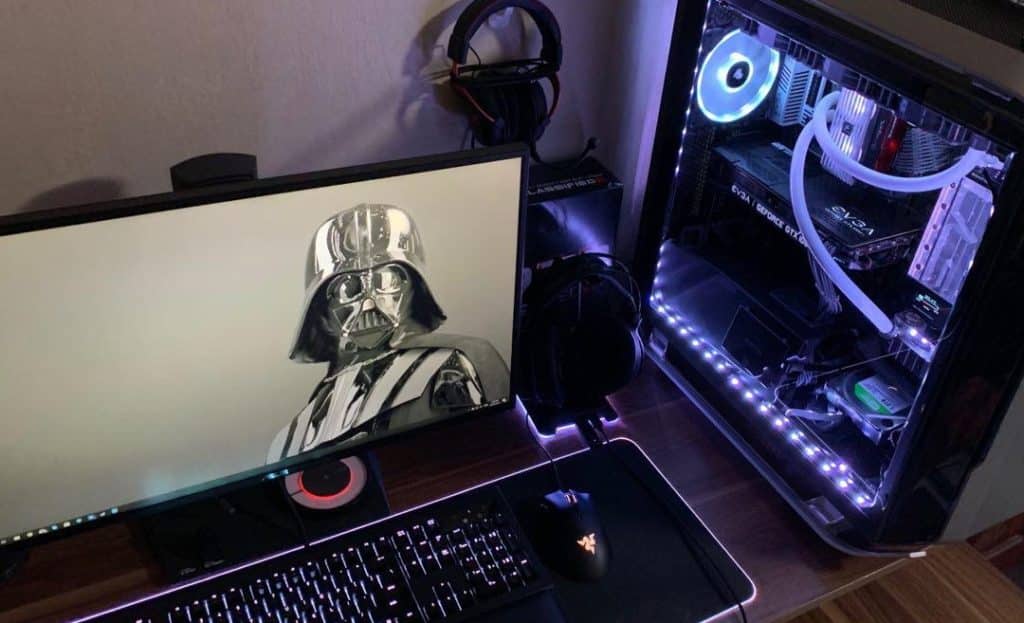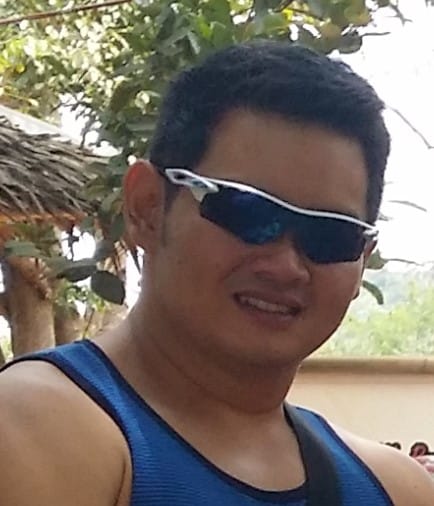 Paolo is a gaming veteran since the golden days of Doom and Warcraft and has been building gaming systems for family, friends, and colleagues since his junior high years. High-performance monitors are one of his fixations and he believes that it's every citizen's right to enjoy one. He has gone through several pieces of hardware in pursuit of every bit of performance gain, much to the dismay of his wallet. He now works with Monitornerds to scrutinize the latest gear to create reviews which accentuate the seldom explained aspects of a PC monitor.