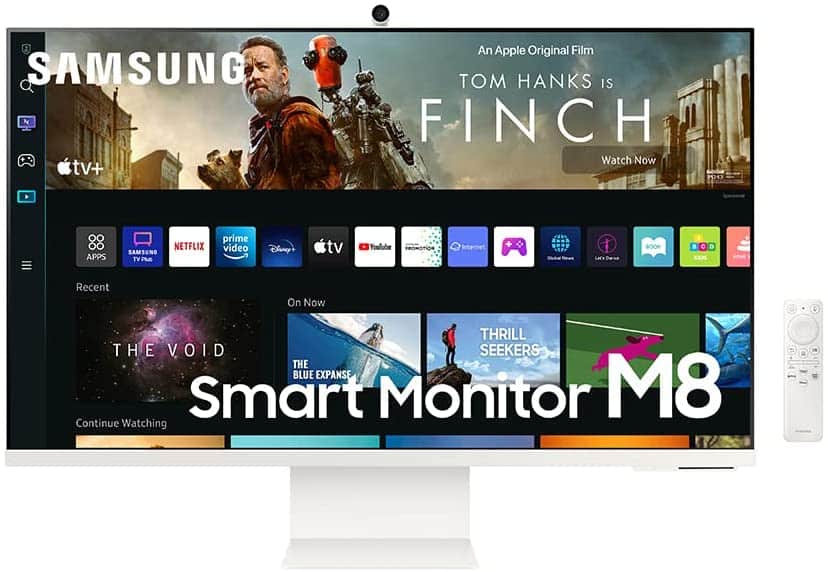 The Samsung M8 S32BM80 bridges the gap between PC monitors and TV by bringing unique features with it such as its Tizen Smart Platform. It adds new kinds of functionality to its large 4K screen which is ideal for various applications, including productivity and entertainment. The Samsung M8 S32BM80 is quite pricey for a 4K 60Hz monitor, so let's find out if it balances that out with incredible performance.

Samsung M8 S32BM80 Specifications
Screen Size: 28 Inches
Resolution: 3840 x 2160 4K
Aspect Ratio: 16:9
Panel Technology: Vertical Alignment (VA)
Refresh Rate: 60Hz
Response Time: 4ms
Contrast Ratio: 3000:1
Brightness: 300 cd/m²
Built-in Speakers: Yes (2.2 Channel)
Stand: Height – Yes
Stand: Tilt – Yes
Stand: Swivel – No
Stand: Pivot– No
VESA Compatibility: Yes (100 x 100)
Connectivity: Micro-HDMI 2.0 x 1, USB-C PD65W x 1, USB-C x 1, 3.5mm Audio Jack x 1
Dimensions: (W x H x D): 28.1" x 22.6" x 8"
Weight: 14.8 lbs

Design and Features
The Samsung M8 S32BM80 uses a lighter, more sophisticated aesthetic than most monitors and it doesn't look like a regular TV at all. It is available in white, blue, green, and pink so it gives you more options if you want to match it to your setup's color scheme. It's bezel-free on three sides, but you will still see inner borders when in use.
32-inch monitors are big and imposing, but the modern design has somehow reduced the overall dimensions of the product. it only needs 8 inches of depth from your desk, but it's still wide enough to cover your speakers if you have any. It's not the heaviest monitor around, but it is still easy to get unbalanced while carrying it due to its size.
Its build quality could be better especially since it's priced quite high for a 4K 60Hz monitor with a VA panel. There are no cosmetic defects, but the panels aren't thick enough to prevent flexing when moderate force is applied. However, its stand does a good job of keeping it upright even if the hinge feels a bit rough when you try to adjust it.
The Samsung M8 S32BM80 has an OSD joystick, but it's awkwardly positioned at the back so it is hard to reach. But thankfully, it includes a remote which is more convenient to use since it has all the functions plus voice control. We think owners will use that more often, although it will still need batteries for maintenance.
That remote will come in handy if you want to utilize the M8's full potential via its Tizen standalone OS. The monitor is essentially a smart TV as well so you can install hundreds of apps like Netflix or even Office 365. You won't need a PC to watch movies or browse, so having this capability adds a layer of convenience.
You also get a proprietary webcam that connects to an exclusive connector at the back of the monitor. The camera's quality is comparable to most front cams found on mobile devices, so it's clear enough to be used for video conferencing. However, its microphone isn't the best when it comes to clarity and audio quality.
The included stand only offers tilt and height adjustments, but that's enough to ensure that you get a comfortable viewing angle. The adjustment points feel a bit rough and creaky, but its firm and stable so the screen won't sag or shake. You can use VESA mounts, but we think it is only necessary if space is limited and it ruins the monitor's aesthetic value.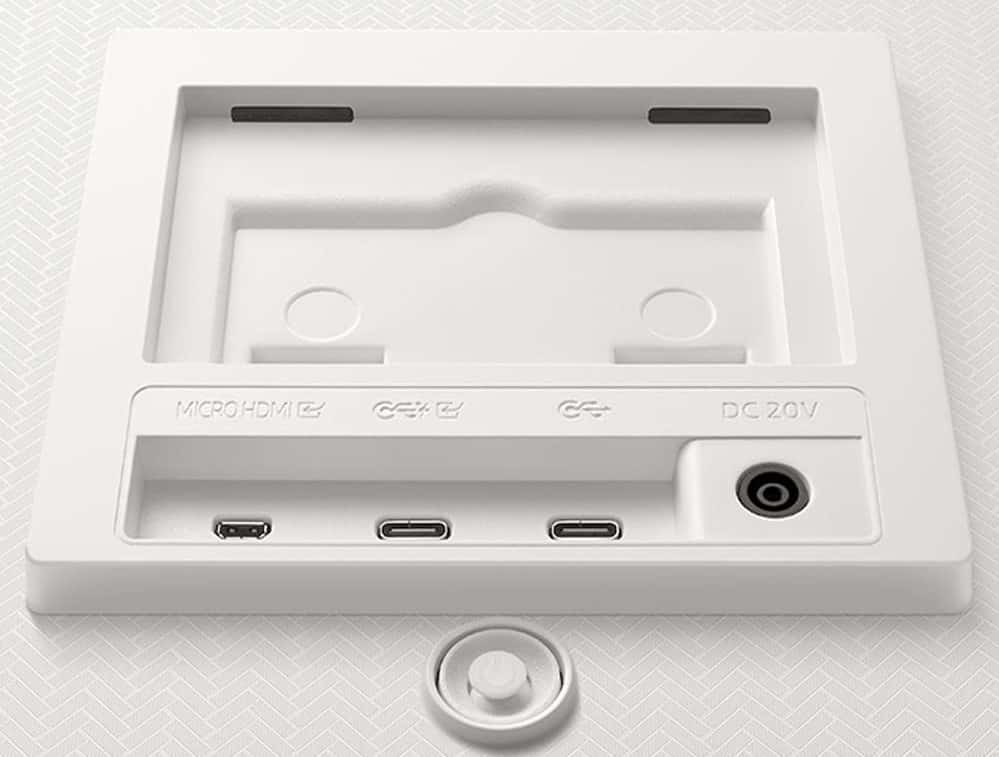 The Samsung M8 S32BM80's connectivity layout doesn't include DisplayPort which is pretty standard for a PC monitor. It only has a micro-HDMI 2.0 slot and a 65-watt USB-C slot for video inputs, so you might need adapters if you are using an older PC or laptop. You will also find a second USB-C slot and a 3.5mm jack for headphones, but the latter only supports data transfers.
You also get speakers with the new M8, but they aren't as good as those you'd find on TVs or even the high-end gaming monitors. They are incapable of bass and they sound tinny so most won't even use them for the monitor's other abilities.
Display and Performance
The Samsung M8 S32BM80 boasts a 32-inch VA panel with a 3840 x 2160 resolution, a 60Hz refresh rate, and a 4ms response time. The backlight has a 300 cd/m2 rating while the contrast ratio is listed at 3000:1 like most VA panels. This model isn't certified by VESA's HDR standards, but it does support HDR10+ so it can accept inputs and translate them.
32-inch 4K monitors are easier on the eyes compared to the more common 27-inch variants. The pixels aren't squeezed into a smaller screen so letters and numbers do not become microscopic. However, games and movies do not lose the benefits of 4K even though the pixel density is looser so you can still enjoy sharp and detailed images.
The Samsung M8 S32BM80 renders 96% SRGB and around 90% DCI-P3 for decent saturation which results in rich images. It is not the most vibrant VA panel we've seen, but that color coverage is more than enough for daily use. But the worse part here is the monitor's dismal color accuracy which had a deltaE average of 4.77 so it can look unnaturally oversaturated.
Calibrating it reduced the deltaE average to a more palatable 1.61 which looks more balanced. The downside is you need a colorimeter to get this kind of improvement, and those aren't cheap. We recommend tweaking the monitor according to your liking or setting its color mode to auto if want to lessen that oversaturation.
The Samsung M8 S32BM80's backlight reached 415 cd/m2 at 100% while contrast peaked at 4267:1. It is capable of fighting off glare and presenting deep blacks so games and movies with night scenes will look more convincing. This is VA's main draw over IPS where black images or backgrounds are washed out and grayish.
Panel uniformity for the M8 sample did not have considerable issues, but it did have minor backlight leaks at the top edge of the screen. It's not noticeable on white and colored backgrounds, but some clouding shows up in dark images. Note that this isn't permanent for the entire M8 lot, so it is possible to get a unit without flaws like this.
The Samsung M8 S32BM80's response time is where the panel's limitations lie. It is decent compared to older VA monitors, but smudging and trailing can still happen in contrasting transitions or if motion is too fast. The only usable overdrive setting that doesn't add overshoot is its Standard level, but it cannot completely clean the persistence and smudges.
The Samsung M8 S32BM80 isn't compatible with AMD's FreeSync, so naturally, G-Sync is also out of the question. We get that it's not a dedicated gaming monitor, but VRR is essential for users who wish to play games in 4K. Input lag sits at 10ms at 60Hz, so it's still very responsive and free from a sluggish or delayed feel.
Thoughts on the Samsung M8 S32BM80
The Samsung M8 S32BM80 is an attractive package that's worthy of consideration if its unique features appeal to your requirements. It's a PC monitor and a smart TV rolled into one attractive device that comes with the right features to make it very flexible. It has excellent contrast and good color coverage, but it lacks tuning that can make it an ideal pick for creative users.
You can consider it as a novelty monitor that's nice to have, but the bad news is it is considerably more expensive. There are a lot of affordable 32-inch 4K monitors now which are more practical picks if you don't need the smart features. It's an innovative product, but we think it will take some time for the smart features to catch on due to the high cost.
Pros:
Attractive Design
Built-in Smart OS
High Contrast
USB-C and Webcam Included
Cons:
Limited Connectivity
Dismal Factory Calibration
Expensive
About the Author: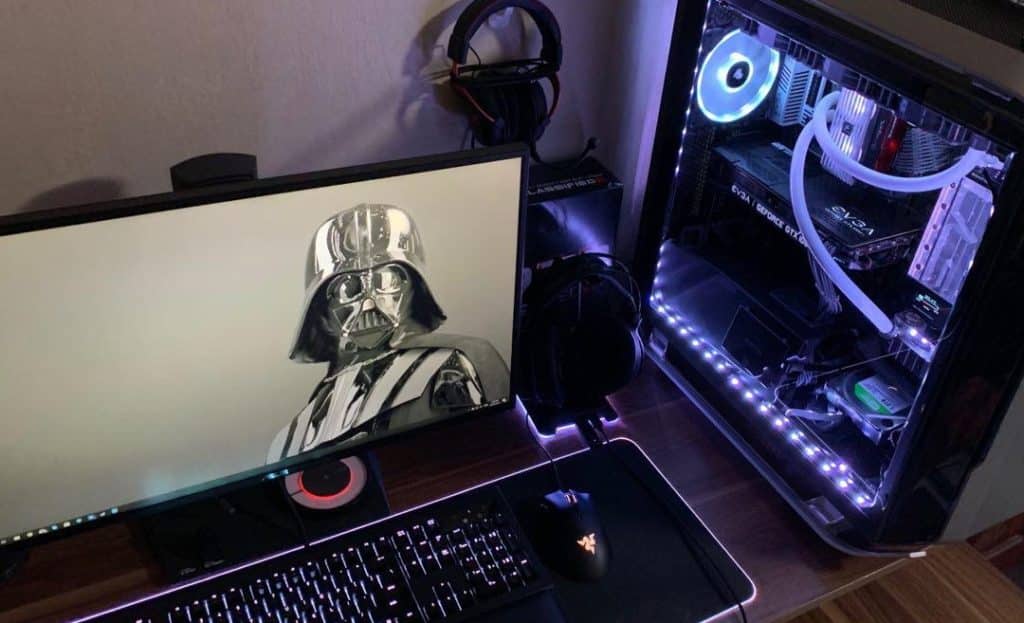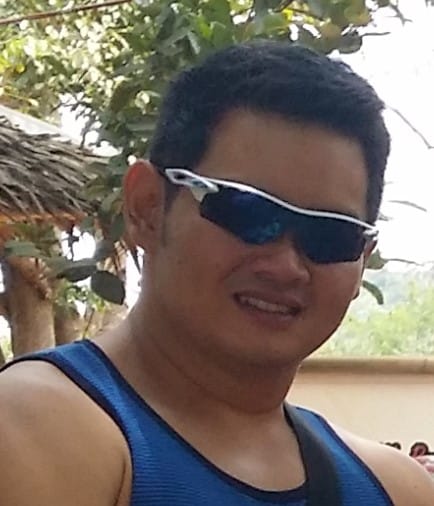 Paolo is a gaming veteran since the golden days of Doom and Warcraft and has been building gaming systems for family, friends, and colleagues since junior high. High-performance monitors are one of his fixations and he believes that it's every citizen's right to enjoy one. He has gone through several pieces of hardware in pursuit of every bit of performance gain, much to the dismay of his wallet. He now works with Monitornerds to scrutinize the latest gear to create reviews that accentuate the seldom explained aspects of a PC monitor.</span