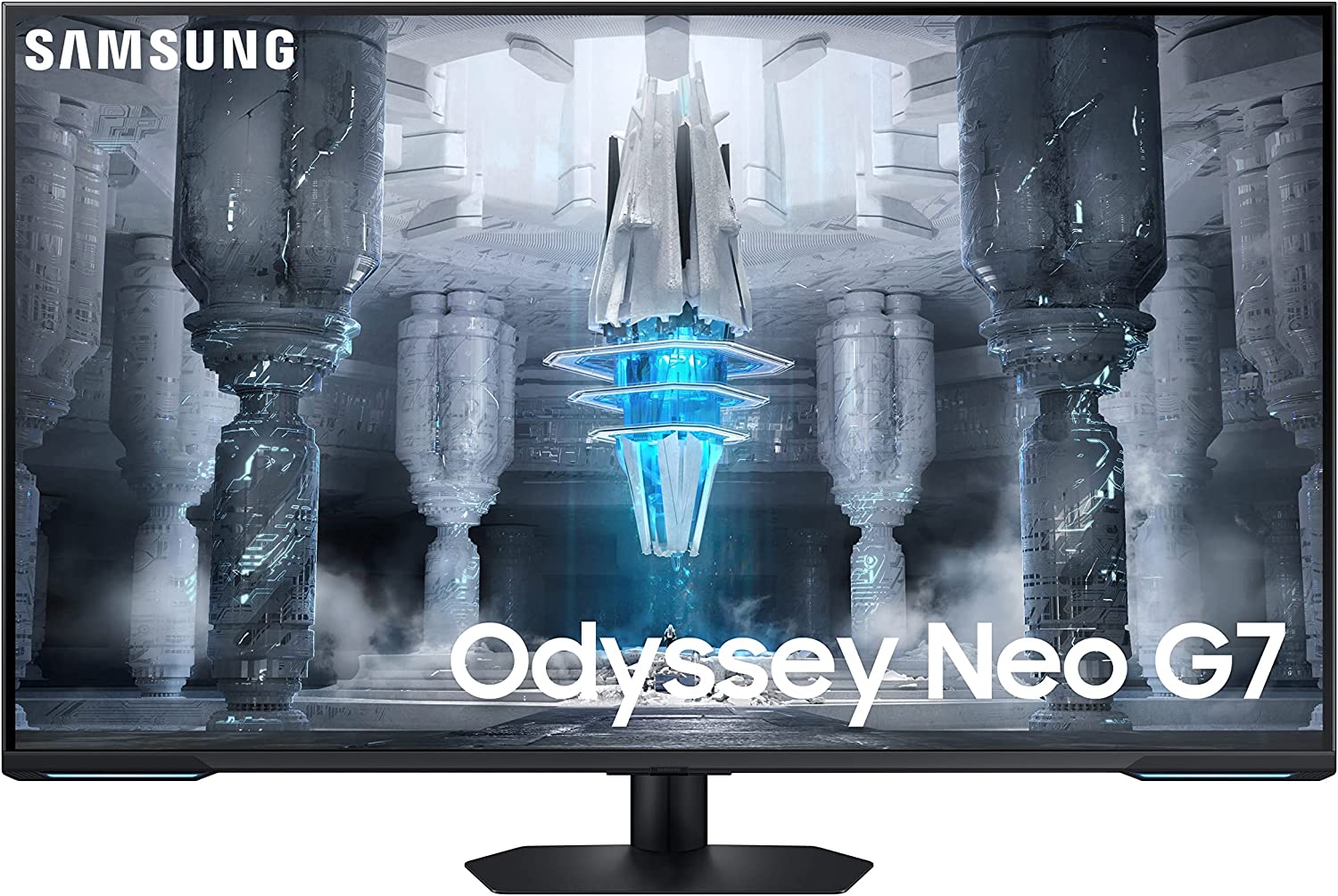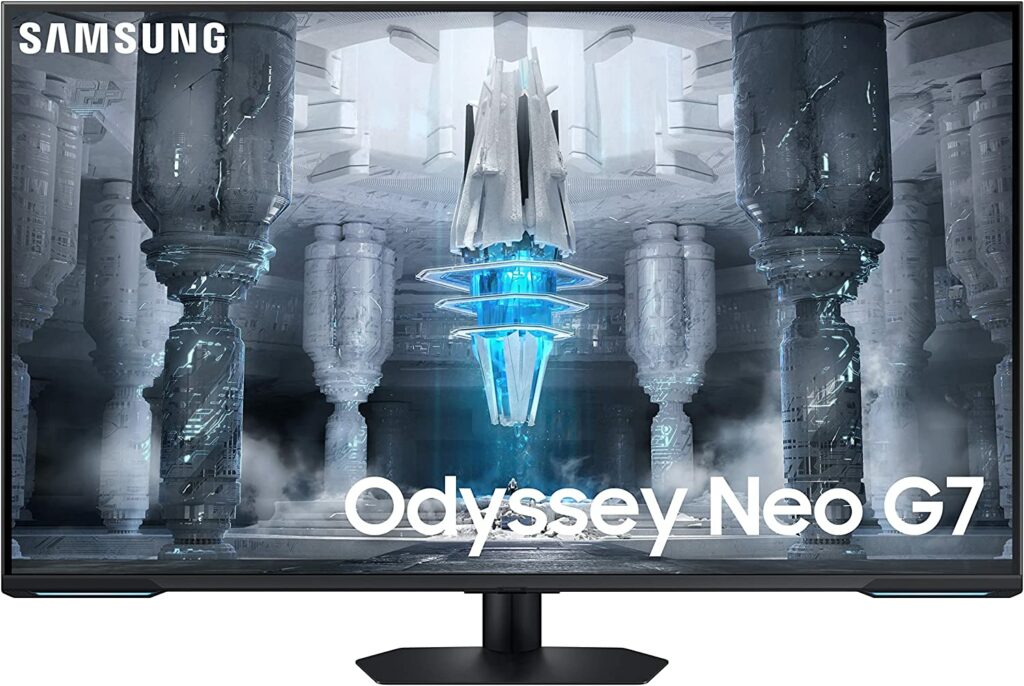 The Samsung Odyssey Neo G70NC offers the series' largest 4K 144Hz screen for gamers who want expanded visuals and HDR performance. It packs several desirable features like mini-LED and Samsung's Tizen smart monitor ecosystem, making its price even more attractive. Let's check it out to know if it's a worthy upgrade for gaming and productivity.

Samsung Odyssey Neo G70NC
Screen Size: 43 Inches
Resolution:3840 x 2160 UHD
Aspect Ratio: 16:9
Panel Technology: Vertical Alignment (VA)
Refresh Rate: 144Hz
Response Time:1ms
Contrast Ratio: 4250:1
Brightness: 400 cd/m2 (600 cd/m2 Peak)
Built-in Speakers: Yes (2 x 20 Watts)
Stand: Height – No
Stand: Tilt – Yes
Stand: Swivel – No
Stand: Pivot– No
VESA Compatibility: Yes (200 x 200)
Connectivity: DisplayPort 1.4x 1, HDMI 2.1 x 2, USB 3.0 x 3, RJ45 LAN x 1, 3.5mm Jack (In/Out)
Dimensions With Stand (WxHxD): 37.8″ x 25″ x 10″
Weight: 25.8 lbs

Design and Features
The Samsung Odyssey Neo G70NC follows the aesthetic concept of the brand's high-end models like the G9. It has a white shell and matte black combination, although it doesn't have the RGB lighting found on the other Odyssey Neo models. The display has a bezel-free design, but its inner borders are still there, even if they aren't noticeable because of the size.
It goes without saying that this variant is massive, just like the Aorus FV43U before it or the Dell U4323QE we reviewed earlier. It needs almost 40 inches of width from desks, so there isn't going to be a lot of space left for other peripherals in some cases. The monitor isn't the heaviest 43-inch monitor out there, but asking for help in carrying or moving it will be necessary.
Its build quality is great since there were no signs of weaknesses or cosmetic defects. It's mostly made of plastic, but each part feels reasonably reinforced to avoid breaking. The screen can wobble since the attachment point rides low, but that only happens if your desk isn't steady or if the screen is nudged accidentally.
What we like about these TV-sized models is their included remote which basically doubles their purpose. You can use them for couch gaming, but you also don't need to reach in for OSD buttons when some adjustments are necessary. The only downside is that you must change its battery occasionally, but that's a minor inconvenience.
This feature also goes hand in hand with the Samsung Odyssey Neo G70NC's built-in Tizen OS, similar to what you would find from its TVs and smart monitors. The G70NC can run a few things by itself without a PC, so you can stream from services like Netflix or even play games via the cloud. The OS itself is a bit sluggish, but that's understandable in this instance.
The included stand only offers tilt, but that's already an improvement. Many 43-inch TVs that are popularly used as a monitor don't have any adjustment, so you are stuck with one position for the rest of your life. You can also use 200 x 200 VESA mounts with this monitor, but not a lot will support its size its weight.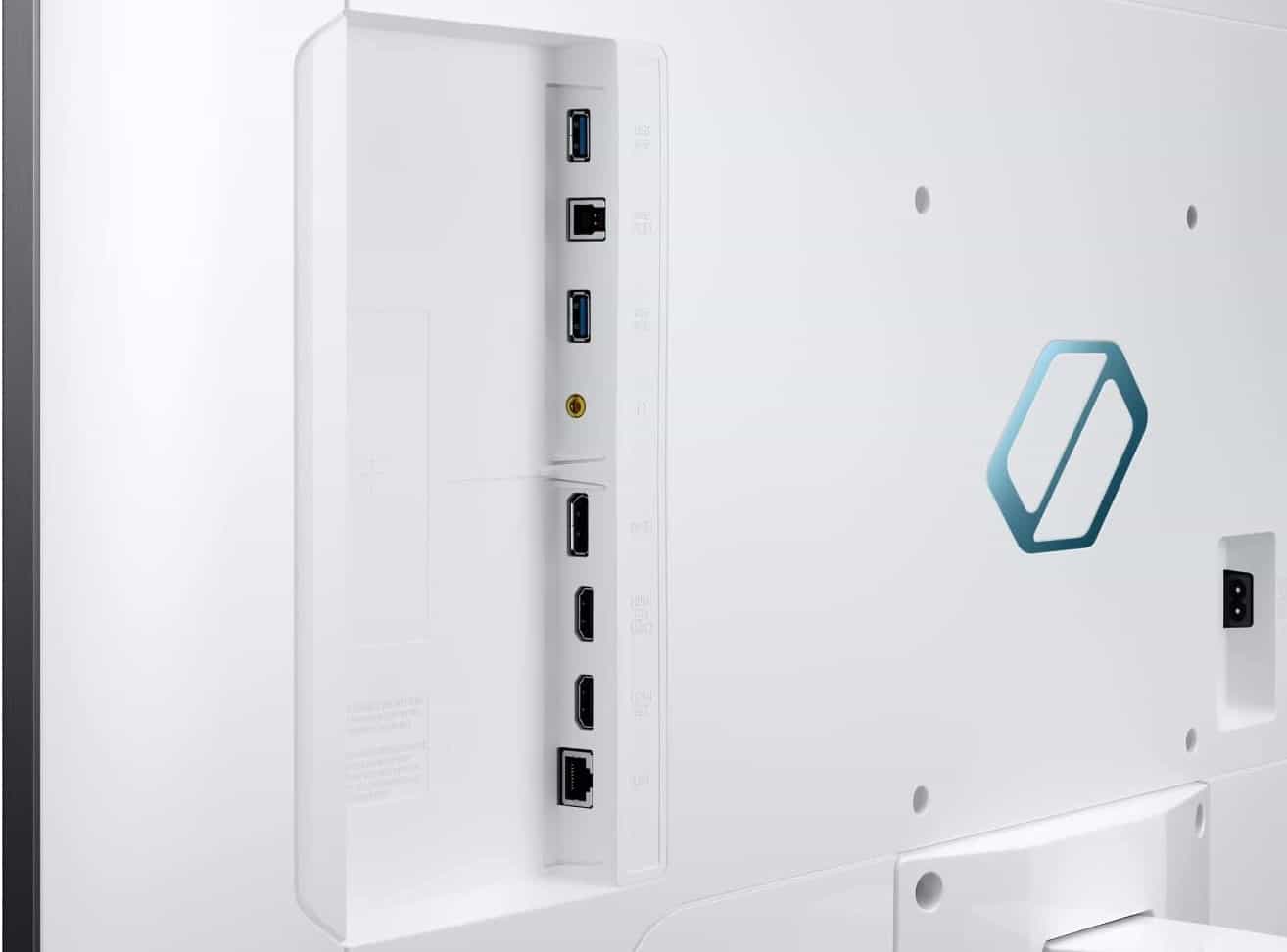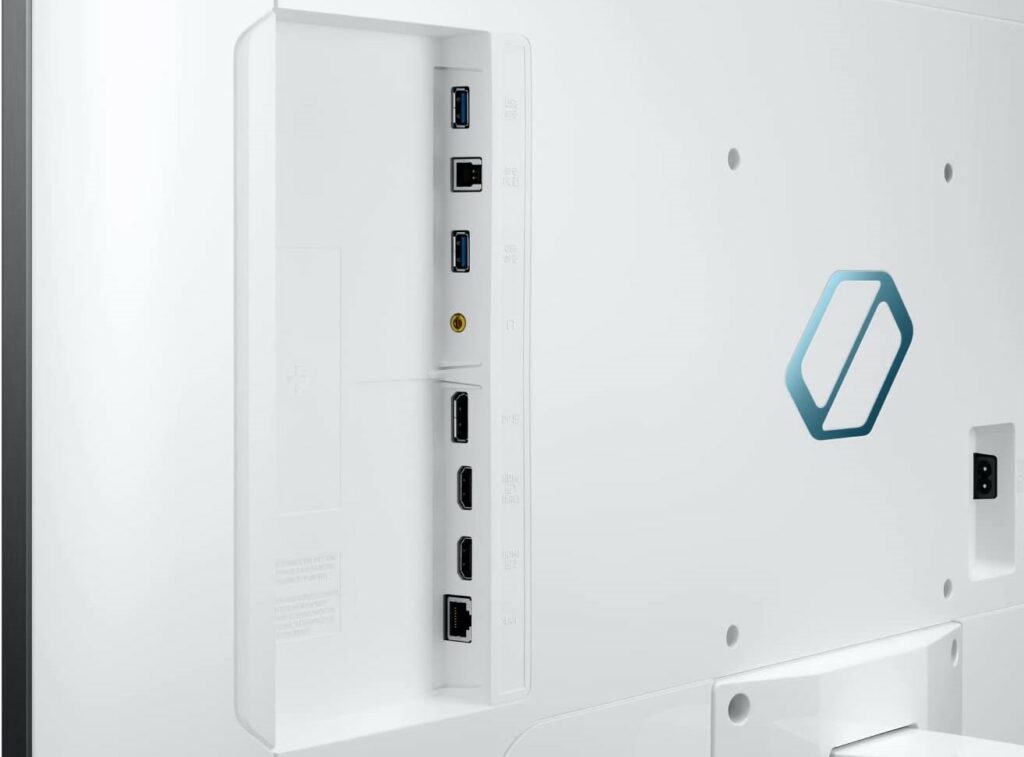 The Samsung Odyssey Neo G70NC's connectivity layout includes DisplayPort 1.4, two HDMI 2.1 slots, three USB 3.0 ports, an RJ45 LAN slot, and a 3.5mm audio jack. It could use a USB-C slot for laptops, but it can already handle a PC, some peripherals, and up to two consoles with that. It's not the most equipped 43-inch monitor in this aspect, but it's fine for the product's main purpose.
You also get a pair of powerful 20-watt speakers with this model since it has room to accommodate the larger drivers. The pair can fill a small room with sound and is capable of decent bass, so it is great for games and movies. Headsets will always be better, but at least you don't have to deal with muffled or tinny sounds.
Display and Performance
The Samsung Odyssey Neo G70NC boasts a 43-inch VA panel with a 3840 x 2160 resolution, a 144Hz refresh rate, and a 1ms boosted response time. Its mini-LED backlight has a 400 cd/m2 typical output and a 600 cd/m2 peak, while its contrast is listed at 4250:1. This model is HDR 600-certified, so it's capable of great HDR performance.
ALTHOUGH THE PANEL TYPE CAN ALSO SPELL THE DIFFERENCE, 4K monitors are still crisp and detailed even if they are this big. Text can look fuzzy with this monitor compared to an IPS variant like the Dell U4323QE simply because of the different panel type and pixel layout. Games and movies, on the other hand, look great, so they can do a great job for their primary audience.
The Samsung Odyssey Neo G70NC covered 100% sRGB and 94% of the DCI-P3 color space. Its default accuracy isn't the best, with a dE average of 2.61, but most users won't find any issues with it. Calibration isn't necessary for games and movies, but those who plan to use it for something like editing might want something better.
Calibrating the monitor reduced the dE average to 0.87, making it highly suitable for editing and content creation. The downside is that you will need the assistance of a colorimeter, and those aren't cheap or easy to come by. We can only recommend its purchase if you are into color-critical work, but it's completely unnecessary for gaming.
The Samsung Odyssey Neo G70NC's mini-LED backlight reached 421 cd/m2 at 100%, while its peak reached 644 cd/m2 when its HDR mode kicked in. Its contrast ratio reached 3987:1 at 30% brightness, but its HDR contrast expanded up to a noticeable degree.
Panel uniformity for the test sample was great since there were no massive leaks thanks to its unique backlight type. There is some expected variance in each quadrant, but it wasn't noticeable most of the time. Note that this can vary with every monitor made due to tolerances, so it is possible to get a unit with worse performance.
Its uniformity takes a different turn when the mini-LEDs are working their magic. Samsung did not disclose how many zones this monitor has, so it's safe to assume that it doesn't have enough for the screen size. Some clouding or blooming can happen in highly contrasting scenes because of this, but at least it's not as bad as what you'd see on an edge-lit variant.
Its pixel response time isn't the best, so it can also show some trails or smudges in fast-paced and contrasting sequences. Scenes with nighttime run and gun action, or like when a jet streaks through the dark sky, can reveal this issue. However, it's a natural limitation of the panel type, so your only real alternative is to go with a more expensive IPS or OLED variant.
The Samsung Odyssey Neo G70NC is compatible with both FreeSync and G-Sync for tear and stutter-free gaming. This is essential since many have Nvidia GPUs, while the PS5 and Xbox Series X use AMD's hardware. Input lag sits at 4ms at 144Hz, so it's faster than most TVs that are used in the same scenario.
Thoughts on the Samsung Odyssey Neo G70NC
The Samsung Odyssey Neo G70NC is a fantastic monitor if you want a large and fast, high-resolution screen that's capable of great HDR performance. It is far from perfect, but its current price makes it a decent choice for high-end gaming. It's a better pick if you want a monitor that can be used as a TV, especially since it has smart capabilities.
It has a few quirks, like the grainy text issue and slower pixel response time, but all of that comes with the panel type used. We'd also like to see more features like USB-C, but it's too much to ask now if we consider its current discounted price. It's a decent pick, and you'd have to spend more than a thousand on an OLED variant if you want something better.
Pros:
Large 4K 144Hz Screen with Mini LED
High Contrast and Great HDR Performance
FreeSync and G-Sync Compatible
Loud Speakers and HDMI 2.1 Connectivity
Cons:
Prone to Light Blooms and Clouding
Tilt-Limited Stand
Slow Pixel Response Time
About the Author: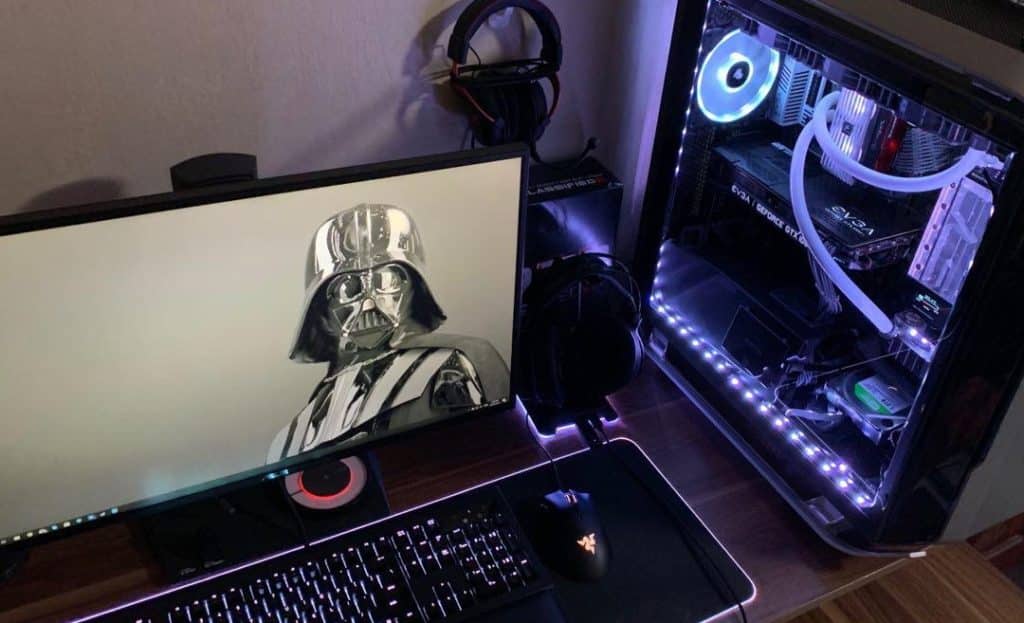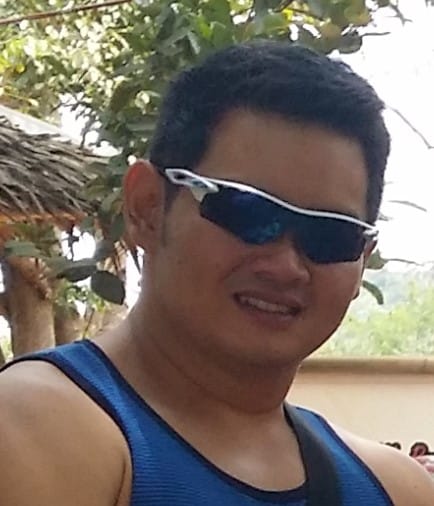 Paolo has been a gaming veteran since the golden days of Doom and Warcraft and has been building gaming systems for family, friends, and colleagues since junior high. High-performance monitors are one of his fixations; he believes that every citizen's right to enjoy one. He has gone through several pieces of hardware in pursuit of every bit of performance gain, much to the dismay of his wallet. He now works with Monitornerds to scrutinize the latest gear to create reviews that accentuate the seldom explained aspects of a PC monitor.