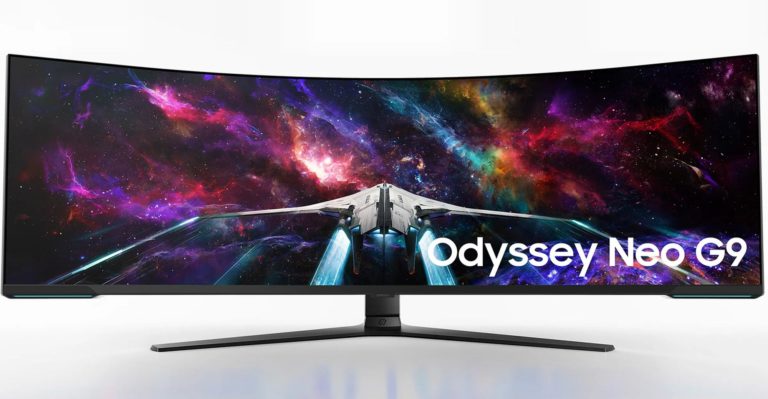 Samsung Odyssey Neo G9 G95NC – Check Availability
Samsung was the show's star at CES 2023 when it came to monitors because of the two new beasts they revealed. They announced two new Odyssey monitors with class-leading panels and specifications for enthusiasts. We're getting a new 57-inch super ultrawide with an 8K resolution, while the 49-inch variant gets OLED technology as an upgrade.
New Samsung Odyssey Neo G9 G95NC and Odyssey OLED G9 GG96SC – Tale of the Tape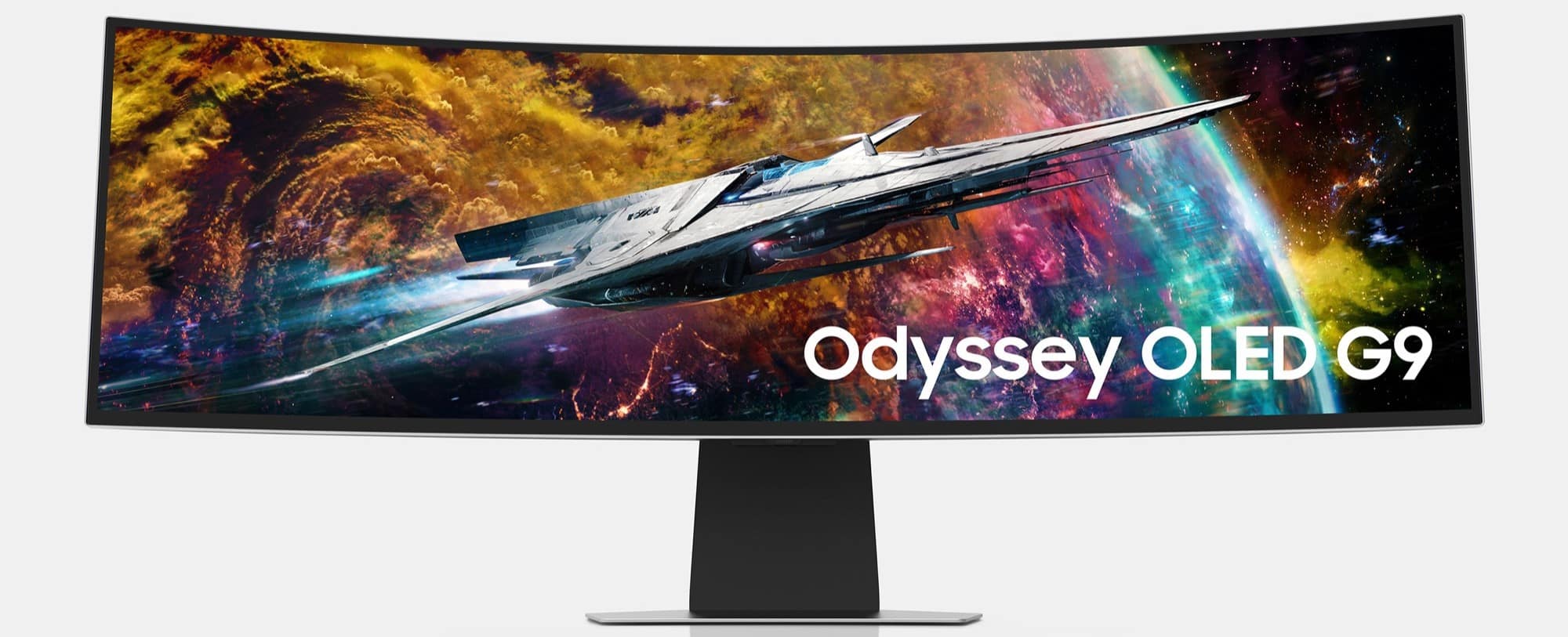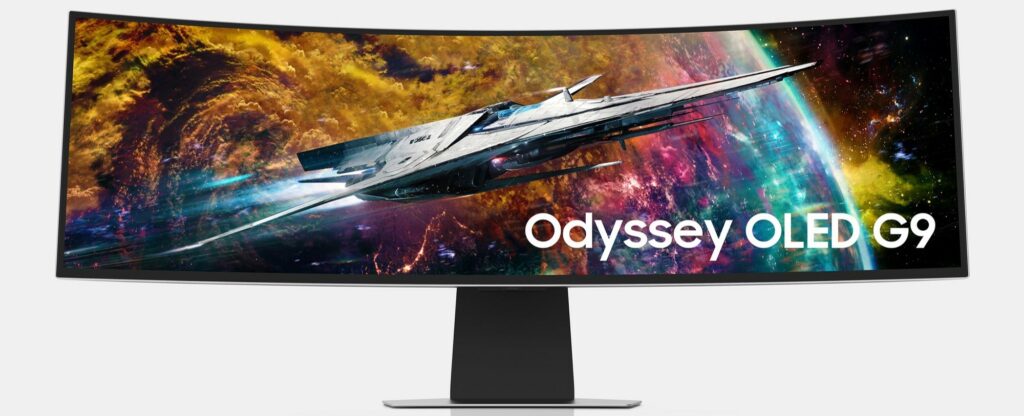 Samsung Odyssey OLED G9 GG96SC – Check Availability
The new Samsung Odyssey Neo G9 G95NC is arguably the more exciting variant between the two since it's bigger with a 57-inch super ultrawide panel. It also has a new 8K or 7680 x 2160 dual UHD resolution, so it's guaranteed to bleed your flagship GPU. You'd also be surprised that it goes up to 240Hz, so we can't wait to test it out with the most powerful cards to see how many frames we can get at 8K.
Dual UHD is the equivalent of two 4K screens sitting next to each other, just like the older Neo G9's dual QHD resolution. However, we all know how demanding 4K is, let alone two side-by-side. Its 5760 x 2160 240Hz output goes through the new DisplayPort 2.1 standard with DSC, so few GPUs can run this bad boy to its full potential.
The Samsung Odyssey Neo G9 G95NC also features mini-LED technology for brilliant HDR performance and up to a 1000000:1 contrast ratio. The monitor's HDR certification isn't disclosed, but we're sure it will reach HDR 1000 or more.
The Samsung Odyssey OLED G9 G95SC uses a Quantum Dot OLED panel, as made evident by its product title. It's a 49-inch super ultrawide like the previous model, and they share the exact 5120 x 1440 Dual QHD resolution. However, the panel tech has HDR and contrast performance advantages since the pixels can dim locally.
It also retains the 240Hz refresh rate of its predecessor, so most flagship GPUs can still run its maximum output. Other specifications mentioned were its VESA DisplayHDR 400 True Black certification, a class beyond the traditional HDR 400 standard. As we all know, OLEDs can't get as bright as WLED-equipped panels, although they are better at everything else.
Samsung also mentioned that the OLED G9 will ship with the brand's Samsung Gaming Hub, which includes cloud streaming access from services like Nvidia GeForce Now or Xbox Cloud Gaming. Note that you don't need a PC to use this feature, so users can play games with the monitor itself if they have fast fiber connections.
We're eagerly awaiting the Samsung Odyssey Neo G9 G95NC and OLED G9 G95SC, but the Korean tech giant hasn't disclosed pricing and launch dates at this time. If you are interested in these new flagship gaming monitors, Samsung often drops their flagships suddenly, so keep checking this page for the latest updates.
About the Author: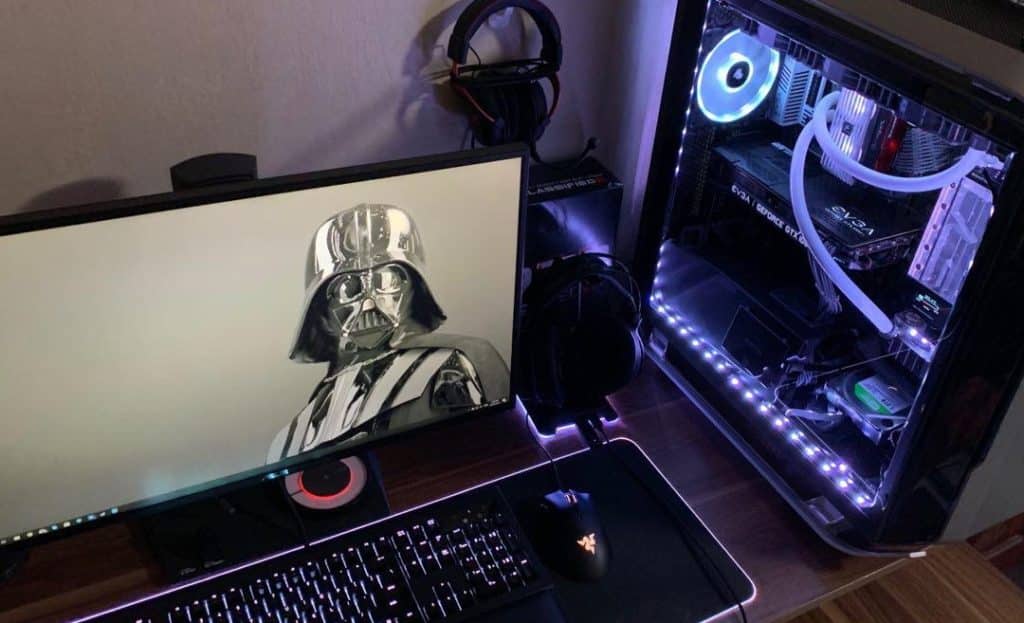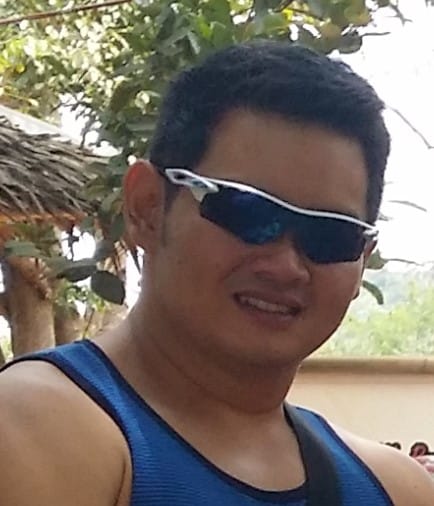 Paolo has been a gaming veteran since the golden days of Doom and Warcraft and has been building gaming systems for family, friends, and colleagues since junior high. High-performance monitors are one of his fixations; he believes that every citizen's right to enjoy one. He has gone through several pieces of hardware in pursuit of every bit of performance gain, much to the dismay of his wallet. He now works with Monitornerds to scrutinize the latest gear to create reviews that accentuate the seldom explained aspects of a PC monitor.