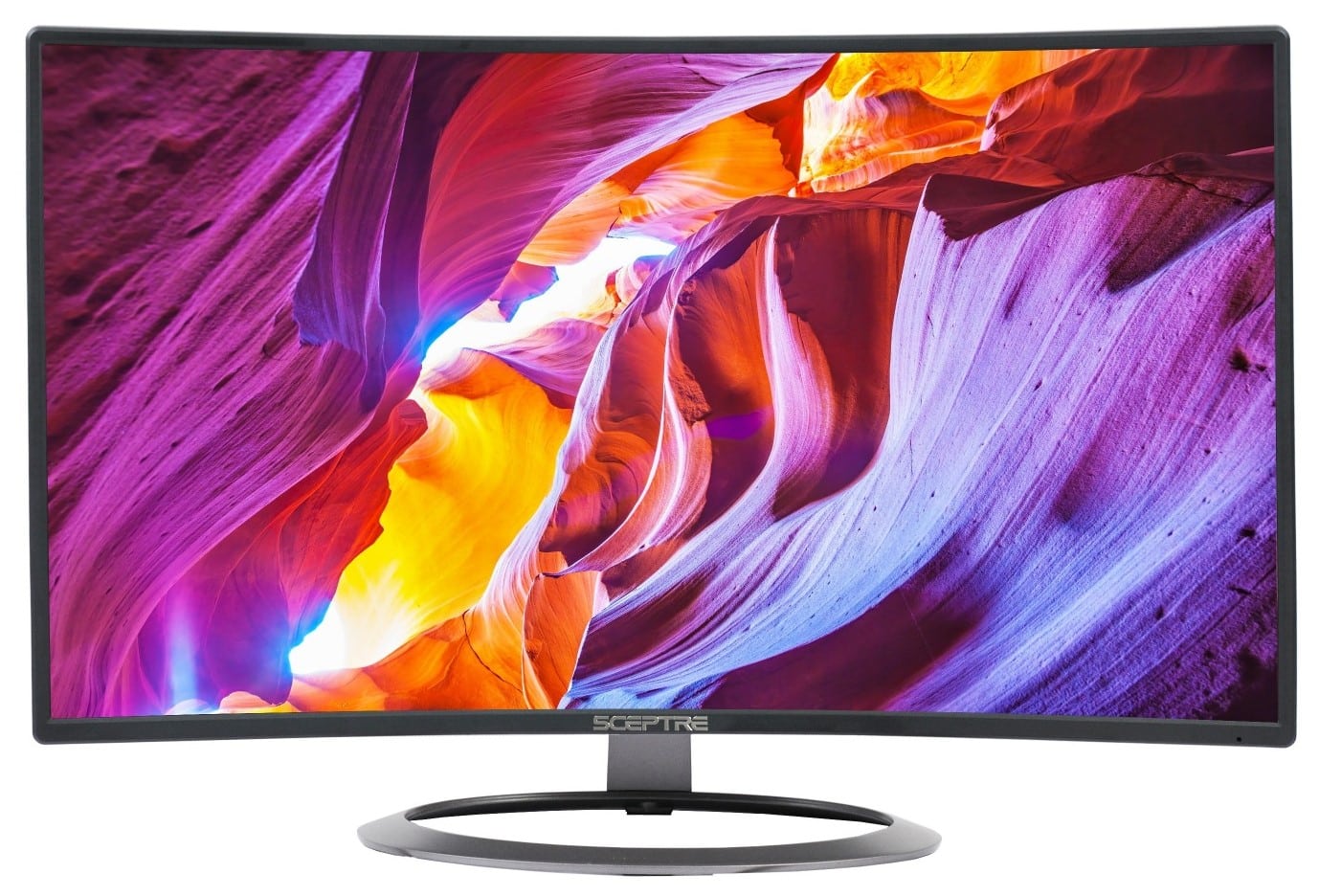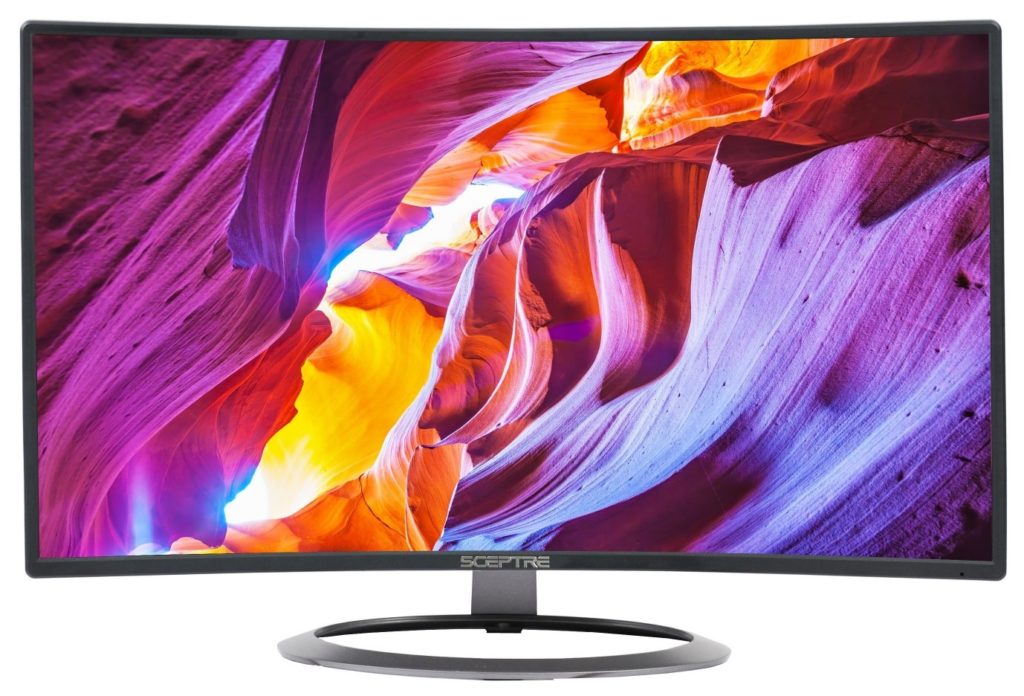 The Sceptre C248W-1920R is an entry-level gaming monitor with a curved VA panel that comes with extended contrast and the premise of immersive visuals. Its one of the most affordable gaming displays in the market, but it has a few limitations which you have to consider. Let's check out if the Sceptre C248W-1920R can punch above its price point which many of its competitors have already achieved.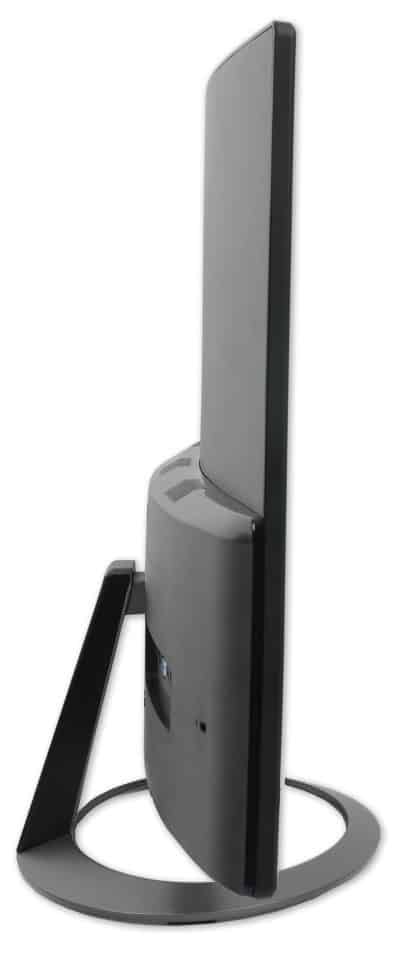 Sceptre C248W-1920R Specifications
Screen Size: 24 Inches
Resolution: 1920 x 1080 FHD
Aspect Ratio: 16:9
Panel Technology: Vertical Alignment (VA)
Refresh Rate: 75Hz
Response Time: 5ms
Contrast Ratio: 3000:1
Brightness: 250 cd/m²
Speakers: Yes (2 x 2 Watts)
Stand: Height – No
Stand: Tilt – Yes
Stand: Swivel – No
Stand: Pivot – No
VESA Compatibility – Yes (100 x 100)
Connectivity: HDMI 1.4 x 1, DisplayPort 1.2 x 1, VGA x 1, 3.5mm Jack x 2
Dimensions (WxHxD): 21.43" x 15.64″ x 7.30"
Weight: 6.37 lbs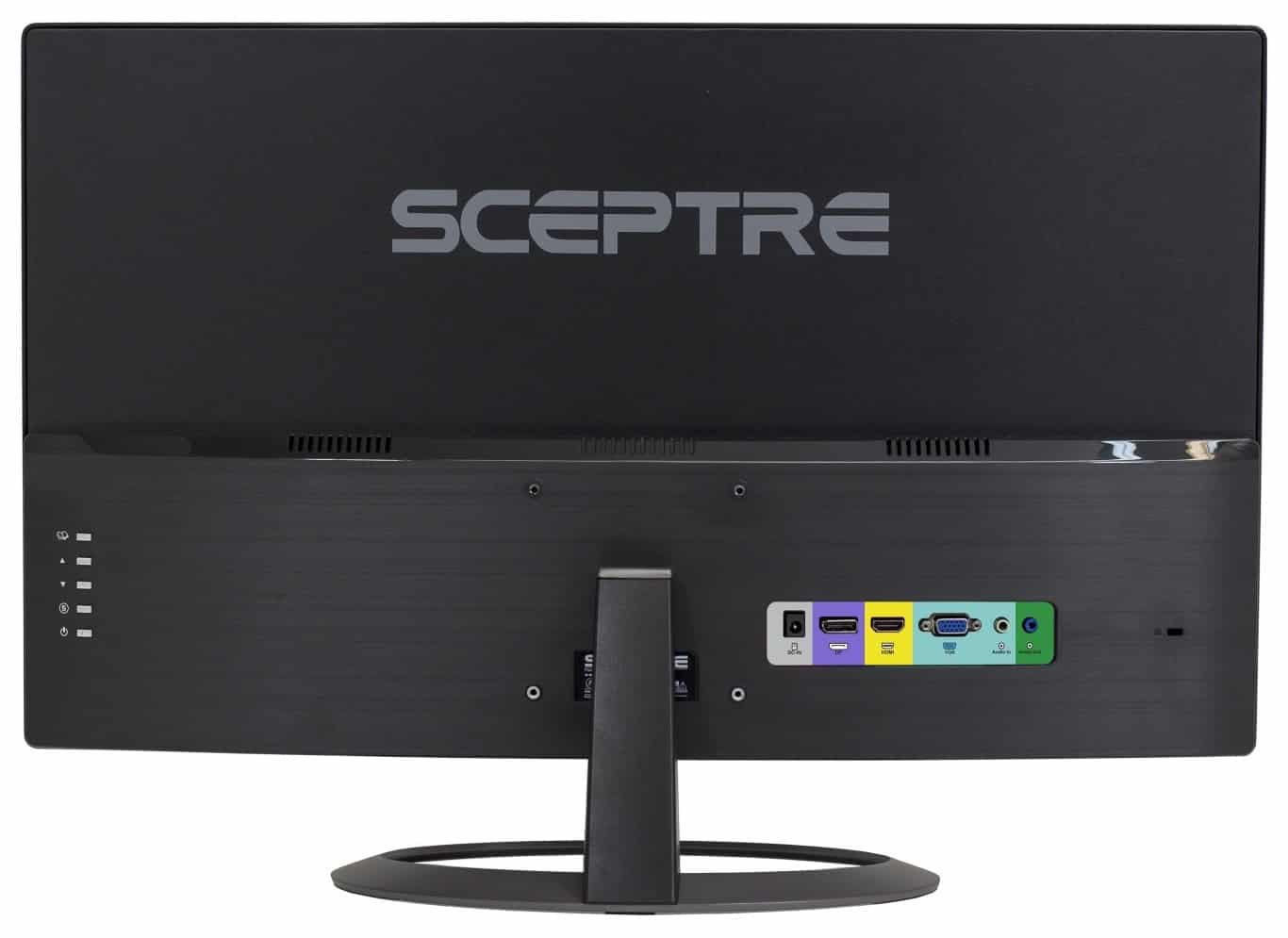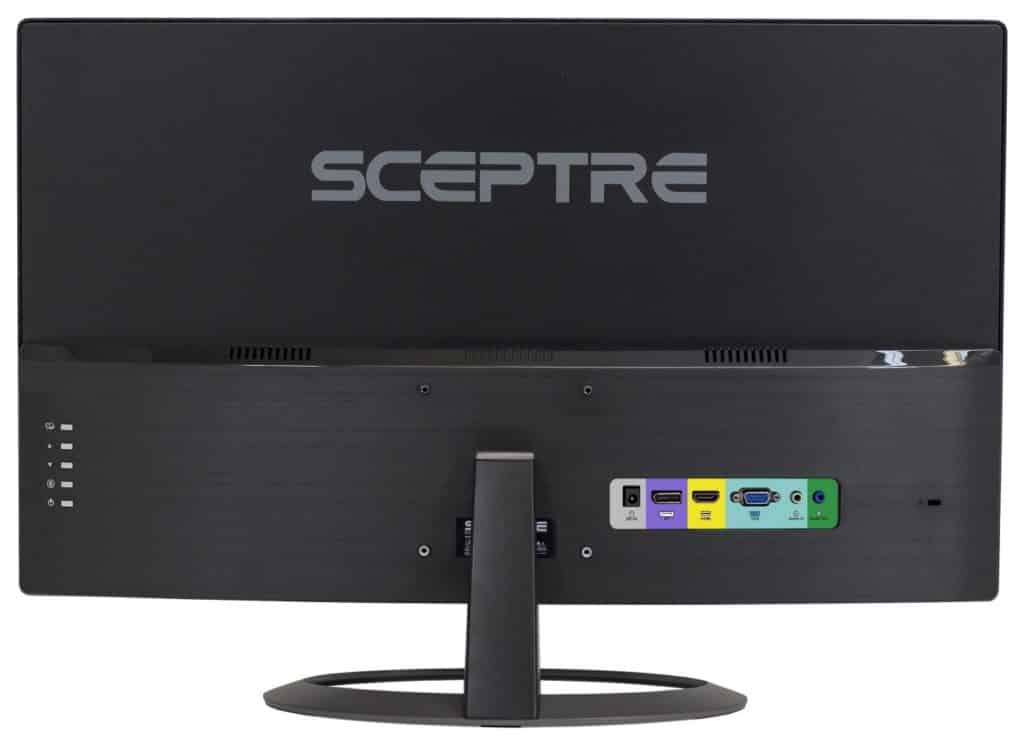 Design and Features
The Sceptre C248W-1920R is a budget monitor, so it naturally has a simplified design which we think will work with more tastes that the gaudy-looking options. The device has a matte black chassis which helps in keeping the all-new look. The display is bezel-free on three sides so the screen looks maximized despite the limited size.


What's great about the Sceptre C248W-1920R is its pretty compact even if it has a curved screen. The base only needs 7.3 inches of depth which is considerably smaller, but the circular shape can be disruptive to your peripherals arrangements. This model is also lightweight, so it would be easy to bring it to LAN parties at your buddy's pad.
Build quality for the Sceptre C248W-1920R could use some improvements, but its still within acceptable standards for most users. The plastics feel slightly thinner than other monitors we've handled, but the panels are stiff enough to withstand a few hits. The stand has a bit of wobble, but you can solve it if you have a VESA stand to replace the part.
The Sceptre C248W-1920R still uses OSD buttons, but they are laid out in a way that makes it easier for the user. The bottom bar functions as the directional buttons, while the top is the shortcut keys. Joysticks are still more preferable and convenient, but at least Sceptre tried to improve this aging implementation.
The Sceptre C248W-1920R's stand is limited to tilt, but to be fair, it's a curved display so sitting centered to the display is the best way to use it. However, this limits your setup options, especially for multi-display setups where this model is suitable. Thankfully, you can swap this part out with a VESA mount unlike some of its competitors from brands like Samsung.
One of the things that make the Sceptre C248W-1920R unique in its segment is it includes DisplayPort 1.2 along with an HDMI 1.4 and VGA slot for video inputs. The refresh and resolution don't need DP, but it's nice to have it since most modern GPUs use it more than HDMI. You also get a pair of 3.5mm audio jacks for input and output, but there are no USB ports with this budget model.
Do take note that the Sceptre C248W-1920RN is the same yet newer version, but it doesn't include DisplayPort. The two models are priced closely, but the Sceptre C248W-1920R is clearly the better buy since it has a DP slot.
The Sceptre C248W-1920R even includes a pair of 2-watt speakers for the price which could come in handy for some instances. They don't sound compelling, but they will get some use for those working at home. This add-on extends the value of the monitor for other applications other than gaming, so it's a plus in our book.
Display and Performance
The Sceptre C248W-1920R sports a 24-inch curved VA panel with a 1920 x 1080 resolution, 75Hz maximum refresh rate, and a 5ms response time. The backlight on this model is limited to 250 cd/m2, while the contrast ratio is listed at 3000:1 like most VA panels. The display has a 1800mm radius, but it is less pronounced due to its small size and limited width.
Full HD screens are still popular for all types of uses since its easier to run for most GPUs and comfortable to view. It won't look too sharp to the point of needing scaling, so reading and document processing will be easier on your eyes. On the other hand, gamers won't have any issues with most titles since its rather easy to get higher framerates with a wider array of GPUS with this resolution.
The Sceptre C248W-1920R covers 99% of the sRGB gamut, but its color accuracy could use some improvements. The average deltaE sits at 3.4 due to some oversaturation in some colors which becomes noticeable in some instances. The color temperature is also warmer than the usual 6500K point, resulting in a slightly yellowish tint when viewing white backgrounds.
Thankfully, its easy to correct by adjusting a few settings in the OSD which will instantly lessen the warmth of the screen. reducing the reds and adjusting the backlight to around 40% is most beneficial since it creates a more balanced appearance for any type of use.
The Sceptre C248W-1920R's VA screen reaches a contrast ratio of 2200:1 at 40%-50% brightness as expected from a VA panel. This results in punchy colors and deep inky blacks which are crucial for immersive gaming. This also helps in reducing the washed-out look when viewing the monitor in the dark.
The Sceptre C248W-1920R did have a few light leaks on two of its corners which added some clouding to dark or black images. It's not as noticeable when viewing colored media, but it can get annoying if a scene lingers in a darker setting. Take note that this aspect varies between every unit due to manufacturing tolerances, so it is possible to get a better one when you buy this product.
The extra headroom provided by the Sceptre C248W-1920R's 75Hz refresh rate adds a tangible level of smoothness in games. However, it's not very good at motion handling due since the screen shows smudges and ghosting in contrasting or fast-paced sequences. A 144Hz alternative will be better in this regard but they cost considerably higher.
The Sceptre C248W-1920R is a FreeSync gaming monitor, but it's also compatible with G-Sync so Nvidia GPU users can enjoy tear-free gaming. This duality is always great to have in a monitor so you don't have to re-buy it if you change your GPU. Input lag sits at 12ms which is slightly higher than most 1080p monitors, but you will still be hard-pressed to notice any delays or de-synced instances.
Thoughts on the Sceptre C248W-1920R
The Sceptre C248W-1920R offers good value if you are looking for an affordable solution that has a high contrast ratio and a sleek design. The VA panel serves up what is expected of it, but there are limitations you have to consider such as slow pixel transition times. The monitor could also benefit from better factory calibration, but that is usually reserved for premium variants.
Affordability is one of the Sceptre C248W-1920R's main draws, especially since it's a viable option for multimonitor setups meant for casual gaming and productivity. However, it does have a few shortcomings that you will have to live with in exchange for that enticing price tag.
Pros:
Slim and Lightweight
Affordable
Good Color Coverage and Contrast
FreeSync/G-Sync Compatible
Great for Working at Home
Cons:
Poor Factory Calibration
Slightly Higher Input Lag
Prone to Blurring
About the Author: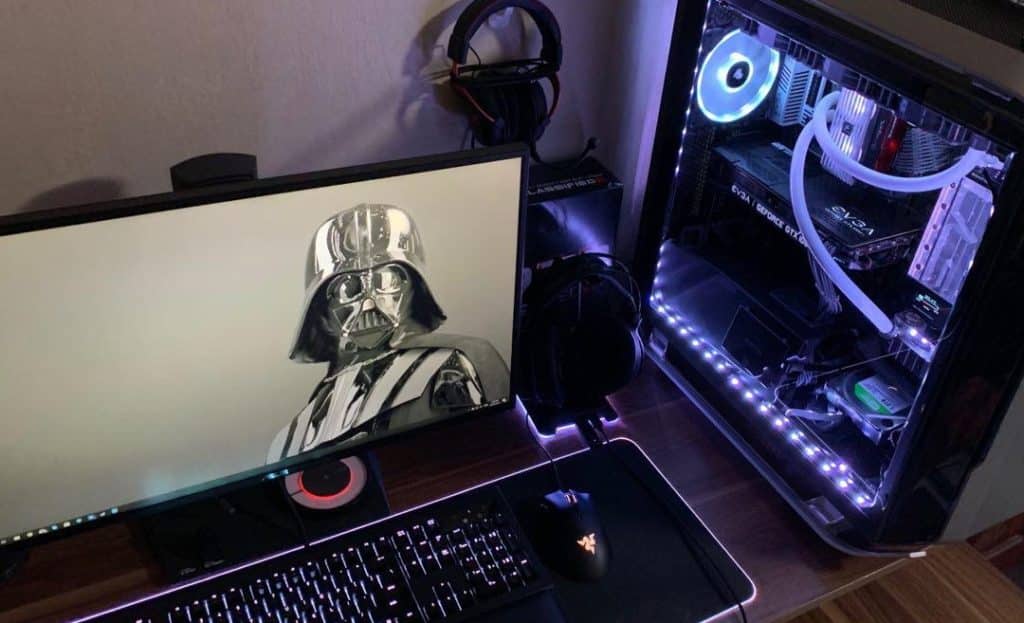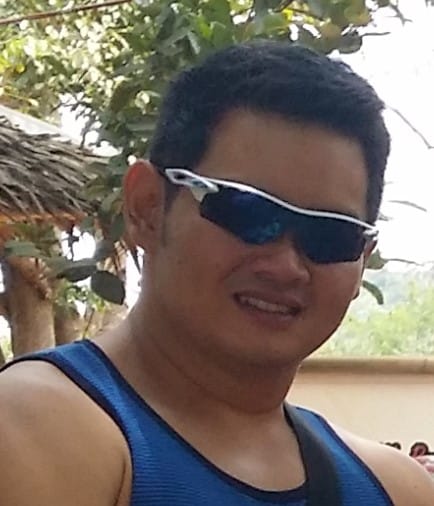 Paolo is a gaming veteran since the golden days of Doom and Warcraft and has been building gaming systems for family, friends, and colleagues since his junior high years. High-performance monitors are one of his fixations and he believes that it's every citizen's right to enjoy one. He has gone through several pieces of hardware in pursuit of every bit of performance gain, much to the dismay of his wallet. He now works with Monitornerds to scrutinize the latest gear to create reviews that accentuate the seldom explained aspects of a PC monitor.