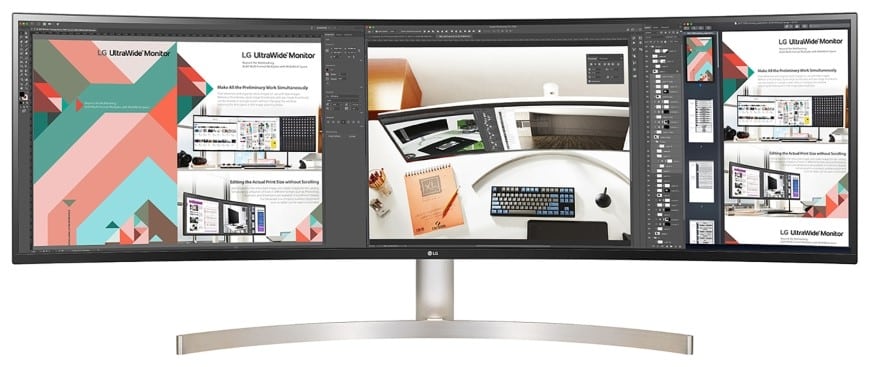 The LG 49WL95C-W is the ultimate super ultrawide monitor for productivity alongside the LG 38WK95C and the LG 34WK95U high-resolution displays. This model offers a stunning 5120 x 1440 Dual QHD resolution screen along with some of the most popular standards such as USB-C connectivity and HDR10 compatibility. The LG 49WL95C-W commands a hefty premium for its sophisticated characteristics, but how does it stack up to its competitors and its siblings in the brand's latest portfolio?

LG 49WL95C-W Specifications
Screen Size: 49 Inches
Resolution: 5120 x 1440 QHD
Aspect Ratio: 32:9
Panel Technology: In-Plane Switching (IPS)
Refresh Rate: 60 Hz
Response Time: 5 ms
Contrast Ratio: 3000:1 (Static)
Speakers: Yes ( 2 x 10 Watts)
Brightness: 350 cd/m²
Stand: Height–Yes
Stand: Tilt – Yes
Stand: Swivel–Yes
VESA Compatibility: Yes (100 x 100)
Connectivity: DisplayPort 1.4 x 1,HDMI0 x 2, USB 3.0 x 4, USB C 3.1 x 1, 3.5mm Jack
Dimension (W x H x D): 47.84" x 17.07" x 12.1"
Weight: 33.51lbs

Design and Features
The LG 49WL95C-W closely follows its aforementioned siblings' design and aesthetics with a minor twist of its own. The housing for the chassis is finished in matte white which gives this series of monitors its clean and pleasant appearance that's well suited for professional environments. The display is bezel-free, but it isn't truly borderless since there are very thin panel borders which appear when the display is turned on.
The proportions are of the monitor are within modest limits, but the device itself is by no means compact or tiny. The cabinet consumes almost four feet of desk space, but the ArcLine stand does have a wide yet thin footprint. This model will consume a foot of depth on your desk, but the crescent-shaped base will still give you enough space for a full-sized keyboard and a few other things.
The ArcLine stand on this model comes with a matte golden silver instead of the regular shade used on the brand's other products. This characteristic makes it difficult to build a matching system, but we love that its unique and refreshing. It also adds a luxurious vibe to the model that designers and professionals will love.
Build quality for the LG 49WL95C-W is unquestionable since the brand builds most, if not all of their monitors with excellent care and quality control. The device doesn't wobble despite its size, plus it doesn't produce creaking sounds when you try to adjust the display. The plastic panels of the cabinet feel thick and sturdy, and we did not notice any level of cheapness or cut corners on this product.
You also don't have to deal with pesky OSD buttons on the LG 49WL95C-W since its compatible with the brand's On Screen Control software. This app allows you to adjust the settings in Windows using your mouse, so tweaking the monitor to your liking is as easy as peas. We wish more manufacturers would implement this since its much easier to use especially with super-sized display products.
We couldn't find an excuse to remove the beautifully crafted ArcLine stand, but you can swap it out with a VESA mount if you so desire. However, finding a suitable variant isn't easy for a monitor of this size, especially at the lower price brackets. You can retain the stand since it allows tilt, swivel, and height adjustments, allowing you to get the perfect angle in a few seconds.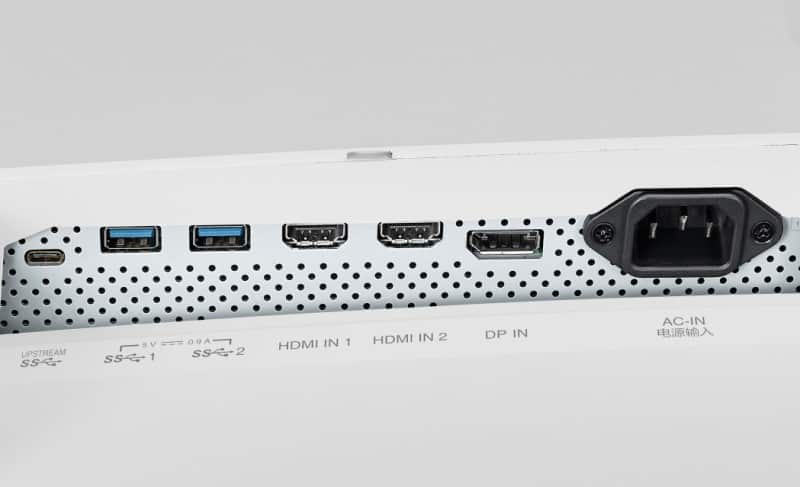 One of the stand-out facets of the LG 49WL95C-W is its connectivity layout which includes all you will need for day to day use. The concealed panel includes DisplayPort 1.4 and dual HDMI 2.0 connectors, plus four USB 3.0 receptacles for accessories. The USB-C 3.1 slot on the product offers 85 Watts of power alongside video signal and data transfers, so this model is a must buy for users who rely on the more powerful prosumer laptops.
We dig the 10-watt speakers with Rich Bass support on the LG 49WL95C-W. It's rare to find built-ins which defeat the purpose of buying a separate set due to its audio quality and clarity. Headphones will still be better for entertainment, but listening to your Spotify playlist with this monitor is an awesome tool to help keep the workflow moving along.
Display and Performance
The LG 49WL95C-W sports a 49-inch IPS panel with a massive 5120 x 1440 resolution, 60Hz refresh rate, and 5ms response time. This variant is HDR10 compliant, but its 350 cd/m2 backlight and 1000:1 typical contrast ratio is insufficient for true HDR performance. This model is geared towards multitasking and editing more than gaming, but its still a suitable candidate for story-based and immersive titles.
A 49-inch display area with a 5120 x 1440 DQHD resolution is directly comparable to two 27-inch 1440p monitors side by side. The pixel density is extra crisp and more detailed compared to a 3180 x 1080 screen, plus it gives you more room to play around with. However, mid-tier GPUs will suffer if you push a game's graphics settings, even if the resolution is limited to 60Hz.
The LG 49WL95C-W isn't as impressive as its Nano-IPS compatriots when it comes to color fidelity. Gamut coverage is limited to 97% sRGB volume with an average accuracy of DeltaE 2.7. You can calibrate this monitor to improve the latter, but vibrancy changes very little.
What exceeded our expectations is the screen's contrast which maxed out at 1200:1, reaching as high as the Nano IPS variants did in tests. This gives us lower than the average black luminance for IPS panels, meaning dark images will look less grayish in a low-light environment. Gamma isn't perfect at 2.17 with minimal impact to the screen, but perfectionists will certainly look elsewhere.
The screen's backlight barely reached its specification at 349 cd/m2, although that is more than enough for safe and comfortable daily use. However, these ratings tell us that the LG 49WL95C-W isn't capable of HDR performance, so it can only translate HDR10 inputs as best it could. That doesn't mean the screen doesn't look great, but the improvements in lighting and dynamic range we expect won't be there.
One of the most crucial aspects of a massive IPS monitor is its uniformity which usually suffers from bleeding defects. The LG 49WL95C-W sample doesn't have considerable leaks, but its upper right corner looked dimmer than the rest. Contrast is weaker on that side of the screen area, but color DeltaE was not as massively affected since color DeltaE maxed out at 2.8 compared to the rest of the screen at DE 2.5 from the D65 standard.
Motion handling isn't the best, but the LG 49WL95C-W's IPS module was above the average in tests. The screen's pixel response time is agile enough to keep ghosting at bay, but swiftly panning the screen will reveal trails and smudges. High-contrast scenes that go from light to dark are especially prone, but to be fair, this is a 60Hz model.
The LG 49WL95C-W doesn't have gaming features such as FreeSync or G-Sync compatibility. It's a shame since the product is fantastic for immersive gaming thanks to the massive field of view. At least, input lag stayed under 10ms, meaning you don't have to deal with delays or "de-synced" instances while passing the time with your favorite title.
Thoughts on the LG 49WL95C-W
The LG 49WL95C-W is a fantastic monitor if you want to speed up your workflow in editing and document processing. It needs a little tweaking to get the best color output, but it doesn't get as vibrant as its Nano IPS siblings. Gaming performance is lackluster, but we like that input lag is kept at a minimal level for a prosumer variant.
We love the design and user considerations built into the LG 49WL95C-W. The stand looks affluent without forgetting crucial creature comforts, while connectivity is well-appointed. The 85-Watt USB-C connector makes this very suitable for laptops like the MacBook Pros with i9 processors, but the imaging qualities offered by the screen will leave something to be desired.
About the Author: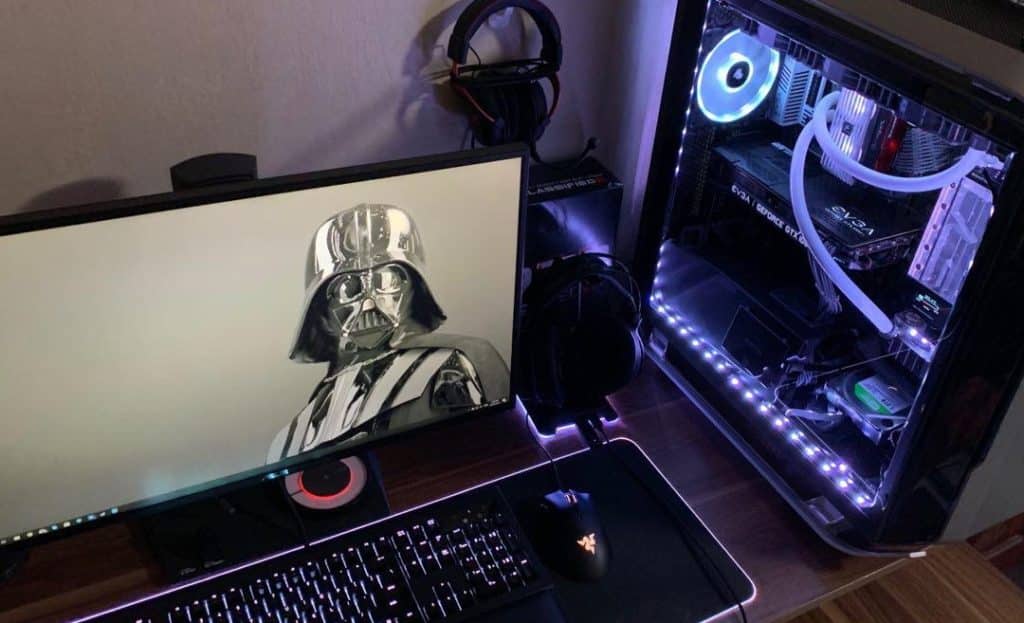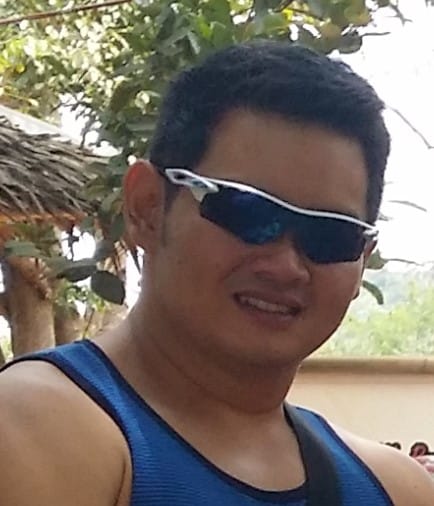 Paolo is a gaming veteran since the golden days of Doom and Warcraft and has been building gaming systems for family, friends, and colleagues since his junior high years. High-performance monitors are one of his fixations and he believes that it's every citizen's right to enjoy one. He has gone through several pieces of hardware in pursuit of every bit of performance gain, much to the dismay of his wallet. He now works with Monitornerds to scrutinize the latest gear to create reviews which accentuate the seldom explained aspects of a PC monitor.