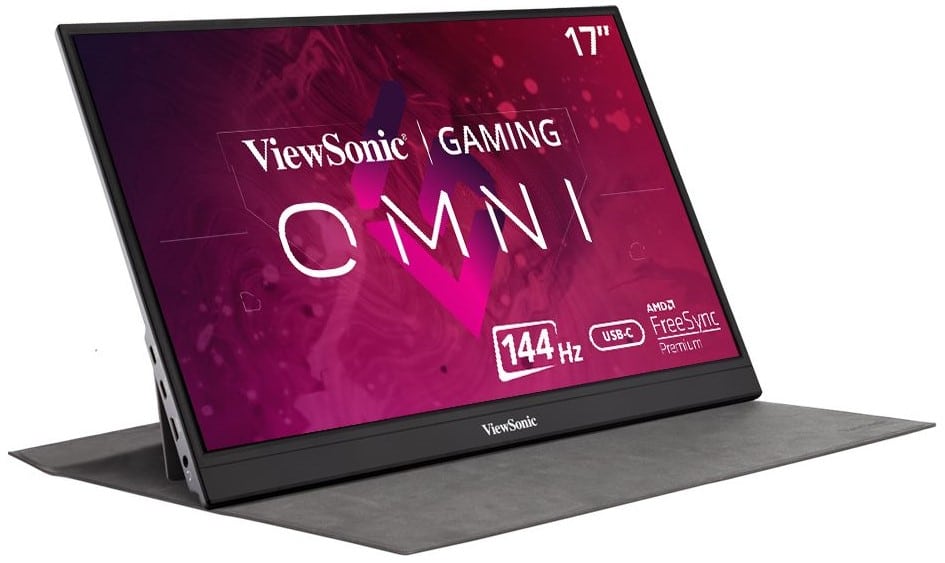 The ViewSonic VG1755 is a portable gaming monitor that presents the perfect set of specifications at a reasonable price. It's also decently sized for gaming on the go at 17 inches, so you can enjoy your favorite titles or movies while traveling. The ViewSonic VG1755 isn't as fast or as high-end as other gaming displays like the Asus XG17AHPE but let's see why it is such a good deal.

ViewSonic VG1755 Specifications
Screen Size: 17 Inches
Resolution:1920 x 1080 FHD
Aspect Ratio: 16:9
Panel Technology: In-Plane Switching (IPS)
Refresh Rate: 144Hz
Response Time: 4ms
Contrast Ratio: 800:1
Brightness: 250 cd/m²
Built-in Speakers: Yes (2 x 0.8 Watts)
Stand: Height – No
Stand: Tilt – Yes
Stand: Swivel – No
Stand: Pivot – No
VESA Compatibility: No
Connectivity: USB-C 3.2 x 1, USB-C Power x 1, Mini HDMI 2.0 x 1, 3.5mm Jack x 1
Dimensions With Stand(WxHxD): 15.6″ x 9.7″ x 0.7″
Weight: 2.2 lbs

Design and Features
The ViewSonic VG1755 looks very simple, so it is easy to mistake it for a portable display for business or office work. The device has a matte black finish, so it's not too attractive to the point of becoming a distraction. The screen has thin bezels on three sides, but most will dislike the thick bottom strip.
17-inch screens aren't gigantic, but they are bigger than most laptops which hover between 13 to 15 inches. However, this device is so thin that it should slip into your bag without adding too much bulk. The monitor is only .7 inches thick, so it should feel like you added a think book to your daily carry.
Its build quality is excellent compared to other portable monitors we've seen recently. The plastics used are sturdy enough, so it won't flex easily even if your bag gets pinned. It has a cover that protects it quite well and a flip stand that's stable and firm enough to hold the device's weight.
The ViewSonic VG1755 has OSD buttons instead of a scroll wheel or a tiny joystick. The former is easier to use this time since the monitor can be held with two hands, so we're not particularly peeved about them. However, it will still take longer than a joystick, although that's usually not an issue for portables because their OSDs are usually simplified.
The ViewSonic VG1755 has a flip stand, giving the user a good range of tilt and stability. It is not flimsy like the folding covers used on other portables, but it's also not as bulky as a proprietary stand. This is your only option for the monitor, but you can get a clamp-type monitor mount if you need more flexibility.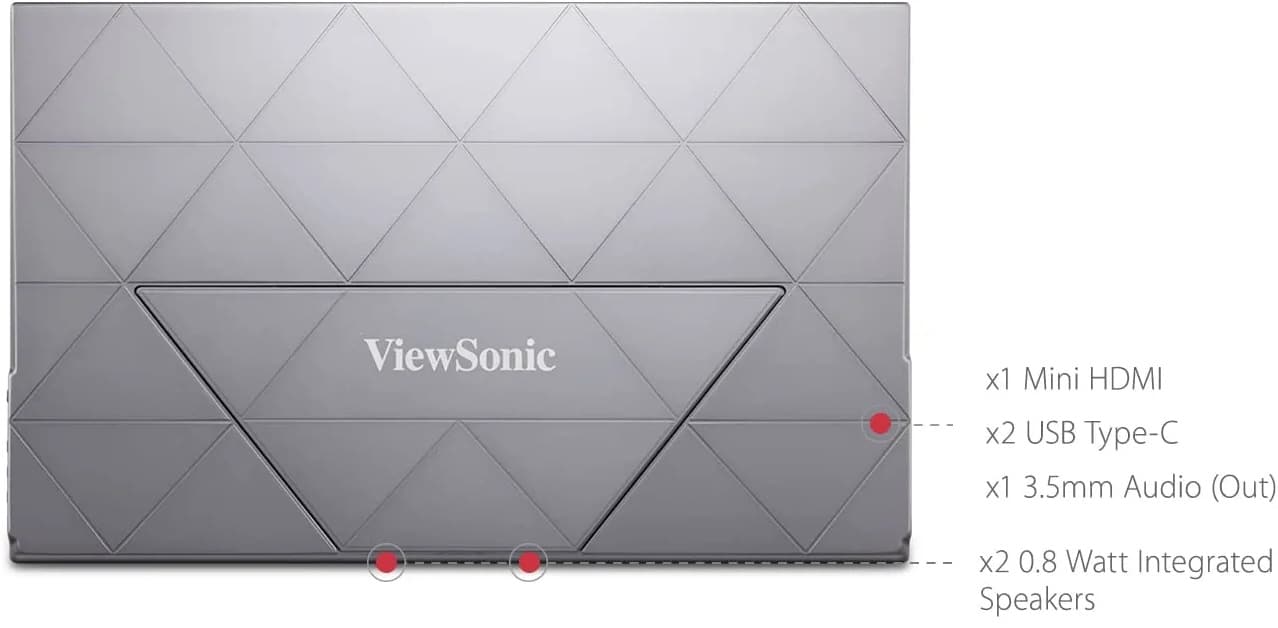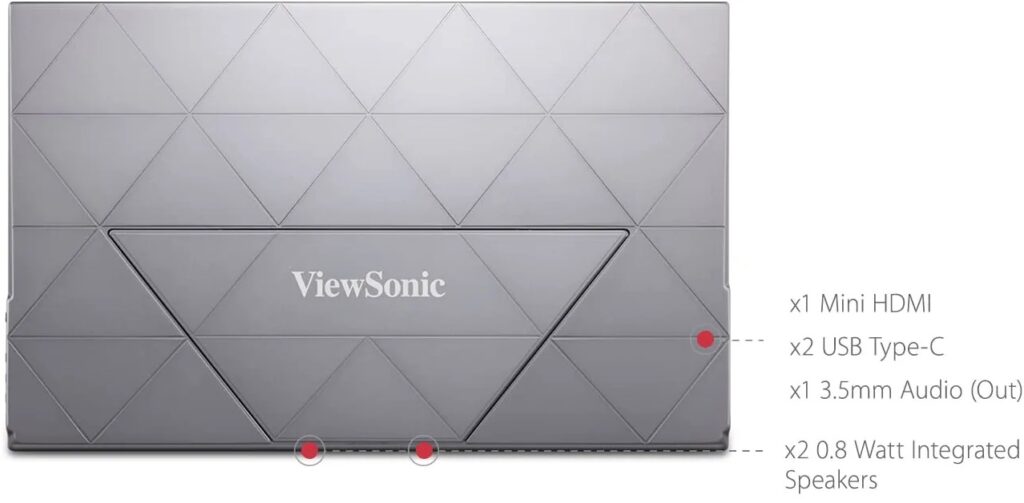 The ViewSonic VG1755's connectivity layout includes a mini-HDMI 2.0 slot, two USB-C ports, and a 3.5mm audio jack. Only one of the USB-C slots supports DP Alt Mode, while the other one is dedicated to power delivery. The package includes cables for both, but the one intended for power delivery is a bit short.
It also manages to include a pair of built-in speakers to complete its specifications as a gaming display. However, they only have 0.8 watts of power per channel, so they are rather quiet and incapable of the oomph necessary for games. Your laptop or headset's quality will probably be better, so we recommend using those instead.
Display and Performance
The ViewSonic VG1755 sports a 17-inch IPS panel with a 1920 x 1080 resolution, a 144Hz refresh rate, and a 4ms response time. The backlight has a 250 cd/m2 while its contrast is listed at 800:1, which is lower than a typical monitor's specification. This model doesn't support HDR, but that's a common limitation in the portable monitor niche.
1080p isn't pixelated at this size, and you'll know that if you use laptops often since they both have tighter pixel densities. Games and movies will look crisper and clearer, although the downside is the limited viewing area of the panel. On the other hand, it's easier to reach the 144Hz limit with many devices if they support it. The ViewSonic VG1755 covers 64% of the sRGB gamut, so it is not the most vibrant gaming monitor out there.
However, that limitation is shared with portable monitors, although there are models now that have begun to breach past that. Its default accuracy is at 2.41, so its default setting is sufficient for daily use and gaming. The panel's brightness reached 251 cd/m2 at 100%, meaning the display will struggle against sunlight or glare if used outdoors.
Its contrast ratio reached 810:1 at 80% brightness, so ViewSonic's claims are on point. However, that also means that it can't produce deep blacks like any other market IPS panel. Panel uniformity for the ViewSonic VG1755 was great since there were no backlight leaks or clouding on its quadrants. There was a slight variation in the backlight's spread, but it wasn't noticeable unless you put on an all-black image.
Note that this can change between every unit made due to tolerances, so getting a better one is possible. The ViewSonic VG1755 is decent regarding pixel response time, so there isn't any need for maximum levels of overdrive. It still has some persistence, like most IPS panels, but it's barely noticeable since the screen is smaller. Most users will be happy with the screen, but those serious about competitive play might need to look at 240Hz to 360Hz options.
The ViewSonic VG1755 is a FreeSync monitor, but it also works with G-Sync if it is connected via USB-C and its DP Alt Mode. This duality is essential for modern gaming but not as crucial for mobile gaming since not all devices support Adaptive Sync. Its input lag is impressive since its input lag is only at 4ms, unlike most portables which are usually slower than their desktop counterparts.
Thoughts on the ViewSonic VG1755
The ViewSonic VG1755 is fantastic based on its price and overall performance in a very limited monitor category. It is not the most vibrant and accurate, but its responsiveness and low input lag make it a great choice. It's built well and designed with functionality in mind, so we know users will like using it.
It still has limitations like any other portable monitor, such as its low contrast and color coverage. However, most of these are expected, so those who know monitors well will know that they are not complete deal breakers. The ViewSonic VG1755 is an excellent buy if you like gaming on the go, especially if you don't want to spend the extra on premium alternatives.
Pros:
Reasonable Price
Fast and Responsive
Excellent Build Quality and Design
Cons:
Limited Gamut with Middling Accuracy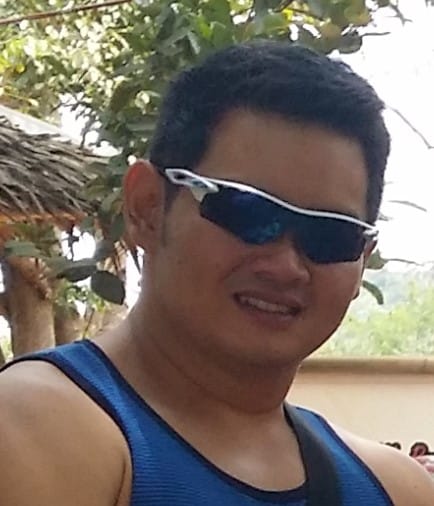 Paolo is a gaming veteran from the golden days of Doom and Warcraft. Since junior high, he has been building gaming systems for family, friends, and colleagues. High-performance monitors are one of his fixations; he believes that every citizen's right to enjoy one. He has gone through several pieces of hardware in pursuit of every bit of performance gain, much to the dismay of his wallet. He has also spent half a decade researching, reviewing, and writing about these products and now has over 1400 articles about the best gaming tech under his belt.