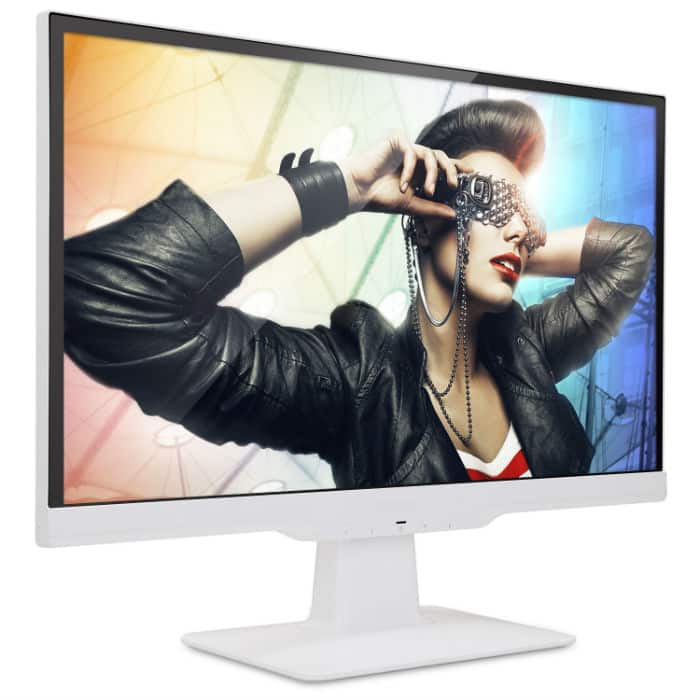 VIEWSONIC VX2263SMHL Review
ViewSonic is an excellent manufacturer and provider of visual technology and have been so since 1987. This is a brand that is known for its general purpose monitors and their exceptional image rendering ability, and the ViewSonic VX2263 is a good example of that. In this gaming monitor review, we are going to deep dive into the design, the image quality, the speed and the features of the display, taking into consideration all the specs and the add-on features..
Design and Add-on Features
The ViewSonic VX2263 is a 22-inch, full-HD display that is exclusively designed for multimedia applications, gaming and entertainment purposes. The monitor has an IPS LED panel and a native resolution of 1920×1080 Pixels. An IPS panel design offers the end user a wide viewing angle by allowing more light to pass through it.
The design of the monitor is based on a frameless, 'edge-to-edge' glass faceplate that has an ultra-slim bezel beneath the glass. It's sleek, eye-catching and elegant.
The ViewSonic VX2263 utilizes an energy-saving LED backlight that consumes 35 percent less power than a conventional CCFL backlight display. It has an extended lifespan that can go up to 30,000 hours. ViewSonic's 'Eco-mode' is an energy-saving feature that is built into the ViewSonic VX2263. This feature offers settings that can save up to 25 percent in electricity costs.
The ViewSonic VX2263 is built to deliver superior, clearer and more accurate images for web surfing and media sharing, and with 2 integrated 2W stereo speakers acting as a catalyst, the experience of watching movies and gaming on this display is enhanced. The quality of the speakers is good on this monitor, and that's a good enough reason for not shying away from this feature.
Image quality
The contrast of the ViewSonic VX2263 is set at 250 cd/m2, and the contrast ratio is 1000:1. Since Contrast ratio is basically  the difference between the 'whitest white' and the 'darkest black' a monitor can reproduce, these figures are good. While rendering images in high quality, the ViewSonic VX2263 has no problems keeping the color combinations exactly the same as what they are intended to be. The detailing in the output is great. There is no Input Lag because of the good frame rate, and ViewSonic's exclusive ClearMotiv II imaging technology delivers an ultra-fast response time, that results in no Stuttering, no Ghosting and no Motion Blur. Since at the size of 22 inches, 1080p looks quite sharp as it is, there are absolutely no complaints in this department when these features are taken into consideration.
Viewing
ViewSonic VX2263  features ViewSonic's 'SuperClear image enhancement technology'. This feature provides the user wide viewing angles of 178 (horizontal) and 178 (vertical).
This display features only tilt adjustment, with the monitor having the ability to tilt 5 degrees in the forward and 15 degrees in the backward direction. However, the ViewSonic VX2263 has a 100mm x 100mm VESA mounting capability, which allows you to mount the display to a wall or to a different stand.
The ViewSonic VX2263 is a 'Flicker-free display'. The ViewSonic Flicker-free technology brings down the screen flickering (at all brightness levels) to almost zero by providing a constant LED light source. Less flickering means less eye fatigue. Additionally the ViewSonic VX2263 features an 'anti-glare' hard coating, which works quite well.
It is a known medical fact, that prolonged exposure to certain levels of blue color light can cause eye discomfort. ViewSonic VX2263 features a 'Blue Light Filter setting' that allows you to adjust the amount of blue light that's emitted from the screen, hence enabling a longer viewing time and increased eye comfort. There are calibration options for Games, Movies, Web surfing, Text, and presets you can use in order to enhance black levels in games/movies, color luster for online images, and color temperature for reading text. This makes the viewing as comfortable and user/content specific as possible.
Speed
This is a display that features a refresh rate of 60Hz at 1080p and the typical response time is 5ms. These specifications are pretty good and the ViewSonic VX2263 boots up fast too, and is very 'snappy to use'. However, this monitor is not a good fit for a hardcore gamer. There is a limited range of FPS games that can be played on it though, because of its 60Hz rate and the 'ClearMotiv II ultra-fast' 2ms response time that provides blur-free motion gaming.
Connectivity
On the back of the display, from left to right, we have the Power jack, the HDMI/MHL combo port, an HDMI port, the standard 15-pin VGA port, the audio in jack, and a headphone/line out jack. There is no DVI port.
The MHL stands for Mobile High-Definition Link, and it enables us to connect compatible mobile devices (Tablets and Smart phones for example) to the ViewSonic VX2263S display, allowing digital content from these devices to be viewed in Full HD on the 22-inch screen while simultaneously charging their batteries. Toggling between inputs is easy with this display and be done simply by pressing the "2" button that is located on the bottom edge of the screen.
Conclusion
There are a lot of factors that make any monitor great. With no unnecessary features and a long life, this is one of the best general purpose monitors to buy, if you have a budget between $200 and $300. While this is not a good monitor for hardcore gamers, the ViewSonic VX2263S is a blast when it comes to multimedia applications. Everything from watching movies and surfing the web to light gaming and using day-to-day applications is done on this monitor at excellent quality and with less eye fatigue. If you are looking for an exceptional monitor at a bargain and your usage is more 'general' than 'Gaming Specific' in nature, ViewSonic VX2263S is the one monitor definitely worth checking out!