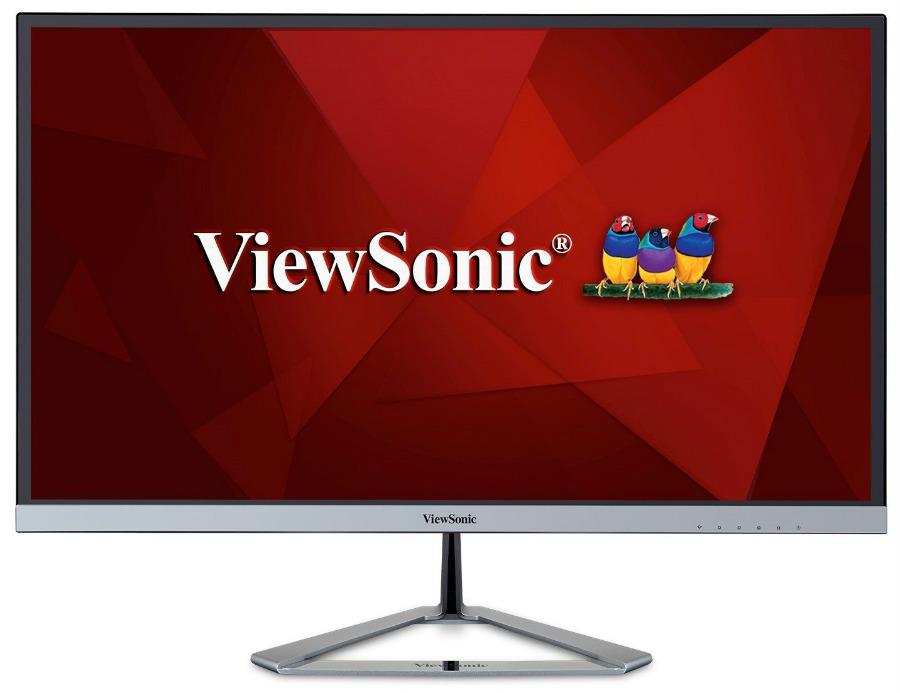 The ViewSonic VX2776-SMHD is a beautifully crafted monitor for the masses with suitability for a mixed range of uses in both the home and office. The brand has seen an increase in popularity thanks to their competitive products worthy of consideration such as the ViewSonic XG2700-4K which is one of our favorite UHD gaming monitors. Although the ViewSonic VX2776-SMHD does not have a high resolution and gamer-centric features like the XG2700-4K, let's see what this desktop display stunner can do for your needs.

ViewSonic VX2776-SMHD Specifications
Screen Size: 27 Inches
Resolution: 1920 x 1080p FHD
Aspect Ratio: 16:9
Panel Technology: In Plane Switching (IPS)
Refresh Rate: 60Hz
Response Time: 7ms
Contrast Ratio: 1000:1 (Static)
Brightness: 250 cd/m²
Built-in Speakers: Yes (2 x 3 Watts)
Stand: Height – No
Stand: Tilt – Yes (-5°/+17°)
Stand: Swivel – No
VESA Compatibility: Yes 100 x 100
Connectivity: DisplayPort 1.2 x 1, HDMI 1.4 x 1, VGA x 1, 3.5mm Audio Jack
Dimensions with Stand(WxHxD): 24.5" x 18.2" x 8.2"
Weight: 8.2lbs

Design and Features
The ViewSonic VX2776-SMHD is a product meant for the consumer segment of monitors, as emphasized by the VX prefix on the model number. Even so, this model is as gorgeous as high-end offerings from
top-tier brands like Asus and Acer. The bezels are only 2mm on the side and 6.6 on the bottom, but there are internal borders on the panel which is easily forgivable even if the screen is in use.
The cabinet is clad in matte black with silver accents on the bottom strip and the stand, but one of the characteristics we immediately notice is how slim this model is in person. From the side, the cabinet is only a few millimeters thin while the bulge doesn't go over three inches. The triangular stand takes up a little over 8 inches on your desk, making the whole package compact as a 27-incher.
The  ViewSonic VX2776-SMHD has an acceptable selection of I/O ports for a basic model which includes a DisplayPort, an HDMI slot, and a VGA connector. While these receptacles are compatible with most devices, we expected to see a DVI slot instead of the VGA connector. Although, we do understand that ViewSonic chose the latter for users with older or low spec machines who still rely on VGA for signal input.
The uniquely designed stand for the ViewSonic VX2776-SMHD  is constructed exclusively with metal, so it is durable and steady enough for the 27-inch cabinet's heft. The edges on this part are smooth and free of burrs thanks to a strict machining process, plus the color and texture provide a hint of sophistication to a budget-oriented product. One downside is the mechanism can only offer tilt, plus it isn't removable for VESA mounting which is not ideal for a very thin display.
Display and Performance
The ViewSonic VX2776-SMHD features a 27-inch IPS panel with a native resolution of 1920 x 1080, a 60Hz refresh rate, and a standard contrast spec of 1000:1. Out of the box, the color performance of this device is acceptable with 97% sRGB and 72% Adobe RGB gamut coverages. These results aren't spectacular, but for regular use, you might not miss the missing 3% we are used to having on more expensive monitors.
Color reproduction is excellent across the screen which has superb viewing angles and panel uniformity. The primary shades of the RGB spectrum were correctly displayed, but we did notice a bit of variance with colors which sit in between blue and green. While this limitation isn't a deal breaker for everyday use, professionals might have to look elsewhere.
Also, we saw some variance going to the corners which play around 7% to 13% depending on brightness, but it did not degrade the image even if illumination was on full blast. This is one of the strong points of the ViewSonic VX2776-SMHD, even if it presents a few setbacks. Our test unit did not have any apparent backlight bleeding flaws, but the lottery concept still applies since this is an IPS model.
Contrast is also disappointing, with results varying between 500:1 and 600:1 depending on the backlight level. The low effect doesn't ruin movies or games by any means, but some dark scenes and objects might appear a bit grayish. Gamers who play immersive titles might not like how the ViewSonic VX2776-SMHD displays low light environment. On the other hand, players who play cartoony or colorful titles might like this product better.
The ViewSonic VX2776-SMHD isn't a gaming monitor by any means, so it does not include features which help improve user experience in this category of use. 60Hz isn't a lot these days, plus the dismal 7ms pixel transition time is mostly bad for fast paced action. Our Overwatch test uncovered the flaws this limitation sets since the furious mouse swiping did reveal some interlacing and ghosting. If you are sensitive to these defects, you might want to consider a TN-equipped model instead.
On the other hand, our eyes did enjoy the vibrancy and fun vibe of the game thanks to the acceptable color performance of the ViewSonic VX2776-SMHD. Controls still felt responsive all throughout our session, and even if we did not get a chance to measure input lag for this sexy gadget, we think it will be the least of your concerns if you buy this for your gaming needs.
The screen temperature sits at more or less 6300K in different levels of brightness which can only go to 220cd/m2, but the screen does not look warm or cool at all. There are filters included in the OSD, but browsing through them did not show any improvements in the output of this model. You also don't get benefits from calibrating as it can ruin the acceptable out of the box performance, so leave the settings alone and only adjust brightness for comfort and eye safety.
Lastly, most would be quick to judge that 1920 x 1080 isn't attractive because of the lower pixel density despite the bigger form factor. Our time with the ViewSonic VX2776-SMHD dictates that for games or document processing, an FHD monitor still isn't a bad choice if you have a capable 1080p graphics card or a limited spending budget for a display upgrade. Basic browsing and reading is a breeze as well since you don't have to use scalers or squint at the fine text that much more.
Thoughts
The ViewSonic VX2776-SMHD has its limitations, but its beautiful design and affordable price make it hard to argue if it is a must buy or not. If you are setting up a workspace at home or in the office, this model is an excellent candidate worthy of joining your shortlist of budget-oriented products.
ViewSonic did make a few shortcuts to make ends meet, and we wish they used a faster IPS panel which may add a chunk to the selling price but may entice budget gamers into the fold. But sadly, the ViewSonic VX2776-SMHD is meant for consumers more than enthusiasts; a fact made apparent by its focus on aesthetics rather than performance. If you need a basic display for your home or office computer, this option is a fantastic choice, but for sophisticated purposes, you might need to check out the brand's VP (professional) and XG (gaming) products.